Mazda Road to Indy Driver To Compete in FCC Winter Series

Venezuelan Champion Carlos Linares Headed to California for the 'Off' Season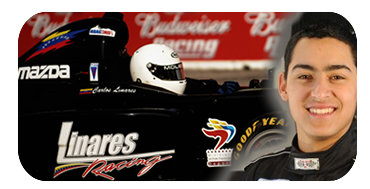 September 22nd, 2011
Sonoma, CA

Linares Racing today announced that it is entering Carlos Linares in the Formula Car Challenge presented by Goodyear Winter Series. Linares raced in the Star Mazda Championship this past season, and scored nine top ten finishes placing him 7th overall in points.

"I was interested in the FCC Winter Series because I knew I could learn a lot there, improve my driving skills, and gain more experience. The series is very competitive, and I'm very excited to get back behind the wheel!" stated Linares.

Linares has been karting since age seven, and raced for two seasons in the Venezuelan FF1600 series before winning the championship in 2009 with a record of two victories and seven podium finishes. He has also tested with the Campos Racing F3 team in Spain.

Linares is not the first Star Mazda racer to use the FCC as a training ground. 2011 Star Mazda overall champion Tristan Vautier, and 2009 overall champion Adam Christodoulou both competed in the FCC during their championship winning seasons. Star Mazda champions Mike Guasch, Chris Cumming, and Patrick O'Neill started their racing careers in the Formula Car Challenge before moving on to greatness in the Star Mazda series. Jorge Goncalvez, who is currently 5th in points in the Indy Lights championship, won the FCC Winter Series in 2009.

"In the past many Star Mazda teams have joined our usual west coast based racers in preparation for their upcoming seasons," noted Series Official Ben Hettema. "Race entry is inexpensive, there is no series entry fee, and we have five races over two weekends which makes this a very cost effective way to stay sharp in the 'off' season."

The Formula Car Challenge presented by Goodyear Winter Series starts with an exclusive double header race weekend on November 12th and 13th at Infineon Raceway in Sonoma. From there the series heads to a triple header with CalClub at Auto Club Speedway in Fontana on January 20th through the 22nd.



Be Social!

The FCC is now the most popular junior open wheel series on Facebook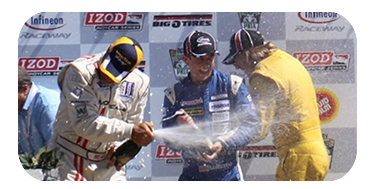 With over 2500 fans on Facebook the series has become the most popular junior open wheel series on the internet.

Don't just let the drivers have all the fun. If you have photos, videos, or stories about the Formula Car Challenge share them with the whole gang!



About The Formula Car Challenge presented by Goodyear: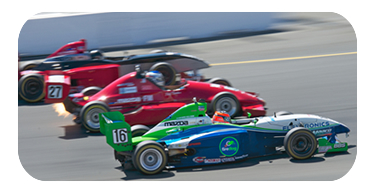 The Formula Car Challenge presented by Goodyear is a regionalized open wheel racing series with an annual national championship. There are multiple regions across the country, and each region has unique features and events.

Once a year the regions meet for the NASA National Championships. The championship features a multi-class format -Formula Mazda (FM), Pro Formula Mazda (PFM), and the FormulaSPEED2.0 (FS2.0). All classes are powered by Mazda, and equipped with Goodyear Racing tires.

Each region is supported by a Region Promoter who is well versed in racing, and who can provide assistance to teams and independent drivers.

The series is partnered with Goodyear, Mazda USA, MAZDASPEED Motorsports Development, Red Line Oil, GoPro and NASA Pro Racing.