Mazdaspeed Offers Cash Awards to Racers in the Formula Car Challenge presented by Goodyear, and the Opportunity to Become a Mazda Factory Sponsored Driver via the MAZDASPEED Motorsports Development Driver Ladder Program.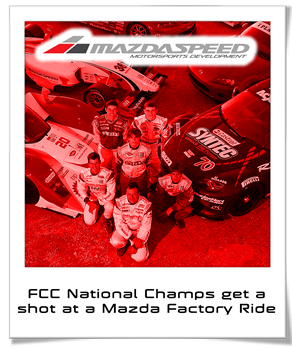 July 30th, 2013
Sonoma CA

It was announced today that Mazdaspeed will be offering a total of $9,000 in cash contingency awards to drivers in the Formula Car Challenge presented by Goodyear National Championships next month. FCC National Champions will also be eligible for the MAZDASPEED Motorsports Development Driver ladder program.

The MAZDASPEED ladder has been a critical part of the success of up-and-coming racers including Raphael Matos, John Edwards, Conor Daly, Joel Miller, Connor De Phillippi, Dane Cameron, Jason Saini, Todd Lamb, Eric Foss, Michael Cooper, Trent Hindman, Danilo Estrella, Adam Christodoulou, Sage Karam, Spencer Pigot, Felix Serralles, Tristan Vautier, Petri Suvanto, Scott Anderson and Elliot Skeer.

The criteria: Given that each of the finalists will have proven themselves on the track by winning a championship, the criteria to move up will be more encompassing. To succeed on the professional level requires a balance of both on-track and off-track skills including the following:
Driving ability - fast and consistent laps
Technical feedback - Understanding of vehicle dynamics and suspension, ability to evaluate vehicle handling, ability to analyze data, and the ability to improve vehicle handling
The business of motorsports - Business proposal, presentation, and PR Skills
The judges: Each year Mazda invites a panel of outside judges to make the selection. The judges bring a wealth of both on-track, and off-track expertise. Over a dozen professionals are involved in either the preliminary business proposal review, on-track activities, or both.

The tally: After a full day of both driving, and classroom activities, the judges add the objective and subjective scores and discuss the merits of each driver.
The prize package: The total prize package is valued at over $75,000 and is the largest prize in club racing.
$50,000 for the running of the car for the season
$10,000 in parts support
A MAZDASPEED driving suit and helmet
Professional media training (Courtesy of MAZDASPEED)
Ten sets of BFGoodrich tires, one set per race (Courtesy of BFGoodrich Tires)
Ten entry fee waivers (Courtesy of SCCA Pro Racing)
Steve Sanders - MAZDASPEED Competition Manager: "Mazda enjoys a leadership position within the grassroots motorsports world. With leadership comes responsibility. We have chosen to promote outstanding club racers to the professional ranks as the best way to clearly demonstrate our commitment and responsibility to both our customers and the sport at large."

Jeff Loge- Formula Car Challenge presented by Goodyear Series Official: "Our series and drivers really appreciate that Mazda recognizes the FCC presented by Goodyear as being worthy of the MAZDASPEED Motorsports Development Driver ladder program. We also really appreciate the amount of investment both in time and money that Mazda makes in the sport we all love. Many of our racers, mechanics, and officials drive Mazdas as their everyday vehicles and share their love of all things Mazda with fans and other event participants on a regular basis."
About Mazda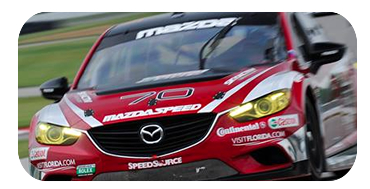 Mazda is the brand of choice for road-racers across North America. More than 9,000 grassroots racers compete in various classes with the Sports Car Club of America (SCCA) and the National Auto Sport Association (NASA). Racers who are years away from earning a driver's license can now begin a professional motorsports careers in the Mazda family. A driver can begin in karts and progress through a variety of diverse series ranging from the Skip Barber series, NASA and SCCA club racing, USF2000, Pro Mazda Championship, Continental Tire Challenge, up to Grand-Am GX and ALMS, all with Mazda.

No other car company has ever connected the dots this way. Mazda North American Operations is headquartered in Irvine, Calif. and oversees the sales, marketing, parts and customer service support of Mazda vehicles in the United States, Canada and Mexico through nearly 900 dealers. Operations in Canada are managed by Mazda Canada, Inc., located in Ontario; and in Mexico by Mazda Motor de Mexico in Mexico City.

About The Formula Car Challenge presented by Goodyear: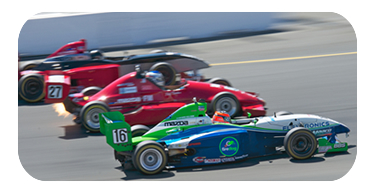 The Formula Car Challenge presented by Goodyear is a regionalized open wheel racing series with an annual national championship. There are multiple regions across the country, and each region has unique features and events.

Once a year the regions meet for the FCC National Championships. The championship features a multi-class format -Formula Mazda (FM), Pro Formula Mazda (PFM), and the FormulaSPEED2.0 (FS2.0). All classes are powered by Mazda, and equipped with Goodyear Racing tires.

Each region is supported by a Region Promoter who is well versed in racing, and who can provide assistance to teams and independent drivers.

The series is partnered with Goodyear, Mazda USA, MAZDASPEED Motorsports Development, Red Line Oil, GoPro and NASA Pro Racing.