Members Focus on Evangelism for G.O.D.
Our members are promoting Global Outreach Day (G.O.D.) through their web sites, email blasts and social media. Global Outreach Day is on the last Saturday of May and devoted to encouraging believers to share their faith. Ninety-three percent of church members never share the gospel.
DeWayne Hamby, Director of Communications for Church of God of Prophecy said that three pages were devoted to Global Outreach Day in the May issue of the White Wing Messenger magazine.
President Randall Bach of Open Bible Churches sent an email blast to the pastors announcing that Open Bible was participating in G.O.D. Bach opened the email blast with a short note and video about GOD followed by a series of questions and answers about evangelism.
International Pentecostal Holiness Churches sent an email blast announcing its participation for the month of May and created a web page.

Demetrius Miles, director of Administration for ACTS2DAY Ministries explains, "The IPHC will extend this emphasis throughout the entire month of May, allowing our conferences and churches the opportunity to capitalize on schedules that work best for them. We are appealing to our conferences and local churches to assist us by encouraging their constituents to engage in this incredible opportunity!"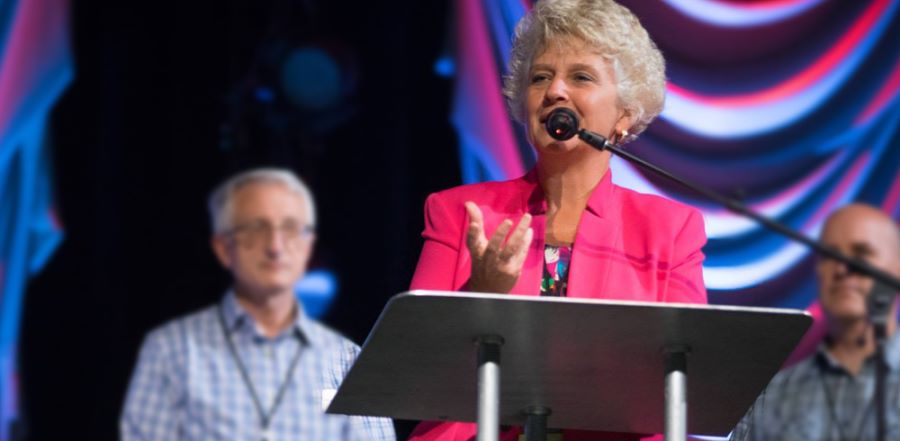 Donna Barrett is the General Secretary for Assemblies of God USA
(AG) Donna Barrett Elected General Secretary
The Assemblies of God Executive Presbytery has unanimously elected Donna L. Barrett to serve as the 11th General Secretary of the U.S. Fellowship. With this election, the 21-member executive board fills the unexpired term of James T. Bradford, following his
midterm resignation
to pursue full-time pastoral ministry at Central Assembly in Springfield, Missouri.
Read more.
COG Launches 40 Days of Prayer for the Day of Pentecost
In preparation for the 77th Church of God International General Assembly July 30 - August 3, there will be an expanded prayer emphasis. The first event in this initiative is a 40-day call to prayer and fasting from April 22 through May 31, 2018.
The event is titled, "Praying for Pentecost."
(IPHC) Heritage Lectures to Focus on Women Ministers in the Holiness-Pentecostal Movement
Dr. Kimberly Alexander will present a special three-part lecture series entitled, "Women Ministers in the Holiness-Pentecostal Movement" in Falcon, North Carolina, on May 19, 2018. Alexander is the guest speaker for Heritage Lectures 2018, hosted by the Archives & Research Department of the North Carolina Conference of the International Pentecostal Holiness Church (IPHC). Read more.
Back to the Altar: Returning to the Place of Divine Encounters
By Samuel Rodriguez
Growing up in a Pentecostal church shaped my spiritual journey from an early age.
It was a colorful world where the music was distinct, the preaching was passionate, and the testimonies sincere. But there was one thing in our church that stands out above all other memories of my spiritual upbringing: the altar. Every service began and ended at this special place.
So many of our personal encounters with Jesus and the power of the Spirit occurred at the altar. We came to Christ there, we were baptized in water there, we were called to ministry there, and we received the baptism in the Holy Spirit there. Some of us even got married at an altar.
Read more.
" But you will receive power when the Holy Spirit comes on you; and you will be my witnesses in Jerusalem, and in all Judea and Samaria, and to the ends
of the earth." Acts 1:8 (NIV)
Jeff Farmer, President

Pentecostal/Charismatic Churches of North America