Members Participate in Global Outreach Day
Global Outreach Day Testimony from Windsor Christian Fellowship
Pastor Rick Ciaramitaro promoted Global Outreach Day to over 161 churches in the Open Bible Faith Fellowship. One of his members, Jimmy, shares a testimony of how he led a friend to the Lord during the event. Jimmy's testimony of freedom from alcoholism ministered to his friend.


Foursquare Church's participation was primarily in Brazil and Church of God of Prophecy promoted G.O.D. 2019 at its General Assembly in Cleveland, TN. Assemblies of God U.S.A. plans to participate in G.O.D. 2019 as well according to General Superintendent Doug Clay.


Dr. Wayman Ming, Jr., General Bishop of the Pentecostal Church of God, said their denomination participated. "We did participate this year, but our participation included more communication of the Global Outreach Day than measurables. We used social media to get the information out but did not have a follow-up mechanism in place for results," Bishop Ming said in an email. "On a positive note, we are looking to be more proactive in that area next year."


Bishop Ming added, "To provide a better context for you, we provide short-term mission's trips throughout the year to several nations and also a more focused time of outreach is during the months of November and December in the U.S. During that time, we do inner-city outreach and specialized trips to Appalachia and Indian reservations. This next year, we are also hoping to expand our emphasis with a national outreach week to several inner cities in the U.S. We also have a very active disaster relief program with mobile trucks and trailers in the different regions of the country."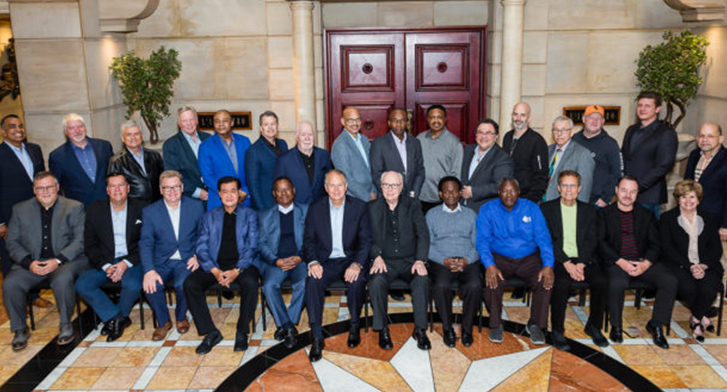 IPHC: Bishop Dr. Doug Beacham Elected to the Executive Work Group of the Global Council of Empowered21
The Global Council of Empowered21 met in Johannesburg, South Africa, May 15-16, 2018. The council is co-chaired by Dr. Billy Wilson, president of Oral Roberts University, and Dr. George Wood of the Assemblies of God. The Executive Work Group is selected by and from the members of the Global Council. Our presiding bishop, Dr. Doug Beacham was elected to serve on the Executive Work Group during the meeting in Johannesburg.
Read more
| | |
| --- | --- |
| | |
| (Dr. Cathy Payne, Church of God of Prophecy) | |
COGOP: Pentecostal Denomination Celebrates, Reaffirms Women In Ministry
During the 100th International Assembly of the Church of God of Prophecy in Chattanooga, Tennessee, Bishop Sam N. Clements, General Overseer, opened his biennial address by giving honor and celebrating the roles of women in both speaking and serving ministries.
"Even though Jesus choose 12 men to be with Him, women were a vital part of His ministry and the ministry of the early church," he said. "They are also a vital part of the ministry today, and I want to recognize and honor our women in ministry."
Read more
Council of 18 Elected at Church of God Assembly
Of the 18 men currently on the Council, five were ineligible to be reelected due to term limitations. After the nominating ballot and four subsequent ballots, the International General Council elected the eighteen who will be their representatives at the international level. Read more.
| | |
| --- | --- |
| | |
| Evangelist Paula C. Smith-Hearn | |
COGIC Welcomes New Hire And Promotes Staff Member
The Church of God In Christ would like to extend a very enthusiastic welcome to Evangelist Paula C. Smith-Hearn as she assumes her new role as Executive Director of Human Resources. Having previously worked in the capacity of Human Resources Consultant for the Church of God in Christ, Evangelist Hearn is already quite familiar with the Church of God in Christ's structure and operations.

With a successfully broad background in Labor Relations and extensive corporate experience and knowledge, we are excited and grateful to now have Evangelist Hearn capably overseeing our daily Human Resource operations.
" But you will receive power when the Holy Spirit comes on you; and you will be my witnesses in Jerusalem, and in all Judea and Samaria, and to the ends
of the earth." Acts 1:8 (NIV)
Jeff Farmer, President

Pentecostal/Charismatic Churches of North America