Spotlight - Swimming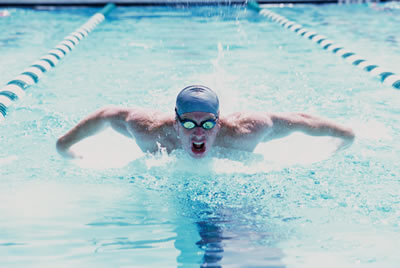 Begin by lying prone with arms extended shoulder width apart with palms down and legs extended and abducted hip width apart. Legs are slightly laterally rotated and feet pointed.
Inhale - Lengthen upper body, arms and legs off floor, reaching from mid back;
Exhale - for 4 counts, pulsing arms and legs contra-laterally
Inhale - for 4 counts continue pulsing
Repetition- 10 times
...kinda like the Hundred on your stomach!
Just a reminder....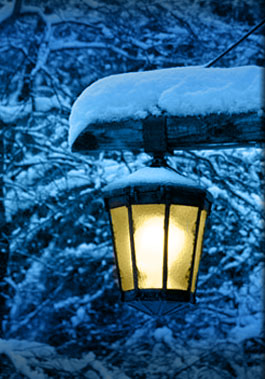 Remember SAMM ? Seems appropriate to repeat this month...
Simplify your focus

Avoid overindulgence

Maintain Routine

Minimize shopping stress
source: IDEA Fitness Journal
Barre Tab
Breathing at the barre - it can save you! Ron Fletcher (see article on right) emphasized the percussive breath in his Pilates technique. Breath is a definitive tool in facilitating movement and strength in your body. As Ron has been quoted, "The breath has a rhythm and a sound and is the drummer behind the movement."
So the next time, you're in barre thinking, "I can't finish this." Take a breath and find your strength.
Stretch it out...
Let's get the most out of stretching session....
Best time - after you've worked out OR after a brief warmup Anytime you stretch is the perfect time.
Don't lock your joints
BREATHE - in the nose, out the mouth
Take your time
If it hurts, stop
Lastly, a strap is a helpful tool to assist you with your stretching...to be continued!
What Else is it Good For?
Open Leg Rocker - how in the world does this exercise benefit my everyday life?


In a word - BALANCE .... So that translates to walking, sitting or not crashing to your knees when you trip over a parking stop...or sliding across the floor on a dryer sheet.
Need a Holiday Movie?
SCROOGED (1988) ********************

Then if you GIVE, then it can happen, then the miracle can happen to you! It's not just the poor and the hungry, it's everybody's who's GOT to have this miracle! And it can happen tonight for all of you. If you believe in this spirit thing, the miracle will happen and then you'll want it to happen again tomorrow.





Christmas Greetings from Joe & Clara
In greeting card to their friend, Ralph Hollander (violinist & inventor)
"There will be no warmer Christmas greetings than this one to you Dear Ralph may fate be kind enough to grant you whatever you desire most to make your happiness complete"
Wait, Wait....
Who deserves more than just a pat on the back?


Give that one a massage!
Denise Conlon, LMT
954.732.1686
********************
Yikes - here we are December, ....wow time flies when you're having fun! How many times have you heard that...especially in class when our hour is over.

You know the next few weeks will be exceptionally crazy for all of us, thanks to the holidays. So when you are able to make it to class, let's pretend we have all the time in the world. , let's keep the focus on the task at hand - your body and your Pilates/barre practice. It's just an hour (ish). Believe it or not, it will help you focus later when you're completing that project at work or finishing up your holiday shopping - a good Pilates/barre session gives you mental clarity...one of the many benefits.
"You can't shoot a cannon from a canoe."
Love this one (obviously I've used this in class) - totally applies to strengthening your center or your CORE - so your core is strong like a ship - not a canoe. Joseph Pilates believed that the body's every movement is generated first from the core or abdominal muscles. So when new students ask, "How many core exercises does Pilates use?" the answer is, "All of them".
While crunches and sit ups develop the large outer muscles that give you the "six pack abs" look, Pilates also works the deeper abdominal muscles. These deep muscles, such as the Transversus Abdominis, are muscles that do not move the body, but rather allow us to stand upright and stabilize the pelvis and lower body. So we strengthen the core, or battleship, and then our movements are "backed" by strength.
And remember - your core is the FRONT & BACK of your torso! Any
muscle
that attaches to your spine.
source: Golf Digest Magazine
How will you say, "Cheers"?
Lots of celebrating is about to happen. Here are a couple ideas for you:
Non-alcoholic
2 cups pear nectar
1/2 cup unsweetened cranberry juice
Seltzer or Prosecco
45 calories
Skinny Cosmo
1 fl oz Absolut Citron Vodka
1/2 fl oz Triple Sec
1 fl oz Diet Cran
1 Splash Lime Juice
1 Lime Wedge
112 calories
Wine
4 oz (dry) red wine
80 calories
The Floor....the pelvic floor
Our Pelvic Floor muscles are so deep in the pelvis that you will never see them, but you will see & feel the effect of them contracting. These muscles form a hammock from the anus to the vagina/urethra so our insides don't fall out. No one can see that you are contracting these muscles, but you can feel it.

A deep contraction of your pelvic floor muscles will facilitate a deeper contraction of the transversus abdominis - (remember that super deep muscle in your abdominal cavity under the rectus abdominis)...creating better stabilization and support for the spine and pelvis. And you'll save $ on Depends!

Get this - I looove this cue.....lying on your back, imagine a string connecting your "hip" bones...and you draw your stomach away from that string.
another cu
source: PIA
Disciples of JHP & Clara - Ron Fletcher
Go West Young Man...
Ron Fletcher is one of Joseph Pilates' original students. He was also a dancer in the Martha Graham dance company. He studied extensively with Clara Pilates and went on to evolve his own style of Pilates, Fletcher work. Mr. Fletcher was the first to bring Pilates to the West Coast.


Ron Fletcher developed the percussive breathing technique (see Barre Tab), as well as many other Pilates innovations - including his trademark braided red towel. Mr. Fletcher has gone to the great studio in the sky. His work lives on.

I paraphrase, but Mr. Fletcher said that Pilates is more about movement than exercise. Of course, it's a great workout, but more importantly it improves our way of moving through life

pilateswithjennifer >>>>>>>>my YOUTUBE channel
Problem solved...just go to
www.youtube.com
Search pilates
withjennifer all ONE word. And wa-la - you have plenty of workouts to choose from: mat Pilates,
weightwork, barre, stretch, warmups, cooldowns...you get the idea! And most are under 30 minutes.
Body Awareness
One of the benefits of Pilates is that it gives us an awareness of our body - what it can do and what it can't.
Some limitations are permanent and some are temporary. Permanent sounds scary, right? Not to worry though because as you know there is a modification for everything we do in Pilates. If you're not sure, ask!
As far as the temporary limitations go - the more you practice Pilates, the stronger you get! So keep up the good work & watch those limitations disappear!
Barre Bonanza - calling all Props!

Wow - you guys nailed it! what a great time
Stay tuned for more workshops at Michael's Body Scenes in 2020!
Pilates for Better Bones
Pilates for EveryBODY
...and of course more Barre Bonanza!
Parting Words....




So

, try to stay focused this month - not only during class but while you're working or cooking or shopping ...just think - if you can stay on your game this month, you can stay focused ANYTIME.




I wish you & your family a happy & healthy holiday filled with lots of love, laughter and ..... of course, PILATES...and barre!
Cheers,
Jennife

r
Pilates makes EVERYTHING better!