BUSINESS ADVOCACY
Representing Business &
Strengthening the Local Economy
The Chamber relies on
Pleasanton 2025: A Community Vision
as its local public policy agenda, committing volunteer and staff time to work toward its fulfillment as a catalyst, convener and champion for all things Pleasanton.
For a complete listing of new members,
click here
.
Latest Updates from Alameda County Public Health Department
As of October 6, 2020, the new health equity metric is in effect. In order to advance to the next less restrictive tier, each county will need to meet an equity metric or demonstrate targeted investments to eliminate disparities in levels of COVID-19 transmission, depending on its size.
Business Connection Newsletter
Visit our Chamber sponsored

NETWORKING GROUP

The Pleasanton Chamber of Commerce sponsors the "Business Connections" networking group, which is for Chamber members-only and meets twice a month virtually via Zoom.
BUSINESS CONNECTIONS
"Smarter Business Building"
Meets the 2nd and 4th Tuesday
of each month, 12:00 to 1:00 p.m.
If interested, please email Wallace Wong.
Pleasanton Candidates for Mayor and City Council Forum
The Pleasanton Chamber of Commerce and Pleasanton Weekly hosted a Candidates Forum, featuring the mayoral and city council candidates in the November 2020 election.
Chamber Office
The Pleasanton Chamber of Commerce office will be closed until further notice. Staff will be working remotely and be available for essential communication via email and voicemail.
The Chamber office is closed to the general public and all meetings that were scheduled to take place in the Chamber conference room have been cancelled.
Yianna
or call the main line at
925-846-5858 ext. 200 and leave a message.
Whether in times of prosperity or times of crisis, we are with you on the front lines, leading the way and making sure our community emerges stronger than ever.
Pleasanton Chamber of Commerce
Catalyst. Convener. Champion.
Virtual Trick or Treat Around Town
Tune in for our October mixer as we take a
Virtual Trick or Treat Around Town
and check in LIVE on local businesses in Pleasanton. Meet new members, get the latest info on Pleasanton happenings, and "mix" it up from the comfort of your own computer.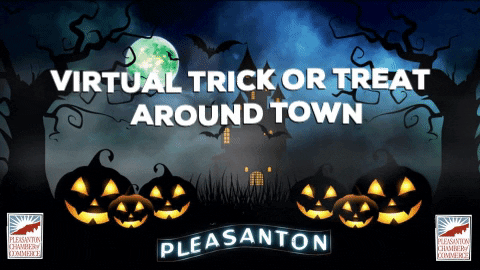 Tri-Valley Chamber Virtual Speed Networking
Join the Pleasanton Chamber for a special virtual speed networking event next Thursday afternoon, in partnership with the Chambers from Danville, Dublin, Livermore and San Ramon.
Make more business connections in less time from the comfort of your own space. You will be sent to small breakout "rooms" to meet one-on-one and connect with others, exchange information, and promote your business easily and effectively.
Register for this free event by Wednesday, October 14 by 3:00 p.m. and you will receive the zoom link via email. Your advance registration and punctuality is required for this event.

Virtual Tradeshow Thank You
Thank you to the new members that participated in our Virtual Tradeshow for September.
Through square images, social media posts and email communications, the Virtual Tradeshows are a way for the Chamber to provide exposure and brand awareness to its members.
Introducing Beets + Eats

Palm Event Center in the Vineyard
is now hosting pop-up picnics. Located on a winery estate, guests enjoy a relaxed setting with 180-degree views of the vineyards.
Beets + Eats
Critical Need for O-Blood Types

All donors in October get limited-edition SBC face mask
Stanford Blood Center
(SBC) has an urgent need for all blood types, especially type O. In just about an hour of your time, you can save the lives of up to three local patients. Please make an appointment to give blood as soon as possible by scheduling online at
sbcdonor.org
or by calling 888-723-7831.
To make donation even more convenient, SBC now has appointments available seven days a week, with variable schedules at our three center locations and at community drives held throughout the Bay Area. Plus, anyone who donates during the month of October will receive a free
#EverydayBrave face mask as small token of our thanks for your support of patients in our community. Learn more about SBC and the impact of your donation at stanfordbloodcenter.org.
Critical Need for O-Blood Types
BACPAC Endorses Maher, Yee and Wang for School Board
The Pleasanton Chamber of Commerce's Business and Community Political Action Committee (BACPAC) is pleased to announce its endorsements for the Pleasanton Unified School District Board of Trustees in the November 2020 election.
Upon careful review of the five candidates running for three open seats, we believe Steve Maher, Jamie Yee and Chong Wang are the best candidates to lead the school district through the many challenges that lay ahead.
Steve Maher and Jamie Yee bring years of experience and already have a strong and positive relationship with Superintendent David Haglund. This experience and relationship will be critical for success as the school board considers difficult decisions with bringing students back to the classroom and budget constraints.
The remaining three candidates were all well versed in the challenges facing the school district. We believe Chong Wang rose to the top primarily due to his experience serving on the Superintendent's Budget Advisory Council and Citizen Bond Oversight Committee. His many years of work in the technology industry will also bring valuable insight to the district as they consider new technologies to connect with students, teachers and the community.
BACPAC Endorses Candidates

for Mayor and City Council
The Pleasanton Chamber's Business and Community Political Action Committee (BACPAC) is pleased to announce its endorsements for Pleasanton Mayor and City Council in this November's election.
Mayoral candidate
Jerry Pentin
and City Council candidates
Jack Balch
and
Randy Brown
bring a combination of excellent experiences, are most closely aligned with Chamber goals articulated in Pleasanton 2025: A Community Vision, and in our view are best qualified to help Pleasanton remain the Bay Area's best place to live, work and raise a family. All three have earned our endorsement.
Takin' Care of Business "NoBQ" 2020 Fundraiser
The Chamber's political action committee,
BACPAC
, relies on
Pleasanton 2025: A Community Vision
as the barometer by which to endorse and fund candidates for elected office at all levels of government, with greatest emphasis at the local level.
While the annual BBQ Fundraiser celebrating local business has been cancelled, the election goes on. We still need your financial help to support candidates and causes aligned with the Chamber's Vision 2025 document.
This election is like no other and BACPAC wants to make a difference. We can't do it without your support, so, "Just write the check and avoid the mess!"
Member News
1st United Credit Union Introducing the Youth Financial Literacy Ambassador Program

Introducing Beets + Eats

Luxglo has UV lights in stock

Stanford Blood Center Has Critical Need for O Blood Types

Hively selected by Assemblymember as Non-Profit of the Year

Hoge Fenton Webinars for You
October Specials at Niles Canyon and Halloween Family Diesel Trains

Tri-Valley Nonprofit Alliance Launches the Philanthropy Institute
Planning to get your
flu shot
Sunflower Hill Moonlight at Home

Tri-Valley Jail n' Bail Fundraiser for Agape Villages

SFBT
: Tri-Valley Open Spaces Urban Amenities
Save the Date
Shepherd's Gate
Backyard Bluegrass & BBQ