Kids in Costume Eat for Free
at Campo di Bocce Livermore
Campo di Bocce of Livermore will be open on Saturday October 31st, and they'd love to see your Halloween spirit! Open from 12pm-8pm, for indoor dining, patio dining, indoor bocce and patio bocce.

For reservations please call
(925)249-9800.
For a complete listing of new members,
click here
.
Latest Updates from Alameda County Public Health Department
BUSINESS ADVOCACY
Representing Business &
Strengthening the Local Economy
The Chamber relies on
Pleasanton 2025: A Community Vision
as its local public policy agenda, committing volunteer and staff time to work toward its fulfillment as a catalyst, convener and champion for all things Pleasanton.
Visit our Chamber sponsored

NETWORKING GROUP

The Pleasanton Chamber of Commerce sponsors the "Business Connections" networking group, which is for Chamber members-only and meets twice a month virtually via Zoom.
BUSINESS CONNECTIONS
"Smarter Business Building"
Meets the 2nd and 4th Tuesday
of each month, 12:00 to 1:00 p.m.
If interested, please email Wallace Wong.
Chamber Office
The Pleasanton Chamber of Commerce office will be closed until further notice. Staff will be working remotely and be available for essential communication via email and voicemail.
The Chamber office is closed to the general public and all meetings that were scheduled to take place in the Chamber conference room have been cancelled.
Yianna
or call the main line at
925-846-5858 ext. 200 and leave a message.
We are devoted to making our community a great place to live, work and raise families.

Everything we are and everything we do is in the service of a stronger community.
Pleasanton Chamber of Commerce
Catalyst. Convener. Champion.
Preparing for the 2020 Election
Diversity, Equity, Inclusion in the workplace
The Pleasanton Chamber of Commerce is pleased to introduce an informative web page on the topic of
Diversity & Inclusion on their website
. It includes the panel discussion from the recent Pleasanton 2025 Forum as well as other helpful links for you and your business.
If you're interested in hearing from diversity leaders in our community, take a look at our Pleasanton 2025 Forum from earlier this month:
Diversity, Equity, & Inclusion in the workplace
. Special thank you to Lise Edwards of Robert Half, Gustavo Santoyo of Chevron, Jennifer Cantero of Sensiba San Filippo, and Debra Gill of the City of Pleasanton for joining us in this discussion.
COVID-19 Update from Alameda County's Health Director next week
Alameda County Public Health Director Dr. Nicholas Moss joins the Chambers of Pleasanton, Dublin and Livermore with an update on COVID-19 and the latest Alameda County Health Order

on Friday, November 6

. You will have an opportunity to ask questions at the end of Dr. Moss' presentation.
Zoom login will be sent prior to the meeting
City Seeks Input for Climate Action Plan
The City of Pleasanton is updating its
Climate Action Plan
and will need your input to drive the vision and strategies in reducing our City's greenhouse gas emissions and enhancing our resilience to future climate change.
The survey is intended to gather early feedback and community priorities as we undertake the CAP update. The project website for the CAP 2.0 is here:
www.cityofpleasantonca.gov/CAP
.
A Simplified Guide to SEO
What We'll Cover: How can your business receive free inquiries and be seen ahead of your competition in the world's #1 search engine, Google? Using "search engine optimization", or SEO. Boomcycle's David Victor ditches the geek-speak and gives you exactly what you need to get turbocharged visibility for your business.
Who Should Attend:
Business owners, CMOs, marketers and anyone interested in getting free website traffic from Google.
Presenter:
David Victor is a digital marketing and Search Engine Optimization specialist. His San Ramon-based digital agency, Boomcycle Digital Marketing, provides local, regional and national clients with SEO, Intelligent Web Design, paid search marketing and more since 2003.
Museum on Main Virtual Ghost Walk and Paranormal Investigation

Meet the ghosts of Pleasanton's past in this uniquely spooky annual event held by
Museum on Main
. This year, our popular guided walking tour is moving to Zoom. Two ghosts host will be live on Zoom to guide your virtual tour of downtown Pleasanton's most haunted locations. Ghosts will visit participants' screens and share more of their site's history and hauntings! This family-friendly tour, held for over thirteen years, is a staple of the Halloween season and we can't wait to bring it to you in the comfort of your home!
Zoom, $15 per screen - Learn more here
Do you want to learn more about paranormal investigations? Maybe even see something happen on camera or hear an EVP for yourself? If you answered yes to any of these, be sure to join us on November 7th for a virtual paranormal investigation experience.
Watch: Virtual Trick or Treat Around Town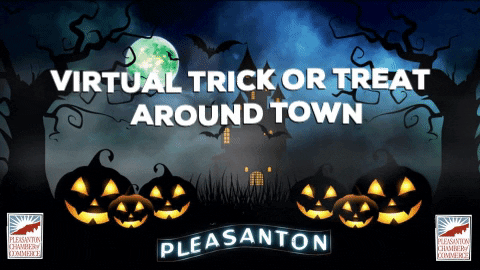 see special presentations from Museum on Main, Gay 90's Pizza Co., Pirates of Emerson, and Pet Supplies Plus.
Takin' Care of Business "NoBQ" 2020 Fundraiser
The Chamber's political action committee,
BACPAC
, relies on
Pleasanton 2025: A Community Vision
as the barometer by which to endorse and fund candidates for elected office at all levels of government, with greatest emphasis at the local level.



While the annual BBQ Fundraiser celebrating local business has been cancelled, the election goes on. We still need your financial help to support candidates and causes aligned with the Chamber's Vision 2025 document.




This election is like no other and BACPAC wants to make a difference. We can't do it without your support, so, "Just write the check and avoid the mess!"
Member News
Multi-Sport In-Person Program at Hi-Five Sports Club

City Seeks Input for Climate Action Plan

1st United
Doubles Down to Help Fight Hunger Through Donation Matching
''We Are Pleasanton'' campaign looks to businesses for support

Take a Walk with The Parkview

Museum on Main Virtual Ghost Walk
Museum on Main Presents Paranormal Investigation, 11/7

Share a Smile in Support of Hope Hospice

How Volunteers and Community Donations Meet a Student Need

1st United Credit Union Introducing the Youth Financial Literacy Ambassador Program

Introducing Beets + Eats

Luxglo has UV lights in stock

Stanford Blood Center Has Critical Need for O Blood Types