Hot Tip For Managing Your Calendar
Having a hard time managing all of the events and networking opportunities you attend? Well, there may be an easier way to populate and update your calendar using the resources already posted on Retirement Connection's website - here's how:
Go to the

Networking Page

Click on the button for the

Events Calendar at the top of that page.

Once the calendar opens, on the bottom right, click the button for "Google Calendar".

This will add this calendar and all supporting info to your calendar page if you use Google Calen

dar.

You can then also sync Google Calendar with Outlook, smart phones and other applications.
What's so great about this? As meeting locations or topics change- your calendar is automatically updated as we receive the updated details. We also provide a web link to more information for your calendar. The networking calendar remains independent from your personal entries for quick viewing.
(you will need a FREE google email account to do this)
We are happy to assist you in setting this up - call Amy
Job Postings
SPOTLIGHT
The following positions have been posted in the last month:
- Activity Director
- Clinical Liaison
- In-Home Designer-- ShelfGenie Glide-Outs
- RN
- Resident Care Coordinator
- Director of Health Services
- Blood Drive Team
- Administrative Assistant
- Team Captain
- Utilization Review Program Supervisor
- Veterans Services Officer
- Information & Assistance Specialist
- Marketing Outreach
Retirement Connection has a section of our website dedicated to Job Opportunities for the NW Region? Most postings are a professional or management level position.
Take advantage of this free exposure and post your open positions today.
Local Senior News
Retirement Connection
February Marketing Update - Salem


(Serving Marion, Polk & Yamhill Counties)
Greetings!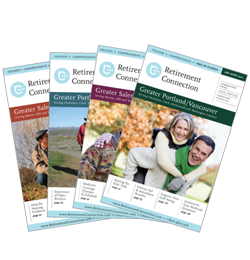 There is less than a month to reserve your ad space for the next Salem edition of Retirement Connection Guide. Reserve space now for 2013.We have made some changes to the guide for our newest edition in Portland and plan to implement these changes with our next Salem edition.
Mark your calendar to join us

April 11
for the Salem Release Party.
RSVP
today.
Retirement Connection is not just an ad- we are an extension of your marketing department: Print, Web, Networking- we are here for you. Reach and out and let us know how better to serve your needs.
If you are a Housing, In Home Care or Home Health Care Provider, we encourage you to submit your information using the appropriate form below. Your listing information is included free of charge and we appreciate your help in keeping our guide accurate and up to date. Please complete the form, even if there are no changes- simply check "no changes". Then print and fax the form to 503-238-7501.

and "like" our page to receive weekly reminders about community events, articles, and other announcements for seniors in Oregon.


to connect with other referral sources and stay up to date on upcoming professional events, Long Term Care related news, and
pictures from events.

But enough about us, here's the Networking Info:
In this newsletter, you will find information about: networking, CEU training, Event Sponsorship, Web Advertising, and more.
Remember, at any time, you may Unsubscribe, Update Your Preferences or Forward to a Friend.
Build your referral network
with Retirement Connection
!
February Network Meetings
Meeting info available on the

"
Networking
"

page
Greater Salem Groups


February 13, 9am
Senior Lifestyles
Location: Sapphire at Applewood
Address: 309 Lancaster Dr NE - Salem, OR

February 21, 9am
Yamhill County Networking Group
Location: Parkland Senior Living Community
Address: 3121 NE Cumulus Ave - McMinnville, OR
February 27,
9am
Senior Service Network of Salem (SSN-Salem)
Location
: Salem Hospital
Address
: 890 Oak Street SE, Salem, OR 97301- Bldg. D
Meeting Room:
Creekside Dining Overflow- first floor
Topic:
Speed Networking and skills practice
Save the Date for Bi-Monthly Meetings
March 20, 9:30am
Senior Network
Marketing & Development
The following is a preview of some of the upcoming professional events, check the Professional Events page for complete details and information on other future events. UPDATED DAILY. Visit the Contact Us page, to submit events for posting.
February 15, 2:30 - 4:30pm
Open House
Location: Meadow Creek Village Assisted Living Open House
Address: 3988 12th Street SE - Salem, OR
February 19, 6 - 7:30pm
Protecting Those at Risk
Location: Salem Hospital CHEC ( Bldg. D)
Address: 890 Oak St - Salem, OR
February 26, 8:30 - 10am
Retirement Connection Sponsor Breakfast
Location: Miramont Pointe
Address: 11520 SE Sunnyside Rd. - Clackamas, OR
Retirement Connection sponsors are invited to join us for breakfast and networking at this exclusive sponsor event. Come hear about upcoming opportunities and ways to make sure you're making the most of your sponsor opportunities.
March 1, 8am - 5:30pm
Allied Heathcare Professionals Day
Location: Willamette Valley Hospice
Address: 1015 3rd St NW - Salem, OR
March 7-9,
The 11th Annual Pacific Northwest Brain Injury Conference 2013
Location: Sheraton Portland Airport Hotel
Address: 8235 Northeast Airport Way - Portland, OR
March 14-15
Oregon Health Care Association Spring Expo
Location: Spirit Mountain Casino
Address: 27100 Salmon River Hwy - Grande Ronde, OR
March 19, 3:30 - 7:30pm
Case Manager & Provider Consortium

Location: The Holiday Inn
Address: 25425 SW 95th Ave - Wilsonville, OR
Register by February 19th for the Early Bird Pricing.
Community events that are open to the public:
Nuggets of Knowledge
"The brick walls are there for a reason. The brick walls are not there to keep us out. The brick walls are there to give us a chance to show how badly we want something. Because the brick walls are there to stop the people who don't want it badly enough. They're there to stop the other people."

-Randy Pausch, The Last Lecture
Do you see a barrier as a stop sign or a new challenge?
The only barriers that really exist are the ones we place on ourselves. Overcoming any obstacle takes work, but usually it is just the determination to move forward one brick at a time because you choose not to quit. - Amy
Thank you for your continued support, we are truly grateful. You are the reason we continue to grow with each edition. Let us know if you would like a media kit sent to you.
Please contact us if you need additional copies of the Guide. They are available at no cost, and are the perfect resource for health fairs, workshops and your marketing packets.
Sincerely,
Amy Schmidt
Retirement Connection
503-505-5865
amy@RetirementConnection.com