Greetings!
School has started, summer has ended, and we welcome everyone back to reality. The best part? A new season of dance!

In This Issue
Legendary Big Band Ballroom Hosts Houston Swing Dance Society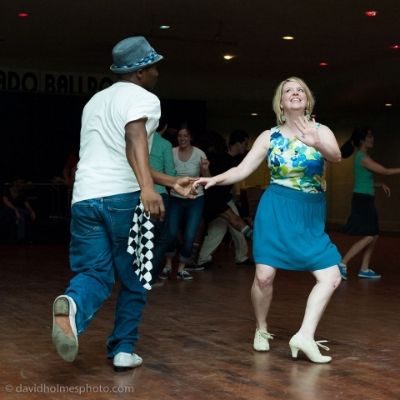 The Houston Swing Dance Society welcomes you to check out their high flying moves at their new location, the Eldorado Ballroom. The ballroom isn't new at all--in fact, it was built in 1939 by renowned Houston architect Lenard Gabert, who designed many of the city's large art deco structures. Many internationally known jazz and bluesmen, including B.B. King and Count Basie, also made regular appearances.
The Houston Swing Dance Society dances the lindy hop, a dance evolved with the jazzy Big Band swing music of the 1920's. Incorporating partner dancing, Charleston variations, and aerials, the dance is fun for all. HSDS offers intro classes every Sunday night from 7pm - 8pm for just $10. Social dancing is from 8pm - 10pm $7 or free with paid lesson.
Earth Dance 17th Annual Festival for Peace

Join peace wishers from all over the world at the 17th Annual EarthDance Global Peace Party! EarthDance is a world of communities - from 80 different countries - working and playing together to create a culture of peace through music and dance events, synchronized global link-ups, and social activism. At the Houston Event, hosted by Ecstatic Dance Houston, you'll find fire dancing, prayer and spiral dance, henna, face painting, circus performance by Take Flight Cirque, a delicious vegan dinner, and fun, creativity, and play for the whole family! All Earthdance events join in a synchronized Global Link-Up & Prayer for Peace music track played at the same time at all locations - a profound moment of shared global intention for peace.
Come join the fun at Baker Common Plaza (Smith and Preston) on September 21st - the UN International Day of Peace. 50% of the profits from this year's celebration will go to the Food for Life - Kids Meal Project. Suggested donation: $10-$20
What does Howard Stern Think about Local Dance Favorite Mitsi Dancing School?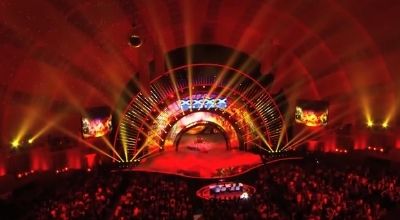 "Brilliant."
Last month, Mitsi Dancing School (home of Dance of Asian America) gave a stunning performance of Chinese artistry on America's Got Talent. This company of highly skilled young dancers and "brilliant" choreographers wowed America when they performed a new rendition of the Thousand Hands Dance live at Radio City Music Hall in New York City. The company's specialty is authentic Chinese folk dance, and they always present it with precision, grace, dazzling costumes, and pristine movements.
"A visual feast... Impeccable," responded Heidi Klum. Mel B added, "Mystical... Flawless." The audience loved it, too, and the company the company ranked 4th or 5th place for the night. The judges ended up choosing another company and our hometown heroes returned home (just in time for school, by the way, which is not a particularly bad thing for these high-achieving students). However, Mitsi Dancing School furthered its mission by leaps and bounds with their appearance on America's Got Talent. There's still a chance for them to be brought back to the show as a "wild card", so we hope you'll show your support by visiting the links below and leaving your comments.
Watch the broadcast from Radio City Music Hall
Watch a dance-filled interview from KHOU with Courtney Perna
Listen to an interview with director Janie Yao on The Front Row
New Bollywood Company Hits the Houston Scene

On August, 22, 2013, Naach Houston made its debut performance with a mix of Bollywood, folk, hip hop, and classical Indian dance at the Stafford Center. We were in attendance as 60 dancers performed piece after piece and delighted their fans. The company had brilliant costumes and props, and they truly danced their hearts out. Even after a couple hours of non-stop dance performances, the dancers kicked it up a final notch when they ended it all with a piece that was so high energy it seemed to be there just to prove a point: these guys will stop at nothing to entertain you!
Artistic Director Mahesh Mahbubani says it is a dream come true for his vision of Naach to be realized. The word Naach is Urdu for Dance. Mahbubani says, "I truly believe that dance must be shared and passed on to the younger generation our goal here is to shine together, I teach them to help others and share their power."
We congratulate him on the debut and wish the company great success.
The NEW Houston Met

Congratulations to the Houston Metropolitan Dance Center on the opening of their fabulous new facility, replete with 4 state-of-the-art studios. Directors Marlana Walsh-Doyle and Michelle Smith campaigned for seven years to fundraise enough money to build this gem of a studio. It is a well-deserved victory for this hard-working company and a much appreciated improvement in the Houston dance community. Fall sessions for adult and children begin today.
Dance Houston 2014

It's going to be February 8, 2014. Save the date!
Save the Date and Discover Dance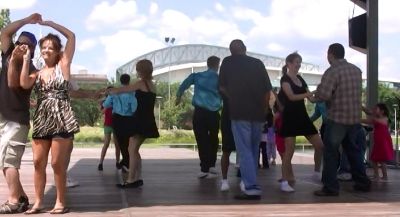 Save the date to share a Sunday afternoon with people who love to dance. At Discover Dance on October 6 from 2pm - 5pm, people of all ages will gather at Discovery Green for a multi-cultural, rhythm-infused, fantastic celebration of dance. We invite you to come to dance, learn, teach, perform, and experience dances from around the world and throughout history. Some of the groups already on the line-up are Flo-Motion, Argentine Tango Club, and The Houston Swing Dance Society. Group registration is still open on our website, and all are welcome!
Not already in a group? Come check it out and see for yourself what the different groups and styles are like. If you're anything like us, you'll probably enjoy it all. We hope you'll continue dancing with the groups you like, and we'll even provide a directory of all of them that includes when and where each group practices.
It's FREE!
Get it on the Action