Advancing Public Policies for People with Mental Illness, Chemical Dependency or Developmental Disabilities
Connect With Us:




Francine Sinkoff, Editor
fs@clmhd.org


VIDEO: Outreach Center Supports Mental Health Needs of the Rural Poor
East Aurora's image stands as a beacon of what you would expect out of a small town. Iconic shops, famous restaurants, Victorian Homes. But that image masks a daunting reality where trailer parks and poverty are more common. WBFO's Nick Lippa visited the Rural Outreach Center, an organization that serves southwestern New York and supports the needs of the rural poor, including mental health services.
Rural poverty is known as the invisible poverty. It's spread across a wide geographic area, making it difficult to receive services even if you want them. Driving around East Aurora with Rural Outreach Center Executive Director Frank Cerny, it's easy to see how not having a vehicle can be crippling.
"So that in itself creates its own sort of trauma if you will. And as a result of the social isolation and inability to access connections and assistance, it leads to mental illness that ranges from simple anxiety all the way to more diagnosable conditions," Cerny said. "So mental illness is pretty prevalent in the rural areas." Read more
here
.

Fewer Psychiatrists Take Medicaid Patients Even as the Program Has Expanded
Fewer and fewer psychiatrists are accepting Medicaid even as increasing numbers of patients have gained mental health coverage through expansion of the program, a
new study
suggests.
The percentage of psychiatrists taking Medicaid fell from nearly 48 percent in 2010-2011 to 35 percent in 2014-2015, researchers report in JAMA Psychiatry.
With the expansion of Medicaid, providers in some specialties have taken measures to expand capacity, said study coauthor Adam Wilk, an assistant professor of health policy and management at the Rollins School of Public Health at Emory University. "So we wondered if this would be true also of psychiatrists," he said.
Instead, Wilk and his colleagues found the opposite. The reason, he suspects, is the acute shortage of psychiatrists in the U.S. That shortage is completely changing the way psychiatrists do business, he said. Read more
here
.


Nominations for the Suicide Prevention Center of NY Awards for Excellence in Suicide Prevention

The Suicide Prevention Center of New York invites you to nominate individuals, community coalitions and/or organizations from our state who exemplify this year's conference theme "Stronger Together: Embracing diversity in state/local partnerships in suicide prevention."
We will recognize our awardees at this year's New York State Suicide Prevention Conference on Wednesday, September 18, 2019 at a Banquet dinner at the Desmond Hotel & Conference Center in Albany, NY. Awardees and nominators will be provided with one night of lodging, conference and Banquet attendance on September 18. Nominations should describe achievement in and commitment to the creation and strengthening of a suicide safer New York State. Read more
here
.

Connecting the Dots: Addiction, Trauma and Tobacco Use
June 17, 12 - 1 pm, National Council for Behavioral Health

The Role of the Criminal Justice System in Reducing the Duration of Untreated Psychosis
June 18, 2 - 3:30 pm, SAMHSA's GAINS Center

Revisiting Cognitive Deficits In Bipolar Disorder
June 19, 12 - 1 pm, PsychU

Best Practices in Family Treatment Drug Courts Webinar
June 20, 2 - 3:30 pm, SAMHSA's GAINS Center

Innovative Programming and Partnering for People Experiencing Opioid Addiction
June 20, 2:30 - 4 pm, Corporation for Supportive Housing

Using PSYCKES for Clinicians
June 20, 3 - 4:30 pm, OMH

Using PSYCKES Recipient Search
June 25, 10 - 11 am, OMH

Aligning Care Delivery to Emerging Payment Models
June 25, 1 - 2 pm, AHA Center for Health Innovation

Alternative Funding Strategies to Sustain and Expand Crisis Call Center Operations
June 25, 2 - 3:30 pm, National Council for Behavioral Health

How Can Medicaid and CHIP Support Children's Emotional Health?
June 26, 2 - 3 pm, Manatt Health

Cognitive Functioning & Neuroprotection In Schizophrenia
June 26, 12 - 1 pm, PsychU

New Quality Measures Related to Medicaid Beneficiaries with Physical and Mental Health (PMH) Integrated Care Needs and Beneficiaries with Complex Care Needs (BCN)
July 10, 2 - 3:30 pm, CMS

Translating Detox into Recovery: Innovations in Opioid Treatment
July 16, 3 - 4:30 pm, National Council for Behavioral Health







Children & Families Committee Meeting

June 18: 11:30 am - 1 pm, GTM

CLMHD BH Portal Webinar: Other Resources - OASAS Client Data System

June 26: 12 - 12:30 pm, GTM





CLMHD Office Closed - Independence Day

July 4

CLMHD BH Portal Webinar: Other Resources - PSYCKES

July 10: 12 - 12:30 pm, GTM




Quarterly C-SPOA Call

July 12: 1 - 2 pm, GTM

Children & Families Committee Meeting

July 16: 11:30 am - 1 pm, GTM




CLMHD / DOH / OMH / C-SPOA Meeting





July 24: 9 - 10:30 am, GTM

CLMHD BH Portal Webinar: Other Resources - Opioid-Related Data in New York State

July 24: 12 - 12:30 pm, GTM




Mental Hygiene Planning Committee Meeting

July 25: 1 - 3 pm, GTM




Contact CLMHD for all Call In and Go To Meeting information, 518.462.9422
CLMHD 2019 Youth Mental Health First Aid (YMHFA) Instructor Certification Program - Now Accepting Applications!

In an effort to reduce the stigma of mental illness and expand the number of people trained to teach Youth Mental Health First Aid, the Conference is once again providing scholarships for to up to 30 individuals throughout the state to participate in a 5-day YMHFA Instructor Certification program. Since 2014, the Conference has sponsored nearly 150 individuals to become Certified YMHFA Instructors.
The program will be offered the week of
October 21, 2019 in Albany, NY. CLMHD will cover the cost of the training, materials, travel, meals and lodging for attendees. A "blended training" will once again be offered for up to four individuals who are already certified as Adult MHFA instructors - these participants will only be required to attend the first 2.5 days of the training.
If you or someone you know is interested in applying, click
here
for the application.
The deadline for submission is August 23, 2019
. Completed applications are to be signed by your county's
Director of Community Services (DCS)
for approval, then forwarded to CLMHD for review by a YMHFA Advisory Committee. Individuals will be notified of their selection by September 27, 2019 and must commit to the requirements established by the committee.

Lady Gaga Announces teen Mental Health First Aid Pilot Program Will Expand to 20 Additional High Schools

Lady Gaga's Born This Way Foundation and the National Council for Behavioral Health announced that they will expand teen Mental Health First Aid (tMHFA) to 20 additional high schools around the country this fall. The innovative new peer-to-peer program empowers young people to support each other in times of need or crisis.
Watch
her speak with teen Mental Health First Aiders.
"With teen Mental Health First Aid, we like to say, it's okay to not be okay," said Lady Gaga, co-founder of Born This Way Foundation, onstage at her Las Vegas concert as she spoke to 16 students who had just completed the first tMHFA pilot in eight schools across the country. "Sometimes when life gives you a million reasons to not want to stay, you need just one person that looks at you, listens to you, helps you get help and validates how you feel."
"Together, Born This Way and the National Council have put this program in eight schools and soon it will be in 20 more. I know for certain that I'm not stopping here," she continued. "I want the teen Mental Health First Aid program in every school in this country." Read more
here
.

Federal Grants Restricted To Fighting Opioids Miss The Mark, States Say


In his 40 years of working with people who struggle with addiction, David Crowe has seen various drugs fade in and out of popularity in Pennsylvania's Crawford County.
Methamphetamine use and distribution is a major challenge for the rural area, says Crowe, the executive director of Crawford County Drug and Alcohol Executive Commission. And opioid-related overdoses have killed at least 83 people in the county since 2015, he says.
Crowe says his organization has received just over $327,300 from key federal grants designed to curb the opioid epidemic. While the money was a godsend for his county, he says methamphetamine remains a major problem.
And here's the hitch: Crawford County, which lies south of Lake Erie, on the Ohio state line, can't use the federal opioid grants to treat meth addiction. Read more
here
.

State Issues Guidance and Resources for Schools to Address Substance Abuse


The updated guidance reflects changes to Education Law §3038 that require the superintendent of each school district, in consultation with the local Board of Cooperative Educational Services (BOCES) District Superintendent where applicable, to designate an employee of the school district or BOCES to provide individuals with information on how to find available substance use related services.
The guidance also provides information on the role of the designee, information for administrators and boards of education regarding substance use policies in schools, partnering with BOCES and community-based organizations, along with a wealth of reliable resources on substance use issues. Read more
here
.

The Van Vs. An Opioid Addiction: Taking Treatment To The Streets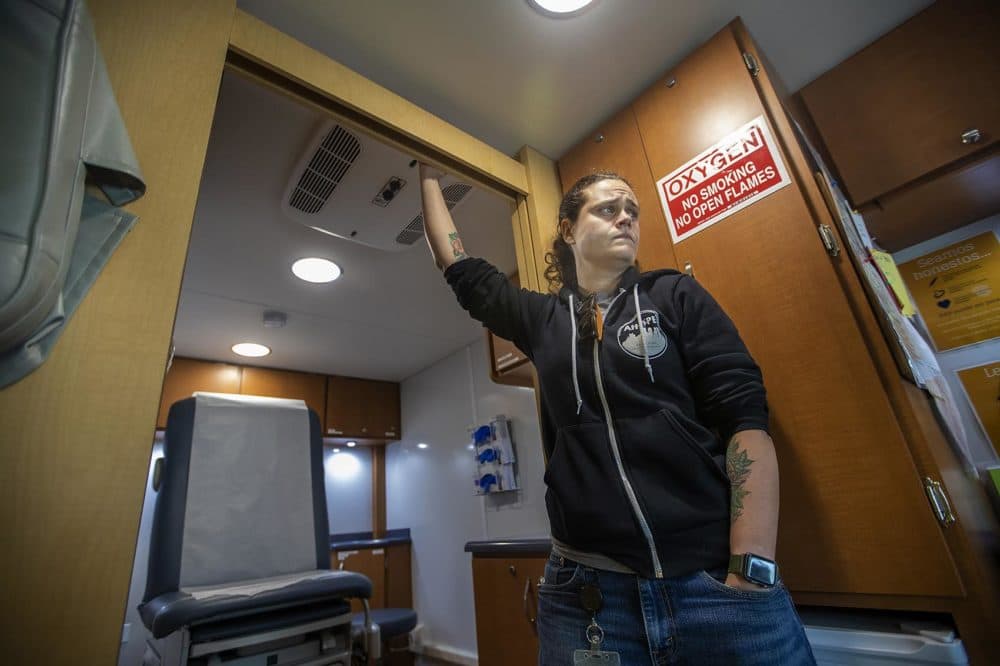 On the streets of Boston, the potholed path to treatment often starts with a sandwich. Egg salad is the favorite. Today it's ham. Phil Ribeiro tucks one into the bag of a man who is breathing, but either so sedated or deeply asleep that he's difficult to rouse.
"Hopefully he doesn't wake up next to a flock of Norway rats," says Ribeiro, a public health advocate with
AHOPE
, the needle exchange program run by the Boston Public Health Commission.
Ribeiro moves on, looking for more ways to spread "a little bit of love" among the dozen or so sleeping bags under a bridge within sight of Boston's TD Garden.
"Our whole focus is being a bridge to care, a bridge to addiction treatment," says AHOPE director Sarah Mackin.
That bridge includes a physician and an oversized white van that parks daily in one of four overdose hot spots around Boston. The
Care Zone van
is one of a half dozen or so projects across the country testing models for this theory: If the U.S. wants to end the opioid epidemic, it must make treatment as available as drugs. Read more
here
.

EDs Getting Ready To Step Into Value-Based Payment Waters


Emergency physicians are in an awkward spot when it comes to the value-based payment revolution. The emergency department is a potent symbol of old-fashioned, fee-for-service medicine-it's expensive to run and it's there, in part, to funnel patients into the hospital. These attributes have no place in the utopian vision of an efficient, high-quality, caring system that de-emphasizes expensive inpatient care and is supposed to swap out volume for value.
But the U.S. health care system remains very far from any utopian version of itself, and ED doctors find themselves seeing the same patients over and over, for any number of reasons: substance use or mental health issues, poorly controlled chronic illness, lack of access to primary care, or simple misunderstanding that the ED is meant for emergencies, not earaches.
So emergency physicians are looking for better ways to serve frequent patients and use payment policies to support a new and different role: as stewards of patients not just during the few hours they are in the ED, but for days or weeks afterward to ensure a successful hand-off to the next, most appropriate type of care. Read more
here
.

In Mental Health Play, Anthem To Buy Beacon Health Options
Anthem didn't disclose a price it is paying Bain Capital Private Equity and Diamond Castle Holdings for Beacon Health, which is privately held. The acquisition is expected to close in the fourth quarter of this year.
Beacon manages mental health, substance abuse and other behavioral health services to more than 36 million people across the U.S., "including nearly 3 million individuals under comprehensive risk-based behavioral programs." Anthem, which owns Blue Cross and Blue Shield plans in 14 states, already has more than 40 million members in its health plans.
The deal is significant because it's further acknowledgement by health insurers that managing medical care isn't enough to make sure patients are getting the right care, in the right place and at the right time. Insurers increasingly are working to address social determinants of their customers outside of traditional medical care and an estimated one in five American adults suffers from mental illness, according to the National Institute of Mental Health.
Read more here.