Advancing Public Policies for People with Mental Illness, Chemical Dependency or Developmental Disabilities
Connect With Us:




Francine Sinkoff, Editor
fs@clmhd.org


In Reversal, Counties and States Help Inmates Keep Medicaid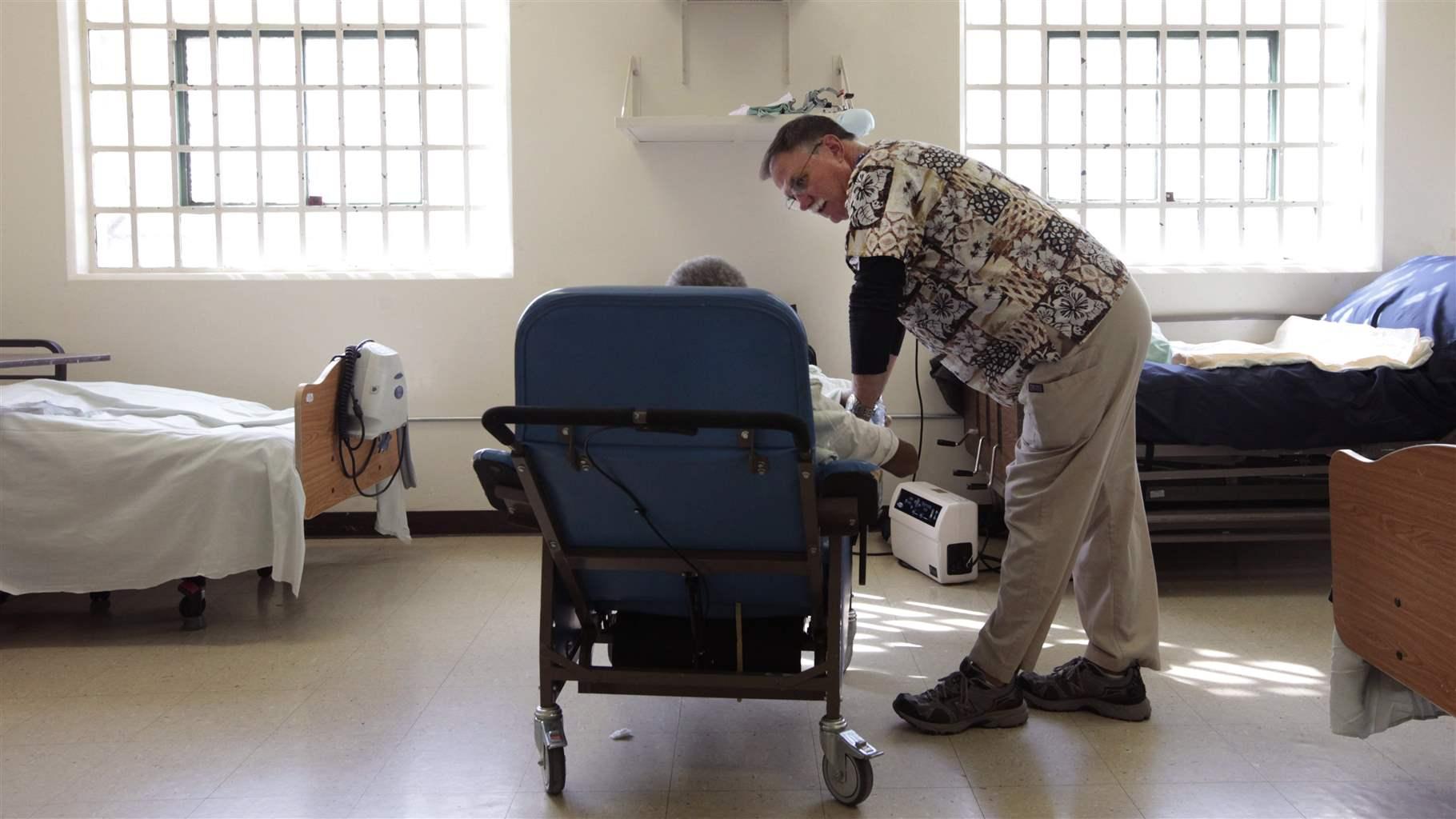 More local and state officials are working to ensure that low-income residents stay on Medicaid when they go to jail.
Federal law bars Medicaid recipients from accessing their full federal health benefits while incarcerated. But officials from both parties have pushed for two key changes to ensure little or no disruption of health benefits for pretrial detainees who have not been convicted of a crime and make up most of the 612,000 people held in America's county jails.
In recent years, officials have increasingly implemented a stopgap measure to help inmates more seamlessly reactivate their Medicaid coverage upon release from jail or prison.
And a bipartisan coalition of county sheriffs, commissioners and judges are now lobbying federal lawmakers to change a long-standing policy and let pretrial detainees retain coverage while in custody.
The National Association of Counties and the National Sheriffs' Association, which are supporting the effort, estimate that it would cost the federal government in excess of $3 billion a year. Read more
here
.



UPCOMING EVENTS & TRAININGS
Incorporating Community Voices to Improve Complex Care
January 21, 1 - 2:30 pm, Center for Health Care Strategies, Inc.

Screening and Assessment across the Sequential Intercept Model Webinar Series
January 21, 2 - 3:30 pm, SAMHSA's GAINS Center

Using PSYCKES Recipient Search
January 22, 11 am - 12 pm, OMH

Responding to Individuals in Behavioral Health Crisis via Co-Responder Models: The Roles of Cities, Counties, Law Enforcement, and Providers
January 23, 2 - 3 pm, Safety and Justice Challenge

Innovations in Mental Health Service Delivery and Implications for Providers
January 28, 12 - 1 pm, PsychU

Role of Providers to Improve Quality of Care for Opioid Use Disorder
January 28, 12 - 1 pm, US DHSS Office of Minority Health

Capital Financing 101 for Behavioral Health Agencies
January 28, 1 - 2 pm, Primary Care Development Corporation (PCDC)

Using PSYCKES Quality Indicator Reports
January 29, 11 am - 12 pm, OMH

The Future of CCBHCs: Opportunities for Expansion and Lessons Learned from the Field
January 29, 2 - 3 pm, RELIAS

Social Media and Ethical Dilemmas for Behavioral Health Clinicians
January 29, 3 - 4 pm, NAADAC

How to Interpret, Utilize and Present Data in a Meaningful Way
January 30, 12 - 1 pm, Suicide Prevention Center of New York

PSYCKES Mobile App for iPhones & iPads
February 5, 3 - 4 pm, OMH

Peer Support: State Credentials, Continuing Education, and Retention/Recruitment Strategies
February 6, 1 - 2 pm, Rutgers University

Re-Mapping the Fraud and Abuse Landscape
February 13, 1 - 2 pm, Manatt Health







CLMHD Office Closed - Martin Luther King, Jr. Day

Children & Families Committee Meeting

January 21: 11:30 - 1 pm, GTM




Developmental Disabilities Committee Meeting

January 23: 1 - 2 pm, GTM




Mental Hygiene Planning Committee Meeting

January 27: 1 - 3 pm, GTM / In-Person in Albany




FEBRUARY 2020




Executive Committee Meeting

February 5: 8 am, GTM




CLMHD Membership Call

February 11: 9 - 10:30 am, GTM




CLMHD Office Closed - Lincoln's Birthday

February 12




CLMHD Office Closed - Washington's Birthday

February 17

Children & Families Committee Meeting

February 18: 11:30 - 1 pm, GTM




Contact CLMHD for all Call In and Go To Meeting information, 518.462.9422
CLMHD Presents to NYS Senate Mental Health and Developmental Disabilities Committee
CLMHD Executive Director, Kelly Hansen, was invited by NYS Senate Mental Health and Developmental Disabilities Committee Chair, Senator David Carlucci, to present to committee members at their first meeting of the year.
The meeting was chaired by Carlucci, and also included Senators George Amedore, Jr., John Brooks, and Luis Sepúlveda. Ms.
Hansen presented on the impact of $4.75 million appropriated in the State Budget which has allowed for development and/or expansion of Substance Use Disorder (SUD) treatment and transition services in county jails.
According to a December 2017 report commissioned by the Conference, more than half (51%) of New York State jails reported that they have no funding for Substance Use Disorder (SUD) treatment services, despite strong evidence that these services reduce crime, save money, and save lives. This funding has been critical to expanding necessary access and resources to treating individuals in local correctional facilities who are suffering from addiction.
The Conference looks forward to working with State Legislature as we advocate for continued funding in this year's State Budget.
Click
here
to view video of Kelly Hansen's presentation.

Harckham Sponsored Bill for Removal of Prior Authorization For Opioid Treatment Becomes Law
A new law, introduced by New York State Senator Pete Harckham and signed by Governor Andrew M. Cuomo, will prohibit insurance companies from requiring prior authorization for medications used in the treatment of substance use disorders.
Medication Assisted Treatment (MAT) has long been established as the standard care for opioid and other substance abuse disorders. But MAT medications, like buprenorphine and methadone, which help reduce cravings, prevent overdoses and often block the effects of various substances, are often difficult to access.
Prior authorization from insurers to allow physicians to prescribe MAT drugs can take upwards of three days, and sometimes even longer. Meanwhile, individuals struggling with substance use begin experiencing painful withdrawal symptoms in as little as six to 12 hours. Without access to MAT, resolve weakens and people relapse; to dull withdrawal symptoms, they return to substance use. Read more
here
.

"In Case You Missed It" - CLMHD
Recaps Key Information Issued by the State
The Conference has published the December 2019 edition of "In Case You Missed It (ICYMI)," a one-stop-shop highlighting key information released by our state partners. This publication provides a clear, concise recap of significant state guidance, regulations, and resources from OMH, DOH, OASAS, and OPWDD, as well as links to access documents and materials of importance.
Click
here
to read the December 2019 issue.

County Leaders Baffled and Worried Over Cuomo's Medicaid Comments


For most of Gov. Andrew M. Cuomo's State of the State address, the county officials from across the state who assembled in a state convention hall here could politely clap as they listened to the governor and soaked in the political trappings of the annual event.
Until the 45th minute.
On a dime, Cuomo pivoted to talk of the state's "significant" deficit. The chief culprit, as everyone in the room already knew: rising costs in the Medicaid health insurance program. The higher costs are driven by a number of factors, including the state's higher minimum wage that health providers must pay workers but which can be reimbursed through Medicaid.
But Cuomo added another source of blame for the Medicaid red ink: Albany has been so generous under a program he proposed in 2012 - in which the state picks up annual Medicaid increases that the counties once had to fund - that the state's finances are seriously hurting.
The state, Cuomo said in the speech, is spending $177 million for Medicaid this year "on behalf of Erie County.''
The state is spending big "to cover" the local costs of 62 counties in New York, he said. The 2012 plan is now costing the state about $5 billion annually, according to his administration.
Counties are driving up Medicaid costs, the governor said, with no incentives to control costs and the state is there to "cover" those rising county costs.
"It's too easy to write a check when you don't sign it ... The situation is unsustainable,'' he said.
In the audience, county officials, Democrat and Republican, collectively gasped to themselves.
Were they hearing Cuomo right? Wasn't this the same governor who in 2012 got much fanfare for his plan to largely freeze the Medicaid costs for counties? Didn't he promote that idea as a plan to reduce the burden on counties? Read more here.

SAMHSA Funding Opportunity: Certified Community Behavioral Health Clinic (CCBHC) Expansion Grants

Application Due Date: Tuesday, March 10, 2020
SAMHSA is accepting applications for Certified Community Behavioral Health Clinics (CCBHCs) Expansion Grants (CCBHC Expansion Grants). The purpose of this program is to increase access to, and improve the quality of community mental and substance use disorder (SUD) treatment services through the expansion of CCBHCs. CCBHCs provide person- and family-centered integrated services. The CCBHC Expansion grant program must provide access to services including 24/7 crisis intervention services for individuals with serious mental illness or SUDs, including opioid use disorders; children and adolescents with serious emotional disturbance; and individuals with co-occurring mental and substance disorders. SAMHSA expects that this program will provide comprehensive 24/7 access to community-based mental and SUD services; treatment of co-occurring disorders; and physical healthcare in one single location.
SAMHSA plans to issue 98 grants of up to $2,000,000 per year for up to 2 years. Read more
here
.


What Schizophrenia Does to Families

A mother, a son, an unraveling mind - and a mental health system that can't keep up

Alissa Dumsch flips through her high school yearbook, pausing on a photo of a hulking young man with sandy hair and a chiseled jaw. "There's Aaron," she says, pointing to her brother. "He was so good-looking." She turns a few more pages. "Here he is at student council. I ran every year - and I lost every year," she says, laughing. "He ran one year and, like, won by a landslide!"

We're sitting in her home in Scarsdale, N.Y., along with her parents, Anita and Pat, and her sister, Amanda. Alissa's husband quietly tapes hockey sticks in the corner while the youngest of their three boys, a toddler, waddles into the room with an oversized navy helmet teetering on his head.
Aaron is the only one missing. He knows we're here though. His parents told him. And he knows about this article; he gave me permission to write it the first time we spoke by phone, in the fall of 2018, when I explained what it would mean to share the story of his struggle with mental illness with a journalist and have his name and photo printed in a national magazine. "That would be awesome," he said. As time went by, his family and I continued to check in to make sure he still felt that way. Read more
here
.

Alcohol Deaths Have Risen Sharply, Particularly Among Women
The number of women drinking dangerous amounts of alcohol is rising sharply in the United States.
That finding was among several troubling conclusions in an analysis of death certificates
published Friday
by the National Institute on Alcohol Abuse and Alcoholism. The analysis looked at deaths nationwide each year from 1999 through 2017 that were reported as being caused at least partly by alcohol, including acute overdose, its chronic use, or in combination with other drugs.
The death rate tied to alcohol rose 51 percent overall in that time period, taking into account population growth. Most noteworthy to researchers was that the rate of deaths among women rose much more sharply, up 85 percent. In sheer numbers, 18,072 women died from alcohol in 2017, according to death certificates, compared with 7,662 in 1999. Read more
here
.