Advancing Public Policies for People with Mental Illness, Chemical Dependency or Developmental Disabilities
Connect With Us:




Francine Sinkoff, Editor
fs@clmhd.org
New Publication from SAMHSA: Use of Medication-Assisted Treatment for Opioid Use Disorder in Criminal Justice Settings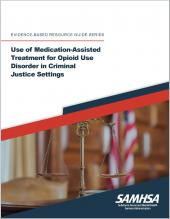 This guide
focuses on using medication-assisted treatment for opioid use disorder in jails and prisons, and during the reentry process when justice-involved persons return to the community. It provides an overview of policies and evidence-based practices that reduce the risk of overdose and relapse.

Mental Health Clinics Face Federal Funding Loss Next Week
Innovative mental health centers in eight states will lose enhanced federal funding on Sunday for a Medicaid demonstration that enables them to offer a broad array of coordinated services for people with serious mental illness and substance use disorders.
The two-year, $1 billion certified community behavioral health clinic program (CCBHC), which enjoys bipartisan support, will end unless Congress quickly agrees to at least temporarily extend the funding.
Centers in Minnesota, Missouri, Nevada, New Jersey, New York, Oklahoma, Oregon and Pennsylvania have notified staff and patients about layoffs and service cuts. Read more
here
.

National Survey Seeking Input from
Supervisors of Peer Support Workers
University of South Florida's Department of Psychiatry and at Magellan Health are seeking participants who currently supervise at least one peer support worker to complete an online survey about their training, supervision experiences and practices, and related views. To learn more,
click here
.

New Opportunities to Advance Integrated Care for Dual Eligibles
July 24, 1 - 2 pm, Manatt Health

Using PSYCKES Quality Indicator Reports
July 25, 2 - 3 pm, OMH

Medication-assisted Treatment for Opioid Use Disorder in Correctional Settings: Notes from the Field
July 25, 3 - 4:30 pm, SAMHSA's GAINS Center

A Needs-Based Toolkit to Advance Workforce Integration Readiness
July 26, 12:15 - 1:30 pm, NYC Peer and Community Health Worker Workforce Consortium

Digital Approaches to the Psychiatric Care of Older Adults
July 26, 12:30 - 1:30 pm, SMI Adviser

GAINS Advancing Early Diversion Summer Series Part 2: Strategies for Collaborative Early Diversion Encounters
July 26, 1 - 2:30 pm, SAMHSA's GAINS Center

Addressing Social Determinants: Impacting Health & Wellness Beyond Traditional Medicine (SDOH Series Part 1)
July 29, 12 - 1 pm, PsychU

PSYCKES Brief Clinical Summary
July 30, 10 - 11 am, OMH

The Intersection of Substance Use Disorders, Opioid Misuse, Overdose, and Suicide: Understanding the Connection, Part 1
July 30, 11 am - 12 pm, SAMHSA PTTC

HIPAA/Data and Information Sharing
July 30, 1:30 - 3 pm, SAMHSA's GAINS Center

Strategies for Connecting Justice Involved Populations to Substance Use Disorder Treatment Webinar
July 30, 2:30 - 3:30 pm, CMS Medicaid Innovation Accelerator Program

PSYCKES Mobile App for iPhones & iPads
July 31, 3 - 4 pm, OMH

The Developmentally Informed and Trauma-Informed Police Officer
August 1, 1 - 2 pm, Office of Juvenile Justice and Delinquency Prevention

Implementing MAT in Drug Court Settings
August 5, 2 - 3:30 pm, SAMHSA's GAINS Center

Demonstrating the Impact of Supportive Housing Webinar
August 7, 2 - 3:30 pm, CMS Medicaid Innovation Accelerator Program

Using PSYCKES Recipient Search
August 7, 3 - 4 pm, OMH

Widening the Lens: Treatment for Alcohol and Stimulant Use Disorders Webinar
August 8, 3 - 4:30 pm, CMS Medicaid Innovation Accelerator Program

Using PSYCKES for Clinicians
August 13, 1 - 2:30 pm, OMH

HCBS Training Series: Balancing Choice and Risk
August 14, 1:30 - 3 pm, Center for Medicaid and CHIP Services

PSYCKES Brief Clinical Summary
August 15, 3 - 4 pm, OMH

Enable Access to Client-Level Data in PSYCKES
August 20, 11 am - 12 pm, OMH

How To Build Effective Programs That Meet Payers' Focus On Social Determinants Of Health: Will The New Codes Pave The Way? (SDoH Series Part 2)
August 20, 12 - 1 pm, PsychU

PSYCKES Access and Implementation
August 29, 2 - 3 pm, OMH







July 24: 9 - 10:30 am, GTM

CLMHD BH Portal Webinar: Other Resources - Opioid-Related Data in New York State

July 24: 12 - 12:30 pm, GTM




Mental Hygiene Planning Committee Meeting

July 25: 1 - 3 pm, GTM




AUGUST 2019




CLMHD BH Portal Webinar: Other Resources - Kids Well-being Indicators Clearinghouse

August 14: 12 - 12:30 pm, GTM




Children & Families Committee Meeting

August 20, 11:30 am - 1 pm, GTM

CLMHD BH Portal Webinar: Other Resources - Behavioral Risk Factor Surveillance System (BRFSS)

August 28: 12 - 12:30 pm, GTM




Contact CLMHD for all Call In and Go To Meeting information, 518.462.9422
United Health Fund Report: NYS Medicaid Reform Efforts Can Improve Health Care Outcomes Well Beyond 2020
Four years into a groundbreaking overhaul of its Medicaid program, New York has laid the groundwork for improving health care access, quality, and costs well beyond 2020 if it continues to expand on the practices implemented to date, according to
DSRIP Promising Practices: Strategies for Meaningful Change for New York Medicaid
, a report released by United Hospital Fund (UHF) and funded by the New York State Department of Health.
The State launched the Delivery System Reform Incentive Payment (DSRIP) program in 2014 to invest in system transformation, clinical improvement, and population health projects that promote community-level collaborations, with the goal of achieving a 25 percent reduction in avoidable hospital use over five years.
As the State plans for next steps when the current DSRIP program ends on March 31, 2020, the Department of Health asked UHF's Medicaid Institute to review the first four years of the effort to identify key lessons and promising practices that could inform its discussions. Read more
here
.

How the Opioid Crisis Arrived at New York's Commuter Hubs

In the throes of addiction, people congregate around Penn Station and the Port Authority Bus Terminal.


A couple from Ohio pushed a shopping cart filled with their tattered belongings toward West 34th Street as tourists crowded beside them. An older man from Massachusetts nodded off outside Pennsylvania Station, which 600,000 people pass through daily. Nearby, a woman from North Carolina crouched next to a cardboard sign.

New York's transit hubs welcome millions of tourists and commuters every year. But in recent years, the hubs have also increasingly become a destination for people with opioid and other drug addictions, many of whom arrive from parts of the country that have seen soaring rates of drug use and fatal overdoses.
New York has its own drug crisis: Overdose deaths rose sharply in 2016 with the arrival of fentanyl, and authorities say the city has become a center for the illegal synthetic opioid. But other than in pockets of the Bronx and Staten Island, the opioid crisis tends to be largely hidden from public view.
That is not so at Penn Station and the Port Authority Bus Terminal in Midtown Manhattan, Jamaica Station in Queens and other transit centers. Read more
here
.

More Kids Are Getting Placed In Foster Care Because Of Parents' Drug Use

The number of cases of children entering the foster care system due to parental drug use has more than doubled since 2000, according to
research published this week
in JAMA Pediatrics.
Researchers analyzed data from the Adoption and Foster Care Analysis and Reporting System (AFCARS), a
federally mandated data collection system that includes information on children in foster care in the United States.
They looked at nearly 5 million instances of children entering foster care between 2000 and 2017 and analyzed how many times foster children were removed from their homes due to their parents' drug use each year. Read more
here
.

Some New York Prosecutors Expect a Tricky Year Ahead on Raise the Age


When Governor Andrew Cuomo (D) signed the juvenile justice law known as "Raise the Age" in April 2017, advocates celebrated that New York would finally catch up to other states moving 16- and 17-year-olds out of adult courts and lockups. But some prosecutors expressed concerns about the costs and public safety without opposing the bill entirely.
Now, six months into the law's implementation, district attorneys from New York's largest counties say they are improvising to navigate what they call a complex new court process without funding for new staff so far.
New York was the second-to-last state in the nation to raise the so-called age of juvenile jurisdiction over 16. Five states have raised the age in the last 12 years after a wave of tough-on-crime legislation in preceding decades pushed the youth population in adult jails and prisons up to nearly 15,000 in the late 1990s. New York, unlike some states that have raised the age, opted to originate all felony cases in new youth sections within the adult court, with opportunities for removal down to family court. The law went into effect for 16-year-olds last October, and will go into effect for 17-year-olds this October.
"Although the case counts have not been overwhelming, each case has required significantly more time due to new Youth Part procedures," wrote Kaitlyn Munro, spokes-person from the office of John Flynn, Erie County district attorney, in an email to The Chronicle of Social Change, referring to new youth-specific courtrooms created within the adult court. "As a result, the Youth Part attorneys did not have the time to handle additional felony matters. That in turn increased the workload on other felony level assistant district attorneys." Read more
here
.

FCC Proposes a Three-Year Pilot Program to Fund "Connected Care" Telehealth Applications



The Federal Communications Commission (FCC) took another step closer to establishing a three-year, $100 million Connected Care Pilot program following review of public comments on its prior Notice of Inquiry that previewed this effort. Future funding opportunities will be directed toward health care providers serving patients in tribal lands, veterans, and rural, underserved or low-income areas. These health care providers are expected to provide patients with home broadband services that support telehealth technologies or certain mobile wireless applications not previously subsidized under existing FCC Universal Service Fund (USF) programs.

On July 10, 2019, the FCC voted to adopt a Notice of Proposed Rulemaking (NPRM) that would create a new Pilot program. If a Pilot program is ultimately adopted, which seems likely, action would advance the FCC's goal to bring "innovative telemedicine technologies to medically underserved populations," an issue championed by Commissioner Carr since 2018.



The focus of this NPRM is to craft Pilot program rules that "support[] connections directly between health care providers and patients."

Read more

here.

Additional article of interest: FCC Backs $39.2M for Upstate Broadband Access

Your Local Library May Have A New Offering In Stock: A Resident Social Worker

Trish doesn't have many places to turn. She's living at her elderly father's home without a job because she can't afford the care he needs. And every day she says the balance sheet seems stained with more red ink.
"It's all outgoing. There's nothing coming in, that's for sure. And I'm stuck in a rock and a hard place because of my credit, so I don't - I need to make enough money that I can afford to live somewhere," she says, voice quavering.
Across from her at the table, David Perez nods quietly and takes notes.
"I am just really drained. I am," she hesitates half a beat, before finishing plaintively: "I am absolutely miserable. I want a job."
As difficult as her situation is, Trish - who asked that we just use her first name - is far from alone. Lots of social workers see cases such as hers come through their offices.

From Siloed Systems to Ecosystem: The Evolution of the Camden Coalition's Complex Care Model
While discussions about the social determinants of health are featuring more prominently in the nation's current health policy conversation, many organizations, like the Camden Coalition, have been working for years to understand and address this intersection.
In 2016, the
National Center for Complex Health and Social Needs
was created as a way to build a field that addresses what we have come to call complex care. The field has yet to discover the full set of solutions that bridges the gaps between medicine, behavioral health, public health, and social services to guarantee better health and well-being, but recent discussions about "social determinants" provide new pathways of hope and inquiry.
In the spirit of reflection and continuous learning, we thought it was timely to share the story of the Camden Coalition's 15-plus years developing a care model that is centered around both health and social complexity.
This new
four-part series
describes the phases of our work as we addressed challenges and tested new solutions.

Can Paramedics Be The First Step In Addiction Treatment?
We all know the stats surrounding the opioid crisis. Between 2016 and 2017, drug overdose deaths involving synthetic opioids other than methadone increased 45%. Between 2008 and 2016, the national rate of opioid inpatient stays increased almost 79.2%. And on average, 130 people die each day from an opioid overdose in the U.S.
These stats are why a recent headline caught my attention - New Jersey is allowing paramedics to carry buprenorphine and to administer the drug after an overdose. The goal of the program is to mitigate the symptoms of withdrawal.
The new initiative was issued via an executive order by the Commissioner of the Department of Health and adds buprenorphine to the optional formulary used by the state's mobile intensive care units (MICUs). Read more
here
.