Advancing Public Policies for People with Mental Illness, Chemical Dependency or Developmental Disabilities
Connect With Us:




Francine Sinkoff, Editor
fs@clmhd.org

Funding Opportunity:
NYS Community-Based Organizations



The mental health and substance use disorder ombudsman program, ("Ombuds"),

a program of the Community Service Society of New York (CSS) and its partners, invites non-profit community-based organizations to participate in this Request for Proposals (RFP).


CSS anticipates awarding 4-5 contracts to organizations serving New York State to assist with providing education and outreach to individuals with mental health and substance use disorder needs, their families, providers, and local public health entities. Agencies serving the North Country, Long Island, Staten Island, and Western New York are highly encouraged to apply. The grant award is $20,000 - $30,000 for a 6-month period during the first contract year. For more information about the RFP and how to apply, click here.


HHS Awards $293 Million to Bolster Primary Health Care Workforce and Address Patient Access to Care and Behavioral Health Services
Last week, the U.S. Department of Health and Human Services (HHS) Health Resources and Services Administration (HRSA) announced $293 million in awards to primary health care clinicians and students through the National Health Service Corps (NHSC) and Nurse Corps programs.
The NHSC and Nurse Corps programs build healthy communities by providing scholarships and loan repayment to health care providers in exchange for working in areas of the U.S. with limited access to care.
More than 3,600 of these NHSC members are currently providing behavioral health care services, including medication-assisted treatment and other evidence-based substance use disorder care, in high-need areas. HRSA continues to invest in expanding access to substance use disorder treatment in rural and underserved areas. Read more
here
.


National Sheriffs' Association & National Commission on Correctional Health Care Release Jail-Based MAT Resource Guide
Jails are on the front lines of this epidemic, and they also are in a unique position to initiate treatment in a controlled, safe environment. Pharmacotherapy-i.e., medication-assisted treatment-is a cornerstone of best practice for recovery from substance abuse. Treatment using MAT, particularly when coupled with evidence-based behavioral therapy, improves medical and mental health outcomes and reduces relapses and recidivism.

October 30, 12 - 1 pm, PsychU
October 30, 2 - 3:30 pm, DOH
Encounter, Enable, Engage: A Three-Step Strategy for Early Diversion
October 30, 2 - 3 pm, SAMHSA's GAINS Center
October 30, 2:30 - 3:30 pm, Manatt Health
October 31, 3 - 4 pm,
National Academy for State Health Policy
PSYCKES Access and Implementation
November 1, 10 - 11 am, OMH
PSYCKES Mobile App for iPhones & iPads
November 6, 3 - 4 pm, OMH
November 7, 12 - 1 pm, PsychU
November 7, 1 - 2 pm, National Sheriffs' Association
The Role of Technology in Solving the Opioid Crisis
November 7, 2 - 3 pm, National Council for Behavioral Health
November 8, 11:30 am - 12:30 pm, National Council for Behavioral Health
Where to Start as a New CCBHC: Lessons from a First Round CCBHC Grantee
November 13, 3:15 - 4:15 pm, National Council for Behavioral Health
Using PSYCKES for Clinicians
November 14, 12:30 - 2 pm, OMH
Mitigating Medication Trauma in Complex Needs Populations
November 14, 2 - 3 pm, Center for Health Care Strategies, Inc.
November 15, 12 - 1 pm, PsychU
PSYCKES Train the Trainer
November 21, 12 - 1 pm, OMH
Leveraging Medicaid Managed Care to Advance Value-Based Purchasing
November 27, 1 - 2 pm, Manatt Health
Integrating Behavioral Health and Primary Care: Solutions That Work
November 29, 12 - 1 pm, CTAC/MCTAC




CLMHD Executive Committee Call

November 7: 8 am, GTM

CLMHD Office Closed - Veterans Day

November 12

CLMHD/DOH/OMH/C-SPOA Meeting


November 15, 3 - 4 pm, GTM

Children & Families Committee Meeting

November 20, 11:30 am - 1 pm, GTM

CLMHD Office Closed - Thanksgiving

November 22 - 23

CLMHD Directors Meeting

November 28, 9:30 - 11 am, GTM

Contact CLMHD for all Call In and Go To Meeting information, 518.462.9422
Rensselaer County Launches Helpline for Battling Addiction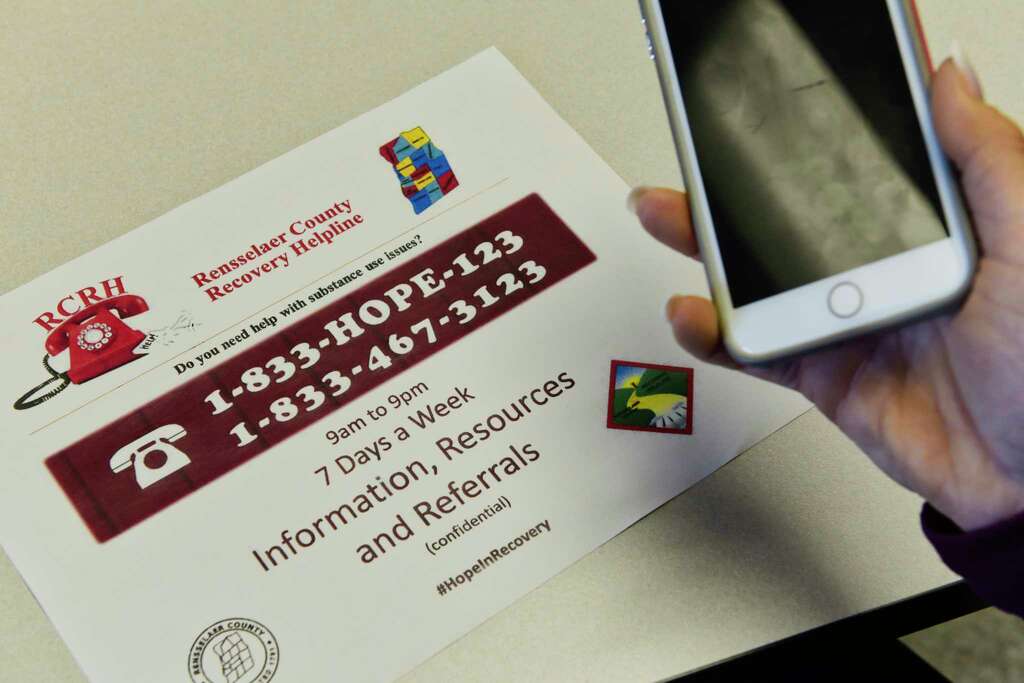 Rensselaer County has launched a helpline for residents who are struggling with addiction and don't know where to turn for help.
The line, 1-833-HOPE-123, is open every day from 9 a.m. to 9 p.m. and staffed by roughly 30 volunteers on rotating shifts.
Volunteers will ask the caller questions and pass their information on to a designated "lead" - a person with experience in addiction and recovery issues who will then help the caller access the right kind of help. That may mean detox services and inpatient rehabilitation, or it may mean outpatient help, medication or counseling.
Whatever the help, it would be individualized based on the caller's needs, said Maryfran Wachunas, county public health director and co-chair of a countywide heroin coalition.
"I just think how devastating all our deaths have been," she said. "We're trying to stop the deaths. And I feel this is part of saving people's lives - to listen to what someone needs, and then to help them get it."
Rensselaer County, like many parts of America, has been hit hard by the ongoing opioid epidemic. Read more
here
.

Raising the Age of Criminal Responsibility in NYS:

A County Impact Update
As counties continue to deliberate the most effective and efficient ways to implement the new Raise the Age Law, they are waiting for a range of final state regulations, policies, and procedures for the range of programs, services, facilities, and staffing requirements to be finalized. This report presents information about the changes required under the law and provides an update and details regarding its implementation status at the state and local levels.
Click
here
to view the report.

Here's How New York is Spending its Federal Opioid Dollars
New York is one among a group of states that has been able to broaden its federal spending on the opioid epidemic for services beyond treatment, thanks at least in part to its decision to expand Medicaid under the Affordable Care Act.
That's the conclusion of an Associated Press analysis of state grant spending on the opioid epidemic, published Monday. The nonprofit news outlet analyzed how states spent the nearly $1 billion in federal emergency opioid grants that were awarded to states in 2016, and found that states that chose not to expand Medicaid ended up pouring most of that grant money into treatment programs for the poor.
In states that did expand Medicaid, the national health insurance program for the poor already covered treatment services - allowing states to spend more of their grants on other efforts, such as housing and job services for those in recovery from addiction. Read more
here
.

Knocking On Doors To Get Opioid Overdose Survivors Into Treatment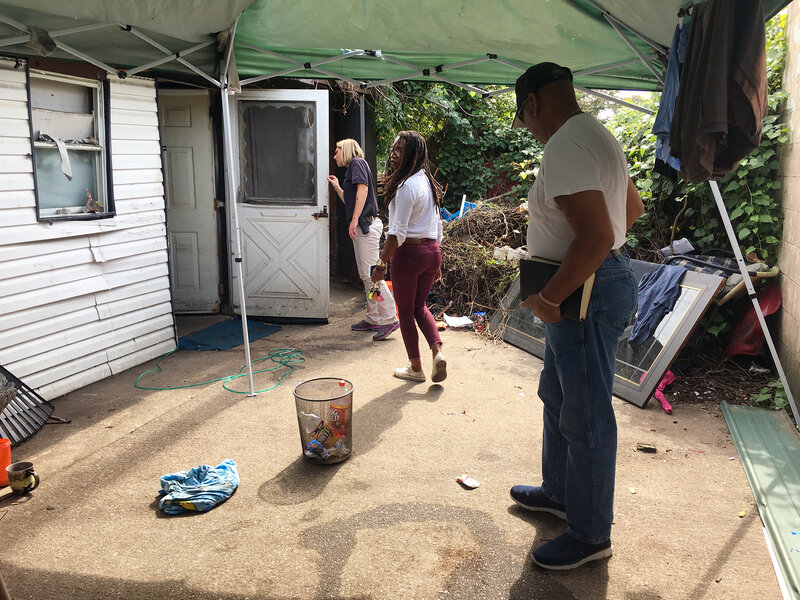 Larrecsa Cox is a paramedic, but instead of an ambulance with flashing lights and sirens, she drives around in an old, white sedan.
Her first call on a recent day in Huntington, W.Va, was to a quiet, middle-class neighborhood.
"He overdosed yesterday," Cox says. "And I think we've been here before. I'm almost 100 percent sure we've been to this house before."
Cox is the only full-time member of Huntington's new quick-response team - a collaborative project involving law enforcement, the county's medical first responders and several drug treatment providers.
The goal in this community ravaged by the opioid epidemic is simple: Track down people who've recently survived drug overdoses; visit them at home, a hospital or even in jail; and tell them how to get help. Read more
here
.

Suicide Deaths Missing From Opioid Overdose Data, Experts Say
Today, Chacku Mathai is the CEO of the Mental Health Association of Rochester.
But at 15, he wanted to die.
Describing himself as an immigrant kid with dark skin in a largely white neighborhood, he said he felt misunderstood and targeted at school. He attempted suicide by overdosing on alcohol and other drugs.
"I would bet that it was not determined intentional, because my family found a note later," Mathai said.
Mathai's experience decades ago is still playing out today, said Pauline Stahlbrodt, the clinic manager at Rochester Regional Health's Evelyn Brandon Health Center.
Read more
here
.

Community Health Workers Can Reduce Hospitalizations by 65% and Double Patient Satisfaction with Primary Care

Community health workers - trusted laypeople from local communities who help high-risk patients to address social issues like food and housing insecurity - can help reduce hospital stays by 65 percent and double the rate of patient satisfaction with primary care, according to
new study results published in JAMA Internal Medicine
. The study, conducted by researchers in the Perelman School of Medicine at the University of Pennsylvania, focused on chronically-ill low-income patients and U.S. veterans, and is the first multi-center randomized controlled trial to demonstrate these kinds of improvements resulting from a health system-based social intervention.
"Improving health quality while lowering costly hospitalizations is what so many health care leaders are trying to achieve," says lead study author Shreya Kangovi, MD, MS, an assistant professor of Medicine and founding executive director of the Penn Center for Community Health Workers. "It's remarkable that these results were achieved not by an expensive drug or technology, but from good old-fashioned social support." Read more
here
.

How Social Services and Performance Contracting Fit Together


Governments often view performance-based contracting as a north star. But while paying for performance can streamline incentives for public works or technology, it can backfire for social services. That's because determining the impact of social programs and therefore paying for true performance is complex. Instead, governments should focus on reorienting their management of contracts toward outcomes.
Take the example of a workforce-development contract, which typically pays for the number of clients receiving services. With a performance-based contract, government might instead pay based on how many clients are placed into jobs. But if performance is assessed without a rigorous evaluation, it could lead the provider to prioritize activities that are most likely to result in immediate job placement even though first tackling barriers such as substance abuse could improve prospects for sustainable, long-term employment. Perhaps worse, the provider could feel pressure to serve clients who are the easier to place into jobs instead of those most in need of help.
Read more
here
.

National Provider Survey Report on Self-Determination for Persons with I/DD
Agencies providing services to adults with intellectual and developmental disabilities (I/DD) are undergoing a decades long shift from congregated approaches toward community-based, integrated, and person-centered supports.
When self-directing their services, adults with I/DD exercise employer and budget authority, sometimes with the assistance from a family member, support broker, counselor, and/or a fiscal intermediary.
investigated how providers are currently supporting adults to lead self-directed lives, and the barriers and catalysts to such supports. Read more
here
.

CMS Model Addresses Opioid Misuse Among Expectant and New Mothers
This week the Centers for Medicare & Medicaid Services (CMS) announced the Maternal Opioid Misuse (MOM) model, an important step in advancing the agency's multi-pronged strategy to combat the nation's opioid crisis. The model addresses the need to better align and coordinate care of pregnant and postpartum Medicaid beneficiaries with opioid use disorder (OUD) through state-driven transformation of the delivery system surrounding this vulnerable population. By supporting the coordination of clinical care and the integration of other services critical for health, wellbeing, and recovery, the MOM model has the potential to improve quality of care and reduce expenditures for mothers and infants.
Read more
here
.

Treating Childhood Trauma Becoming a Public Policy Priority


States and cities are trying to use science to create better policies and programs. New federal foster care rules are complicating their efforts.
There's a lot that's indisputable about childhood trauma. Emotional or physical abuse early in life impacts health outcomes as children grow up. Community- and family-based approaches to dealing with trauma are better than institutional settings. And children of color are more likely to face traumatizing childhood experiences.
Those events can include something as common as divorce, but also encompass circumstances such as having an incarcerated parent, living with someone with a substance abuse disorder or being exposed to domestic violence. Traumatized children, experts know, are not only more likely to develop mental health problems but also to suffer from physical health challenges such as diabetes or heart disease later in life.
Read more
here
.

AI's Potential to Diagnose and Treat Mental Illness

The United States faces a mental health epidemic. Nearly one in five American adults suffers from a form of mental illness. Suicide rates are at an all-time high, 115 people die daily from opioid abuse, and one in eight Americans over 12 years' old take an antidepressant every day. The economic burden of depression alone is estimated to be at least $210 billion annually, with more than half of that cost coming from increased absenteeism and reduced productivity in the workplace.
In a crisis that has become progressively dire over the past decade, digital solutions - many with artificial intelligence (AI) at their core - offer hope for reversing the decline in our mental wellness. New tools are being developed by tech companies and universities with potent diagnostic and treatment capabilities that can be used to serve large populations at reasonable costs.
Read more
here
.