Ronald C. Anderson, a veteran of Illinois schools, is the 2022 President and Chairman of AFE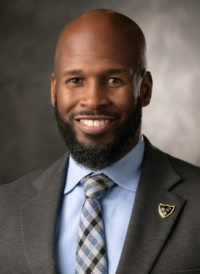 Following a history of making an impact on school districts in Illinois, Ronald C. Anderson is taking the helm as The Association for Facilities Engineering (AFE)'s new national president and chairman of the board for 2022. He serves as the executive director of Operations for Oak Park and River Forest High School District 200 in Oak Park, Illinois. He has been with Oak Park for the past two years but has 15 years of experience as an operations manager. Anderson also is the chairman of the Illinois Association of School Business Officials (IASBO) Planning and Construction Professional Development Committee.

Click here to find out the chairman's top three goals for AFE this year.

Anderson took office along with other new AFE leaders at the 2022 AFE Officer Inauguration on January 14 in Chicago, some of whom appear below.
AFE President & Chairman Ron Anderson (center) with newly appointed AFE 1 – Chicagoland leadership board members Jim Kaplanes (left) and David Schuh (right)
New AFE 1 – Chicagoland leadership with AFE President & Chairman Ron Anderson (far right). From left to right: David Schuh (board member), Jim Kaplanes (board member), Akil Khalfani (board member), L.T. Taylor (Chair, Professional Development), Arica Finney (on screen – far right: Chair, Membership), Rita Tarullo (Treasurer), and Elliot Echols (President)
President & Chairman Ron Anderson (left) with President-Elect Esther Walker (right)
New! AFE Credential Holder Directory
If you are looking for a credentialed engineer or facilities professional for an opening at your company or organization, be sure to click on the just-launched AFE Credential Holder Directory. The listings offer professionals holding the Boiler Level 2, CPE, CPMM, CPS, and those who have earned the AFE Fellow designation.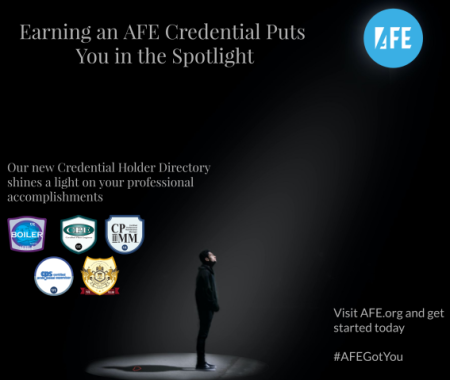 Visit the AFE Career Center to post or find a facilities engineering-related position. Companies posting jobs in the past two weeks include MycoWorks; SeeScan; University of California, San Diego; Calviri; City of Fairfield, CA; Zenith Insurance Co.; Judicial Council of California; New Energy Risk; Sysco; PIC Group; Zimmer Biomet; Baxter; Trimble; McKesson; Campbell Soup Co.; Stericycle; and Reynolds Consumer Products.
Certifications from AFE include: Certified Plant Engineer (CPE), Certified Professional Maintenance Manager (CPMM) and Certified Professional Supervisor (CPS). Click the image to learn more about core topics, courses to prepare for the exams, and eligibility.