Happy 2016 to all our clients and students! Whether you're ready to start a new routine or get back in the groove after the hustle and bustle of the holiday season, we've got a great line-up of classes, series, workshops, and services to help you find your balance. As always, full details about all our offerings are available on our website ~ check the links above, on the sidebar, or in the articles.
Yoga Series & Yamuna Body Rolling Workshops
Beginner's Yoga Series

This is the perfect opportunity to learn the basics and begin your own practice of transformation. This course will include expert instruction in breathing techniques, meditation and yoga postures. Includes handbook and take home practice sequences.
Saturdays,1:00pm - 3:00pm
Jan. 16, 23, 30, and Feb. 6, 13, 20
10 Spaces Available
Fees:
$120.00
Registration
(series only)
$45 Yoga Starter Kit (mat, carrying bag, strap & 2 foam blocks), Optional, available in Packages section of Retail Cart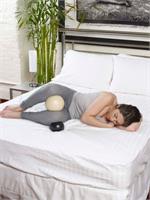 Yamuna Body Rolling: In Bed

"When I thought about how many people resist exercise due to time constraints, and distractions, I asked myself how could I create a solution? The answer was to figure out a way, that was easy, effective, feels good, and would not take any time away from our busy lives. The answer was the bed!"
-
Yamuna Zake
Our "In Bed" program offers the opportunity to learn a series of exercise routines specifically designed to be done in bed. Each of the six sessions is focused on a particular area of the body, hips, legs, tailbone and spine, pelvis and abdomen, chest, and shoulders.
Friday, January 8, 4:30-6:30pm
$40 Workshop
Registration
~ Pre-Registration Required
Yamuna Body Rolling: Save Your Feet!
Your feet are the foundation of your body. Yamuna® Foot Fitness is essential for everyone at any fitness level and is a must for all runners, dancers, yoga practitioners and anyone who is on their feet every day. This Foot Fitness Workshop will give you simple proactive tools and solutions that can help you alleviate pain and prevent it. Increase flexibility, range of motion and alignment. Strengthen and create stability and balance in your feet and you will strengthen and create stability and balance in your entire body!
Friday, January 29, 4:30-6:30pm
$40 Workshop
Registration
~ Pre-Registration Required

Balls are provided for use during class and new sets will be available for purchase after class.
February CE Workshops

Yamuna Body Rolling: Intensive
Friday, February 26, 1:00pm-6:00pm
$130 Registration includes 1 Pearl Ball
In this YBR® intensive you will learn both basic and advanced YBR® routines as Kandy takes you systematically through the entire body, elongating muscles, releasing your spine, improving alignment, deepening your breathing, and increasing your relaxation response. You will experience remarkable changes in your body after this 5 hour workshop.
5 CE's for Yoga Alliance Members


Yamuna Body Rolling:
Self-Help Techniques for Massage Therapist
Saturday & Sunday, February 27-28, 9:00am-5:00pm
$365 Early Registration by January 22
$390 Registration after January 22
Registration includes Ball Kit + Pump


People who choose to work as body therapists are motivated by a desire to help others feel better in their bodies. At the same time, massage and other manual therapies can put enormous stress on the therapist's own body. On average, hands-on therapists develop a work-related injury within less than five years of practice, hampering their ability to continue doing the work they love.


This 12 hour workshop introduces the basics of Yamuna® Body Rolling (YBR®), a practical, powerful system that can keep massage therapists free from injury. YBR® was initially developed by Yamuna Zake to keep her own body from breaking down while working with her hands-on therapy, Yamuna® Body Logic.
12 CE's for NCBTMB (hands-on)

New Offerings in February

Art Therapy with Anna

Pages Series
Thursdays, 3:30-5:00pm
February 4 - March 31
$45/each | $300/Series of 7
Workshop: Mandalas
Sunday, 1:30-3:30pm
February 14
$60 Registration
More Info & Registration
Rebecca Johnston, Esthetician

Rebecca Johnston has been a licensed esthetician for 12 years. She has lived and worked around the South East and has held many positions in her field. Over these years she has been dedicated to the pursuit of continuing her education about her industry and the ever changing landscape of esthetics.
With a focus on treating the skin holistically, from the inside and out, she strives to educate her clients about how to best care for their skin and deliver the highest quality of service.
Rebecca will begin accepting appointments in January.
Menu of Services
Yoga - New for January

Vinyasa Flow
Mondays, 9:30-10:30am begins 1/11 with AshleyAnne
Wednesdays, 9:00-10:15am begins 1/6 with Annie
Sunrise Flow
Tuesdays/Thursdays, 6:15-7:15am begins 1/5 with AshleyAnne
Yoga for a Healthy Back
Wednesdays, 5:30-6:30pm begins 1/6 with Karen
Barre - New for January

Mondays, 8:15-9:15am begins 1/4 with Hillary
Thursdays, 10:30-11:30am begins 1/7 with Hillary
Full Schedule
Medicine Dance

Mondays, 7:00-8:30pm
January 18 & February 15
Led by Kathy Webb
20% Off

Holiday Scents in Dish Soap, Hand Soap, Lotion, Bath Salts, Linen Spray, and Holiday Packaging in Bath Salts.
Scents include: Pumpkin Spice, Holiday Greenery, Cinnamon Spice, White Pine, and more.
Winners of our Holiday Give Away will be notified via email and announced in our new bulletin.