Emphasizing student-centered learning puts children in charge of exploring mathematics to their own joy and satisfaction. This is especially clear in
Navajo Math Circles, a documentary that
follows
Navajo students in a lively collaboration with mathematicians. Using a model called math circles, the students stay late after school and assemble over the summer at Diné College in Tsaile, Arizona, to study mathematics.
Discover the challenges in education on the Navajo Nation and explore a new approach for improving the mathematical skills of students. The Navajo Math Circles project summons applications of math in Native culture to provide tools for increasing math literacy, highlighting the special connections between Navajo culture, natural beauty and mathematics. The film shows how math circles help raise the hopes of parents, students and teachers for a brighter future.
Home: $24.95
Educational: $149
SOL: Sheds light on the underlying social issues of Canada's North that has resulted in this region claiming one of the highest youth suicide rates
in the world.
Finding Refuge: A dying woman confronts the violent event over two centuries ago that began the destruction of her people.
The Road to Andersonville: After 150 years, descendants of seven Native men who died in Andersonville, a Confederate prison camp, pay homage and respect to the spirits of the men of Company K buried at Andersonville.
Swift Water Place: Iñupiaq Natives of Northwestern Alaska get a unique opportunity to examine their cultural history after an excavation on National Park Service land yields new data about their ancestors.

We're celebrating the New Year by discounting five significant films that address important issues, generate lively discussion and help sustain interest.
Reclaiming Generational Stories
Across the Creek
Broken by the legacy of colonialism, Lakota Tribes struggle for restoration, healing and rebuilding. This film is a conversation between the elder and younger generations about reclaiming their stories and culture.
By looking at traditional family structure, spirituality, language and values, they hope to build a vision for the future.
Educational:
$150
Sale $75
Exploring Free Speech
Columbus Day Legacy
Columbus Day Legacy explores the quintessential American issues of free speech and ethnic pride against the backdrop of the ongoing Columbus Day parade controversy in Denver, Colorado.
Navajo filmmaker Bennie Klain takes viewers into this very personal yet very public conflict, asking tough questions about identity and history in America.
Educational:

$150

Sale $75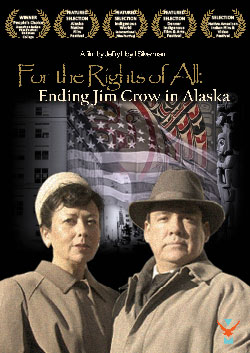 Fighting for Civil Rights
For the Rights of All:

Ending Jim Crow in Alaska
This documentary reveals the true-life story of an extraordinary Alaskan woman who becomes an unlikely hero in the fight for civil rights
Educational:

$225

Sale $125
Government Relocation Programs
Learn how government relocation programs in the 1950s enticed significant numbers of Native Americans to leave the reservation for life in major cities such as, Los Angeles, Chicago, New York and the San Francisco Bay Area.
The life and times of urban Indians is shown primarily through the eyes of these individuals and subsequent generations as they maintain their tribal identity far away from the culturally nurturing climate of the reservation.
Educational:

$24.95

Sale $14.95
"Native people came to cities looking for certain things that they needed - not to become like everybody else." - Donald L. Fixico, Ph.D. (Shawnee/Sac & Fox/Muscogee Creek/Seminole)


Urban Rez explores the controversial legacy and modern day effects of the federal government's assimilation policies that relocated American Indians from reservations to urban areas in order to end the Indian Reservation system. Firsthand experiences richly illustrate the Voluntary Relocation Program, which constituted the greatest upheaval of the American Indian population during the 20th century and how different generations from different Tribes perceived their new urban landscape.
Educational:

$225

Sale $125
Copyright © 2016. All Rights Reserved.