Congratulations to 2018 Nobel Prize Winners!


October 2018 - In This Issue:



The Outsized Opportunity for Impact in Research
Research & Innovation - From Lab to Market
Co-founder & CEO, Benefunder
In philanthropy, research is often considered a category unto itself that's well serviced by government and billionaire philanthropists. People assume market efficiencies exist in early stage commercial spinouts - that valuations in early stage lab spinouts reflect stage and risk of a company and that capital is generally available.
The reality is different, and the gaps represent not only a major risk to our economy and social welfare, but a major opportunity for investors and philanthropists looking to prioritize impact
and
returns.
Federal funding for research has shifted away from high risk, long timeline projects in favor of later stage validated work with established scientists. Most discoveries never make it beyond the patent stage, where they sit and collect dust due to a lack of risk capital. The ones that do manage to get funded, even when research milestones are achieved, and plans are made to commercialize them, face even greater hurdles when they become commercial entities.
This stage is often referred to as the "valley of death," - the gap between the commercialization stage and the milestones needed in today's environment to attract traditional investment capital. The difficulty of acquiring capital at this stage often proves too challenging.
When people think of research as a share of total U.S. giving they'd probably be surprised to know that it's less than 4%. With all the advertising campaigns and fundraisers we see for charities that are disease focused, and taking into consideration all the areas where research is related to societal benefits, most would guess it was a number much higher than that.
This is what economists refer to as an inefficient market, one in which an asset's market prices don't accurately reflect its true value. Following this analogy, imagine not having a market maker, an exchange, or a broker - that's pretty much sums up how inefficient philanthropy in research is today.
It's less important to focus on how we got here than how we'll fix it, but major contributors include the non-profit sector's conflict with mission, inefficient processes, and general lack of awareness.
It's astounding how much money passes through most charities and how little actually ends up in the hands of the researcher - in most cases, we're talking single digit percentages. Other factors include the time and expense involved in the traditional process of applying for grants, and the perception of high cost long-term nature of research.
A US Trust Report on High Net Worth Giving reported 91% participation in philanthropy and 60% dissatisfaction in the experience, where lack of efficiency (money going to the intended cause), engagement in the process, and constant solicitations were cited as primary factors.
The good news for philanthropists is that we're in a perfect storm, which makes this a buyer's market! Discoveries and breakthroughs are happening at an accelerated pace and at an ever reduced cost. Researchers and entrepreneurs are competing for small, disparate sources of capital.
There are also multiple ways to get money to research: giving (no strings attached), granting (strings attached), and investing (direct ownership interest) that can be deployed according to the stage of research and donor's interests, which can include evergreen elements.
University launched companies are far more likely to be successful than their counterparts.
Benefunder facilitates all of the above
, and I will discuss them in further detail in future CEO Corners.

The UCSF Dyslexia Center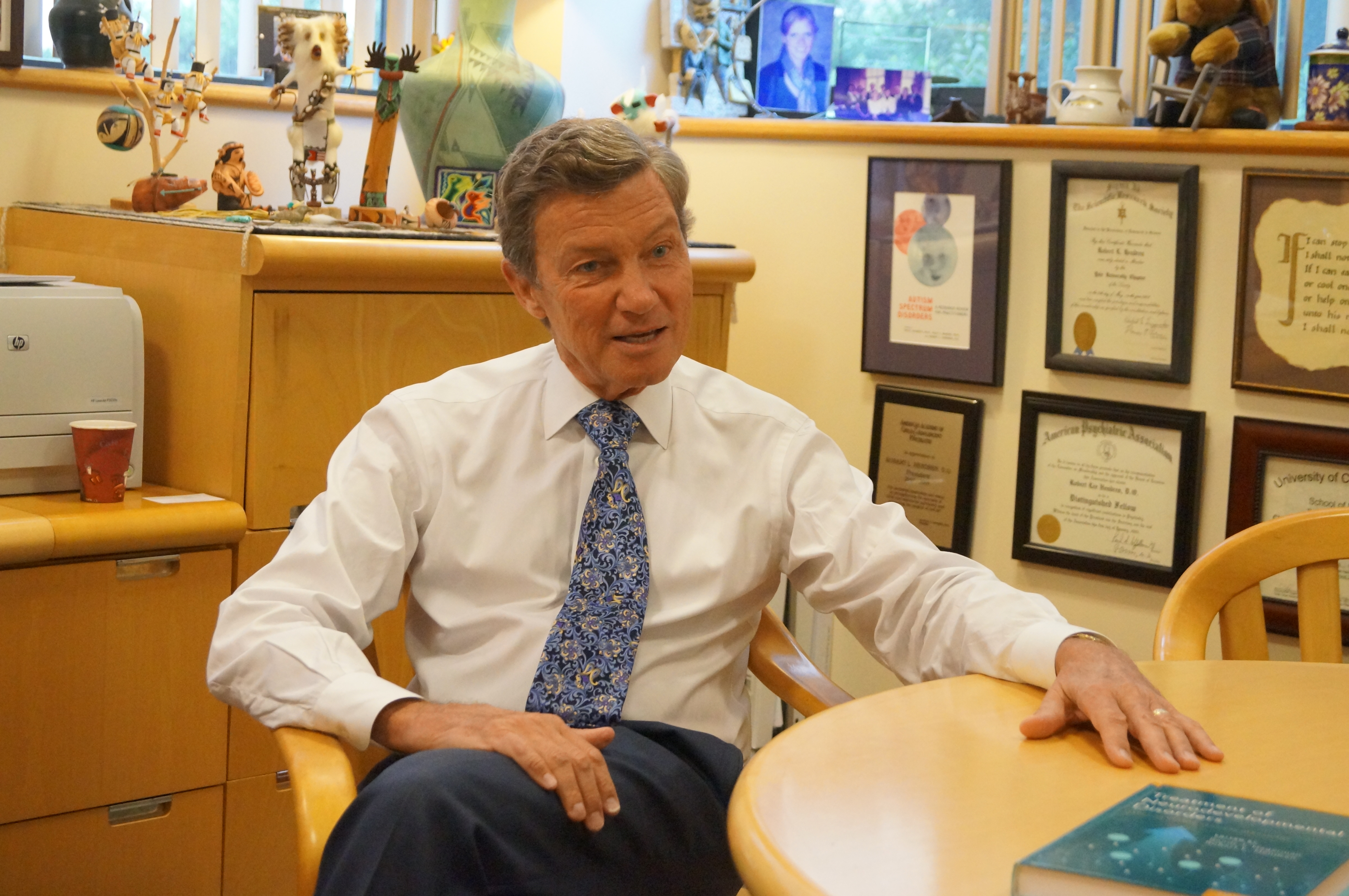 Traditionally, UCSF is an institution primarily focused on addressing medical disease and solving health issues with a multidisciplinary team of world class medical researchers. The UCSF Dyslexia Center is applying this same talent and research methodologies to address the 63% failure rate in the US education system (growing to 67% failure by 8th grade).
The UCSF Dyslexia Center is a collaboration between four researchers (Marilu Gorno Tempini, Bruce Miller, Robert L Hendren, and Fumiko Hoeft), two Departments at UCSF (Psychiatry and Neurology), and collaboration with the Charles Armstrong School in Belmont, CA, a school with over 250 students with dyslexia. This collaboration has expanded to other Departments and is expanding to other specialized schools, charter schools and soon, public schools

. Read more.
Upcoming Speaking Engagements
SRI Conference - Impact Investing and DAFs at Colorado Springs
Nov 1-3

Last year, our very own Joachim Frank won the Nobel Prize in Chemistry. Read more about
his work
.
Benefunder Partners With the San Diego Foundation
Benefunder is proud to announce that we have signed a Memorandum of Understanding with The San Diego Community Foundation (TSDF). Benefunder will support TSDF and their clients as a philanthropic advisor in the area of research. Having this agreement in place makes it easy for philanthropists that have DAF accounts at TSDF to create giving plans and support the causes they care most about. We look forward to working with TSDF to increase awareness and co-sponsoring events in support of research. This is the first of a string of Community Foundations that we are working with to get a Memorandum of Understanding in place.
Andrew Lee of UBS discusses Impact Investing at the Social Good Summit
What role does the financial sector play in changing the world for the better? WATCH NOW
Bradley Messmer Releases First Life-Saving Commercial Product
Abreos Biosciences, a San Diego-based biotech company, announced the launch of its first commercial product, moNATor, a laboratory developed test used to aid doctors in the monitoring of medication levels in patients with multiple sclerosis.
Read more about his innovative wo

rk
here
.
Ajit Varki Finds 'Long Distance Running' Gene
Featured by Smithsonian Magazine
University of California San Diego cellular and molecular physician
Ajit Varki
, traces physical endurance to the cellular level, according to Meilan Solly of Smithsonian Magazine. He identifies a genetic mutation as one of the key factors in our transition to speedy, upright predators.
Anushree Chatterjee

Could Block E.coli, Other Superbugs
University of Colorado researchers have created the Controlled Hindrance of Adaptation of Organisms (CHAOS) approach, which uses highly sophisticated DNA editing techniques to modify gene expressions within the bacteria cells, for the purpose of inhibiting a pathogen's central processes and blocking its ability to create defenses.
Read the
full story
.
Recently Funded Researchers
These researchers were funded by a New York based private family foundation. Benefunder helped the foundation optimize their philanthropy through efficiencies: including negotiating funding terms with the universities, expeditiously identifying and matching researchers specific to their interests, and facilitating one on one engagement. The main areas of interest for the foundation were clean water access and curing/treating diabetes. This was the first distribution made by a private foundation though Benefunder.
John Kappler
Dr. John Kappler, Distinguished Professor for National Jewish Health and the University of Colorado, Denver, and his team design novel ways to harness the immune system in the treatment of autoimmune diseases and cancer.
Farhana Sultana
Dr. Farhana Sultana, Associate Professor of Geography at the Maxwell School of Syracuse University, works to ensure everyone has safe clean water and investigates the critical role water plays in all aspects of our lives.
Benjamin Hsiao
Dr. Benjamin Hsiao, of Stony Brook University, uses advanced nanotechnology to restore the right to safe water to the estimated one billion people that currently lack accessibility for both drinking and crop survival for food.