Contact: Lois Robinson, Executive Director
SHREVEPORT SYMPHONY ORCHESTRA PRESENTS
THE BROADWAY TENORS
ON FEBRUARY 27
Family concert, Dr. Seuss's The Sneetches, on February 28
is free and open to the public; Stars & Stripes Gala on March 12
SHREVEPORT, LA, FEBRUARY 10, 2016
- On Saturday, February 27, the Shreveport Symphony Orchestra and t
hree of musical theater's best leading men will transport the audience to the Golden Age and back again in a thrilling and moving evening of Broadway's most beloved hits from
South Pacific
,
Phantom of the Opera
,
West Side Story
,
Les Misérables
,
Chicago
,
Jersey Boys
and more.

WILLIS-KNIGHTON MASTERWORKS SERIES



The Broadway Tenors with the SSO

SATURDAY, FEBRUARY 27, 2016 - 7:30 PM
RiverView Theater, 600 Clyde Fant Parkway
Michael Butterman, conductor
Alan Campbell, John Cudia and Kyle Dean Massey, tenors FREE SHUTTLE SERVICE - starts at 6:30 PM - Shuttle picks up at Regions Bank parking garage at the corner of Milam & Market Streets.

Tickets are on sale now online at www.shreveportsymphony.com
or by phone at 318-227-8863. Ticket prices range from $20-$65. Student ticket are $12.
The SSO's season sponsor is
Willis-Knighton Health System
. The concert sponsor is
Kilpatrick's Rose-Neath Funeral Homes, Crematorium and Cemeteries, Inc.



___________________________________

About Alan Campbell
"Alan Campbell is a charismatic golden boy with a voice to match." ~Wall Street Journal
On Broadway: Alan most recently played the role of Sam Carmichael in Broadway's hit musical, Mamma Mia! He received a 1995 Tony Award nomination for Best Actor in a Musical for his performance as Joe Gillis in Sunset Boulevard opposite Glenn Close, Betty Buckley, and Elaine Paige. He also received the Drama-Logue Award for his performance in Sunset Boulevard's American Premiere in Los Angeles. Alan starred in Susan Stroman's 2000 Tony Award winning musical, Contact, at Lincoln Center.

Off-Broadway: Hello Again (Drama League Nomination), Chris Durang's Adrift In Macao, Lanford Wilson's Book Of Days at the Signature Theater and in the regional premiere of Book Of Days at the Repertory Theatre of St. Louis and the Hartford Stage. He also starred Off Broadway in AVOW by Bill C. Davis.
About John Cudia
"The vocally-powerful performer creates moments of pulse-raising epiphany!"
~The Washington Post
John Cudia holds the distinct honor of being the first and only actor to have performed both as the The Phantom in The Phantom of the Opera and Jean Valjean in Les Misérables on Broadway. John's most recent Broadway run counted him as only the 12th performer to play the Phantom in its historic, record-breaking, 25 years. John recently played Jean Valjean at the Marriott Theater in Chicago where his performance not only earned him critical acclaim but also the Joseph Jefferson Award for "best actor in a musical." John proudly made his Broadway debut in Les Misérables and enjoyed a long and successful relationship with both Les Miz and Phantom. John toured the United States and Canada as the Phantom and also has the role of Raoul to his credit. John is now emerging as classical crossover artist. He sang his first Alfredo in La Traviata with Lyric Opera of the North and proudly made his Lyric Opera of Chicago debut this Spring as Curly in their
production of Oklahoma! As a featured tenor soloist John has sung in concert across the country with THE BROADWAY TENORS, The Music of Andrew Lloyd Webber, the Omaha Symphony and also with the Orchestra of Saint Peter by the Sea in his home state.
About Kyle Dean Massey
"Kyle Dean Massey brings a smooth tenor and convincing acting to his performance..."
~LADUE News
Kyle Dean Massey currently appears on the small screen as singer, songwriter and country heartthrob, Kevin Bicks on ABC's Nashville. Kyle Dean was last seen on Broadway in the title role of Pippin. He previously starred on Broadway as Gabe in Next to Normal, Fiyero in Wicked, and Thalia in Xanadu. Off Broadway he was seen as Matthew in Altar Boyz and Billy Ray Jackson in Lucky Guy. Kyle Dean has had the opportunity to perform throughout the U.S. as Fiyero in Wicked and as Billy Lawlor in 42nd Street, which he also performed in Japan. He most recently performed as Tony in West Side Story at the MUNY Opera in St. Louis. He has also participated in many readings and workshops including as Elder Michaels in the Book of Mormon and Spot Conlon in Newsies, among others.
___________________________________

Free Family Concert
Dr. Seuss's The Sneetches
SUNDAY, FEBRUARY 28, 2016 - 3 PM
RiverView Theater
Michael Butterman, conductor
On February 28 at 3 PM, the SSO will present Dr. Seuss's The Sneetches, conducted by Michael Butterman. At this free family concert, kids discover how the Sneetches learned to set aside their differences and live together in harmony, an important message in today's world. The concert will feature illustrations by Dr. Seuss and music by Lorenzo Palomo.
Free and open to the public - no tickets required
The family concert is presented in memory of N.H. (Nick Wheless, Jr. and C. Lane Sartor and in Honor of Willis L. Meadows' by The Woolf Foundation.
Free pre-concert activities will start at 2:15 PM:
Arts activities with the Bossier Arts Council and Noel Community Arts Program
Science activities with Sci-Port
Instrument demonstrations with Shreveport Symphony musicians
___________________________________

Stars & Stripes Gala
Saturday, March 12, 7:30 PM
El Dorado Casino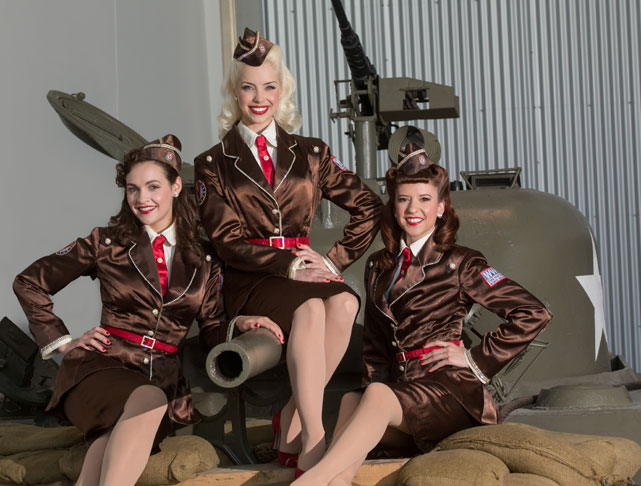 At the Shreveport Symphony's annual gala event on March 12, attendees will step back in time to the 1940s for an evening of patriotic entertainment, delicious food and drink, fun and unforgettable moments featuring an exclusive performance by
The Victory Belles
, from the National World War II Museum in New Orleans.

This year's theme, Stars & Stripes, will provide a USO-inspired red, white, and blue backdrop for an event filled with great music and surprises, plus bidding wars, and maybe even a little swing.
Individual gala tickets are $125 each and full tables start at $1,000. Half tables and tables of 10 are also available. The SSO will be auctioning off Painted Violins as part of the event. Artists include Jade Kerouac, Vanessa Ortiz and Karen La Beau.
The gala sponsor is KEEL News Radio 710.
# # #


About the Shreveport Symphony Orchestra
Since its founding in 1948, the Shreveport Symphony Orchestra (SSO) has become Louisiana's oldest continually operating professional orchestra and one of the most respected regional orchestras in the United States. The SSO's mission is:
To Embrace -
to embrace the community we serve and to be embraced by the same community; to broaden the level of supporters and their involvement with the orchestra; to work across the region with various arts organizations through cooperation and partnerships.
To Enlighten
- to educate; to enlighten the senses beyond the norm.
To Experience
- to provide the unique aesthetic experiences of live orchestral music; to give depth and enriching life; to connect people through music; to foster cultural diversity.
To Excel
- to foster artistic, organizational, and financial excellence.
www.shreveportsymphony.com