A Newsletter for FL BRACE Partners, Collaborators & Stakeholders August 2019
Don't Miss the Next Webinar in our 2019 Series
Topic: Volusia County's "Beat the Heat" Evaluation Plan
Date and Time: Friday, August 16 at 11am (EDT)
Presented by Suzanne Grubbs, Epidemiology Manager and Jeanine Robinson, Environmental Health Facilities Program Manager, Volusia County Department of Health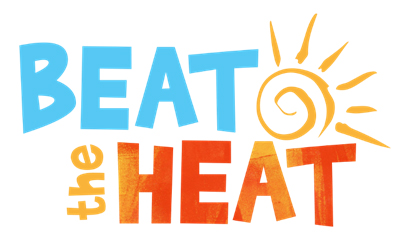 Each summer, Florida experiences hot and humid conditions that increases the risk of heat related illness. In this webinar, you will hear from the Florida Department of Health in Volusia County who developed an evaluation plan to assess the effectiveness of their Beat the Heat education campaign. The campaign activities are designed to increase public awareness about the risks and prevention of heat-related illness through mass media, presentations, educational material distribution, and social media strategies. Learn about the steps taken to create key evaluation questions, the importance of engaged stakeholders, and data analysis tools.Participants will hear about challenges and solutions to evaluation plan development as well as lessons learned for future planning.
You can also dial in using your phone. United States: +1 (571) 317-3122
Access Code: 442-700-501
Article Highlights Advancements in Public Health
Adaptation to Climate Change in Florida
The pressing need for public health departments to develop effective responses to the threats associated with a changing climate cannot be overstated. Yet, several barriers to climate change adaptation exist, including lack of financial resources, limited technical capacity and prohibitive politics.
The case study presented in a recent article published in the Journal of Cities and Health provides insights into the incremental strategies employed by public health professionals to address climate risks in Florida. It examines pilot adaptation projects proposed by county public health departments and supported by the Building Resilience Against Climate Effects program.
Tisha Holmes & David Eisenman
(2019)
Incremental advancements in public health adaptation to climate change in Florida,
Cities & Health,
DOI: 10.1080/23748834.2019.1614725
PUBLICATIONS AND RESOURCES


A Social Media Toolkit for Engaging Local Communities in Climate and Health Adaptation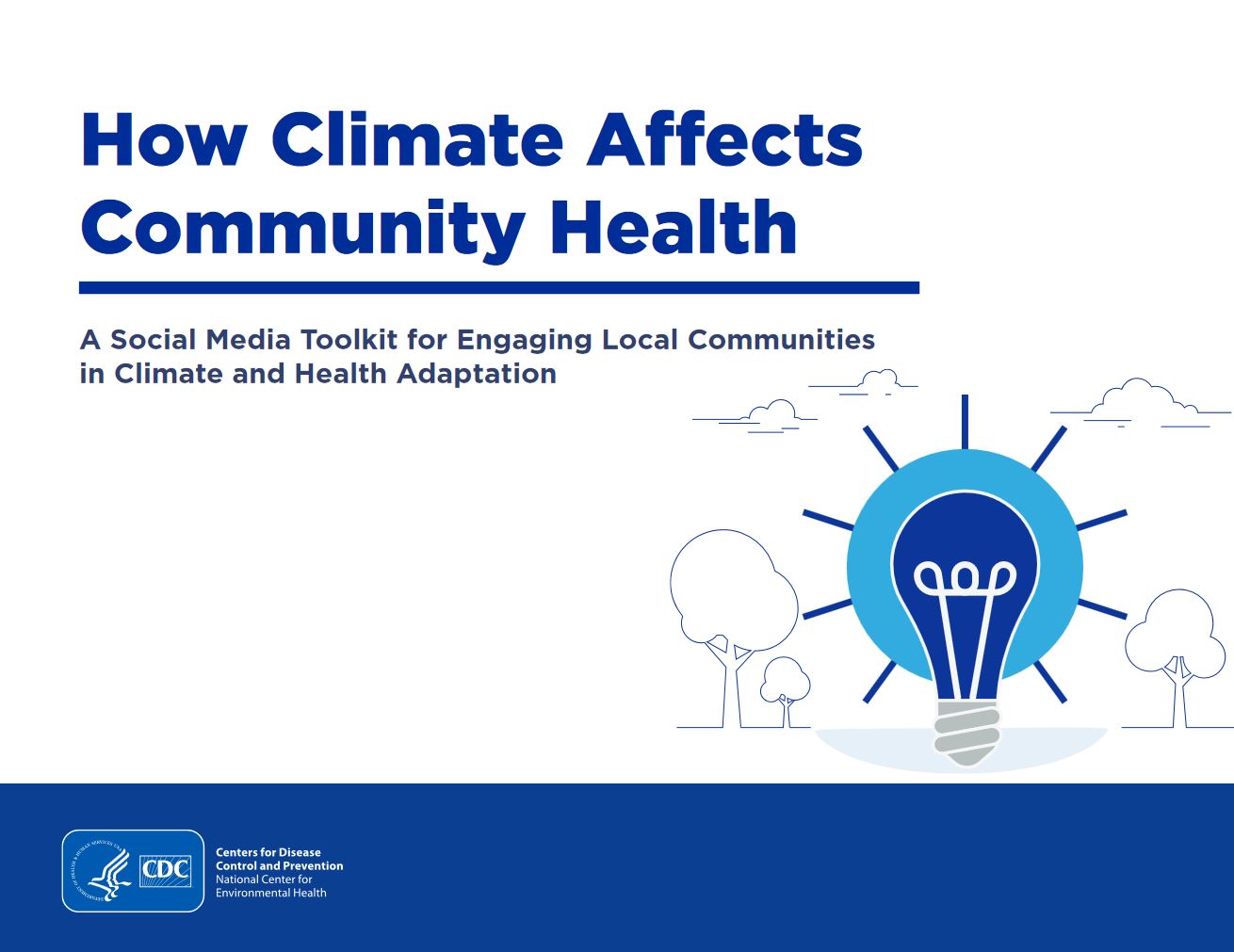 The Centers for Disease Control and Prevention (CDC), through the Climate-Ready States and Cities Initiative (CRSCI), is helping health departments identify likely climate impacts in their communities, potential health effects associated with these impacts, and the populations most likely to be at risk. CRSCI helps grantees from 16 states and two cities use the Building Resilience Against Climate Effects (BRACE) framework to develop and implement adaptation plans to protect their communities.
This social media toolkit
was developed to support CRSCI grantees in their communication efforts. The toolkit includes suggested post copy, shareable graphics, videos and best practices. Tips on using this content to engage audiences and boost the reach of messages are included throughout the toolkit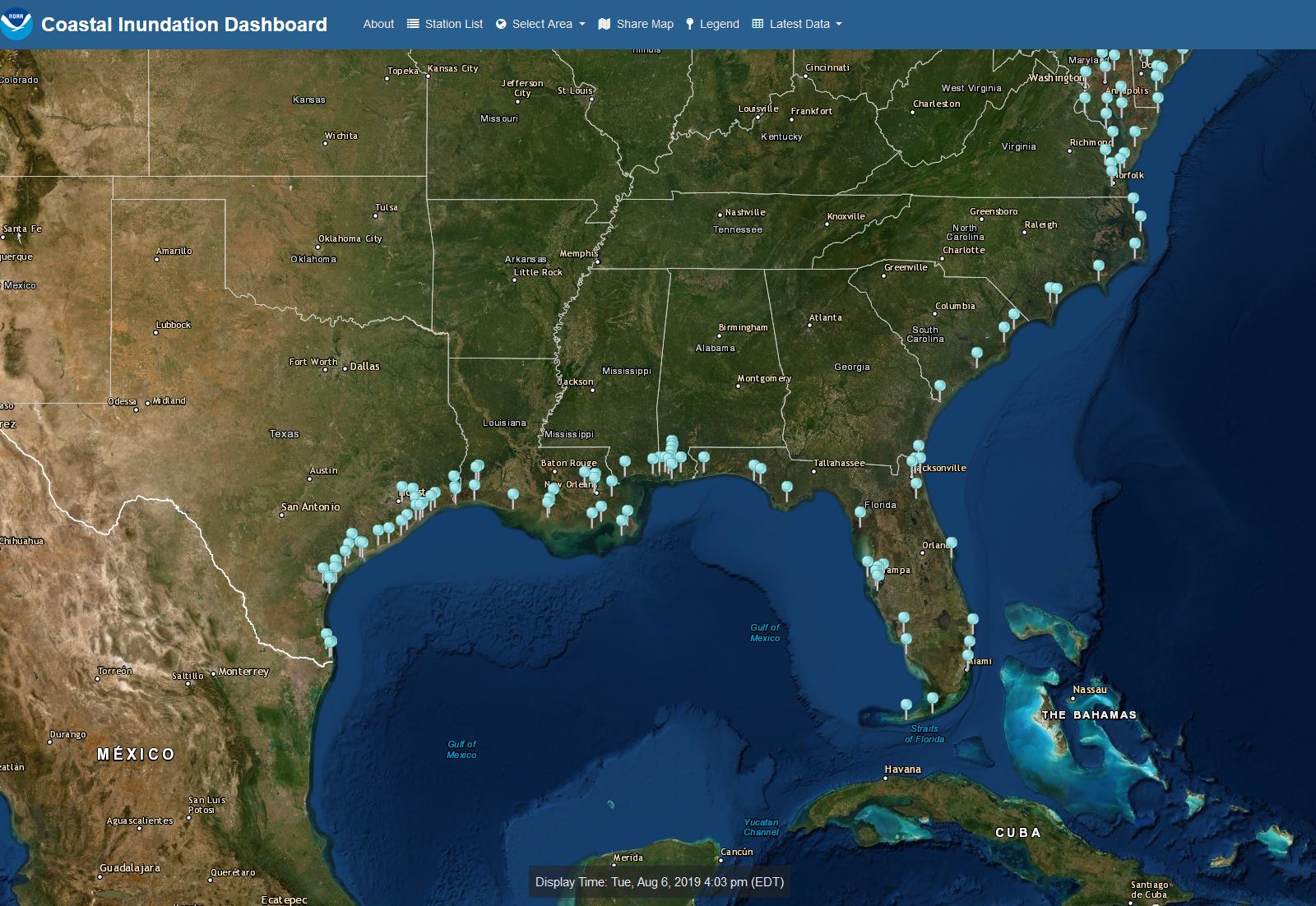 Online Coastal Inundation Tool. A new online tool released by the

Oceanic and Atmospheric Administration (

NOAA)

compiles water-level data and storm forecasts to help coastal residents prepare for floods. Emergency personnel, disaster readiness officials and coastal residents can track flood risk from oncoming storms with a new online dashboard that combines federal data from more than 200 water level stations. The Coastal Inundation Dashboard, released this week by NOAA, compiles real-time water level readings, 48-hour forecasts, storm surge and historic flooding information to give users a comprehensive picture of the approaching risk. The goal, officials said, is to give coastal residents the best chance to prepare for-and bounce back from-storm surge and rising water levels.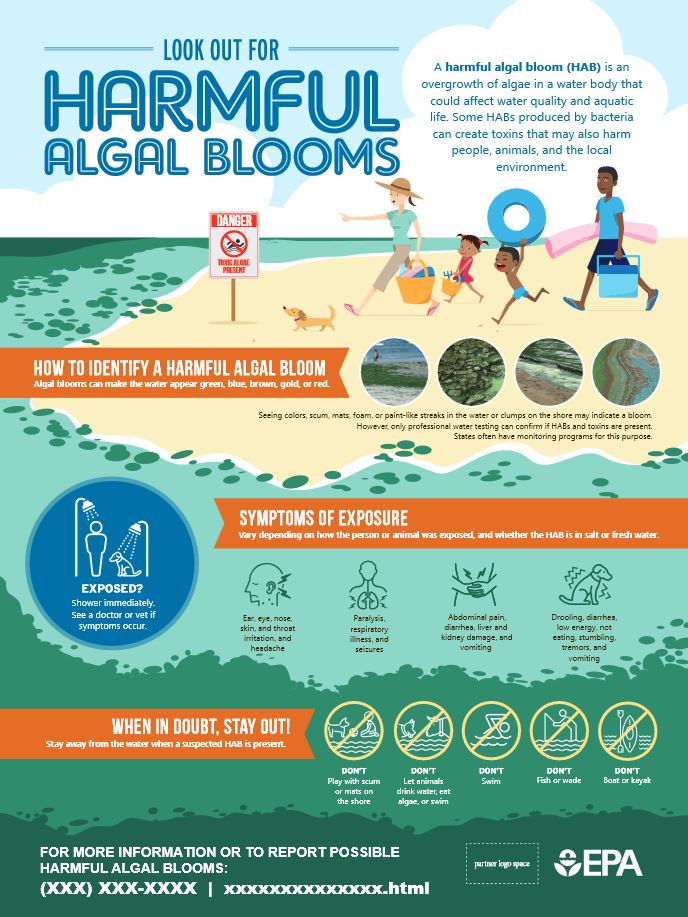 Infographics to Help Educate Public on HABs Basics.

The Environmental Protection Agency (EPA) recently published new infographics to be used by other federal agencies and in state, territorial, tribal, and local governments to help them educate the public about the potential dangers of harmful algal blooms in both marine and freshwaters. Partners may customize the bottom of the infographics by adding local information such as a logo, website address, email address and/or telephone number.

Learn more and download the infographics here.
FL BRACE COMMUNITY ADVISORY GROUP (CAG)
Individuals and organizations in the community serving vulnerable populations

FL BRACE is working to create and strengthen relationships with agencies or organizations who serve vulnerable populations --

including, but not limited to, lower income households, social service organizations, churches, the homeless, older adults (age ≥ 65), and people with preexisting conditions

. So if you or someone you know represents an agency or organization whose work with vulnerable populations would benefit from timely heath and climate information, please encourage them to join our Community Advisory Group (CAG) by contacting Ava Holt, FL BRACE.
FL BRACE CONTACTS
Dr. Chris Uejio (Principal/Lead Investigator), Department of Geography, Florida State University

Dr. Tisha Holmes, (co-PI) Department of Urban and Regional Planning, Florida State University

Danny Brouillette, Office of the State Climatologist

Dr. Ava Holt, Department of Urban and Regional Planning, FSU

Tracy Ippolito (Project Manager), FSU Center for Ocean-Atmospheric Prediction Studies

Dr. Kristina Kintziger, Department of Public Health, University of Tennessee Knoxville

Patrice Williams, Graduate Student, Department of Urban and Regional Planning, FSU

David Zierden, State of Florida Climatologist