A Newsletter for FL BRACE Partners, Collaborators & Stakeholders Winter 2019
2019 FL BRACE Funding Opportunity for CHDs
Applications due February 15, 2019
The Florida Building Resilience Against Climate Effects (FL BRACE) Program is soliciting proposals from county health departments and community partners to create an evaluation plan of climate and weather-related adaptations, interventions, or other evidence-based projects. Proposals are due February 15, 2019. FL BRACE offers support to public health officials and local partners seeking to improve community's resilience.
This funding opportunity specifically addresses the fifth step in the BRACE Framework -- evaluating the impact of adaptation strategies and interventions. This step is designed to determine the value of information attained and the impacts of the activities undertaken. We are looking for health practitioners to prioritize evaluation as a necessary step in the adaptation process and encourage the use of these insights to inform your adaptation efforts.
County health departments considering a new local adaptation project or those that would like to enhance an existing project are encouraged to apply. Note: this grant opportunity is only designed to encourage and fund the development of an evaluation plan tied to a new or existing adaptation project. Future funds may be available for implementation of the plan (i.e., conducting the evaluation and reporting on findings including data results, key points, lessons learned and recommendations).
Two New Climate Assessment Reports Released
by the U.S. Global Change Research Program
Fourth National Climate Assessment
On November 23rd, the U.S. Global Change Research Program released
NCA4 Vol II, Impacts, Risks, and Adaptation in the United States, assesses a range of potential climate change-related impacts, with an aim to help decision makers better identify risks that could be avoided or reduced. The assessment follows Vol I, the
Climate Science Special Report (CSSR)
, which was released in November 2017. Together, these reports meet the requirements of the Global Change Research Act, which mandates a quadrennial assessment of our understanding of global change and its impacts on the United States. NCA4 Vol II can be viewed on its interactive website at
nca2018.globalchange.gov
.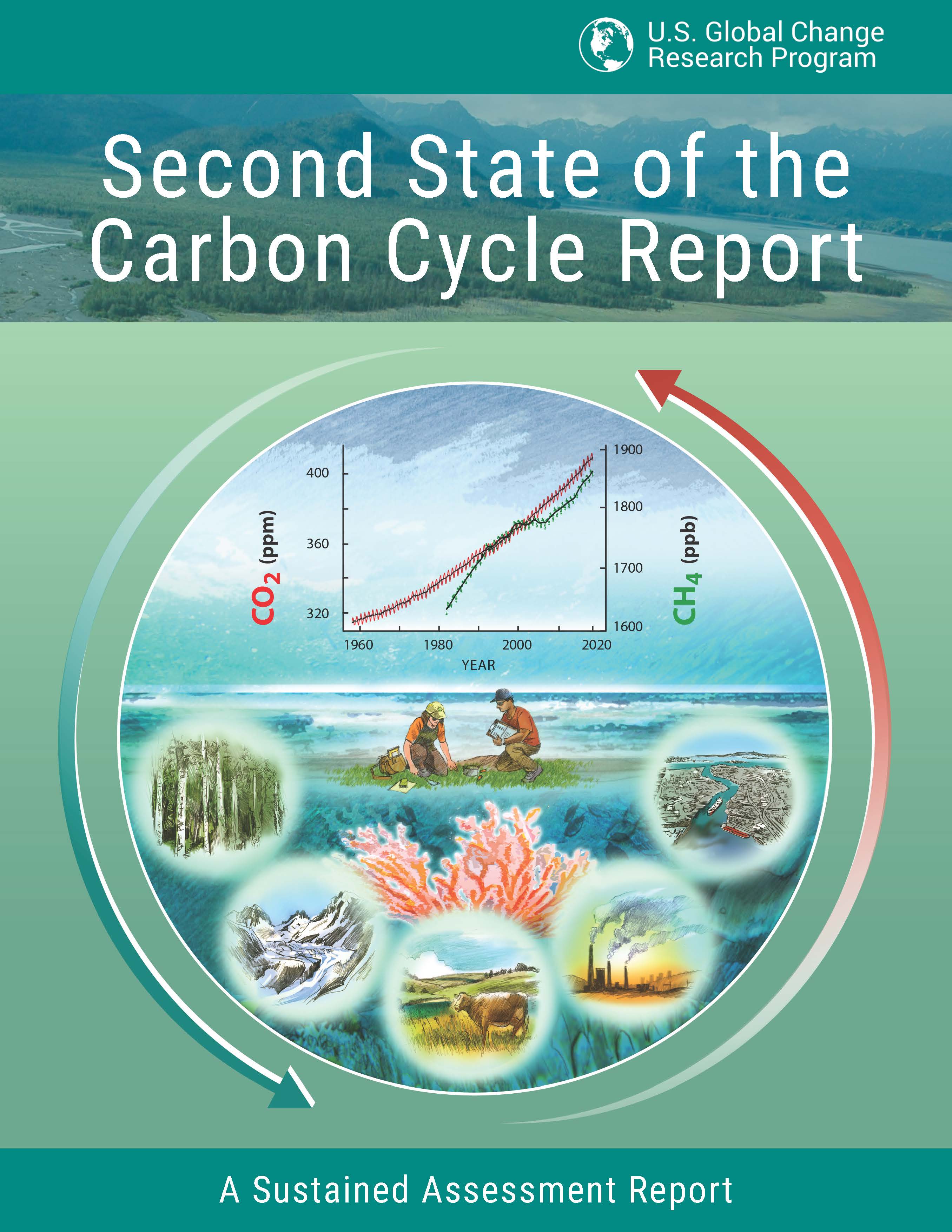 Second State of the Carbon Cycle Report
The Second State of the Carbon Cycle Report (SOCCR2) represents an important technical contribution to USGCRP's sustained assessment process. The report provides an overview of how human and natural processes are affecting the global and North American carbon cycle, emphasizing advances in the understanding of carbon cycle science and associated human dimensions. Read the report at
carbon2018.globalchange.gov
.
Robert Wood Johnson Foundation Issues "Health and Climate Solutions" Call for Proposals (Application Deadline: February 8, 2019)
A new Robert Wood Johnson Foundation funding opportunity is available to build the evidence for community-level approaches that address the health harms of climate change, advance health equity in the United States and help limit climate change overall.
Eligible, local approaches can focus on one or more of a range of determinants of health-including, but not limited to: air quality; energy sources; transportation or mobility design; food and water systems; housing; and health systems. Proposals need to specify the determinants of health that the given approach is addressing, and the expected impact on health and well-being. Grant funds will support research and evaluation activities to develop the best possible evidence highlighting what is working well with the select approach and why; where there have been opportunities and challenges; and how other communities may learn from this approach to tackle similar challenges.

All interventions eligible for this funding must have been implemented and active for at least one year as of the date of the application.
Note: The Florida BRACE program is looking to partner with a local organization that has completed an intervention to improve a climate sensitive health outcome in the past one to four years.
If you would be interested in collaborating on a proposal, please contact Dr. Chris Uejio at
cuejio@fsu.edu
.
PUBLIC EDUCATION AND OUTREACH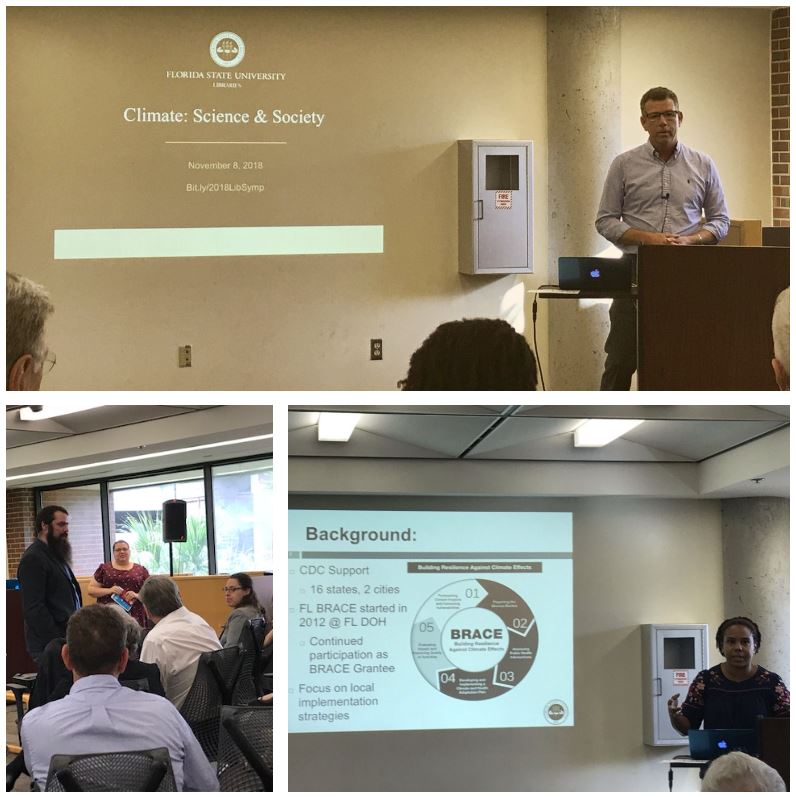 Florida State Climatologist David Zierden (top), Climate Specialist Danny Brouillette (bottom left), and Dr. Tisha Holmes (bottom right) were invited speakers at the Florida State University (FSU)
Fall 2018 Science & Society Symposium
. The symposium was coordinated by FSU Libraries and focused on the ever-changing nature of climate and its effect on human society. The event brought together a wide range of researchers across a multitude of disciplines, all speaking to how humanity's relationship to the world around it is affected by (and affects) the Earth's climate. Featuring discussions of ancient man's struggle with reconciling climate and agriculture, to an analysis of potential effects of climate change on the world economy, this symposium fed curiosity, sparked discussions, and led to a greater understanding of the way in which individuals interact with our planet.
If you would like a member of the FL BRACE team to participate in or contribute to a community education or outreach event, please contact Tracy Ippolito.
PUBLICATIONS AND RESOURCES


Climate Change, Health, and Equity: A Guide for Local Health Departments. The American Public Health Association and the Public Health Institute Center for Climate Change and Health have partnered to produce Climate Change, Health and Equity: A Guide for Local Health Departments. The guide is a comprehensive resource to help local health departments integrate climate change and health equity into practice. It discusses what local health departments can do to integrate climate change and health equity into assessment and surveillance, intersectoral collaboration, community engagement and education, climate and health communications, preparedness and more. CCHEP reviewed and supported the development of this guide. Explore the Guide here
Estimating the Environmental Effects of Green Roofs.
The EPA recently introduced a new case study demonstrating the environmental and health benefits of green roofs in Kansas City, Missouri. The case study lays out a replicable analytical framework that state and local decision makers can use to assess the multiple benefits of green roofs, including storm water runoff reductions and public health improvements. Learn more here.
Green Infrastructure & Health Guide. Willamette Partnership and Oregon Public Health Institute built the "Green Infrastructure and Health Guide" for the Green Infrastructure Leadership Exchange to help local government, communities, and health care organizations connect green infrastructure and public health in new ways. The guide includes information such as: a summary of evidence linking time in green spaces to improved health; a primer on key terms used in health care and green infrastructure; a method to identify community health needs relative to green infrastructure; community engagement as a health intervention; green infrastructure siting and design guidelines; and evaluation steps. Read the full Green Infrastructure & Health Guide here.
FL BRACE COMMUNITY ADVISORY GROUP (CAG)
Individuals and organizations in the community serving vulnerable populations

FL BRACE is working to create and strengthen relationships with agencies or organizations who serve vulnerable populations --

including, but not limited to, lower income households, social service organizations, churches, the homeless, older adults (age ≥ 65), and people with preexisting conditions

. So if you or someone you know represents an agency or organization whose work with vulnerable populations would benefit from timely heath and climate information, please encourage them to join our Community Advisory Group (CAG) by contacting Ava Holt, FL BRACE.
FL BRACE CONTACTS
Dr. Chris Uejio (Principal/Lead Investigator), Department of Geography, Florida State University

Dr. Tisha Holmes, (co-PI) Department of Urban and Regional Planning, Florida State University

Danny Brouillette, Office of the State Climatologist

Dr. Ava Holt, Department of Urban and Regional Planning, FSU

Tracy Ippolito (Project Manager), FSU Center for Ocean-Atmospheric Prediction Studies

Dr. Kristina Kintziger, Department of Public Health, University of Tennessee Knoxville

Patrice Williams, Graduate Student, Department of Urban and Regional Planning, FSU

David Zierden, State of Florida Climatologist