Greetings!
Welcome to the North Shore TMA's September newsletter!
We hope that you have all had a great summer and will enjoy this beautiful New England autumn. In News from North Shore TMA you will find useful information about happenings within the TMA service area, TMA programs and services, and transportation infrastructure improvements that will impact your commute. We had a great number of successful programs in the past year and look forward to continuing our services to assist you with any questions, comments, or concerns related to your commute. We're here to help.
Andrea Leary, Executive Director
North Shore TMA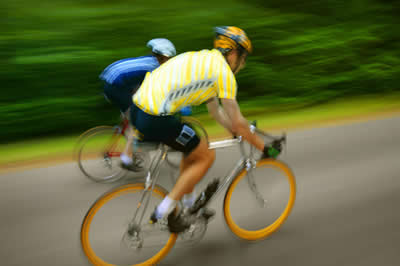 The Great Race 1 - Victory for the Mighty Bike
A Guest Column by Terry Cowman, Vice President, Oxford Global Resources, Centerpoint Division
On a weekday afternoon in early June of 2012, two cyclists and two autos rolled out of the Axcelis parking lot in Cherry Hill Park, North Beverly, in a race to Marblehead. The bikes traveled together, while the vehicles attempted two separate routes. All would travel about 8.3 miles . . .
While the cyclists got out of Cherry Hill Park quickly enough, both cars were in a long line to a stop sign. The bikes went left and under 128, through the neighborhoods and past Cummings Center through Beverly. Skirting along the MBTA commuter tracks, the bikers popped out onto 1A and over the Salem Bridge into a headwind. Meanwhile one vehicle was stuck at the lights near Henry's Market. The other was waiting at the lights at the Rt. 62/128 exchange.
The bikes ripped through Salem, stopping twice at lights downtown. In open sections, their pace was often in the 22-25 mph range, despite the commuter bags each had on their backs. A few rights and lefts, our pair rolled up to the end of the journey in just under 28 minutes. Meanwhile, our friends in the vehicles were crossing through Salem, stuck at the lights on Rt.114. It would be another 16 minutes before the first motor would arrive at the destination, and another 2 before its mate would materialize.
Would this same result be reproduced on a Sunday morning? Not a chance. Including stops, the cyclists averaged nearly 18 mph. The volume of traffic was a much bigger issue for the four-wheeled vehicles than it was for us two-wheelers. And to be fair, the cyclists had to change clothes on either end of the ride. But what else would they be able to do with the extra half hour they would have each day?
What a race! Congratulations to my cycling mate and road guide, Dan Tieger and also to Steve Roberge who did the same ride on a hybrid bike. And condolences to our two friends in cars, Andrea Leary and Al Marrone.
Editor's Note:
We hope you'll join us on October 2nd when the North Shore TMA will sponsor the Great Race 2. We'll be giving cars a second chance to beat the bikes for the Great Race 2 on October 2nd. A group on bikes will leave Axcelis in Beverly at 5:00 PM, while at the same time TMA Outreach Manager Al Marrone will leave in a vehicle. Both will be commuting to the Topsfield Fair. A second group will leave Axcelis for the Topsfield Fair at 4:00 PM in order to spend more time at the fair.
Salem Ferry or MBTA? How about both?
The Salem Ferry, operated by Boston Harbor Cruises and the MBTA have teamed up to give MBTA Zone 3 commuters better options. In an effort to reduce costs and increase ridership, the city worked with MBTA officials to accept Zone 3 MBTA commuter rail passes for fare on the ferry, Monday - Friday for AM & PM commuter trips. The Salem Ferry will operate through October 31st in 2012.
A Welcome to Cell Signaling of Danvers
It's Good to be Green!
NSTMA welcomes Cell Signaling of Danvers, MA as the newest member of the North Shore TMA family. We look forward to working hard to provide the best services to Cell Signaling and their employees to help them increase savings and encourage alternative commuting options.
Salem Trolley Offers Free Rides for Residents!
In August of 2012, the City of Salem announced that the Salem Trolley is now available to Salem Residents free of charge. In an effort to reduce traffic and congestion on our local streets and to reduce the City's energy footprint, the Trolley can now be used as a free local transportation service to residents. The pilot program in August and September, allows Salem residents on board on a space available basis. Proof of residency must be provided and the service runs daily from 10:00am to 5:00pm. The City also wants to emphasize that both the Trolley Depot and Witch House stops are within walking distance to the Salem MBTA commuter rail station and there is another flag stop at the Salem Ferry - all means for residents to catch transit services to surrounding towns and Boston.
Route 128-Route 62 Interchange
Changes for the Interchange
If you have been in this area of Danvers recently, you have easily recognized the need for further changes to this busy interchange. NSTMA has been in contact with the MassDOT engineer, site engineer and project manager to identify the necessary steps that are being taken to alleviate traffic congestion in this location. Immediate plans include conducting new traffic counts and rephasing the lights in the hopes to better coordinate the flow of traffic at the interchange. MassDOT officials hope to have many of the problems solved in the coming months.
2012 Summer Bike Ride Series
The 2012 Summer Bike Ride Series was a great success with increased participation on each ride. The Series concludes with two final rides on September 18th and October 2nd.
September 17-23, Green Your Commute!
Car-Free Week September 17-23, 2012 participation is free and easy! When you travel Car-Free or Car-Lite and track your green trips with NuRide, the nation's largest travel rewards and rideshare matching program. Whether you Bicycle, Walk, Telework, Carpool, Vanpool or take public transportation during Car-Free Week, participants who log their green trips on NuRide are eligible to win a $50 Amazon gift card daily or one of four $150 Visa gift card grand prizes!
NuRide is a state-of-the-art, on-line ride matching and alternative commute tracking system, it is the nation's largest rewards program for commuters who rideshare, track alternative commutes, while earning NuRide points to redeem for great prizes.
Sign-up for
NuRide
and get 1,000 NuRide points. Record your trips and redeem your points for rewards!