FOR IMMEDIATE RELEASE:
North Carolina Author and World Record Holder Nicolas Saperstein to Sign Books at Fiction Addiction
North Carolina author and world record holder Nicolas Saperstein will be signing copies of his poetry collection, Caterpillar Cocoon (paperback, $25.00), at an in-store book signing on Friday, April 21st, from Noon-2pm at Fiction Addiction.
This event is free and open to the public. Books may be purchased online, at the store, or by calling Fiction Addiction at 864-675-0540.
Caterpillar Cocoon is a book of rhyming poetry about a hundred pages long. The poems are about all sorts of things found in common life and nature as well as things only the imagination could create. Food, animals, and gemstones are just a few topics covered, as Saperstein's work captures many and numerous facets of existence. Most poems are easily read and would be suitable for anyone to read. All the poems contained in Caterpillar Cocoon also have distinctly alliterated titles. Like the title of the book, all the about 200 poems have repeating first letters in their titles, Saperstein's trademark.
About the author: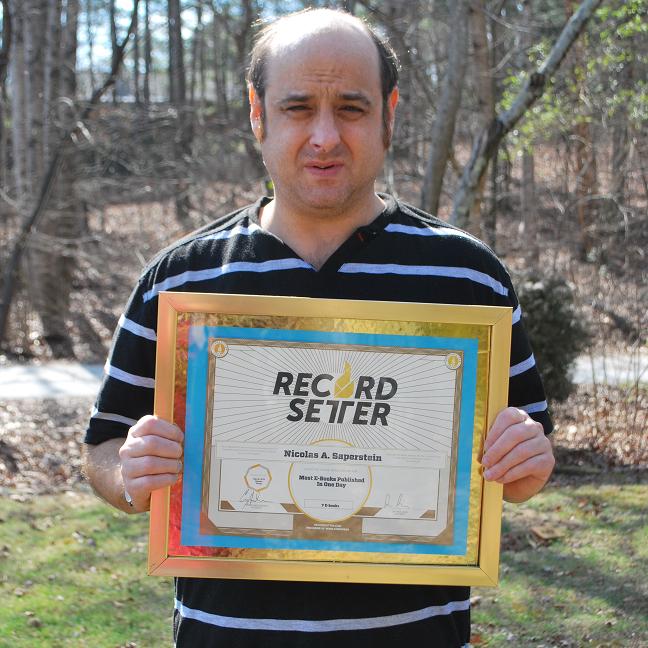 Nicolas Saperstein moved to Hendersonville, NC, not too long ago. He enjoys the natural beauty of the area. He likes hiking and exploring waterfalls. Nicolas wrote more than 2,000 poems with alliteration in the title and earned a world record from Record Setter late last year for The Most E-books Published in One Day (7) late last year. Nicolas's poems are about life, love, food, nature, and imagination and he has eight books currently available.
If you cannot make the event, you can reserve a personalized copy of the author's book by contacting Fiction Addiction in advance at 864-675-0540 or at info@fiction-addiction.com.
ABOUT FICTION ADDICTION
Fiction Addiction is a local, woman-owned, independent bookstore established in 2001. The store carries a mixture of new and used fiction and nonfiction, including children's books, as well as gift items. We are located at 1175 Woods Crossing Road (in the shopping center with Fried Green Tomatoes, Jimmy John's, and Boardwalk). For more information, visit our website at http://www.fiction-addiction.com or call us at 864-675-0540.
- END -