I may be biased, but I believe we have one of the BEST pro-life training programs for high school and college students in nation called the PULSE Leadership Institute (PLI) being held from June 19-23 in Baton Rouge.
Could you help recruit one student to register and attend?
A few years ago we had a young female attendee who came into the week timid and not too excited about speaking with total strangers at LSU about abortion. After the first-class workshops on pro-life persuasion, she felt more comfortable, but still nervous. While on campus she had the chance to speak to many people about abortion through a survey. At one point she spoke with an LSU student who seemed twice as tall as her, and from our guess, was on the basketball team. The student admitted he knew little about abortion and was then amazed when he was shown the development of the unborn baby at 10 weeks after conception. He walked away with a altered mindset about abortion, all because he heard the logical but compassionate truth from our courageous student.
Please take some time and reach out to a high school or college student in your life and encourage them to participate. If people have financial difficulties and can't afford the $199 registration fee, please contact us.
For a Pro-Life Louisiana,

Benjamin Clapper
Gov. John Bel Edwards signs pro-life legislation authored by Rep. Katrina Jackson (HB 488) and Rep. Frank Hoffmann (HB 386).
Dismemberment Ban Signed into Law


Pro-life progress continues at the State Capitol!
Of the three remaining bills, one is on the governor's desk waiting to be signed, another needs an amendment approved by the House and the final bill is waiting to be heard on the Senate floor.


CLICK HERE FOR DETAILS
ON 2016 PRO-LIFE BILLS
PULSE Leadership Institute is Just a Few Weeks Away!


The PULSE Leadership Institute is just around the corner!

Please encourage high school and college students to REGISTER NOW to receive first-class hands-on pro-life leadership training in Baton Rouge from June 19-23.

Why should students come? Here are a few reasons:

* It's a blast! Throughout the week you have time to hang out with fellow students from all over Louisiana, especially during our field trips, lip-sync battles, movie nights, and our famous Coffee House! Bring your instruments and your best talents!


* Chance to Put Convictions into Action. After learning how to present our position in conversation, we head to "Free Speech Alley" at LSU to talk with strangers about abortion. Sounds frightening, right? Students tell us time and again that they love this experience. Many students report changing a person's perspective. Students also have the opportunity to speak in a mock legislative committee at the Capitol.


* Explore A Range of Issues. At PULSE, not only do you dive into pro-life education with the experts, but you also hear the testimonies of people who have been intimately affected by abortion and adoption. We also explore the issues of euthanasia, "end-of-life" decisions, stem cell research, and much more, and we have the privilege of spending time with the elderly at a local nursing home.


* Prepare to Change Your Community. PULSE students are trained to return to their communities to convert their knowledge and inspiration into real action.

Safe Haven Law Saves Another Baby!
We love to see when the Safe Haven Law saves a baby! Check out this article from The Advocate about a mom in Baton Rouge who placed her child in safe hands. The more people who know about the Safe Haven law, the more we can avoid the tragedy of infant abandonment. Spread the word!
Pregnancies, abortions
common for victims
of human trafficking
Lex Talamo, a reporter for The Shreveport Times, has written a series of good articles about sex trafficking, including the connection between abortion and sex trafficking.
The article says,
"Laura Lederer, senior advisor on Trafficking in Persons for the U.S. Department of State, conducted a study published in 2014 in which 55 of 107 sex trafficking victims surveyed - or 55 percent - had at least one abortion."

Benefit Breakfast This Month in Baton Rouge


Baton Rouge Right to Life will host its sixth annual Benefit Breakfast on Saturday, June 25, from 9-11:30 a.m. Doors open at 8:45 a.m.

The event will be held at the St. Thomas More Catholic Church in Baton Rouge.

The 2016 honoree, Dr. Wojciech "Al" Krotoski, will be posthumously honored with the Joan Dowd Lifetime Achievement Award.

Speakers include Dr. Robert Chasuk and Karen Stoehr, a pro-life mom and jazz vocalist.

Tickets are $30 per person or $200 for a table for eight. Contact Julie at (225) 749-8260 for tickets or more information.

You can register online by CLICKING HERE.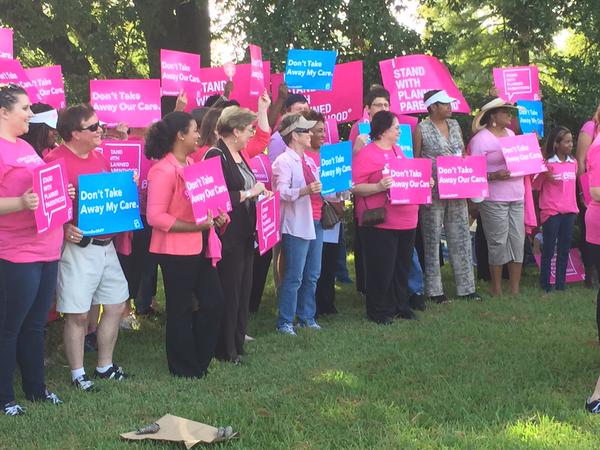 PP held a similar protest at the governor's mansion last year.
Planned Parenthood Protesting Governor Tomorrow


Join Us to Thank Gov. Edwards!

While the 2016 Regular Session of the Louisiana Legislature has so far been a huge victory for life, not everyone is happy.



Planned Parenthood (PP) and others will be protesting in front of the Governor's Mansion tomorrow

because Gov. John Bel Edwards will soon sign HB 606 into law.



We will be there as well

to respond to Planned Parenthood and show our appreciation for Gov. Edwards. We encourage you to join us! Scroll down for more information, or visit the Facebook event.

HB 606, initiated by Gov. Edwards, prevents organizations that perform abortions from receiving tax dollars. It's not too complicated: If you sell abortions, you cannot get government funding for your organization, no matter what service you are funding with that money.

And, as we shared last week, since Cecile Richards said recently that Planned Parenthood intends to perform abortions at its new South Claiborne Avenue location, HB 606 throws a major wrench into its business plan for New Orleans. PP's business model is simple: Collect government money on one side of the business, and sell abortion on the other. A lucrative plan no doubt.

While the law will likely find its way into a courtroom in the coming months, leaving the final outcome unclear, PP is still upset. They have been delayed in selling abortions in Louisiana to date, and now it seems they face another hurdle, even as they open their new facility.

Of course, PP officials don't discuss abortion when they complain about this law. They simply say that legislators are ignoring women and therefore cutting funding for other services that people mostly do not find objectionable. They just seem to forget to mention the reason their other services won't be funded is because THEY are choosing to sell abortions. If they placed aside their abortion plans (the way they have operated in Louisiana for many years), the law would not impact them.

But, as we know, PP has an abortion agenda, and it will do everything in its power to advance it.

In this face of this, Gov. Edwards has taken a stand to protect taxpayers from being forced to subsidize abortion businesses. HB 606 could very well be the measure that stops Planned Parenthood from doing abortions in New Orleans.

Since PP will draw media attention tomorrow for its rally, we want to be there with some pro-life citizens to show our appreciation to the governor.

Join us to respond to Planned Parenthood and thank Gov. Edwards tomorrow (Thursday) from 10:45 a.m. to 12:30 p.m. on the mansion side of Capitol Access Road.

Please make every effort to attend, and let others know. You can also share the event on Facebook by clicking here.
NOLA Needs Peace

Rally for Life
Saturday, June 11
10 a.m. in New Orleans


Louisiana Right to Life, the NOLA Needs Peace Coalition and the Catholic Archdiocesan Respect Life Office will host a gathering at
10 a.m. on Saturday, June 11 at the Planned Parenthood building
to stand for peace against its abortion business.
The previous planned Archdiocesan Sidewalk Counseling and Prayer Ministry's monthly rosary for life will be from 9-9:45 a.m. The 10 a.m. rally

is a non-denominational event.

Greg and Kim Banks

Shreveport Couple Join Forces With Black Advocates for Life
By Dr. Kathy Allen, Director

Louisiana Black Advocates for Life



Abortion in the black community continues to be a problem in Louisiana, and Louisiana Black Advocates for Life is determined to change this culture through education, activism and outreach.
These startling statistics helped lead to the creation of Black Advocates for Life: In 2013, 6,000 black women in Louisiana elected to have abortions, representing 60 percent of the total number of abortions in our state that year. But blacks are 32 percent of Louisiana's population, so that means the great majority of abortions in our state were obtained by a group of women who constitute a minority of the state population.
Existing data, including anecdotal evidence, suggests that reducing, and ultimately ending, abortion in the black community will require continued efforts to raise awareness about the extent of the abortion problem in our community. That outreach should continue to involve faith communities but also must include reaching out to individuals who might appear to be, or might consider themselves, pro-choice.

Growing the pro-life movement in the black community requires adapting pro-life strategy to include dialogue about relevant concerns and providing opportunities to share experiences, create linkages to resources, build relationships, and create community solidarity. The result of this will be a stronger pro-life infrastructure in a community that is currently losing large numbers of babies to abortion.
Although the challenging work of reducing abortion in the black community obviously must begin in, and be implemented by, that community, a multi-racial coalition of people who support life is essential to the success of the effort. To this end, partnerships have been formed with civic, political and religious entities and groups that can provide valuable assistance with educational outreach to adults and youth, opportunities for healing, and avenues for involvement in pro-life work, with the ultimate goal of developing a sustainable black pro-life culture across the state.
Louisiana Black Advocates for Life is proud to announce its newest partnership with Greg and Kim Banks of Shreveport as coordinators of our newest chapter, Black Advocates for Life of Northwest Louisiana. Greg and Kim bring a wealth of pro-life ministry experience and a history of community service to the Louisiana Right to Life team, including presentations at the National Right to Life Conference in Washington, D.C., collaboration with African-American pro-life leaders in our nation's capitol, and participation in the Pro-life Freedom Ride from Alabama to the Dr. Martin Luther King Center in Atlanta. Greg and Kim have also hosted showings of "Maafa 21" and been guests on radio and television shows. They most recently served as speakers at the Louisiana Life March in Shreveport.
Greg and Kim became involved in pro-life ministry more than 15 years ago in Texarkana, Texas, where they became trained peer counselors at a local crisis pregnancy center. Kim later served as director of that center for 13 years before she and Greg relocated to Shreveport in 2012.
Greg and Kim are acutely aware of the fact that most abortions in Louisiana occur in the African-American community, with most abortions in the state being obtained in the Shreveport/Bossier region. Their present strategy is to connect with community leaders to provide information about viable, life-affirming options for African-American women and men in crisis pregnancy situations. One option advocated by the Banks is adoption and foster care.
"We believe adoption and foster care are healthy choices that will allow our community to grow and thrive," said Kim. "Our plan is to educate and recruit capable families willing to consider becoming adoptive or foster care parents. If we bring more awareness to the solution, we can eliminate the problem."
Kim and Greg are currently developing adoption education classes, continuing to seek venues to hold showings of "Maafa 21" and other awareness events, and offering healthy relationship and financial education classes at local community centers and churches.
The Banks clearly see the challenges in effectively reaching hearts and minds in the black community and are determined to stay the course, as they consider pro-life ministry a call on their lives.
"We love our people and don't want to see our own demise," Kim said. "We want to save our culture and our community, and God is using us to do that."
Kim and Greg are the proud parents of three grown children and one grandchild. The Banks are also in the process of adopting two children who are presently in their permanent custody.
They can be contacted at 318-742-6705, or by e-mail at kimbanks1105@gmail.com.

Jan. 28, 2017:
Feb. 4, 2017: