PCCNA Leaders Speak Out on U.S. Elections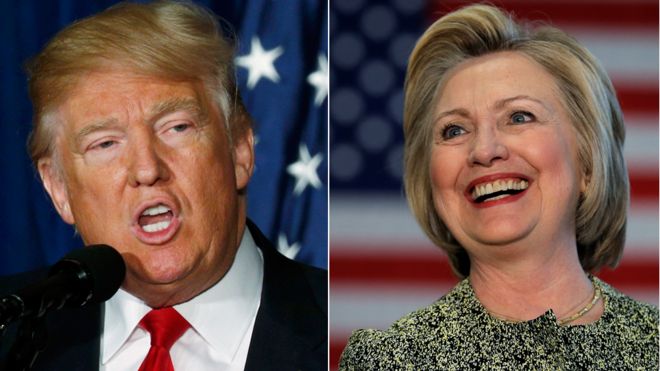 The 2016 Presidential election will set the course for the nation for the next four years. Republican presidential nominee Donald Trump is running against U.S. Secretary of State Hillary Clinton.


From Assemblies of God USA Superintendent Dr. George Wood: Every Vote Counts
As we come to this election, our nation stands at a crossroads in many ways. Only a return to solid, biblical values can save America. We need leaders with integrity who will exhibit those values. I believe it is crucial that we do two things. First, we must pray. Pray for God's sovereign will to be accomplished in these elections and in our nation. Pray for our leaders to look to God for wisdom. Pray for a spiritual awakening in our nation that returns people to God. Read more



From the International Pentecostal Holiness Church General Overseer Bishop Doug Beacham: An Open Letter to the U.S. Presidential Candidates

I am writing on behalf of the Council of Bishops of the International Pentecostal Holiness Church. Our denomination dates from 1898 and we have congregations and members in forty-eight of the fifty states of our union, as well as in one hundred countries.

Read more
Police and firefighters work near the scene of an explosion in Manhattan's Chelsea neighborhoodin New York.

(Photo: Andres KudackiAP)
(AG) Delay Proves to be God's Hand of Protection in Terrorist Bomb Attack
When an IED made of a pressure cooker filled with shrapnel detonated Saturday on 23rd Street in Manhattan, it tossed the dumpster it was under nearly 60 yards and took out third-floor windows, but miraculously only 29 were injured and no one was killed.
Read more
Church of God in Christ's Top Official Joins Distinguished Pentecostal World Leaders as Executive Committee Member
Charles E. Blake, Presiding Bishop of the Church of God in Christ (COGIC), and pastor of West Angeles Church of God in Christ was voted to the prestigious Executive Council of the Pentecostal World Fellowship.
Read more
Laws Cannot End Corruption
A decade after his passing, the celebrated doctor of law, Ignacio Burgoa Orihuela, continues to be one of Mexico's most studied and cited legal scholars and a man whose opinions are of superb reputation.
He once said, "In Mexico there has been corruption in all sectors of society. In government, in the police, in citizens, and in unions, etc." He also asserted, "Corruption is the source of the violence that we suffer in our cities."
Read more
(COG) Hall Elected President of Black Ministerial Alliance
Reverend Arlene O. Hall, an ordained minister in the Church of God, has been elected to the presidency of the Boston Black Ministerial Alliance.
Read more
(COGIC) Bishop Macklin Speaks at CTAC Summit
Bishop Jerry W. Macklin spoke at the 2016 CTAC National Summit which is an event for visionaries in advanced illness care who are actively reshaping the way care is provided.
Read more
PAOC Nationwide Night of Prayer for Men Set on Nov. 11
Richard Swiatek of Montreal and the Quebec District, in conjunction with Steve Sparling of the Eastern Ontario District, and Norm Bishop of the Western Ontario District, are inviting men of all eight PAOC districts to join them at designated locations in each province at 11:45 p.m. on Friday, November 11, 2016, for a full night of prayer.
Read more.
| | |
| --- | --- |
| | |
| Pastor Aaron Campell of Rising Sun Outreach Ministries and PCCNA Memphis Chapter President | |
Pastor Aaron Campbell of Rising Sun Outreach Ministries and president of the PCCNA Memphis Chapter is starting a Racial Reconciliation Commission. This is a condensed version of a letter recently published by Pastor Campbell related to racism and prejudice. The commission will hold its first official meeting at the February 2017 PCCNA meeting in North Charleston, S.C.

Hello, my name is Aaron Campbell. I am the local president of an organization in Memphis called PCCNA, a racial reconciliation group (www.PCCNA.org). I am also the pastor of Rising Sun Outreach Ministries located in Memphis. I generally do not communicate on social media, but I felt it was time to speak out about issues concerning racism and prejudice. I am aware, as everyone is that racism still exists in some form or the other.

There are blacks who say that only whites can be racist. There are some whites that say our government has created reverse racism through social programs they have established, such as affirmative action. There are some who say you can only be a racist if you are in control or have authority over another people.

Dictionary sources define racism in several ways: 1) Poor treatment of or violence against people because of their race. 2) The belief that some races of people are superior to others. 3) A belief or doctrine that inherent differences among the various human racial groups determine cultural or individual achievement, usually involving the idea that one's own race is superior and has the right to dominate others, or that a particular group is inferior to the others. 4) Hatred or intolerance of another race or other races 5) Discrimination or prejudices based on race.

As you can see, based on the definitions above, all races have the potential of expressing racism. Some will argue that these definitions do not express the totality of racism in America. As I stated earlier, racism still exists in its extreme form, in certain areas. However, let's be honest and acknowledge that all races are "PREJUDICE" to a certain extent.

I understand we have a long way to go but let's not forget how far we have come. It took the united effort of all races to elect a black president. It took the united effort of all races to tackle civil right issues in the sixties. It took the united effort of all races to tackle slavery through the "Underground Railroad". We need to keep the "Dream Alive" as expressed by Martin Luther King, and work together against the evil forces that produce racism and prejudices in America. We serve a God who is color-blind, and desires that we repent and become a people of "LOVE." Love covers a multitude of faults. The greatest weapon against the ills of society is the weapon of "LOVE." Considering that all races are guilty of some forms of racism and prejudices, let's work together to strive to make America a better place to live, if not for us, for our children and our children's children.
Pastor Appreciation Month is a special time that congregations set aside each year to honor their pastors and pastoral families for the hard work, sacrificial dedication and multiple blessings provided by these special people. It is typically scheduled in October, but can be held at any time that is convenient for the church and the community. It is also important to remember that appreciation, affirmation and prayer support of our spiritual leaders is appropriate throughout the entire year. Click here for gift ideas for your pastor.
"But you will receive power when the Holy Spirit comes on you; and you will be my witnesses in Jerusalem, and in all Judea and Samaria, and to the ends
of the earth." Acts 1:8 (NIV)
Jeff Farmer, President

Pentecostal/Charismatic Churches of North America