League of Women Voters of NYS
STATE VOTER
October 2016
From the President

Praises be that the presidential campaigns are finally about to end and we will be able to VOTE soon! Thanks for all you did and are probably still doing to help your voters deal with this challenging election including perhaps working at the polls on November 8. It's been an election like no other in our memories.

You get one day to recover before heading to Albany to join us on Thursday, November 10 for a program on New York's first constitution (see details elsewhere). As one savvy League member said recently, it is really hard to understand the present constitution and the whole constitutional convention debate without understanding where our state started.

I get to drive Jerry Benjamin to the event and hear all he has to say about the election and what it means for NY politics. You too may hear some of this talk in informal conversations with our fine panelists. The election will surely still be on everyone's mind and we'll all be eager for their insights.

But truly there IS life after the election and eight League members were at the October 6-7 suffrage centernnial conference in Waterloo/Seneca Falls to learn more about what the League might do to celebrate. Nan Fogel and I from Mid-Hudson picked up Mary Berry and Jen Wilson in Albany and Barb Thomas and Pattie Garrett drove out from Saratoga. We joined Carole Torok-Huxtable (Utica-Rome) and Joan Johnson (Syracuse). This created a very visible LWV presence at the conference.

The tour of historic sites on the 6th was inspiring and the speakers on the 7th further revved us up. We also had time to confer with other attendees about working together to promote this centennial throughout the state including in classrooms.

And be sure to put this on your calendars right now. On Friday, April 21 in Hyde Park, SUNY New Paltz with us and others will be kicking off a two-day conference on women in the past, present and future. Our new-ish LWVUS executive director, Wylecia Wiggs Harris, will be there and we are planning a luncheon with her before the conference starts on Friday. All who meet her are impressed and we know you will be too. Watch for details next month.

Finally, if you're not on one of our Centennial subcommittees (education, events, LWV history update, and fundraising) but want to be, just let us know. There is much fun to be had - and LWV visibility and funds to raise - in working across local League boundaries on such a great topic! How lucky we are to be League members right now.

League of Women Voters of NYS

Facebook: League of Women Voters of NYS

Twitter: @LWVNYS

State Nominating Committee

It's never too early to think about leadership... defining roles, evaluating performance and planning for the future. We need your help!

As your LWVNY 2017 Nominating Committee, our charge is to present a slate of officers/directors at Convention in Syracuse next year (June 2017).

If you, or anyone you might recommend from your local League are interested in knowing more about getting involved in the wonderful and productive group of state leaders we have, please get in touch with Lisa Scott, Chair, at lisawscott@gmail.com.

Lobby Day


April 25, 2017

Mark your calendars for Lobby Day 2017 on April 25 in Albany. We will hear from our issue specialists on "hot topics" and coordinate visits with your own legislators to lobby on issues.

New State Membership Brochure

Call the state office to get your supplies - let's spread the word of the great work of the League and increase membership!

Election Protection Hotline

Election Protection Hotline

This year with their being talk of rigged elections, we should remember to let people know about Election Protection. The Election Protection hotlines, 866-OUR-VOTE (led by the Lawyers' Committee for Civil Rights Under Law), 888-VE-Y-VOTA (led by NALEO Educational Fund) and 888-API-VOTE (led by APIAVote & Asian Americans Advancing Justice-AAJC) are nationwide, non-partisan toll-free voter assistance helplines available to anyone to promote. Voters can call the hotlines to receive answers to their questions and report problems to be addressed by trained Election Protection volunteers. Click

here

for more information.




Travel with the League

Click here for trips and itineraries.

Support the League Through Amazon

You can support the League's Education Foundation with every purchase you make on Amazon.com. Just select the LWVNYS Education Foundation as the organization you want to support, and Amazon provides .05% of each purchase price to the EF. An easy way to support us! More info at:

https://org.amazon.com/
Annual Day at the United Nations: Nov. 17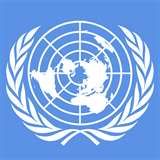 On November 17, 2016, the League of Women Voters of New York State Education Foundation, in conjunction with the United Nations Department of Public Information, the Women's Bar Association of the State of NY and Zonta International District 4 is hosting its annual daylong event at the UN Headquarters in New York City. This year's briefing will include two topics:
Sexual Violence in Conflict Areas
Anti-Terrorism
The briefings will presented by experts from the United Nations and provide information on the problems and the action being taken to assist in these global issues.
As usual, we will offer tours of the newly renovated United Nations (come see the Security Council Room and the General Assembly Room, among other significant areas and exhibits) and lunch in the Delegates' Dining Room. A bus is available from the Capital Region with a stop at Exit 18 (New Paltz) on the Thruway.
Read recent remarks by US Ambassador Samantha Powers on New Secretary General of United Nations
The Elections Continue
Vote411 is now live!
Go
to
www.vote411.org
to get the information and encourage all of your friends, family and co-workers to get their ballot info at Vote 411, too.
Publicity for Vote 411 is ongoing. We have bookmarks, flyers, rubber bracelets and license plate frames all available from the state office (call 518-465-4162). Stewart's Shops Foundation has also provided info about Vote 411 on the side of their milk cartons. And, on Long Island, the Leagues have posted signs on Vote 411 in the buses.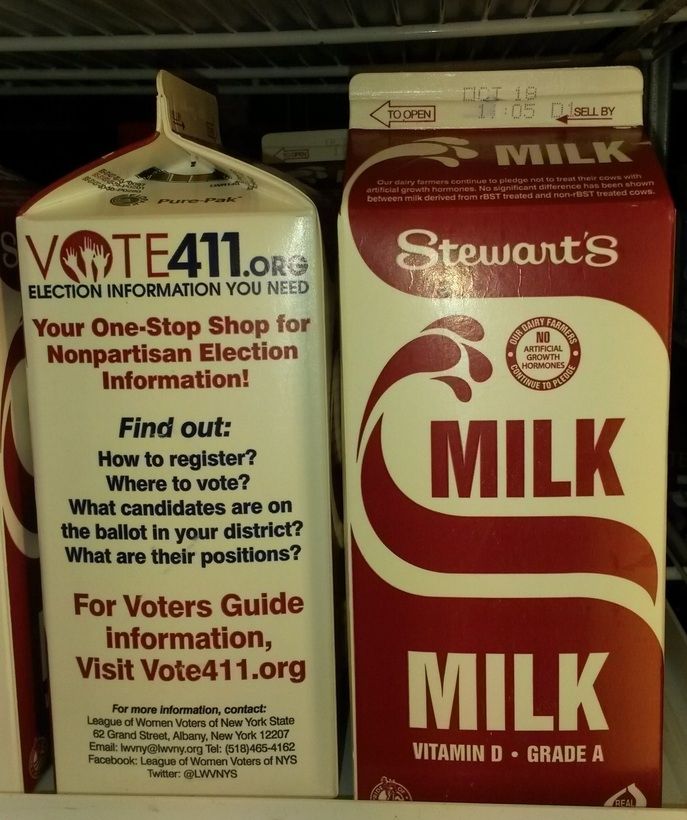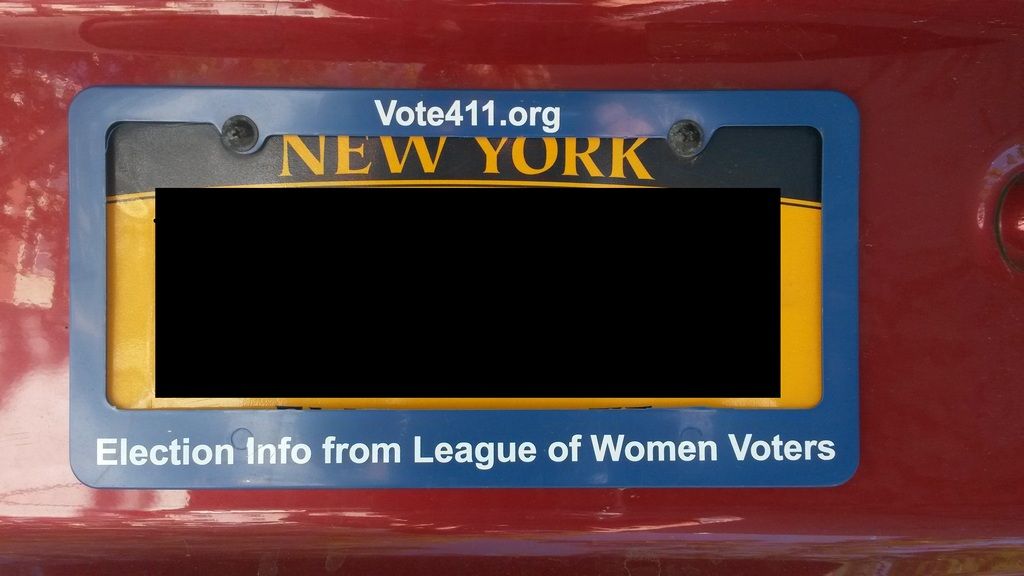 COUNTDOWN TO ELECTION DAY 2016
GENERAL ELECTION-TUESDAY, NOVEMBER 8th
Apply for absentee ballot in person by Monday, November 7th

Apply for absentee ballot by mail: postmarked by Tuesday, November 1st

Deliver ballot in person by Tuesday, November 8th

Deliver ballot by mail: postmarked by Monday, November 7th and received by Saturday, November 12th
VOTER SERVICES


Judie Gorenstein, J

udieL728@aol.com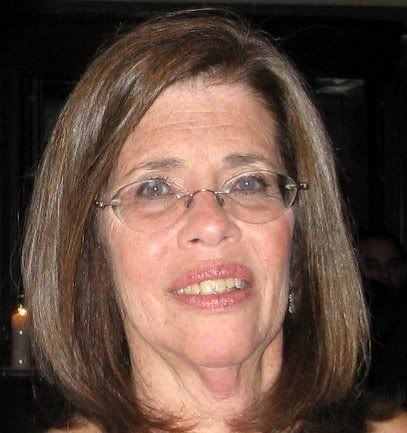 I wish to thank not only the voter service chairs and committees who have worked so diligently this fall to engage and encourage citizens to be informed voters, but all the League members, participating in voter registration drives, candidate forums, and Vote 411, who were able to not only be nonpartisan but were perceived as being nonpartisan. This has been a particularly challenging year and from what I have heard, our Leagues and members have made every effort to achieve our mission.
LWVNYS has also made every effort to get relevant information to the Leagues; i.e., the one day extension to Sat. Oct.15, that allowed people to register at their BOEs and the extension to Oct. 29 for newly naturalized citizens to register at their own county BOEs. Local League chapters have also been informing LWVNYS of their successes as well as challenges. The League MAL Unit of St. Lawrence County reported that their County Board of Elections had acted on the feedback that the League had given them regarding problems on the presidential primary day and had fixed those problems for the other primaries. They also had gotten good publicity by donating 16,000 "I Voted" stickers to their BOE. The LWV of Broome County alerted us to an issue they were having with local media airing only a portion of the video from their MTC night. What are the FCC regulations that licensed media need to follow when showing "clips"? Are there guidelines for our local Leagues regarding FCC regulations? As of now, this issue is not included in detail in our Road to the Voting Booth II. This is only one of the things we will be looking into in 2017.
For now Leagues are engaging in turning out the vote and some are still holding candidate forums. I know many of you will be working tirelessly through Election Day. Yes, democracy is not a spectator sport and we will continue to work together.

LWVNYS Centennial Celebration Plans

Joan Johnson and Barb Thomas
The responsibilities of the 100th Anniversary Events Committee include organizing and implementing educational programs to celebrate women's suffrage history beginning in 2017 (women in New York State were granted the right to vote on November 6, 2017) and the NYS League centennial in 2019. Our goals include organizing and assisting with celebratory activities sponsored by the state League and other organizations including the New York Museum, New York State Council for the Humanities, New York State Archives Partnership Trust, National Women's Hall of Fame, Women's Rights National Historic Park and numerous local organizations across the state. We also will work with local Leagues assisting with programs and providing toolkits for local Leagues to plan and carry out programs including regional events among local Leagues.


We have had several conference calls beginning in June 2016 and now are on a schedule for monthly calls. The discussions have been productive and ideas for events are endless. They include bus tours to various sites connected with women's suffrage, re-enactments by actors portraying suffragists, speakers and participation in parades etc. across the state. Several events are already in the works including events in Albany and in connection with the LWVNYS Convention in Syracuse next spring.

Committee members Barbara Thomas, Pattie Garrett and Joan Johnson along with League President Dare Thompson and LWVNYS staff member Jennifer Wilson attended the Women's Suffrage Conference in Waterloo (Seneca Falls) on October 7th. We were pleased to learn that there are so many resources available to us and that so many organizations have planned events to celebrate New York State's role marking this historic event.


The key to our work as a committee will be publicity. The committee has discussed the design of a logo/tag line, Face Book and Twitter accounts, and a YouTube video and other methods to reach out to the public. Our goal is not only to bring attention to our past, but to look to the future and reach out to the next generation.

100th Anniversary Dates
November 6, 2017 100th Anniversary of Woman Suffrage in New York State

November 19, 2019 100th Anniversary of the League of Women Voters of New York State

February 14, 2020 100th Anniversary of League of Women Voters of the United States

August 26, 2020 100th Anniversary of the official certification of the ratification of the

19th amendment by the US Secretary of State
NYS Constitution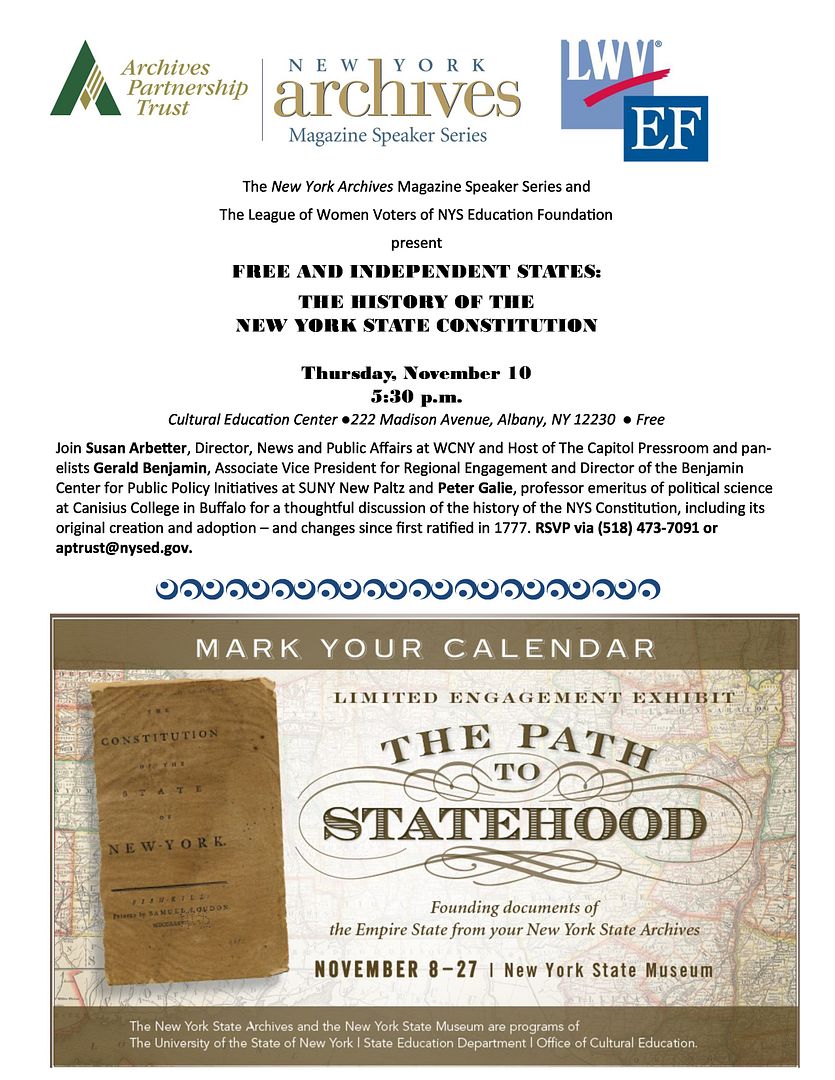 Original NYS Constitution
On Display Nov. 8 - 27
Panel Discussion Thursday, Nov. 10
The original NYS Constitution will be on display as a special exhibit at the NYS Museum (in Albany) from November 8-27, 2016. Join the state League and the NYS Archives Partnership Trust Foundation on Thursday, November 10 at the NYS Museum
for a panel discussion
on the creation and adoption of this important document. Susan Arbetter, Director, News and Public Affairs at WCNY and Host of The Capitol Pressroom will moderate the disussion of panelists Gerald Benjamin, Associate Vice President for Regional Engagement and Director of the Benjamin Center for Public Policy Initiatives at SUNY New Paltz and Peter Galie, professor emeritus of political science at Canisius College in Buffalo, as they talk about the history of the NYS Constitution, including its original creation and adoption - and changes since first ratified in 1777.
The event is free but please register to attend via (518) 473-7091 or
aptrust@nysed.gov
.
Constitutional Convention Proposal and Issues
We continue to work with the Rockefeller Institute on their educational programs related to constitutional convention (con con). Forums co-sponsored by the Rockefeller Institute and the League are archived on the Rockefeller website at
http://www.rockinst.org/nys_concon2017/Events.asp
x. Other educational information is available on this website, too.
Also, Susan Arbetter of WCNY (PBS in Syracuse) has aired a 6 part series on the issues of con con. The schedule of airings is as follows (archived episodes are available at
http://www.wcny.org/connect-ny/
)
May 16, 2016:
NY's Constitutional Convention: Halley's Comet of Change
June 2016:
Re-imagining New York: Environment
July 2016:
Re-imagining New York: Crime & Punishment
August 2016:
Re-imagining New York: Ethics & Power
September 2016:
Re-imagining New York: Education
October 2016:
Con Con 2017: From Imagination to Reality?
Episodes of Connect:NY air Mondays at 9 p.m. on WCNY, and on local PBS stations across New York. The programs are available via streaming at http://www.wcny.org/connect-ny/.
EDUCATION FUNDING

Jennifer Wilson, Director of Program & Policy, Jennifer@lwvny.org
Campaign for Fiscal Equity Walk from NYC to Albany
Alliance for Quality Education (AQE) finished their march to Albany this month to protest the unfulfilled court-mandated state education funding with a large rally outside of the Court of Appeals building in Albany. Laura, and our Education and Finance Specialist, Marian Bott, and I were in attendance. A special shout out to Marian who participated in a significant portion on the march. Also thank you to our Long Island, Mid-Hudson, and Saugerties Leagues who participated in the events surrounding the walk.
After the rally, the walkers marched to Governor Cuomo's Albany office. They flooded his waiting room with "overdue" notices and chanted their demand for full funding for CFE. It was truly an unforgettable display and it received significant media coverage in Albany. Kudos to AQE and their supporters for organizing such an impactful event!
Foundation Aid Forum at Rockefeller Institute
On October 18th Marian Bott and I attended a forum at the Rockefeller Institute on New York State's Foundation Aid Formula. The panel included a school finance strategist who advises states on the best way to improve their formula to maximize results, the chief financial officer for the Syracuse City School District, director of education and research of NYSASBO (

New York State Association of School Business Officials

), and the chair of the Regents Subcommittee on State Aid. The event focused on the improvements that could be made to our state formula for education funding and the specific challenges New York faces because of our diversity. For more information about the forum visit the Rockefeller events site here.
DEVELOPMENT UPDATE

Kate Jankowski, Director of Communications & Development, Kate@lwvny.org
Year-End Giving

Many of us will be grateful when Election Day 2016 is over and we can start focusing on holiday plans and time with family. This is the time of year we also start planning our year-end donations. As you consider your year-end gifts, please consider making a tax-deductible gift to the LWVNYS Education Foundation and look out for a special giving opportunity on Giving Tuesday November 29, 2016 and our 2016 Education Foundation Annual Fund appeal which will arrive in your mailbox shortly after Election Day.

And, if you are someone who has invested in stocks over the years, please consider making a gift of appreciated stock to the LWVNYS Education Foundation. Giving appreciated stock is a terrific way to support your favorite charities and also get a bigger tax benefit. When you transfer ownership of stock shares to a charity, you not only receive an income tax deduction for the fair market value of the stock but you also avoid capital gains taxes.

Making a gift from your IRA is also a good way to make a year-end gift. If you are 70 and ½ or older, you can direct the trustee of your IRA to make a transfer from your required distribution directly to a charity. In this way, you avoid claiming the IRA distribution as income.

The state League Education Foundation is a qualified 501©3 charity and we would be happy to talk with you about making a gift of stock or a gift from your IRA distribution. Please contact Kate Jankowski, Communications and Development Director, in our state League office for more information. Kate can be reached by phone at (518) 465-4162 x13 or by email at
kate@lwvny.org
.
Our donors make us great and we appreciate your support for educating the voters of New York.


Annual Report Now Available

The report includes stories about:

LOCAL LEAGUE NEWS
The
Tompkins County LWV
Natural Resources Committee will present "Roads to Our Energy Future," on November 14th at 7 p. m. in the in the Borg Warner Room of the Tompkins County Public Library. The program will focus on Tompkins County's Energy Roadmap and some of the ways it can be implemented. Speakers will be Katie Borgella, Deputy Commissioner of Planning for Tompkins County and Jonathan Comstock, head of the Tompkins County Heat Smart program.
Students helped the League register voters at Five Towns College on Long Island (photo on right)



The

LWV of Nassau County

received a $5000 grant from LICET, Long Island Civic Engagement Table, to work with other good government groups to register voters.

The League registered 538 new voters from September 15th-October 13th. We also, with the grant money, thanks to the assistance of the ILO in Suffolk County,

placed signage about voting on 325 of the NICE buses in Nassau County, in both English and Spanish.




Spirits were high around Westchester County on National Voter Registration Day as local Leagues throughout the County combined with other forces to register voters. A canvas of registration activities on this and other days found that LVW set up tables at 49 locations (including 9 colleges) with at least 131 volunteers and registered approximately 513 voters; we helped over 50 people to compete applications for absentee ballots, registered 46 organ donors and distributed at least 365 applications that were taken home. Our collaborators included at least 7 other organizations, including the NAACP, the AAUW, the Westchester Women's Bar Association, several alumnae sorority chapters, LiveOnNY, and the NY Eye Bank.





LWV of Schenectady County hosted a meet the candidates night Tuesday, October 18. Karen DeWitt, Capitol Bureau Chief for New York State Public Radio, Matthew Hamilton, Reporter for the Times Union and Steve Muller, League of Women Voters asked questions of New York's 20th Congressional District Congressman Paul Tonko (Democrat) and his challenger Joe Vitolo (Republican).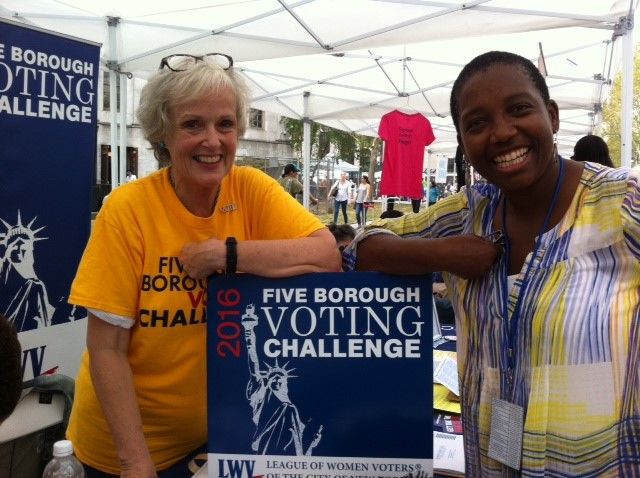 During this past summer, t
he LWV of NYC held 86 voter registration drives registering thousands of new voters in all five boroughs. We trained almost 300 New Yorkers to run their own community drives using the League Voter Guide and other brochures available on the League website, multiplying the number of registered voters in all five boroughs (photo on left).
The October forum of
LWV of Rochester Metro
is entitled "Voting in Monroe County 2016" The local League receives many questions about voting, such as
* What security measures does Monroe County take to protect voters and their votes?
* What issues do we have using the current paper ballots?
* What do voters need to know before Election Day?
* What election reforms are we seeing across the country
They've invited Monroe County Board of Elections Commissioners Thomas Ferrarese and David Van Varick to answer these and other questions.
LWV of Albany County hosted a forum with Blair Horner, Executive Director of NYPIRG. Despite annual changes in ethics laws in recent years, corruption still seems rampant at the Capitol. Blair Horner has covered the Capitol for 30 years and discussed what went wrong and what can be done about it.



Preet Bharara, U.S. Attorney for the Southern District of New York, spoke at the LWV of Scarsdale's Food for Thought Luncheon on October 14th. Mr. Bahara spoke about law enforcement, fighting corruption and the scourge of misuse of prescription drugs.




Barbara Epstein of LWV of East Nassau did an excellent presentation to 70+ students at East Woods School, a private school in Nassau County. Her presentation on the history of the electoral college, as well as this year's election, was not only informative but stimulated and engaged these students in a great discussion.




Jane Becker, a founding member and chair of the steering committee, will present a program for LWV of Chautauqua County on the Women and Girls' Coalition in Chautauqua County. The mission of the Women and Girls' initiative is to build a better future for the women and girls of Chautauqua County within a community that provides opportunities for them to thrive.





The League of Women Voters of Huntington along with The Huntington Township Housing Coalition are Co-sponsoring a November 19th Summit on the Need for Rental Housing in Huntington. Keynote speaker is Patchogue Mayor Paul Pontieri whose village has been a groundbreaker in creating affordable housing and downtown revitalization. Huntington Supervisor Frank Petrone will be one of several leaders responding to Mayor Pontieri's speech. Also on the roster are young people in need of rental housing as well as representatives from private agencies and Huntington departments that are responsible for building affordable housing. County officials will be speaking as well. Three breakout sessions


Youth Flight from Huntington: Who Will Be Here to Buy Our Homes?


Political Decision Making Resources for Creating Affordable Rental Housing in Huntington


Density and Multifamily Housing: Coping with Sewage, Traffic and Water Conservation


The summit will conclude with an action plan to deepen community support for more affordable rental housing in Huntington. We will also announce the major findings of our year-long inventory of affordable housing in Huntington, the final results of which will be presented to the Town Board this December.


The Environmental Committee of LWV of Rensselaer County will next meet on October 31st in Troy. Kristina Younger, League member who is also on the Board of the Rensselaer Land Trust, will discuss with us how the Trust prioritizes land protection projects that protect drinking water sources.

Dr. Susan Goodier gave a lively presentation on women's suffrage to the LWV of North East Westchester. The discussion was held at the Katonah Library and included slides of artwork and political cartoons from the era. Members also learned about the anti-suffrage movement.

An informative explanation of the electoral process was presented by the LWV of Brookhaven on October 17th. This confusing process was explained by two Suffolk Community College professors: Neil P Buffett, Assistant Professor of History, and Nicholas P. Giordano, Assistant Professor of Political Science.

LWV of Buffalo Niagara held a town hall-style panel discussion on Thursday, October 6, 2016. The topic of the discussion was Effect of Big Media and Big Money on Political Campaigns. Lee Coppola, retired dean, St. Bonaventure University School of journalism was moderator. Panelists included James A. Gardner, interim dean, University at Buffalo Law School; Jim Heaney, editor and executive director; and, Investigative Post Carole McNall, assistant professor, St. Bonaventure School of Journalism.

League of Women Voters of New York State

62 Grand Street, Albany, NY 12207

Tel: 518-465-4162; FAX: 518-465-0812

Facebook: League of Women Voters of NYS

Twitter: @LWVNYS