Upcoming Stated Meeting November 10th
by Donna E. Wells, Stated Clerk

Stated Meeting - November 10, 2018 at Clairmont Presbyterian Church, 9:00-2:00 PM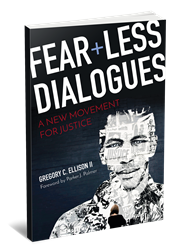 We are excited to offer the Presbytery an opportunity to participate in a 90 minute "Fearless Dialogue" experience. Fearless Dialogues will challenge each of us to really see people and learn to be totally present through a variety of exercises and experiences. We will explore ways of communicating with each other to find common ground in our divided society. The goal of "Fearless Dialogues" is to " create conversations among community members who have never spoken to one another, the goal of which are real, implementable, and lasting changes to the life of the community" (Amazon.com).
Following our conversations, we will join together for worship and Lord's Supper, have lunch and then move towards the business portion of the meeting. We will be sending out information on lunch cost and registration.
Plan on joining us for this great opportunity as part of our meeting.
Come Hear International Peacemaker Mary Mikhael
We are happy to have International Peacemaker Dr. Mary Mikhael visit Greater Atlanta in October as part of the Presbyterian Peacemaking Program. All are invited to attend the following opportunities to hear her speak, meet her, and welcome her to our presbytery. For more information about Dr. Mikhael,
click here
.
Ormewood Church: Year One Highlights
by Jennelle Holmes, Organizing Pastor

When people ask me how things are going at the new church development in Ormewood Park (SE Atlanta), I respond the same way every time: we're having fun. And we're about to celebrate our one-year anniversary of fun on Sunday, September 30! It has been a year of films, meals, marches, worship, books, small groups, music, interns, and bottles of wine.
There are two things I want to highlight about our first year. First, we like worship to feel like our living rooms and front porches, so every week we set up coffee tables in the fellowship hall around which we gather. They set the tone for what we're doing on Sunday mornings: loving God and loving each other. Around these tables we worship, write prayer requests, talk in small group time, doodle, sing, and set our coffee cups down for hugs. It's a lovely way to start the week with new friends and old.
The second thing I want to highlight is these people's commitment to doing good in the world. We're taking a year to explore the different nonprofits and practices these folks engage in to further justice in the world. Each month, one or two folks from the church present on a place where they volunteer or work, and we join in with their service that month at an event or on a project. It's amazing to see all the ways people are gathering in Atlanta to build a better community.
If you're curious about what we're doing down here in Southeast Atlanta, please join us on Sundays at 11AM at Ormewood Church or visit our website at
www.ormewoodchurch.org
.
First Presbyterian Church of Atlanta (hosted by FPC Atl. and North Avenue Presbyterian)
Mental Health Workshop for Faith Leaders
Oct. 18, 12-4 P.M.
Join us on October 18th from 12-4 P.M. for a workshop on mental health for faith workers covering topics including common mental illness and treatment, suicide, how congregations can be more welcoming towards persons with mental illness, and how and when to make a referral to a mental health professional. Workshop leaders will be Dr. John Tumeh, Diplomat of the American Board of Psychiatry and Neurology and board certified in adult psychiatry, and Rev. Katie Sundermeier, Executive Director of the Samaritan Counseling Center of Atlanta. Click here to view the event flyer. For more information contact Rev. Katie Sundermeier at
Just Worship Conference was Vibrant and Meaningful
by Sarah Erickson, CTS's Center for Lifelong Learning

Subtitled "Toward a Faithful and Vibrant Future," the Just Worship conference that took place September 13-15 on the campus of Columbia Theological Seminary lived up to its name, offering the more than 50 participants from 11 states four worship services and nine workshops exploring the topic.
Worship leaders Aisha Brooks-Lytle, David Gambrell, Kimberly Bracken Long, Tony McNeill, Paul T. Roberts, Eric Wall, seminarians and a jazz combo led a total of four services, including evening prayer. Special guest Maisha Handy and conference planning leader Martha Moore-Keish, all members of the Presbytery, assisted our presbytery executive with Friday morning's Service of the Word and Table. Lauren Wright-Pittman, a CTS alum who served as graphic designer for the conference and is a member of the Sanctified Art collective, painted during Friday morning's worship service. Michael Morgan, long-time organist at Central Presbyterian Church and current seminary musician, was commissioned to write a hymn for the conference. "Feasting and Fasting," using themes from Isaiah 58.
Workshop leaders from our presbytery were Brooks-Lytle, McNeill (the new leader of the Gospel Choir at Oakhurst Presbyterian), Gad Mpoyo and Kevin Park. Conference participants provided enthusiastic feedback: "Outstanding, joyful and important content; I kept wishing my colleagues and congregants could be here, too," they wrote.
Conference sponsors were Austin Presbyterian Theological Seminary, Columbia Theological Seminary, Johnson C. Smith Theological Seminary, the Office of Theology and Worship of the Presbyterian Church (U.S.A.), and the Presbyterian Association of Music (PAM) and the Presbytery of Greater Atlanta. Marthame Sanders of aijcast (one of the 1001 New Worshipping Communities in our presbytery) partnered with the conference to record sessions which will be featured in an upcoming podcast.
While conference sponsors are working on other follow-up stories and we wait for the podcast, here are a few photos from the conference. Stay tuned - it's possible that this conference may lead to other seminars and occasions to continue to explore how worship embodies and shapes us for justice.
Click here to read the Presbyterian Mission Agency's article on the conference.
Healthy Congregations Workshop Nov. 16-17
by Joy Fisher, Congregational Consultant

Lombard Mennonite Peace Center is coming this fall, Nov. 16-17, to our very own Trinity Presbyterian Church of Atlanta to do a workshop on Healthy Congregations. This is a workshop they have not offered here in Atlanta in a long time, so might be new stuff for some of you, or at least a really good refresher for all of us.
We live in an age of increased anxiety, which negatively impacts church systems and leaders. What can be done to prevent anxiety from becoming a toxic force in your congregation? This workshop is designed to equip leaders to respond to the presence or potential threat of anxiety in a congregational system in ways that prevent destructive conflict and help the church stay focused on its unique mission and purpose.
The deadline for individual or congregation early registration discounts is November 2nd
. For more information about Healthy Congregations workshops,
click here
. To download the event brochure,
click here
. To register for this event,
click here
.
Pastor Group
by Chip Blankinship, Director of Operations

This month, Pastor Group will meet on October 11 at 10:00 a.m. and will cover the topic of fear in leadership. Brady Radford and Shalom Team members will present.
We have long believed that the best way to have healthy congregations is for our congregations to have healthy leaders. This coming season, we will study together Peter Scazzero's book
The Emotionally Healthy Leader
. Each month, we will begin with a brief discussion summarizing a chapter of the book. Then we will have a presentation and discussion around a related topic, given by leaders within our presbytery and beyond.
Please plan to join us for this series. We're excited about it, and hope that you will be, too!
Ministry and Coaching: An Odd Mix or Needed Addition?
by Rev. Dr. Jane Fahey

In January 2019 CTS is launching a coaching training program as part of its commitment to lifelong learning. Years ago, I received coach training under the same faculty who will be leading CTS's program. That training was one of the most valuable continuing education efforts I've pursued!
And it's not just for folks who want to become a professional coach!
The church can clearly use people who are equipped and trained to be coaches. They see practically every problem known to man such as abuse, neglect, family dysfunction, counseling, team/committee organizations, needing food and shelter, and the list goes on and on. So, as you can imagine, clergy burnout continues to be a challenge.
But choosing to engage a coach is among the best practices for pastors who are serious about self-care. Pastors who feel stuck in ministry--either because they're brand new and are still forming healthy habits and boundaries or because they're mid- or late-career and need clarity about next steps or new challenges--can benefit from a skilled coach.
A good coach can help you clarify your goals, tap your creative energies, and hold you accountable for the client-centered and client-driven solutions you uncover in the coaching conversations. At its core, coaching training teaches you to listen carefully and to ask powerful questions that unlock the resourcefulness and gifts of the other person.
Honing that skill will make you a more effective leader, a more effective personnel manager, and even a more empowering friend! Click here to visit the Coaching Institute website.
Commemorating Peace
by Donna E. Wells, Stated Clerk

The Bells of Peace program marks the centennial of the
signing of the Armistice that ended the
fighting in WWI.
Presbyterian churches with bell towers are being requested to ring their bells as Bells of Peace at 11:00 a.m. on Sunday, November 11, 2018. The Armistice was signed one hundred years ago at the 11th hour on the 11th day of the 11th month, and the church bells tolled on November 11, 1918. We would like to honor that moment of peace and have the bells toll once again on November 11 this year.
As background information, the U.S. World War One Centennial Commemoration Commission has issued a national proclamation for bells to ring throughout our nation at 11:00 a.m. local time on November 11. The program is for bells to toll across our nation of five time zones to

commemorate the centennial of the armistice that ended hostilities in WWI, to remember the sacrifices of the 4.7 million Americans who served in the Great War, and to honor the role the U.S military has played in preserving peace and liberty around the world for the last 100 years.
If any church has a question about the Bells of Peace, please feel free to contact Dr. Virginia Dilkes at 770-924-1452.
Grant Applications Being Received
by Chip Blankinship, Director of Operations

The Grants Committee is now receiving applications for two grant opportunities.
The Compassion Grant provides up to $5,000 to support compassion ministries within our congregations. A description of the grant, eligibility requirements, and the application are available

here.
The PATH (Presbyterian Answer to Hunger) Grant provides up to $5,000 to support ministries seeking to address issues of hunger. That application, along with information about it, may be found

here.
Both of these applications are due by midnight on Monday, October 15. Please let the Grant Committee know what innovative ministries are taking place in your congregations. We look forward to hearing from you!
Oct. 11 - Pastor Group @ St. Andrews
Oct. 21 - Church of the New Covenant's final service, 3 PM @ C. New Covenant

Nov. 8 - Pastor Group @ St. Andrews

Dec. 6 - Annual Christmas Luncheon for Retirees & Spouses @ Trinity Atlanta
Dec. 13 - Pastor Group @ St. Andrews
Click here for the Calvin Center's programs.
The next newslett
er
will go out October 31. Articles will be accepted through October 17. The following newsletter will go out November 31. To request space for an article, email your Congregational Consultant or Mark Sauls at
msauls@atlpcusa.org
. Click here to view submission guidelines.