Presbytery Officer Training |

Saturday, October 26, 2019
by Aisha Brooks-Lytle, Executive Presbyter

9:30-12:30PM @ North Decatur Presbyterian Church
Please join us for a morning of training for elders, deacons, and clerks of session. We will gather for plenary and break sessions for the different groups. There is no cost to the event.

Light refreshments will be served.

Please RSVP by clicking here so that we can be sure to accommodate all who are attending the event.
More Information on the Middle School Retreat
Theme: Created to Connect!
by Allysen Schaaf, Decatur Presbyterian Church

Who:
All 6th-8th grade youth & their adult leaders
When:
Friday, November 1-Sunday, November 3
Where:
Calvin Center, Hampton, GA
Cost:
$125 per youth or adult participant (Scholarships available)
In a world of disconnect, a weekend of authentic connection with yourself, God and others! Sometimes we can be so connected online but disconnected with each other on a real level.
"I'm convinced that nothing can separate us from God's love in Christ Jesus our Lord: not death or life, not angels or rulers, not present things or future things, not powers 39 or height or depth, or any other thing that is created." (Romans 8:38-39 CEB)
It will be a weekend full of fun, music, energizers, recreation and enjoying time together as the body of Christ in God's beautiful creation at the Calvin Center. Middle Schoolers will get a chance to explore the theme in a variety of ways including through workshop times. Sample of potential workshops will include activities that involve arts and crafts, spirituality activities, games, outdoor camp activities, improv, technology and more. Scholarships are available.
Click here
for more information and to sign up.
Compassion Grants Available!
by Chip Blankinship, Director of Operations
Compassion Grants:
The Grants Committee is now receiving applications for the annual Compassion Fund Grants. All applications must be received by midnight on Tuesday, October 15, 2019. For a description of the grant and to access the grant application, please visit the Grant Opportunities page on our website, which may be accessed
here
. We look forward to reading about the great work being done in our congregations in the area of compassion ministries. Notice of awards granted will be sent in early November.
PATH Grants: PATH (Presbyterian Answer to Hunger) Grants are typically offered each fall. However, due to very low participation in the Atlanta Hunger Walk/Run last Spring and, therefore, very little money available for PATH grants, the PATH Grant will not be offered this fall. The Grants Committee is hoping that participation levels will be back up for the 2020 Hunger Walk/Run and that the grant can be offered again next fall.
Mark Your Calendar: The 2020 Hunger Walk/Run will be held on Sunday, March 15, 2020. Please plan to participate! For more information, click
here
.
Upcoming Stated Meeting: November 12th
by Donna E. Wells, Stated Clerk
The purpose of a Christian life...
The theme of the next meeting of Presbytery on November 12, 2019 is that of purpose... rounding out our 2019 them of Passion, Prayer, Priesthood and Purpose. We are delighted to welcome to the pulpit Rev. Dr. Ted Smith, Associate Professor of Preaching and Ethics at Candler School of Theology at Emory University.
We will gather at Eastminster Presbyterian Church in Stone Mountain, GA at 9:00 A.M. to begin our time together. Along with our focus on Purpose, we will welcome new pastors and hear from our Executive Presbyter.
The handbook containing our business will be available to download by October 29. More information can be found
here
. We hope to see you there!
Feedback Survey on 2018-19 Pastor Group Season
by Miranda Emery, Office Manager and Media Specialist
Many thanks to those who participated in our 2018-2019 Pastor Group season! Please take a few minutes to provide feedback about your experience. Your feedback will help us offer future workshops and trainings that fit your needs. This survey contains only five questions, which should take no more than five minutes of your time. We are collecting responses until October 8.
Dinner and Dialogue: The 1619 Project
by Chris Holmes, First Presbyterian Church, Atlanta
Members of the Presbytery of Greater Atlanta and the wider community are invited to join First Presbyterian Church of Atlanta staff members and outside speakers for dinner and dialogue about "The 1619 Project." Published by the New York Times in August 2019, "The 1619 Project" is an
initiative
observing the 400th anniversary of the beginning of slavery in America. "The 1619 Project" seeks to reframe the conversation about the history of our country and the lasting consequences of slavery in contemporary society. In so doing, it re-centers both the consequences of slavery
and
the contributions of black Americans at the heart of the stories we tell ourselves about America.
The Dinner and Dialogue is from 5:00 p.m. until 7:00 p.m. on October 27, 2019, at First Presbyterian Church of Atlanta in Fifield Hall. The evening will include dinner, table conversations, a panel discussion, and time for question and answer. To get the most out of the evening, participants will read a portion of "The 1619 Project" before the conversation. Access to an electronic version of the project along with a reading guide and other learning materials will be provided upon registration. Registration for the event is $10 and covers the cost of dinner. Register
here
. For more information, please contact Rev. Dr. Chris Holmes at
cholmes@firstpresatl.org
.
1001 New Worshiping Community Assessments
November 11-14, 2019
by

Lindsay P. Armstrong, Executive Director, NCDC
| | |
| --- | --- |
| | |
| Yes, this really is Mary Cox (NCDC Moderator) and Michael Gehrling (1001 Associate) from last year's Assessments. Join us! | |
The Presbytery of Greater Atlanta is full of exciting new worshiping communities. In fact, we have 26 communities currently under care, and if you are feeling called to start a community, let's talk.
We want to help visionary leaders discern whether or how they might prepare for this ministry, and we want to identify strong leaders for this demanding yet energizing call. As you read this, we are preparing and recruiting potential church starters to take part in a 3 ½-day assessment in Atlanta, November 11-14, 2019.
This is a time when leaders discern how their own leadership style, strengths and capabilities lend themselves to start up. NCDC has two scholarships for PGA members who are interested.
If you are interested, if you'd like to be considered for a scholarship, or if you'd like to nominate a candidate, please get in touch with Lindsay Armstrong at
larmstrong@atlpcusa.org
.
Please register for Assessments by October 4.
For information/registration, click
here
.
You are a hero! Thank you for being part of Thornwell's 144-year legacy to serve children and families across South Carolina, Georgia, and Florida. It's your kindness that helps children like Joseph find a home and provides Lauren a safe place to heal. Because of you, DJ's family has access to loving support, resources, and care - which changes everything. Because family changes everything.
This November is the perfect time for you to join churches across the South Atlantic synod to participate in a century-long tradition, Thornwell Emphasis Month.
When you celebrate this special occasion, hearts are connected to our mission and an overflow of their giving brings hope and joy to children and families who have, perhaps, never tasted the goodness of the Lord. What a rich blessing to celebrate!
Flint: The Poisoning of an American City is the first feature-length documentary exploring the critical question of how the ongoing water crisis could happen in an American city. This film intersperses interviews with area residents and experts in lead and water with testimony at congressional oversight committee hearings.
With over 5,300 cities across the US in violation of federal lead rules, Flint serves as a warning for the rest of the country.
This documentary educates and inspires action, seeking to radically change how we view and value water. Produced by the PC(USA), premiered in Flint in September 2019, "Flint" is coming to Atlanta on October 10th. For information/tickets, click here.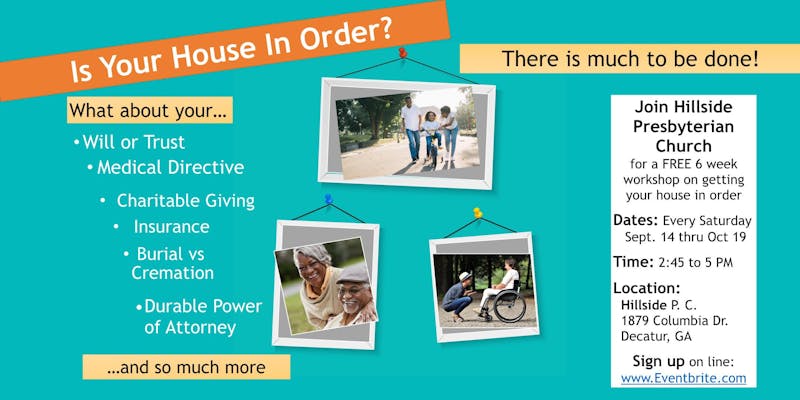 Is Your House in Order?
Hillside Presbyterian Church invites everyone to hear from experienced professionals who will talk about things we don't want to think about, including wills, estate planning, medical directives, care homes, insurance, Power of Attorney, funeral planning, and more. This free workshops series will be held each Saturday,

September 14 thru Oct 19 from

2:45-5 PM.
Remaining workshops are 10/5 - care homes, hospice and palliative care; 10/12 - funeral homes, cemeteries and headstones; 10/19 - funeral programs and wrap-up.
---
Book Launch with Catherine Meeks and Nibs Stroupe for the new book:
Passionate for Justice: Ida B. Wells as Prophet for Our Time
In
Passionate for Justice: Ida B. Wells As Prophet for Our Time
, authors Catherine Meeks, PhD, and Nibs Stroupe create a guide for the current state of affairs in American culture that is enlivened by the historical perspective of Wells' search for justice.
Meeks is the retired Clara Carter Acree Distinguished Professor of Socio-Cultural Studies at Wesleyan College and the Director of the Absalom Jones Center for Racial Healing. Gibson ("Nibs") Stroupe served as pastor of Oakhurst Presbyterian Church in Decatur, Georgia, for 34 years. Oakhurst is nationally known for its multi-racial and multicultural ministry. Both authors have dedicated themselves to working, writing, and developing ministries oriented toward justice, equity, and mercy. This book can be used in all settings, but most especially in churches (pastors and other church leaders, study groups), seminaries, and universities
(summary from Georgia Center for the Book).
To oder a copy of this book, click here.
On
October 8, 7-9 PM
at The Cathedral of St. Philip there will be a book launch, a talk from the authors, and book signing. Register
here
.
---
Trinity ATL. Explores with Terence Lester and Love Beyond Walls
The Dignity Museum is a portable museum housed in a shipping crate. The museum lifts up stories of our brothers and sisters without housing throughout Atlanta.
Terence Lester, the founder of the museum, was once a teen without a home, and before creating the museum, he spent a month on the streets of Atlanta building relationships with our neighbors who live on the streets.
The museum's location is intentional - a shipping crate highlights impermanence, portability, and life on the move, all of which relate to homelessness.
A group of Trinity Young Adults visited the museum last spring and met with Terence. We were each handed a piece of cardboard and a marker and tasked with making a sign we would hold if we were without housing and food for ourselves and a child. This exercise sparked great conversation between us. Terence is dedicated to lifting up the dignity of all God's children, a commitment Trinity also holds.
Join us at Trinity Presbyterian Church (Atlanta) on October 20th, 7-9 PM to learn more about Terence's story and work. You're in for a treat. This event is free and open to the public. For information, click
here
. Questions? Contact Sarah Wikle, Trinity's Director of Engagement,
swikle@trinityatlanta.org
.
---
2019 Legislative Forum
"Faith-Based Civil Discourse: Bridging the Divide in 2020"
Thursday, November 14, 2019
Doors open at 6:30pm | Event starts at 7pm
Druid Hills Presbyterian Church
Join faith leaders in a discussion with Georgia state legislators about public policy, plus learn about issues central to this year's legislative session and how to be equipped for the 2020 election cycle.
Our theme for this year's forum is, "Faith-Based Civil Discourse: Bridging the Divide in 2020"
Speakers and guests to be announced soon!
This event is free and open to all. You do not need to be a member of Presbyterians for a Better Georgia or affiliated with a PCUSA congregation to attend. Parking is available in the rear parking lot and adjacent streets. Refreshments will be served!
Register today
, and invite a friend!
September 10, 2019 - First Presbyterian Church of Atlanta was featured in Presbyterian Outlook for their Epiphany initiative. Read here.
The Presbyterian Planning Calendar 2019-2020 is now available, and you may notice a familiar face within the pages. Rev. Alex Rodgers (Decatur PC) and her canine pal are featured as the faces of September 2020. Order your calendars here.
The presbytery has a page dedicated to advertising employment opportunities within our congregations and partnerships. If you would like to browse opportunities or submit a new opening click here.
Click here for the Calvin Center's programs.
The next newslett
er
will go out October 31. Articles will be accepted through October 21. The following newsletter will go out November 30. To request space for an article, email your Congregational Consultant or Mark Sauls at
msauls@atlpcusa.org
. Click here to view submission guidelines.
Sterne, Maurice, 1878-1957. Greed, from Art in the Christian Tradition, a project of the Vanderbilt Divinity Library, Nashville, TN. http://diglib.library.vanderbilt.edu/act-imagelink.pl?RC=57068 [retrieved September 25, 2019]. Original source: https://commons.wikimedia.org/wiki/ File: Oil_painting_%22Greed%22 _located_in_fifth_floor, _main_library, _Department_of_Justice, _Washington,_D.C_LCCN2010720176.tif