Oprah visited Abbeville Memorial Church of God in Christ (COGIC) in remembrance of Recy Taylor.
This week Oprah Winfrey was on assignment for 60 minutes in the town of Abbeville, Alabama. She visited the church where Recy Taylor was leaving the night she was brutally raped by six white men. The church is currently named Abbeville Memorial Church of God in Christ (COGIC). She also visited the grave of Recy Taylor who passed away December 28, 2017. Winfrey posted these words about her visit:

(NHCLC) Puerto Rico: 3,000 Churches Damaged, Fewer Christians Left to Rebuild
The evangelical church in Puerto Rico won't be the same after Hurricane Maria.
Even congregations that have resumed their regular gatherings after repairing buildings and regaining power are still missing a major part of church life: some of their members.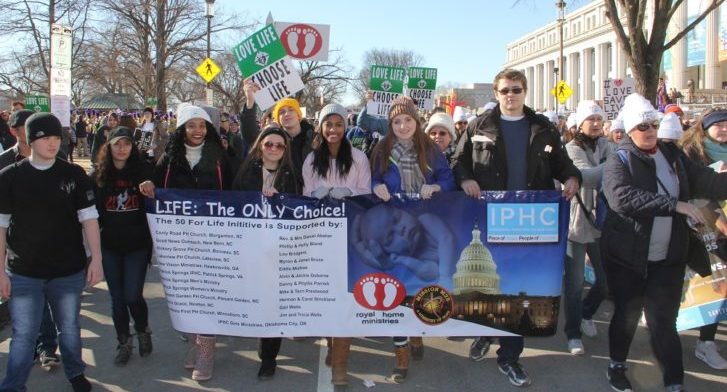 IPHC participate in March for Life in Washington, DC.
As the IPHC highlights our fifth core value, "We Prayerfully Value All Generations," there is no better way to begin the year than to focus on the youngest of all generations-the unborn. Read more.


| | |
| --- | --- |
| | |
| Prayer vigil for victims of mudslides. | |
Southern California Mudslide Victims Get Help From Foursquare
In the wake of devastating mudslides affecting thousands, a Foursquare congregation in Santa Barbara, Calif., is partnering with Foursquare Disaster Relief to help their community.Foursquare Disaster Relief (FDR) is helping New Life Church (Santa Barbara Foursquare Church) in Santa Barbara, Calif., bring care and comfort to victims of the devastating Jan. 9 mudslides that left at least 20 dead, hundreds homeless, and disrupted the lives of thousands more.
Read more.
Starting February 5, 2018, the Just a Minute weekly video program will be available on three new broadcast networks that reach more than 25 million homes. Just a Minute, hosted by Dr. Tim Hill, General Overseer of the Church of God, offers a quick and inspiring 60 seconds of personal devotional strategy for daily living. Read more.
Ellen K. Blackwell, the longtime Assemblies of God minister and founder of the Way of Faith AG in Fairfax, Virginia; Mt. Zion AG in Charles Town, West Virginia; and Fellowship House Retreat Center of Midgal in Galilee, Israel, passed away peacefully on Jan. 12 at a hospital near her beloved retreat center. She was 104. Up to the time of her passing, she was the oldest living female minister in the AG.
Read more.
(COGOP) A Global Shift
In the last few months of 2017, we experienced unprecedented global weather-related disasters with concentration throughout the United States, the Caribbean, Mexico, and parts of Asia. At one point during the hurricane season, I opened a weather photo with three Category 5 hurricanes documented within the frame. We witnessed the disastrous fallout of the storms in news coverage predominately across the southern United States and the English and Spanish-speaking Caribbean nations. Read more.
" But you will receive power when the Holy Spirit comes on you; and you will be my witnesses in Jerusalem, and in all Judea and Samaria, and to the ends
of the earth." Acts 1:8 (NIV)
Jeff Farmer, President

Pentecostal/Charismatic Churches of North America