"Demonstrating Unity in the Power of the Spirit"
PCCNA Returns to Roots to Celebrate 25th Anniversary
PCCNA is going back to its roots in Memphis, TN to celebrate 25 years of breaking walls between races and denominations to grow and serve together. The "Memphis Miracle" that founded PCCNA will be commemorated the first night of the three-day Breakthrough Conference on March 19 at a service open to the public at Mason Temple. The service will commemorate the moment when Don Evans, a young white Assemblies of God pastor, on October 18, 1994, washed the feet of Bishop Ithiel Clemmons of the Church of God in Christ (COGIC). Pastor Evans repented to Bishop Clemmons and asked for forgiveness for his white brothers and sisters.
Pastor Evans' contrition moved COGIC's Bishop Charles Blake to asked Thomas Trask, General Superintendent of the Assemblies of God, for forgiveness for any animosity African Americans had harbored towards white brothers and sisters. The Memphis Miracle was a spontaneous capstone of the "Pentecostal Partners: A Reconciliation Strategy for 21st Century Ministry" conference. After the conference, the Pentecostal Fellowship of North America, comprised of white leaders, was disbanded and PCCNA was born.
During the birth of PCCNA, the leaders approved the Racial Reconciliation Manifesto. PCCNA then dramatically expanded membership to denominations, church networks, parachurch ministries, and churches in Canada and Mexico. In 2011, PCCNA led a campaign that sent a million dollars worth of insecticide-treated bed nets to protect Africans from the deadly malaria parasite. PCCNA has also captured the stories of the Pentecostal movement in two books, Servants of the Spirit and Miracle Invasion.
PCCNA also launched several commissions aligned with its strategic vision: Church Health/Acts 2, Christian Unity, Communications and Media, Discipleship, Prayer, Race Relations, and Women in Leadership. Reaching next-gen leaders is a priority for PCCNA as well. With that intent, PCCNA kicked off a mentoring program within the NextGen Commission of selected up and coming leaders. For more information about the Breakthrough Conference, click here. - by Leilani Haywood
Several Members Launch New Year in Prayer
Church of God of Prophecy Worldwide Unites on Prayer Night
On January 20, during the Church of God of Prophecy's annual 21 Days of Prayer and Fasting, thousands came together throughout the world to pray and seek God during the Prayer Night simulcast. Held in the Upper Room of the International Offices, the event featured General Overseer Sam N. Clements, General Presbyter Tim Coalter, international ministry leaders, and local church pastors.
Broadcast on two various platforms in English and Spanish, there were more than 1,000 connections from more than 30 nations, with more than 200 prayer requests submitted over the phone and through the internet. Some connection points were local church broadcasts, so an accurate count of participants was not possible. Response, however, was positive and overwhelming.
"The simulcast is an exciting way for us to bring our worldwide

Church closer together using technology," said Shaun McKinley, prayer coordinator. "It starts out our year in a powerful way."
The Church will hold its annual Pentecost Sunday simulcast live from a local church in California on June 9 featuring a message from Bishop Clements. - DeWayne Hamby
(COG) Agree '19 Reaches Thousands Around the Globe
For three nights, Church of God members, and others, tuned in from around the world watching the broadcast from the studio at the International Offices via the church's website. Most watched on social media while tens of thousands viewed and engaged the unique nightly prayer experiences.
During Agree '19, Pastor Roy Tucker, Evangelists Bill Lee and Rhonda Holland spoke to the daily standing-room only gatherings. A national conference for evangelists was also taking place in Cleveland led by Dr. J. David Stephens, second assistant general overseer for the Church of God. The international FIND coalition for Unreached People Groups, led by Ken Anderson and North American State Prayer Leaders, led by P. Douglas Small, International Prayer Coordinator, were also gathered.
Dr. Tim Hill and members of the Church of God International Executive Committee dialogued and prayed with guests at the interview table. Prayer leaders huddled over the globe to pray multiple times each night, as did children and youth. Challenges were offered at the podium by leaders and evangelists. Musical guests led in worship. Video clips added to the fast-paced event and artfully offered ministry reports with challenges and opportunities for prayer and mission, care and compassion engagement around the world.
Read more
Members on the Move
(IPHC) A Voice for the Unborn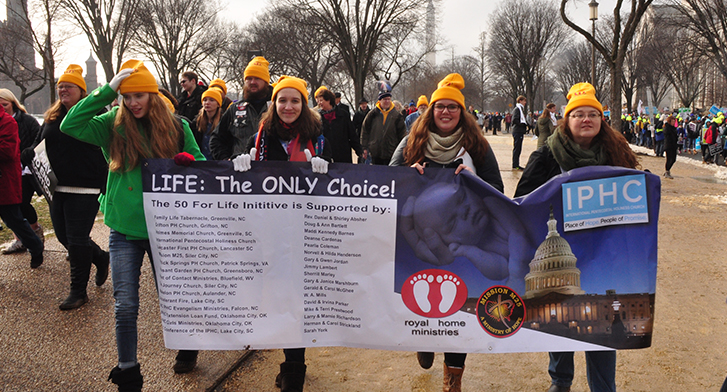 On Friday, January 18, 2019, over 100 members of the IPHC family joined with the March for Life in Washington, D.C. Since 1973, it is estimated that over 60 million abortions have been performed in the United States-over 2,000 per day. Believing that "children are a heritage from the Lord" (Psalm 127:3) and that every life is formed uniquely in the image of God, the IPHC raised its voice in Washington and Dallas, Texas, hoping to see an end to this atrocity in America.
Read more
(AG) New York Passes RHA: Ten Ways to Pray
Like so many, I am deeply concerned by passage of the

Reproductive Health Act

(RHA) by the State of New York - especially on the 46th anniversary of

Roe v. Wade

.





The

Assemblies of God values life

from conception to death. We believe that humans are the highest form of God's creative activity and the focus of His love. We view the destruction of a human life created in the image of God, even in the womb, as an act of evil. Especially heinous in the RHA are provisions that extend the scope of abortion to later terms and the removal of the requirement for a physician to be present.
Read more
(PAOC) Our Greatest Challenge
It's 2019 and that means we are fully into the 100th year of The Pentecostal Assemblies of Canada's existence. The "Letters Patent of Incorporation" that established the PAOC was dated May 17, 1919, and was recorded on May 20, 1919, by the Deputy Registrar General of the Dominion of Canada on behalf of His Majesty, King George V. Talk about official!
Read more
" But you will receive power when the Holy Spirit comes on you; and you will be my witnesses in Jerusalem, and in all Judea and Samaria, and to the ends
of the earth." Acts 1:8 (NIV)
Jeff Farmer, President

Pentecostal/Charismatic Churches of North America