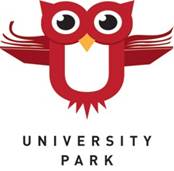 2300 S. St. Paul St., Denver, CO 80210
720-424-3410
IN-PERSON HEALTH SCREENING:
All in-person families must fill out the Safe Access Health Screening each day before arriving to school.
Please DO NOT linger on campus. Drop your student off and then head on home. We have specific adults supporting classrooms at arrival and want to reduce exposure to additional people as much as possible.
DO NOT SEND YOUR STUDENT TO SCHOOL IF THEY HAVE ANY SYMPTOMS OF ILLNESS!
Principal
Thank you everyone for your support with talking to you students about a safe and healthy return to UPark. We are having a wonderful start to our in-person learning for 2nd-5th graders this week. Health and Safety is our top priority and your partnership in talking to students about health and safety is much appreciated. Please continue to talk to your students about protecting each other by wearing masks, practicing good hand washing and social distancing. We know that the new normal for us this year changes the way that students are sitting in classroom and that we are requiring students to raise hands before getting up. Please talk through this with your students as it is a new standardized practice for UPark. Everything that we are doing is to ensure that we are limiting contact and keeping everyone safe, smiling and learning at UPark.
We are happy that our virtual programming has also gotten off to a great start and we value your partnerships. We understand what a heavy lift it is to help students stay engaged throughout the learning day.
Thank you to all UPark families for supporting us and your students in so many different ways this school year. Thank you for all you do!
Drop Off Students Right on Time-Especially on Inclement Weather Days
As we head into the colder months, especially with snow predicted on Monday, please make sure you are dropping off students no earlier than the times listed below. On cold weather days we are not able to bring students indoors like we have in the past during arrival. The plan now is to have students lined up, temperatures taken and students brought into the building within the 5 minute drop off window for each grade.
Remember that grades K-3 should be dropped off right at 8:45 no earlier. 4th and 5th grade students should be dropped off right at 8:55, no earlier.
Before arriving to school each day, please also make sure to fill out your
Safe Access Health Screening here
. You will need your student's ID to complete the screening.
For the safety of all our students, please make sure to give your hugs and goodbyes away from the student line up spots so that we can continue to ensure proper social distancing measures. Adults must maintain 6 feet of distance between themselves and any other individual outside of your household.
Please make sure to leave campus right after you drop off and pick up your student. This will help ensure that we are maintaining social distancing during pick-up and drop off.
PTA-Apple Campaign
Hey Owls! Let's make it hot in here!
The Apple Campaign is in full swing and we are asking you to help us meet our goal of raising $70,000 to support our students and teachers. Our families have donated a total of $23,280 to date. Great job and thank you to the 57 families that have donated thus far. Let's watch that thermometer rise, keep those donations rolling in! If you're visiting family this long weekend share the donation link and let them know how important their support is to UPark.
Please give today by mailing a check made out to UPark PTA to 2300 S. St. Paul St., Denver, CO 80210 or visit bit.ly/apple-upark to give online.
We want to celebrate Fall in a new way this school year. Students won't wear costumes to school, but can send in pictures for a class costume/fun picture slideshow. Pictures can be of a student dressed up in nice clothes, a baby picture, or in a costume. Teachers will take a little time on October 30th to run through the slideshow with the class. Look for specific communication from teachers about how photos will be collected.
Traffic Safety at Morning Arrival
For the safety of our students and community please adhere to all traffic and parking laws around the school.
The west side of St. Paul is posted with Prohibitive Parking signs, specifically "No student pick-up or drop-off this side." Due to the high volume of traffic during school hours, it is unsafe and illegal to drop children on the west side of St. Paul. Please do not drive south on St. Paul during morning arrival or drop students off on the west side of the street.
The east side of St. Paul is a posted Passenger Loading Zone. Cars left unattended for any length of time are subject to ticketing by Denver Police.
The parking lot to the east of the building is for staff only. Please be respectful of our staff and do not displace them by parking your car in their spaces. Parking lots are not a good place to drop off or pick up children.
Always use marked crosswalks to cross the street with your students.
COVID-19 DPS Dashboard Now Available to Track Cases and Quarantines
DPS values transparency and wants to share information related to COVID-19 cases that are impacting our schools. The COVID-19 DPS Dashboard is now available and tracks current cases and current quarantines among students and staff, as well as schools that are currently impacted or closed. The dashboard will be updated twice a week with current data that is available on positive cases and quarantines within DPS.
Please note that there are limitations to the data. This dashboard reflects positive cases within DPS and subsequent quarantines based on information that is reported to us. While we ask that students and staff report all positive cases to their school or manager, it is possible that students or staff who are learning or working remotely may not report a positive case to the district. Additionally, students or staff who have been directed to quarantine due to contact with COVID-19 outside of DPS will not be reflected in this data. In order to adhere to HIPAA rights and maintain the privacy of our staff and students, DPS is also unable to share any information about individual cases.
The overall goal of this dashboard is to provide a snapshot of positive cases within DPS and their current impacts to DPS school communities. For information on the overall health conditions in the City and County of Denver, we will continue to provide these metrics and share with you how these indicators are guiding our decision-making around a safe return to in-person learning.
UPark Family/Teacher Conferences
UPark will have conferences on November 18th and 19th from 4:00-8:00 PM.
Scheduling conferences in November allows us to discuss student progress and data for our in-person and virtual programming.
Look for communication from your child's teacher with scheduling information
Biking to UPark
If your student is riding a bike to school, please remember:
Students must walk their wheels on campus
No more than 2 students at the bike rack at any one time
Parents please model for our students by walking your bikes on campus too.
This helps us ensure social distancing and is just safe practice.
In-Person Breakfast and Lunch/DPS Food Distribution
In-Person Breakfast and Lunch
Denver Public Schools is providing free breakfast and lunch through December 31st to any student that would like it. Breakfast will be a grab and go option that students will eat in their classrooms. For lunch, students will be able to choose between a meat and vegetarian lunch option at the beginning of the day. View the menu options by downloading the
SchoolCafe app here
.
Families can always choose to bring their own lunch to school as well. If you choose to send a lunch with students, please be sure to pack utensils.
DPS Food Distribution
Denver Public Schools is providing breakfast and lunch meals to any person, 18 years and under, whether they attend a DPS school or not through December 31, 2020.
DPS

can serve free meals to

all

children, 18 years and younger, through the end of the year.

Parents and guardians can pick up meals for their children at any school or bus delivery location, Monday - Friday, 11:00 am - 1:00 pm. Click

here

for a list of the meal pick-up sites.
UPark Health Office
As we plan to return to the building this year, the threshold for when a student will be sent home has changed drastically. Symptoms of COVID, such as shortness of breath, runny nose, persistent cough, difficultly breathing, nausea, vomiting, or diarrhea, just to name a few, will all be reasons your student will be sent home from school. In order for a student who has any symptoms to return to school:
symptoms must have resolved within 24 hours of onset without the use of medications OR
at least 10 days since the symptoms appeared, AND symptoms resolving, AND no fever for 24 hours without use of medicine OR

there is a known medical diagnosis with documentation from a medical provider (i.e. chronic conditions, asthma, allergies or other)
Allergies or Asthma

We understand that students with chronic medical conditions may have daily symptoms such as a persistent cough with asthma or runny nose with allergies. The Colorado Department of Education has provided the suggestion to parents and the school's registered nurse that letters from a student's provider would need to be submitted for a student to be present at school with specific allergy or asthma symptoms.
This letter will need to specify your student's diagnosis, what your student's symptoms are expected to be with a student's "normal/healthy" baseline. For allergies this letter would also include what triggers and what time of year your student will have these symptoms.
Please understand, this is optional, however as we return to in-person school all students with COVID symptoms such as runny noses and coughs will be sent home and do require documentation from a medical provider to "explain" symptoms if symptoms have not resolved in 24 hours without the use of medications.
Thank you for your diligence as we start this school year,
Antoinette Schmitz, APRN, MSN, RN
University Park Registered Nurse
Social/Emotional Learning Information
Social/Emotional learning is a critical part of the work that we are doing at UPark, especially in these unique times. We will be sharing a Social/Emotional tip of the week each week to provide information and resources that can be used at home to support your students.
Please check out the Social/Emotional Tips of the Week, by clicking the links below.
As your students begin learning social/emotional skills through the Positive Action Curriculum, you may want to further develop their skills at home. If you'd like to access the family kit, visit the website linked below, and create a log-in. From there you'll be able to digitally access lessons to use with your child at home.
Positive Action Family Kit
Dear UPark Families,
Our Discovery Link Team at University Park is very happy to be reunited with our kids for Before and After-School care! Check out the information below to see what Discovery Link has to offer families!
Registration re-opens
Before and After School DL REGISTRATION is open for grades KDG-5th starting October 21st

.

For the time being, Discovery Link will not be hosting any camp days

that will

limit exposure to different cohorts in different schools.

Discovery link Before School (Early Risers) program opens at 6:30 am for morning drop off and students are released to school at 9:00 am. After School DL programing will start at 3:30 PM Monday-Friday. Pick up for After School is any time up to 6:00 PM.

The drop-off and pick-up location has changed!! Use the Kiss 'n' Go location by the metal tree near the playground entrance on St. Paul to drop off children by car (northbound) in the morning and afternoon. Please call one of the numbers on the white board and someone will be with you shortly.

Don't forget that families now have the ability to choose as many or as few days of childcare on a monthly basis as they need. I encourage all to visit the How to Choose/Remove Day Resource below for support!
Model:
Discovery Link (DPS's in-house before and after school program) and the comprehensive partners who have been running programs since July will return to the typical before and after school program model but with a reduced capacity.
Capacity of 60 kids per site, including ECE (10 ECE max)

Cohorts of no larger than 15 kids, with cohorts split by grade when possible

Cohorts will be outside as much as possible, weather permitting

Only children who attend in-person learning can come to before and after school.
Safety:
Discovery Link and the comprehensive partners will maintain the safety procedures implemented over the summer and during Remote Learning Supports (currently occurring 8:00-noon daily in 55 buildings)
Temperature checks and documentation prior to allowing children into programming

No adults permitted inside - drop off and pick up will occur outdoors

No enrichment partners, limiting the number of adults (except partners who can operate fully outdoors and go through Community Use to schedule)

Staff health protocols including temperature checks and daily health screens.
The Links To Register For Discovery Link Programs Are Below!
Discovery Link at UPark is hiring! Click here for information.
University Park Elementary Calendar
Click on the calendar icon to the right, look below, or visit the
University Park Website
to access calendar information!