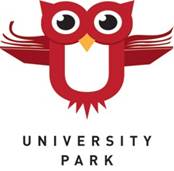 2300 S. St. Paul St., Denver, CO 80210
720-424-3410
IN-PERSON HEALTH SCREENING:
All in-person families must fill out the Safe Access Health Screening each day before arriving to school.
You will need your student's ID to complete the screening. If your students are not yet back in-person, please familiarize yourself with the screening so you are prepared for your first day back.
DO NOT SEND YOUR STUDENT TO SCHOOL IF THEY HAVE ANY SYMPTOMS OF ILLNESS
Principal
Thank you kindergarten and AN families for partnering with us for a successful return to in person learning this week. Thank you as well to all of our virtual families for the great kickoff to virtual learning in Ms. Cardenas's class. We are so fortunate to have such great teachers supporting our students and a great community supporting our school. We are very much looking forward to welcoming more of our students back to UPark in the coming weeks, with first grade returning next week and grades 2-5 the week of October 21st
. For families choosing virtual learning, please know that daily events like our morning announcements will still be going on for our virtual students as will school wide events. We want to make sure that all of our owls feel connected and supported throughout this school year.
Speaking of community events, I know that Halloween is the big one that's probably already on your minds on this first day of October. Please know that this celebration will be very different this school year. Our School Leadership Team is working out a plan for what a fall celebration might look like this year. We will be sharing those plans with you in the coming weeks. Have a wonderful day and stay UPark Strong!
PTA
The
Virtual Fun Run
is coming up on
Saturday, October 10th at 10 am
. Next week we will send out the Zoom link for families to join us online to kick off the Fun Run. Ms. Hartin will lead us in some stretches and warm ups before you head out to enjoy a run around your neighborhood, a local park, or anywhere that feels safe for your family.
Fun Run T-Shirt Pick-Up
- For those families that purchased a Fun Run spirit t-shirt, the PTA will be distributing the t-shirts next
Wednesday, October 7th
.
**If you purchased a t-shirt, but will not be able to pick up next Wednesday, please email
uparkpta@gmail.com
to make other arrangements to pick up your shirt(s).
UPark Spirit Day
- Friday, October 9th is UPark Spirit Day
. Students are encouraged to wear their new Fun Run T-Shirts or any other UPark gear. If your student doesn't yet have any UPark t-shirts, we suggest they wear UPark
RED
or anything with an owl on it.
TODAY! Student Count Day-Attendance Important!
Today, October 1st is the official count
day for all Colorado public school districts and is important for school budgets. Please make sure your student participates in class today so we have an accurate count
of all students. Your child will have a special activity to complete through Seesaw. Kindergarten in-person students will completed a paper activity with their teacher. The activities done tomorrow provide us with the documentation needed for our school's official count.
We appreciate your help!
If your child is out sick today please call the main office at 720-424-3410. Thank you!
Technology Troubleshooting-TOMORROW!
If you need help troubleshooting any technology issues, please come to the front of the UPark building this Friday, October 2nd from 12:30-2:30pm. Colby, our school Technology Partner, will be there to help!
Kindergarten and 1st Grade Drop-Off and Pick-Up Details
In-person Kindergarten and 1st grade families, please make sure to drop your students off right at the the arrival time listed below. Students will stand on marked socially distanced spots until their health screening has been completed and the classroom teacher has picked up the class. There will be no playing on school grounds before or after school hours.
Thank you to Kindergarten families for the smooth start to in-person learning! We understand that these first days back are a big transition. For the safety of all our students, please make sure to give your hugs and goodbyes away from the student line up spots so that we can continue to ensure proper social distancing measures. Adults must maintain 6 feet of distance between themselves and any other individual outside of your household.
Before arriving to school each day, please also make sure to fill out your
Safe Access Health Screening here
. You will need your student's ID to complete the screening.
In Need of Clothing?
UPark currently has a large amount of donated clothing that needs to be given out to families. If your student is in need of clothing, shoes, and/or backpacks, please complete
this form by Friday, October 9th.
Bags will be packed by adults wearing masks and gloves, and will be distributed to families when completed. For families with multiple students, please complete one form, but indicate each size needed. If we do not currently have what you have requested, we will work to try and obtain it. If you have any questions, please contact Alicia Vega at
alicia_vega@dpsk12.org
or 720-424-3458.
October Restaurant Night is To-Go!
Monday, October 12th from 4-10pm
We're taking October restaurant night to-go from a UPark favorite: Esters (1950 S Holly St. in Virginia Village). Esters will be giving 20% back from all to-go orders that mention UPark. You can call in your order and tell them you're with us, or you can even order carryout o
nline and write UPARK FUNDRAISER in the comments!
UPark Health Office
As we plan to return to the building this year, the threshold for when a student will be sent home has changed drastically. Symptoms of COVID, such as shortness of breath, runny nose, persistent cough, difficultly breathing, nausea, vomiting, or diarrhea, just to name a few, will all be reasons your student will be sent home from school. In order for a student who has any symptoms to return to school:
symptoms must have resolved within 24 hours of onset without the use of medications OR
at least 10 days since the symptoms appeared, AND symptoms resolving, AND no fever for 24 hours without use of medicine OR

there is a known medical diagnosis with documentation from a medical provider (i.e. chronic conditions, asthma, allergies or other)
Allergies or Asthma

We understand that students with chronic medical conditions may have daily symptoms such as a persistent cough with asthma or runny nose with allergies. The Colorado Department of Education has provided the suggestion to parents and the school's registered nurse that letters from a student's provider would need to be submitted for a student to be present at school with specific allergy or asthma symptoms.
This letter will need to specify your student's diagnosis, what your student's symptoms are expected to be with a student's "normal/healthy" baseline. For allergies this letter would also include what triggers and what time of year your student will have these symptoms.
Please understand, this is optional, however as we return to in-person school all students with COVID symptoms such as runny noses and coughs will be sent home and do require documentation from a medical provider to "explain" symptoms if symptoms have not resolved in 24 hours without the use of medications.
Thank you for your diligence as we start this school year,
Antoinette Schmitz, APRN, MSN, RN
University Park Registered Nurse
Free Theater Workshops for DPS Students
DPS is partnering with the DCPA (Denver Center for the Performing Arts) to offer free, after school virtual workshops for 3rd-5th grade students. Click here for program details. Email UPark Drama and Music teacher Callie Ludwig at callie_ludwig@dpsk12.org to register.
Social/Emotional Learning Information
Social/Emotional learning is a critical part of the work that we are doing at UPark, especially in these unique times. We will be sharing a Social/Emotional tip of the week each week to provide information and resources that can be used at home to support your students.
Please check out the Social/Emotional Tips of the Week, by clicking the links below.
As your students begin learning social/emotional skills through the Positive Action Curriculum, you may want to further develop their skills at home. If you'd like to access the family kit, visit the website linked below, and create a log-in. From there you'll be able to digitally access lessons to use with your child at home.
Positive Action Family Kit
DPS Food Distribution
Denver Public Schools is providing breakfast and lunch meals to any person, 18 years and under, whether they attend a DPS school or not through December 31, 2020.
DPS

can serve free meals to

all

children, 18 years and younger, through the end of the year.

Parents and guardians can pick up meals for their children at any school or bus delivery location, Monday - Friday, 11:00 am - 1:00 pm. Click

here

for a list of the meal pick-up sites.
Click here for the September lunch menu. These menu items are served at all (86) distribution sites and (16) bus meal locations.
Dear UPark Families,
Our Discovery Link Team at University Park is very happy to be reunited with our kids during Remote Learning! Check out the information below to see what Discovery Link has to offer families!
Registration re-opens
We will let you know soon when the before and after school programming begins for Kindergarteners. Discovery link Before School (Early Risers) program

opens at 6:30 am for morning drop off and

students are

released to school at

9

:00 am.

After School DL programing will

start at 3:30 PM Monday-Friday. Pick up for After School will be at 6:00 PM.
Registration for Remote Learning Support remains open for students in grades other than Kindergarten that don't return to in-person learning until October 21st.

Remote Learning Support registration is open until the end of remote learning on October 15th.

Remote Learning Support will take place Monday-Friday from 7:40 a.m. to noon.
Model:
Discovery Link (DPS's in-house before and after school program) and the comprehensive partners who have been running programs since July will return to the typical before and after school program model but with a reduced capacity.
Capacity of 60 kids per site, including ECE (10 ECE max)
Cohorts of no larger than 15 kids, with cohorts split by grade when possible
Cohorts will be outside as much as possible, weather permitting
Only children who attend in-person learning can come to before and after school
Safety:
Discovery Link and the comprehensive partners will maintain the safety procedures implemented over the summer and during Remote Learning Supports (currently occurring 8:00-noon daily in 55 buildings)
Temperature checks and documentation prior to allowing children into programming
No adults permitted inside - drop off and pick up will occur outdoors
No enrichment partners, limiting the number of adults (except partners who can operate fully outdoors and go through Community Use to schedule)
Staff health protocols including temperature checks and daily health screens.
The Links To Register For Discovery Link Programs Are Below!
University Park Elementary Calendar
Click on the calendar icon to the right, look below, or visit the
University Park Website
to access calendar information!