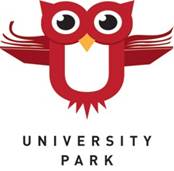 2300 S. St. Paul St., Denver, CO 80210
720-424-3410
TIME CHANGE: Please join us tonight at 5:30pm for a Question and Answer session with Mr. Atonna and Ms. Jacobsen!
The scheduled time of this meeting changed to 5:30 because of a recently scheduled DPS meeting that our school leaders have to attend at 4:00. You will find the link to join our 5:30 Zoom meeting in the principal section below.
Principal
Hello UPark Families,
I am looking forward to meeting with our community this afternoon for our third Q and A session. The time of the meeting today will be changed from 4:00 to 5:30 because of a DPS meeting that was just scheduled for all school leaders this afternoon. We look forward to seeing you all at 5:30 this evening!
I know there are many questions that you all have about what in person learning will look like, so that will be the main focus of today's forum. We will be discussing what the logistics and health and safety guardrails will look like as we prepare for a full return to in person on October 16th. We will also be discussing virtual programming opt-in and where we are with planning for this option. Thank you all for the questions you have submitted. I will be reviewing those as well. Our UPark PTA will also be introducing themselves and discussing our upcoming fundraising and community goals for the year.
Add any questions you would like answered to
this Google Form
. If you are not able to attend the meeting today it will be recorded and linked in the Community Questions document found in the quick links section of these newsletters.
Topic: Community Information Session
Time: Sep 10, 2020 05:30 PM Mountain Time (US and Canada)
Join Zoom Meeting
Meeting ID: 843 1534 1629
Passcode: uW5xY3
The UPark PTA is the school's largest fundraising and volunteer body. Being part of the PTA is a great way to become an integral part of the UPark community and have a say in your child's education!
The first PTA Meeting is on Tuesday, September 15th at 6 PM.
Please join us via ZOOM using this link:
At this first meeting, we will approve our 2020-2021 budget, introduce our committees and opportunities to get involved, and outline modified plans for our fall events. You do not have to be a PTA member to attend the meeting, but only PTA members can vote.
This Year the Fun Run is Coming to You!
The annual UPark Fun Run is a wonderful tradition and an integral part of our school's award-winning Wellness Program. This year, for the safety of our students and community, we're hosting a virtual version of the Fun Run.
SAVE THE DATE FOR THE MORNING OF SATURDAY, OCTOBER 10th
Following a remote Spirit Week, we hope you'll join us on the morning of Saturday, October 10th in spreading some UPark spirit around your very own neighborhood. We'll put on our 2020 Fun Run t-shirts and meet in our living rooms via Google Meets. Ms. Hartin will lead us through some stretches and then send you off on a run around your block (or whatever space feels safe and convenient for your family).
More details will be coming soon!
Orders must be submitted by September 21st.
Scholarships for student t-shirts are available to families who need them.
Contact
FunRun@uparkelementary.org
for more information.
2020-2021 UPark Student & Family Directory
Each year, the UPark PTA publishes a school

directory

. This valuable parent resource is done outside of DPS by parent volunteers.

Unless you choose to

OPT OUT

, all student/parent information will be listed in the school

directory

including:
Parent first and last names

Parent mobile phone numbers

Parent emails

Primary home phone number

Home mailing address

Student first and last names
Need Art Supplies?
Do you need art supplies at home during remote learning? Email UPark art teacher Kari Hale, at
kari_hale@dpsk12.org, i
f you are in need of a pack of supplies that will include materials like crayons, markers, and colored pencils.
UPark Technology and Remote Learning Resources Document
Bookmark This Document!
Click
here
for a one stop resource document with links to technology support, UPark schedules, COVID-19 resources and more. This document will also be linked in the quick links at the bottom of each Thursday newsletter.
DPS Return to School Information
Please look over the DPS
K-12 Family Guide
which provides information on learning scenarios as well as health and safety information for when we are safely able to return to in-person learning.
Students who plan to return to in-person learning when our buildings open should also plan to wear a mask, as it is a requirement for entering school grounds. We know it will take some getting used to, and DPS has prepared a guidance document with support from health partners and our DPS nursing staff. P
lease read over this
mask guidance resource
for important mask-wearing facts.
Support UPark Every Time You Shop at King Soopers
UPark receives nearly $12,000 each year by participating in the King Soopers Community Giving Program. This is the easiest way to help UPark simply by shopping for your groceries!
Once you go online and connect your King Soopers Reward Card to UPark, King Soopers (or City Market) will donate a portion of your purchase back to UPark each time you swipe your SooperCard or enter your phone number at check out.
This is also a
great way for grandparents or other family members to support the school when shopping at any King Soopers or City Market store!
Please take 2 minutes to connect your King Soopers Reward Card to UPark:
Go to www.kingsoopers.com
Go to the menu at top left and scroll down to "Savings"
Select "King Soopers Community Rewards"
Sign in or create an account to enroll
If you have a rewards card, but have not yet created an online account, you'll need to create one before you can enroll.

If you do not already have a rewards card, you will be prompted to create an alternate ID in step 3 of the account creation process. Click the blue "Create Your Alt ID Online" to create your 10-digit code (typically your phone number).
5. Once you've signed in or created an account, click on "Enroll Now"
6. Search for University Park Elementary PTA or use our code, CR174
7. Click "Enroll"
Social/Emotional Learning Information
Social/Emotional learning is a critical part of the work that we are doing at UPark, especially in these unique times. We will be sharing a Social/Emotional tip of the week each week to provide information and resources that can be used at home to support your students.
Please check out the Social/Emotional Tips of the Week, by clicking the links below.
Gifted and Talented Testing Update
The Gifted and Talented (GT) department is currently accepting nominations for GT-related cognitive testing, with plans to be administered sometime between late October and December.

This testing is available to students in 1st, 3rd, 4th

and 5th

grades only. To nominate your child/children, please complete THIS Google doc (one per child).
DPS Food Distribution
Denver Public Schools is providing breakfast and lunch meals to any person, 18 years and under, whether they attend a DPS school or not through December 31, 2020.
DPS

can serve free meals to

all

children, 18 years and younger, through the end of the year.

Parents and guardians can pick up meals for their children at any school or bus delivery location, Monday - Friday, 11:00 am - 1:00 pm. Click

here

for a list of the meal pick-up sites.
Click here for the September lunch menu. These menu items are served at all (86) distribution sites and (16) bus meal locations.
Backpacks for Kids Food Prog

r
am
The Backpacks for Kids Program provides food assistance to UPark families in need by providing bags of nutritious food once per week. We believe every child should be prepared for an active and healthy lifestyle, full of learning and curiosity. We help with this by providing fresh fruit and bread, healthy meals, and nutritious snacks for UPark children who may not have access to such food on the weekends. During remote learning the volunteers of the program are offering two different distribution methods to meet each family's needs. Families may pick up the bags on Fridays from 3pm-4pm at UPark in the UPark parking lot, or have the bags delivered to them each Friday. If your family is currently in need of food assistance, and not already enrolled in the program, please complete this
electronic form
. If you are currently enrolled in the program, no action is necessary at this time. If you have any questions about the program, or would like more information, please reach out to our School Psychologist, Alicia Vega, by phone at 720-424-3458 or by email at
alicia_vega@dpsk12.org
.
For information on DPS weekday breakfast and lunch food distribution
click here
!
University Park Elementary Calendar
Click on the calendar icon to the right, look below, or visit the
University Park Website
to access calendar information!