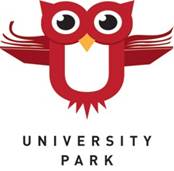 2300 S. St. Paul St., Denver, CO 80210
720-424-3410
Principal
UPark Families,
Yesterday evening
we shared the UPark timeline for our gradual return to in-person learning based on the DPS framework for a safe return to school.
Click here to revisit that email. We understand that some of our students will have to change classes and get to know new teachers as we return to in-person learning. While far from ideal, this is something we are needing to do in order to continue providing the safest and most appropriate learning environment for each of our families and teachers. We will be sharing updated class lists for Kindergarten early next week and will share lists for 1st grade as well as 2nd-5th grades shortly after. We truly appreciate your flexibility and understanding as we navigate these changes.
We also want to let you know that, in addition to the list we sent out yesterday, one of our fantastic Special Education teachers, Katie Hendershot, will be teaching virtually this semester.
We are hard at work preparing our building to be the safest learning environment possible when we welcome students back. Our operational superintendent Cesar Cedillo, who is evaluating all schools for health and safety walked through our building on Wednesday.
Cesar is working along side us to asses where we are with our Personal Protective Equipment, furniture set ups, and overall plan for health and safety within the building. He gave us a lot of great guidance to help us
ensure the health and safety of all our staff and students.
We recently received a large shipment of additional cloth masks to have backups for every student should they need them. We also received a huge supply of hand sanitizer, disinfectant wipes, face shields, disinfectant spray, rubber gloves, thermometers and other items to be used throughout the building for routine and thorough disinfecting. Natalie and I have worked on one kindergarten classroom, setting it up with dividers to ensure a maximum level of protection for students and staff. Click
here
for a photo of what a socially distanced kindergarten classroom could look like. We currently have dividers for all our kindergarten classrooms.

Current health guidelines do not require barriers, but we have placed an additional order through the district to have more sent to UPark to be used throughout the building.
Health and safety is our number one priority and will continue to be each and every day leading up to and during in-person learning.
DPS Return to School Information
Please look over the DPS
K-12 Family Guide
which provides information on learning scenarios as well as health and safety information for when we are safely able to return to in-person learning.
Students who plan to return to in-person learning when our buildings open should also plan to wear a mask, as it is a requirement for entering school grounds. We know it will take some getting used to, and DPS has prepared a guidance document with support from health partners and our DPS nursing staff. P
lease read over this
mask guidance resource
for important mask-wearing facts.
Please visit the Community Questions Document
here
to see the answers to your questions and to view the recording of the UPark Q and A session that was held on Thursday, September 10th with information on our return.
The Apple Campaign is back again this year! We look forward to raising $70,000 with the help of our wonderful parents and neighborhood friends. Help us take a bite out of our goal by donating today!
You can donate online using a credit card or an echeck, or you can mail a check to the UPark main office Attn: PTA Apple Campaign. Of note, we do not have to pay fees on donations by check so 100% of your donation will go toward our annual grant.
This Year the Fun Run is Coming to You!
The annual UPark Fun Run is a wonderful tradition and an integral part of our school's award-winning Wellness Program. This year, for the safety of our students and community, we're hosting a virtual version of the Fun Run.
SAVE THE DATE FOR THE MORNING OF SATURDAY, OCTOBER 10th
Following a remote Spirit Week, we hope you'll join us on the morning of Saturday, October 10th in spreading some UPark spirit around your very own neighborhood. We'll put on our 2020 Fun Run t-shirts and meet in our living rooms via Google Meets. Ms. Hartin will lead us through some stretches and then send you off on a run around your block (or whatever space feels safe and convenient for your family).
More details will be coming soon!
Orders must be submitted by September 21st.
Scholarships for student t-shirts are available to families who need them.
Contact
FunRun@uparkelementary.org
for more information.
2020-2021 UPark Student & Family Directory
Each year, the UPark PTA publishes a school

directory

. This valuable parent resource is done outside of DPS by parent volunteers.

Unless you choose to

OPT OUT

, all student/parent information will be listed in the school

directory

including:
Parent first and last names

Parent mobile phone numbers

Parent emails

Primary home phone number

Home mailing address

Student first and last names
Zearn Q & A: 2nd
-5th
Grade
Family Support
Have you ever wondered what the components of Zearn are all about or how/if to support your student? T
his session is for YOU!
Monday, Sept. 21, 2020 7-8 pm
T
opic: Zearn At Home Q & A Grades 2-5
Time: Sep 21, 2020 07:00 PM Mountain Time (US and Canada)
Join Zoom Meeting
Meeting ID: 793 727 1743
Passcode: Smith
Restaurant Night (and Day!) at Chook Charcoal Chicken: 11am-8pm
Please join us on Tuesday, September 29th in grabbing lunch, dinner, or both from Chook (Platt Park location, on the corner of S Pearl and Louisiana)! They'll be donating 20% of sales back to our school on delivery, dine-in, and curbside pick up. Mention UPark or enter code "SCHOOLS20" online to make sure your order contributes to Chook's donation. Click here for more information.
Technology Support - Centurylink Service
Many families have been experiencing slow Internet speeds, or are being dropped constantly, when using DPS Chromebooks with Centurylink's service. DoTS has been working closely with Centurylink to get these issues resolved. Centurylink has set up a mailbox specifically for DPS Chromebook issues, if you are experiencing these issues please reach out to them at
chromebook@centurylink.com.
Need Art Supplies?
Do you need art supplies at home during remote learning? Email UPark art teacher Kari Hale, at
kari_hale@dpsk12.org, i
f you are in need of a pack of supplies that will include materials like crayons, markers, and colored pencils.
Gifted and Talented Testing Update
The Gifted and Talented (GT) department is currently accepting nominations for GT-related cognitive testing, with plans to be administered sometime between late October and December.

This testing is available to students in 1st, 3rd, 4th

and 5th

grades only. To nominate your child/children, please complete THIS Google doc (one per child).
UPark Technology and Remote Learning Resources Document
Bookmark This Document!
Click
here
for a one stop resource document with links to technology support, UPark schedules, COVID-19 resources and more. This document will also be linked in the quick links at the bottom of each Thursday newsletter.
Social/Emotional Learning Information
Social/Emotional learning is a critical part of the work that we are doing at UPark, especially in these unique times. We will be sharing a Social/Emotional tip of the week each week to provide information and resources that can be used at home to support your students.
Please check out the Social/Emotional Tips of the Week, by clicking the links below.
DPS Food Distribution
Denver Public Schools is providing breakfast and lunch meals to any person, 18 years and under, whether they attend a DPS school or not through December 31, 2020.
DPS

can serve free meals to

all

children, 18 years and younger, through the end of the year.

Parents and guardians can pick up meals for their children at any school or bus delivery location, Monday - Friday, 11:00 am - 1:00 pm. Click

here

for a list of the meal pick-up sites.
Click here for the September lunch menu. These menu items are served at all (86) distribution sites and (16) bus meal locations.
Dear UPark Families,
Our Discovery Link Team at University Park is very happy to be reunited with our kids during Remote Learning! Check out the information below to see what Discovery Link has to offer families!
Registration re-opens
We will let you know soon when the before and after school programming begins for Kindergarteners. Discovery link Before School (Early Risers) program

opens at 6:30 am for morning drop off and

students are

released to school at

9

:00 am.

After School DL programing will

start at 3:30 PM Monday-Friday. Pick up for After School will be at 6:00 PM.
Registration for Remote Learning Support remains open for students in grades other than Kindergarten that don't return to in-person learning until October 21st.

Remote Learning Support registration is open until the end of remote learning on October 15th.

Remote Learning Support will take place Monday-Friday from 7:40 a.m. to noon.
Model:
Discovery Link (DPS's in-house before and after school program) and the comprehensive partners who have been running programs since July will return to the typical before and after school program model but with a reduced capacity.
Capacity of 60 kids per site, including ECE (10 ECE max)
Cohorts of no larger than 15 kids, with cohorts split by grade when possible
Cohorts will be outside as much as possible, weather permitting
Only children who attend in-person learning can come to before and after school
Safety:
Discovery Link and the comprehensive partners will maintain the safety procedures implemented over the summer and during Remote Learning Supports (currently occurring 8:00-noon daily in 55 buildings)
Temperature checks and documentation prior to allowing children into programming
No adults permitted inside - drop off and pick up will occur outdoors
No enrichment partners, limiting the number of adults (except partners who can operate fully outdoors and go through Community Use to schedule)
Staff health protocols including temperature checks and daily health screens.
The Links To Register For Discovery Link Programs Are Below!
University Park Elementary Calendar
Click on the calendar icon to the right, look below, or visit the
University Park Website
to access calendar information!