Summer 2015

-

Day Cruise Aboard a US Navy Ship

- San Diego, California - We are hoping to arrange a day at sea on board a naval ship in San Diego. We will notify you via email when the opportunity becomes available.



October 10, 2015

-

Navy Birthday Ball

- Celebrating 240 years of exceptional history and pride, all members are very welcome to attend this festive event and evening. More information will be provided in future newsletters as the information becomes available.
---
Phoenix Council Earns 2014 Meritorious Council Award
---
On Thursday, June 18th, 2015, at the 2015 Navy League National Convention in Tampa Bay, Florida, the Phoenix Council of the Navy League was presented with the 2014 Meritorious Council Award for "an excellent job in following the mission of the Navy League and your dedication to the men and women of the sea services is demonstrated throughout the many activities conducted by your council." The award was accepted by our Council President, Bill Stevenson.
---
Arizona Veterans Hall of Fame, Class of 2015
---
The Arizona Veterans Hall of Fame will induct a new class of 28 Veterans in ceremonies on October 23, 2015.
We are very pleased to announce that Captain Bob Turpin, USNR (Ret.), has been selected to be inducted into the Arizona Veteran's Hall of Fame on October 23rd, 2015. Bob has served on the Board of Directors for the Phoenix Council of the Navy League for many years, and our President, Bill Stevenson, wrote one of the letters that endorsed Bob's nomination to the Arizona Veterans Hall of Fame. Former Senator Jon Kyl nominated Bob to the Selection Board, and six other letters were written to support his nomination. The annual Induction Ceremony of the Arizona Veterans Hall of Fame will take place on Friday, October 23rd, from 11:30 a.m. until 2:00 p.m. at the Phoenix Marriott Tempe at the Buttes, located at 2000 West Westcourt Way, Tempe 85282. The Arizona Veterans Hall of Fame is sponsored by the Unified Arizona Veterans, Inc. located in Phoenix, Arizona and recognized by the Arizona Department of Veterans' Services, the Arizona Veteran Hall of Fame Society, and the Office of the Governor. The Arizona Veterans Hall of Fame Induction Ceremony recognizes and honors Arizona veterans who have honorably served their country through military accomplishments throughout their lifetime. This will be the 15th class of veterans inducted since 2001.
---
National Navy League, Important Membership Information
---
National Navy League is currently updating its Membership Database and as a result, updates have slowed during this period. Further, the online membership database which allows Council officers to keep track of new and renewing local Navy League Members has been delayed.
We haven't been able to update our data on national membership renewals for a while now, and have heard that some members have not received membership renewal notices from National. If you think your national membership may be nearing renewal, please check your membership card for your expiration date. You can renew your National Navy League membership here:
Questions about the status of your national membership can be directed to Membership at 800-356-5760. Questions about the status of your local membership can be directed to our VP for Membership to wnatzic@tds.net.
---
Sea Cadet News - Sea Cadets Celebrate Two New Units in AZ
---
U.S. Naval Sea Cadet Corps Region 15-2 (AZ - NM)
celebrates two new units in Arizona.
The Sea Eagle Squadron was formed and stood up in May 2015 in Yuma, Arizona, after a year-long planning process headed up by Dean "Doc" Hager, President of the Yuma Council Navy League. The former Executive Officer of Veterans Pride Battalion, Ensign Tim Rilley accepted Command of the newly formed Sea Eagle Squadron and was promoted to Lieutenant Junior Grade.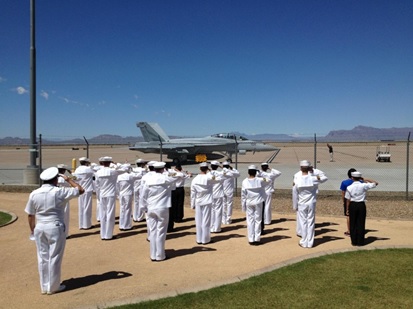 The Black Eagle Squadron, formerly known as The Mykel F Miller Battalion, has taken on a new designation and Command Staff. Congratulations to former U.S. Navy Chief Daniel Baker who was previously the Executive Officer of the Battleship Utah in the Greater Salt Lake area. CWO Baker assumed Command of the Black Eagle Squadron on Sunday, June 7th and was paid a great honor when a U.S. Navy FA-18 Super Hornet landed and taxied up to the Command Ceremonies while the formation of Cadets looked on. &nsbp;In fitting military fashion, the Cadets and Staff faced the two Navy Pilots of VMA 154, The Black Knights, and rendered a hand salute, the Naval Officers returned the salute and joined the unit for cake and celebration.
---
Sea Cadet News - SOS Save Our Ship
---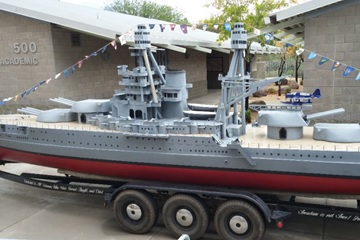 SOS - Save Our Ship!
Please help save and restore the USS ARIZONA replica.
Most of you have seen her in patriotic parades, Veteran's events and schools in Phoenix, Mesa, Glendale, Goodyear, Litchfield, Buckeye, Surprise, Anthem, Tempe and Yuma as well as California, Nevada, New Mexico and Texas.
This historic icon of WWII represents that "Giant" awakening, come back spirit that we as Americans hold in hope for the right time. This IS the right time! The SOS has been sent out.
The USS ARIZONA replica is a privately owned, non-profit, mobile, historical memorial in desperate need of repairs.
Anyone can help by donating on Go Fund Me or sending a check to:
Veterans Pride Battalion
C/O LTJG Dean Tomlinson, US Naval Sea Cadets
11044 N 154th Lane
Surprise, AZ 85379
The estimated total cost for restoration is $10,000 to $12,000.
Any Company or collaborate is welcome to fund the whole project and advertise your patriotic thrift with photos on your Company web site. So as to keep the Ship and Trailer a true tribute to our Veterans no advertisement is allotted on any part of the memorial itself.
Thank you!