16-18 May 2016

-

Sea-Air-Space Exposition

- Arlington, VA - Bringing the U.S. defense industrial base, private-sector U.S. companies and key military decision makers together for an annual innovative, educational, professional and maritime based event.



14-19 Jun 2016

-

Navy League National Convention

- Charleston, SC - Information forthcoming



17-21 Oct 2016

-

EuroNaval

- Paris, France - The largest naval and Maritime Exposition in Europe is ready for another amazing edition in 2016.



29 Nov - 2 Dec 2016

-

ExpoNaval

- Valparaiso, Chile - The most important international naval defense and maritime show in Latin America.
*Event dates and details subject to change without notice.
---
An Opportunity To See The Blue Angels Perform
---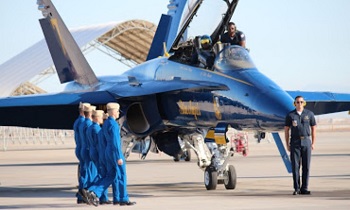 For the last several years, the Imperial Valley Council of the Navy League of the United States offers to other Navy League Members an opportunity to see the Blue Angels fly at a private show in El Centro, California. El Centro Naval Air Base is the winter home of the Blue Angels.
I have known about the event for many years, but this last February 26th, I drove to El Centro with my wife, Polly, and my 15 year old grandson, Ryan, who is currently a Sea Cadet to the Fairfield Inn & Suites in El Centro arriving on a Friday evening. The Imperial Valley Council hosts a fantastic steak dinner and a auction to raise money for their council. The cost of the entire event is $200.00 per person, which includes the steak dinner, breakfast and lunch the next day, and the latest Blue Angels ball cap.
Saturday morning we had breakfast on the flight line, and the demonstration team started to perform at about 9:00 a.m. There were about 250 people that attended, and everyone was a member of the Navy League. The Blue Angels travel with a large contingent of personnel ranging from the pilots, to the mechanics, to the public relations team. We had the opportunity to have dinner with one of the pilots on Friday evening, and to meet many of the crew on Saturday.
I decided to take this trip to El Centro to give my grandson the opportunity to see the Blue Angels fly, but found myself very energized by the events from their flying to meeting many of the team.
Lisa Gallinat was the Chairwoman of the Desert Outing 2016, and I am confident that they will hold this event again next year toward the end of February, 2017. I would highly recommend that you consider attending this event, and enjoy seeing the Blue Angels perform.
As you might suspect, there were lots of Navy Leaguers in attendance from Southern California, but I was also delighted to meet Skip Witunski, who is the National President of the Navy League of the United States. Skip is a delightful person who happens to live in Tampa, Florida. We spent at least an hour talking about the Navy League, and he was very impressed by the Phoenix Council. He told me that he thought that Bill Stevenson would make a great National President. While Bill indicates that he does not have the time to serve as our National President, it would not be the first time that one of our members served as the National President. Some of you may recall that Jack Fisher from our council served as our National President several years ago.
The Imperial Valley Council Navy League of the U.S. can be reached at www.ivnavyleague.org@yahoo.com, and I would recommend that you put the Blue Angels on your calendar for next February, 2017. We will announce the event in early February.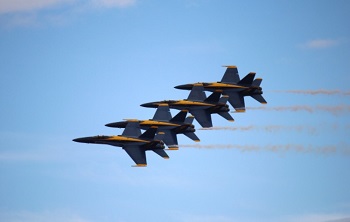 Robert Turpin,
Captain, USNR (Ret.)
Board Member, Phoenix Council
---
Reception for Rear Admiral Yancy B. Lyndsey
---
Our Council hosted a reception for Rear Admiral Yancy B. Lyndsey on March 23rd at the Biltmore to welcome him as the head of Navy Week Phoenix. Navy Weeks are designed to increase awareness in cities which might not otherwise see the Navy at work on a regular basis. Rear Admiral Lyndsey is a native of Phoenix and was excited to return to host a Navy Week in his hometown.
The reception was cohosted by Jerry Colangelo, the past owner of the Phoenix Suns and Arizona Diamondbacks, and the current Chairman of USA Basketball (the Men's U.S. Olympic team). Mr. Colangelo spoke of the immense patriotism he felt watching the American flag raised when the team won Gold Medals in Beijing and London. He talked about the pride the players feel representing America, and spoke of bringing members of the military to speak to the Olympic Team about serving their country. Most recently, he and the coach of the Olympic team, Mike Krzyzewski of Duke, brought then Chairman of the Joint Chiefs of Staff, General Martin Dempsey, to meet with the Olympic team. Mr. Colangelo finished by thanking Rear Admiral Lyndsey for his service to our country, and offered his full support to our Phoenix Council to further our mission.
Rear Admiral Lyndsey talked about growing up in Phoenix and his love for this area. He talked about his life in the Navy and where it's taken him - from Antarctica to the Arctic, he said he has visited all 7 continents. The Admiral described the current threats we face, including China, Russia, Iran, North Korea, and terrorist threats such as ISIL. He talked about ballistic missile defense, from ships currently deployed in the Mediterranean to new radar installations being installed in Romania. Admiral Lyndsey also discussed weapons systems under development, from the rail gun to advanced laser technology. The Admiral thanked our Phoenix Council and the Navy League at large for continuing to get the message out about our Nation's need for strong Sea Services, for taking care of sailors and their families, and for supporting youth programs such as the Sea Cadets and the JROTC. Rear Admiral Lyndsey told us how much he appreciated and enjoyed the reception we had for him, and said Navy Week Phoenix was a huge success.

Jake McManus - Phoenix Council President
Bill Stevenson (Area President),
LT David J. Carter,
Jake McManus (Phoenix Council President),
RADM Yancy B. Lyndsey,
CAPT Philip H. Roos (Professor of Naval Sciences at ASU),
CAPT Carol Culbertson,
LT Geoffrey T. Clift
RADM Lyndsey
Mrs. Stacey Lyndsey,
RADM Yancy Lyndsey
Jerry Colangelo
RADM Lyndsey,
Mrs. Lyndsey,
Jerry Colangelo
On Wednesday, March 16th the Phoenix Council Navy League hosted the U.S. Naval War College once again.
As a retired military serviceman, a member of the USNL and former Commander of a U.S. Naval Sea Cadet Corps unit, I have been uniquely invited to see first hand the great things the Navy League is doing to support and bolster our Sea Services. This Class is comprised of 49 Naval and Marine Officers from 47 different Countries. Professional Military men and women who are invited to the United States to learn about Naval leadership, Command and Control along side other Officers and men of whom other wise might have never met on a friendly basis. The War College is a deceitful name in it self because what all of these Military Officers truly do is make acquaintances and forge life long friendships of one another and the U.S. but then I don't suppose calling it the U.S. Naval Peace and Friendship Building College would entice the same enthusiasm to those looking to further their military careers.
This was my 3rd time going to this event with the Phoenix Council Navy League and each time is more intriguing than the last. This is just one way to see the tangible good our Navy League does, I highly endorse supporting the USNL by membership or donation, this older formed organization has got the pulse of the next generation and it is up to every voice who breathes in FREE oxygen to support all those who provide your free air.
Whether you ever wore a uniform or not, you can serve and support by joining the U.S. Navy League.

SSGT Dean Tomlinson, USMC/AZARNG (Ret)
Bill Stevenson (Area President),
Jake McManus (President, Phoenix Council),
LCOL Thad Middleton, USAF
As most of you already know, the 3 primary focuses of the Navy League are "to enhance morale of active-duty personnel and their families, to inform Congress and the American public of the importance of strong services and to support youth through programs such as the US Naval Sea Cadet Corps, Young Marines and the Junior ROTC programs."
In support of our youth, the United States Navy League awards cadets from the JROTC programs the Theodore Roosevelt Youth Medal consisting of a medal, ribbon bar, certificate and pamphlet on President Roosevelt whose visage is on the medal. The Navy League has established a Youth Medal to be awarded to outstanding Navy and Marine Corps Junior Reserve Officers Training Corps (JROTC) cadets.
It is that season again to celebrate with our high school JROTC programs. This year the Phoenix Council will award students from 17 schools, 10 with Navy programs and 7 with Marine Corps programs. Awards will be presented at Casa Grande High School (MC), Vista Grande High School (MC), Ray High School (MC), Greenway High School (N), Moon Valley High School (N), Westview High School (MC), Glendale High School (N), Tuba City High School (MC), Apollo High School (N), Coolidge High School (MC), Thunderbird High School (N), Tolleson High School (MC), Independence High School (N), Cortez High School (N), Apache Junction High School (N), Sahuarita High School (N) and Cienega High School (N).
In our next newsletter we will include names of all of the recipients of the awards and hopefully a few pictures as well. Please check out our Facebook Page to see shout outs to those cadets who have won as their ceremonies take place over the next 6 weeks.
Navy League Councils that adopt or are otherwise in contact with a high school JROTC unit(s) should award the Youth Medal annually to a deserving cadet, normally a junior, at an appropriate awards ceremony. This will permit the cadet to have a year in which to wear the medal showing Navy League support for the program. Eligibility criteria for the NJROTC award are determined in conjunction with the Navy and are contained in a Naval Service Training Command (NSTC) instruction that addresses awards to NJROTC cadets. For MCJROTC cadets the criteria is contained in a similar instruction at the Marine Corps Training and Education Command. If there is no Navy League Council in contact with a High School JROTC unit the Senior Naval Science Instructor (SNSI) is directed in the NSTC instruction to order the medal through the Navy League's Ships Store web site and contact Navy League Headquarters for additional information. The same directions are provided to the Senior Marine Instructor. In this event the Navy League Headquarters Office shall contact the appropriate Region and Area President who will determine if Navy League presence at the award ceremony is feasible and provide any other assistance to the unit that is reasonable within their capabilities.
Denise Tomlinson, Youth Programs Director, Phoenix Council Navy League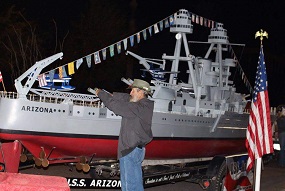 You may not realize that there is a famous battleship which patrols the Phoenix metro area. It has been seen in places like Flagstaff, Tucson, Sierra Vista, Texas, New Mexico, California and even Hawaii. Some citizens have reported seeing this Naval Dreadnaught at schools where our kids go to learn or pushing it's way through parades with our National Ensign proudly displayed. This humble vessel bears the name and resemblance of the infamous BB-39, the USS Arizona, and is the unofficial ambassador and voice for the 1,177 sailors and Marines who served and died with her on December 7, 1941.
The USS Arizona memorial battleship, an accurately scaled replica of the actual battleship, which rests in Pearl Harbor, Honolulu, Hawaii, is owned by Wanda Sartain of New River, Arizona. Wanda and her late husband, Perry Sartain, both United States Navy veterans, acquired the ship many years ago and with help of friends, their own funds, along with some donations, restored this precious memorial as a way to honor those who gave so much to all Americans.
Sadly, Perry passed away on December 7, 2014 after attending the State of Arizona Peal Harbor Remembrance Walk at the Arizona State Capitol in Phoenix. Not lost on those who knew and loved Perry, is the fact that he died on the day that the USS Arizona was lost in Hawaii.
Mrs. Sartain continues to honor her husband Perry and all veterans by taking the USS Arizona memorial battleship to special events to encourage rememberance and education, but like all things, time and weather have left an obvious mark on the once beautiful pride of Pearl. Mrs. Sartain is part of a group of supporters named "TEAM ARIZONA-75." The goal of the group is to raise financial support to repair and to apply a fresh coat of paint to the ship's exterior, along with making repairs to the existing trailer the ship rides on. TEAM ARIZONA-75 is hoping to find individuals, community groups or organizations to complete the restoration project before February 14, 2016, which is the state of Arizona's 104th birthday.
TEAM ARIZONA-75's goal also includes taking the memorial battleship to Pearl Harbor in December 2016. The ship will be part of the memorial celebration "Operation Pearl Harbor - 75 Years Later."
TEAM ARIZONA-75 needs all hands on deck! Your participation and financial support will be greatly appreciated and put toward encouraging and supporting the memory of all those who selflessly served their country and especially to those brave men and women who lost their lives that fateful day in 1941.
Your financial donation can be sent to:
USS Arizona Replica
c/o Wanda Sartain
43020 N 3rd Ave
New River, AZ 85087

Check written to:
USS Arizona Replica Organization Inc
As a thank you for your support of the project, send us the name, rank and service branch of a U.S. Veteran you know or are related to and we will add that patriot's name to the plaque of Shipmates to be displayed with the USS Arizona memoral battleship in Pearl Harbor during the memorial celebration on December 7, 2016.
(Submitted by Dean and Denise Tomlinson)