PIANO FONDUE AT THE ISTHMUS BEER & CHEESE FEST

Welcome to Wisconsin!
Piano Fondue was ecstatic to play this year's annual Isthmus Beer and Cheese Fest at Alliant Energy Center. There were over a hundred breweries set up in the exhibition hall and a few thousand beer lovers on hand to enjoy the day. The pianos were set up in the middle of it all, and nine players rotated over the course of the afternoon. The festival goers ate it up (and drank it in), and the Piano Man circle at the end (I still don't know how it happens every time!) was AMAZING! Hundreds of strangers, arm in arm, swaying and singing along was quite an incredible sight.
Isthmus Article
Still looking good after all these years!

When Chris and Josh started Piano Fondue in the autumn of 2005, it was with two keyboards on a couple x-stands. Humble beginnings notwithstanding, they were a hit, and the first move once the weekly gigs started coming in was to upgrade the appearance of the show. Enter Slam Grand (is that a Metallica song?). Based in Sparks, Nevada (just outside of Reno), Slam Grand manufactures the high-quality, beautiful piano shells that Piano Fondue has used ever since. We are now rocking nine of the beauties, and the original two (Patty and Selma) are comfortably living their golden years, day in and day out, at the Ivory Room Piano Bar on State Street in Madison. Head over on Friday, April 15th and help celebrate their tenth birthday!

In each newsletter we bring you a couple article excerpts from Josh's blog. Enjoy!


Visit Josh's blog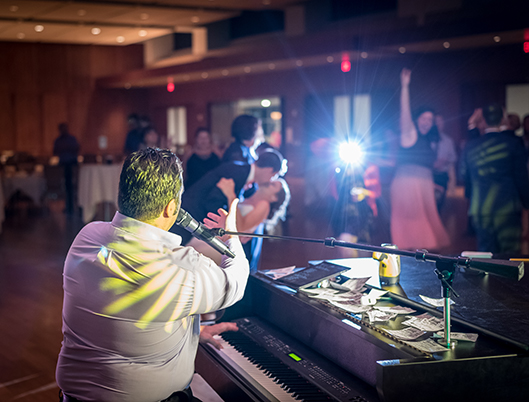 Learning New Songs on a Deadline
We play a lot of wedding receptions with Piano Fondue, and as a result, I often have to learn some new songs for first dances and the like. I'd like to share some tips and tricks I use for learning new songs quickly.
First, don't cram the day of. It's very hard to keep a song solidly in your head from only one impression - even if it's a few times through.
I like taking five days to a week to really get a song solid. I find that if I don't listen to the song every day, but take a day or two off in between, the second listening is much more effective.

Try to sing the song by yourself between listenings. Singing along with the recording isn't usually as helpful - you may start relying on cues that won't be there when you perform it live.
Pay close attention to the bridge and try to learn it first. The bridge is usually the toughest part to get solidly since it typically only happens once in the song. Try to remember how it goes while listening to the first couple verses.
Good luck. If there is one tip that I would recommend above the others, it's putting space between listenings. It does wonders. Keep singing!
-Josh
Read the whole article here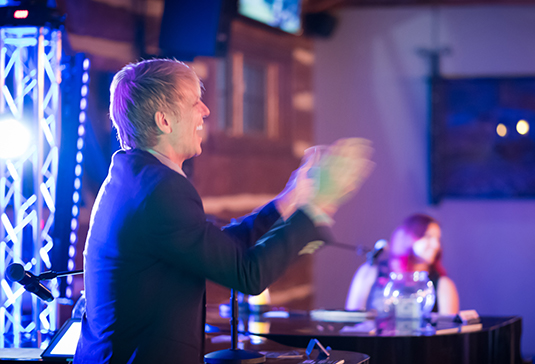 Getting the Crowd to Sing Along
While playing on stage, whether solo or with Piano Fondue, I often want to let the crowd sing certain parts of the tunes. This can be difficult to accomplish unless you're super comfortable with it. I have a couple tips and tricks I've gathered through the years to help out. Keep in mind - you are going to be asking people to step out of their comfort zone, so you'll be walking a tightrope between pushing their discomfort and reinforcing their confidence. It's an art, so the more you practice, the better you'll get.
1) Make sure you know the song pretty cold. At least well enough to be thinking significantly ahead of where you are currently singing. If you seem unconfident, they won't be willing to step up.
2) Make sure it's a song
they
know pretty well - at least the part they need to sing. Whatever part you're super comfortable with is probably the part that they're super comfortable with, so give that line to them.
- - -
5) Cutting the music short right before they're supposed to come in gives the crowd an aural space to fill. (Pro tip - don't cut on the beat. Cut it on the half or another unusual spot to jar them into paying attention.)
- - -
At the end of it all, sometimes a crowd just doesn't want to sing along. They'd rather just sit back and enjoy the show. That's fine. Maybe toss a couple tries at them throughout the show, but don't push it. Remember, they are there to have a good time. Let them!
-Josh
All 7 tips...
Whether you're getting away to escape the last chill of winter, getting ready to graduate, or just getting a haircut, have a wonderful springtime. We'll see you at the next show.
Yours,

Joshua Dupont
Owner/CEO
Piano Fondue, LLC