---
Giving Thanks for the Day:
Compline at Pilgrim
Sunday, June 13, at 8:00pm
Pilgrim tenors and basses will be preparing a short contemplative service based on the liturgy for bedtime called "compline." We will sing the service on Facebook Live on Sunday, June 13, at 8:00pm; the recording will be available for listening any time after the service. A Facebook account is not required; you can either click the link on the Pilgrim website that leads to the Facebook live events or go directly to the Pilgrim Facebook event. Additionally, for the first time this year, pilgrims will be able to attend compline in person! Please sign up by noon on June 13 if you would like to attend in person (signup link).

If you missed the Nov 1, Dec 13, Feb 21, or March 21 compline services from this past season, you can still listen here.

---
Re-Visioning Evening Worship at Pilgrim
In January, the evening worship team requested input from the evening community on reimagining evening worship for the 2021-22 program year. They have since formed two committees, one each for the Celtic and Nordic services, and have been meeting since April. Based on those meetings, they have decided to hold one Celtic and one Nordic service each month for September through December, which will be similar to the previous Celtic and Nordic services Pilgrim has held, while incorporating many new elements as well.

Over the past two decades, the team has gained much experience and has developed many ideas, but stepping into this new season of evening worship is no small feat. Now, it's your turn: The team is in need of pilgrims from the evening community to join the re-visioning committees in July and August and bring these reimagined services to life. Your voice matters, and your input is valuable! The team is looking for a few more committee members on each team to help guide the re-visioning process -- will you join them in this work?
---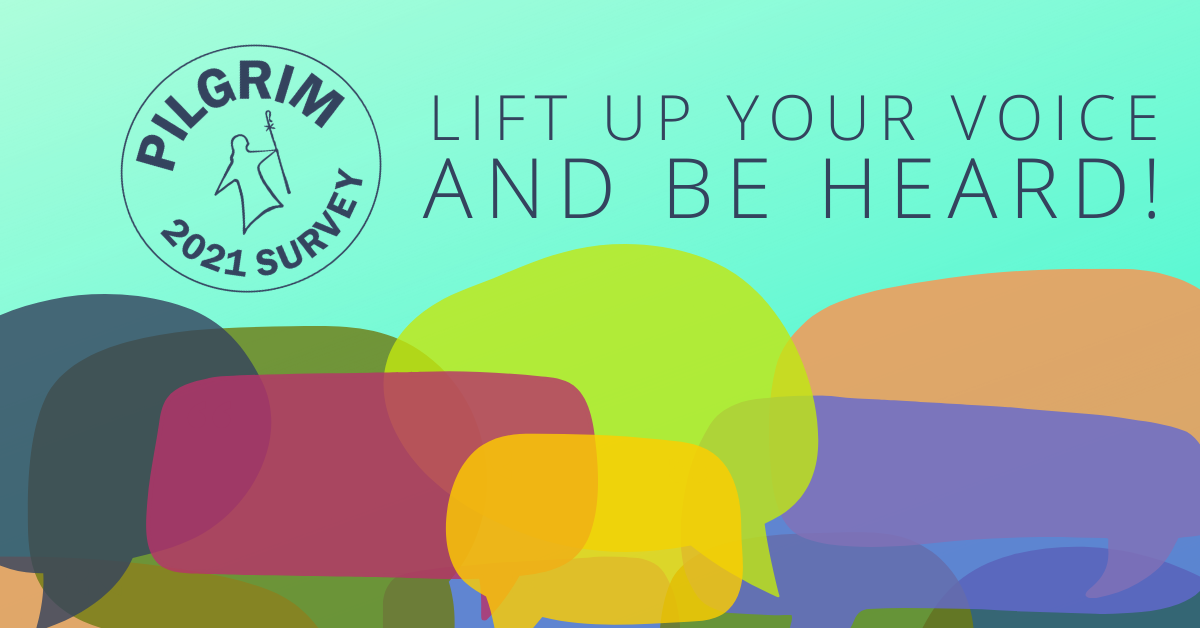 Amazing Response Rate!
A big and heartfelt "Thank You!" goes to the people of Pilgrim Lutheran Church. 179 Pilgrims completed the Congregation Assessment Tool survey, which is an 88% response rate, relative to pre-pandemic worship attendance information. That excellent response rate will provide comprehensive information in support of the process to call the next pastor and to support planning by church leaders.

Look for more information soon from the Focus Group Team about opportunities to join a focus group this summer to reflect on CAT survey results. All discussion in focus groups will be confidential and provide additional vital information for the development of Pilgrim's Ministry Site Profile, which will be used in the call process.
---
Twin Cities Pride
July 17-18, 2021
Pilgrim's Pride participation depends on YOU. If you would like to represent Pilgrim at this event, please contact the church office as soon as possible - the registration deadline for tables is coming up fast!
---
Outdoor Worship with Communion
June 6, 2021 - 9:30am
Second Sunday after Pentecost
Pastor Jen Rome preaching
Text: Psalm 8
Graduation Celebration
Out of abundant concern for one another, we request that worshippers wear a mask at outdoor worship services. (Disposable masks will be available should you need one.)
For contact tracing purposes, everyone attending worship in person will be asked to sign in with an usher at the beginning of worship.
Outdoor services will not be broadcast online due to the additional challenges of recording outside.
Please bring your own wine/juice and bread/crackers. (Individually wrapped single-serve communion elements will be available for those who choose to use them.)

During the summer months, worship will take place either outside, or in person in the sanctuary/simulcast on Facebook Live.