Upcoming
Industry Events
Secure Rail Conference
May 1-2, 2019
Orlando, FL
Railroad Day on Capitol Hill
May 8, 2019
Washington, DC
Wheel Rail Interaction Conference
June 18-21, 2019
New Orleans, LA
Railway Interchange 2019
September 22-25, 2019
In This Issue:
September 22-25 in Minneapolis, MN
Housing & Registration Open & Exhibit Space Filling up
Exhibit space and sponsorship opportunities are still available for Railway Interchange 2019, the largest railway exhibition and technical conference in North America with nearly 9,000 rail industry professionals from around the globe.
More than 85 percent of Railway Interchange exhibition booth space has been sold; sponsorship sales are ongoing. View the current FLOOR PLAN and
reserve your space today
.
Taking place September 22-25, 2019 at the Minneapolis Convention Center, Railway Interchange 2019 showcases the latest technology, services, and research by members and supporters of the Railway Engineering-Maintenance Suppliers Association (REMSA), the Railway Supply Institute (RSI), and Railway Systems Suppliers, Inc. (RSSI). Railway Interchange 2019 also features technical and educational presentations and discussions at the Minneapolis Convention Center by members and supporters of the American Railway Engineering and Maintenance-of-Way Association (AREMA) and the Coordinated Mechanical Associations (CMA). Learn more at www.railwayinterchange.org.
Any questions related to the

exhibition

can be directed to Urszula Soucie at (202) 715-2921 or soucie@remsa.org.
Apply for REMSA

2019 Undergraduate Scholarships by May 31 Deadline
This year REMSA is awarding one President's Scholarship in the amount of $7,500 as well as one $5,000 runner-up scholarship, and one individual scholarship a
t $
2,500.
The deadline for submitting applications is
To be eligible for consideration, an applicant must:
be a full- or part-time employee of a REMSA member company; or the spouse, son,

daughter

, grandson, or granddaughter of a current full-time employee of a REMSA member company. An employee who is the

scholarship

applicant

does not have to be a full-time employee. Interns are not eligible;
be enrolled and in attendance at the time of application as a full-time college student at an accredited two-year college

offering

an associate's degree or an accredited college or university offering a bachelor's degree; and
The Railway Engineering-Maintenance Suppliers Association, Inc.
(REMSA) will
blast survey to all membership later this week. The survey will address several items such as:
1. appropriate point-of-contacts;

2. level of satisfaction with current membership;

3. other industry affiliations;
4. and interest in new added member benefits
The goal of the survey is to ensure REMSA is touching the appropriate individuals in member companies and gauge current level of membership satisfaction.
Additionally, REMSA will look to continue benefits with high satisfaction, resolve any potential dissatisfaction and measure level of interest in expanded membership benefits.
-------------------------------------------
Contact Madeleine Stern, Membership & Marketing Manager, with questions at: stern@remsa.org or (202) 715-2919.
Congress Leaves Town for Easter Recess, 2019 Railroad Day on Capitol Hill, The Short Line Tax Credit Adds Cosponsors
Congress has left town for a two-week recess that coincides with the Easter holiday and is set to return just a week before the 2019 Railroad Day on Capitol Hill takes place on Wednesday, May 8. This signature event will bring the entire rail industry together in Washington, DC, for more than 370 meetings with members of Congress and their staff to advocate on issues that are critical to our industry, including the extension of short line tax credit and opposition to increasing truck size and weight limits. We strongly encourage you to participate on behalf of REMSA and the rail supply industry.
Click here to register and attend.
With the first 100 days of the 116th Congress now over, legislation to make the short line tax credit permanent (the BRACE Act) currently has 166 cosponsors in the House and 30 cosponsors in the Senate. Support for the short line tax credit is quickly approaching a majority in both chambers of Congress (218 in the House and 51 in the Senate), a crucial threshold that will provide significant leverage for attaching an extension to any upcoming legislative vehicles.
To move a package of tax extenders through Congress that features the short line tax credit, Senate Finance Chairman Chuck Grassley (R-Iowa) recently signaled that he was open to considering an electric vehicle tax credit that would court Democrats in the House.
In April, House Transportation & Infrastructure Committee Chairman Peter DeFazio (D-Oregon) and Railroads Subcommittee Chairman Dan Lipinski (D-Illinois) announced that freshman Representative Colin Allred (D-Texas) will serve as Vice Chair of the Subcommittee on Railroads in the 116th Congress. The Subcommittee has jurisdiction over the economic and safety regulation of railroads and the agencies that administer those regulations, including the Federal Railroad Administration and the Surface Transportation Board.
-------------------------------------------
If you are interested in learning more about REMSA's government affairs efforts, please reach out to Jacob Carter at
carter@remsa.org
.
Railroad Day on Capitol Hill has proven to be the single most effective way to get our industry's message to Congress. The size of the event, the geographical diversity of the participants, and the unified railroad industry message has focused Congress on our issues like never before.
You put the real-life face on the issues that matter most to our industry. When you turn out in force you demonstrate that those issues affect a large group of individuals who employ an even larger group of people from across the country. And you can't rely on the other guy to carry your message. You need to come to Washington and join with your fellow rail industry workers to help drive home to Congress the important role that this industry plays in restoring America's economy, improving America's environment, and connecting America in the global marketplace.
Attendance is open to all Class I, II, and III railroad personnel, shippers, state and local government representatives, as well as members from the supplier community with an interest in furthering the political goals of the railroad industry.
-------------------------------------------
Please contact Jacob Carter, Government Affairs Manager, at
carter@remsa.org
or (202) 715-2917 if you have any questions.
REMSA Grassroots Program
Want to Host a Grassroots Event in 2019?
The 116th Congress has more than 100 new members in the House of Representatives and 10 new Senators, making 2019 a terrific opportunity to host a REMSA grassroots event at your company.
REMSA's Grassroots Program connects our association's membership with members of Congress to host tours and site visits of company facilities and ongoing projects. It's a terrific way to showcase the positive impact that your company has in the local community, while also building strong personal relationships with your elected representatives. We will also take the initiative to engage with local and regional media outlets to highlight your company and maximize the visibility of the great work that you are doing.

Are you interested in growing your network and highlighting your products and services to the rail industry?
Please contact Jacob Carter at
carter@remsa.org
or (202) 715-2917 to get started.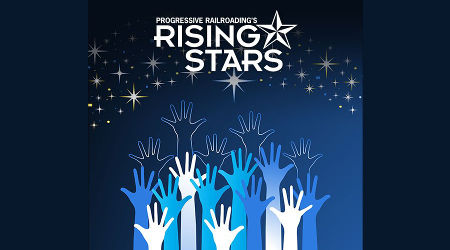 Progressive Railroading Names 25 Rising Stars for 2019
Progressive Railroading magazine released the names of 25 people recognized as Rising Stars for the North American railroad industry:
Terry Atkinson
, Union Pacific Railroad
Cathrin Banks
, Maryland and Delaware Railroad Co.
Jeffrey Brantz
, Metra
Kelley Carr
, Amtrak
Landon Downes
, Balfour Beatty Rail
Mickaela Doyle
, Watco Cos. LLC
Shannon Emberly
, CN
Sara Garza Gonzalez
, Kansas City Southern de Mexico
Dustin Hall
, Security Through Safe Design Inc.
Linda Hernandez Carrillo
, Kansas City Southern de Mexico
Kimia Khatami
, Pacific Harbor Line Inc.
Amanda Limburg
, David Evans and Associates Inc.
Nicolas Mabboux
, CN
Jessica Mefford-Miller
, Metro Transit-St. Louis
Brian O'Donnell
, Metro-North Railroad
Luke Olson
, Loram Maintenance of Way Inc.
Shirley Qian
, Capitol Corridor Joint Powers Authority
Devin Rouse
, Federal Railroad Administration
Katie Sanders
, Union Pacific Railroad
Scott Schiemann
, Indiana Harbor Belt Railroad Co.
James Schwichtenberg
, CSX
Among the list of remarkable individuals are the following
Railway Engineering-Maintenance Suppliers Association, Inc.
(REMSA)
partners and members:
Amanda Trainor Patrick
, Rail Supply Institute (RSI)
Matt Bell
, National Railroad Construction and Maintenance Association (NRC)
Crystal Gitchell
, American Short Line and Regional Railroad Association (ASLRRA)
Luke Olson
, Loram Maintenance of Way Inc.
Congratulations 2019 Rising Stars!
Short Line Safety Institute names new research director
Kim Davies-Schrils has been named the Director of Research and Organizational Development doe the Short Line Safety Institute (SLSI).
(Progressive Railroading)
Members of the Railway Supply Institute Equipment Leasing Committee (ELC) and The Association of American Railroads work to solve the rising boxcar shortage. (Railway Age)
The Illinois Commerce Commission (ICC) will use funding from the
Grade Crossing Protection Fund (GCPF) to improve highway-rail bridges, pedestrian rail bridges and crossing devices. (Progressive Railroading)
The CRC is launched to represent the interests, needs and benefits of commuter railroads and create a voice for these matters on Capitol Hill. (Railway Age)
The Tennesee based railroads will be named Sequatchie Vallet Switching Company (SQSC) and the Walking Horse Railroad (WHRR). The transaction was effective on April 8, 2019. (
Ironhorse Resources, Inc.
)
The
Transportation Security Administration
(TSA) has formed the
Surface Transportation Security Advisory Committee
, which will advise the agency on security issues related to rail and other modes of surface transportation. (Progressive Railroading)
CN and TransX have been supply chain partners for many years. With the acquisition, [we] will continue to support the wholesale and beneficial cargo owner customers, including in the growing, service-sensitive refrigerated transportation business," said Keith Reardon, CN's senior vice president of consumer products supply chain growth, in a press release.

(Progressive Railroading)




Norfolk Southern Names Three New Executives
Norfolk Southern Railway Chairman President and Chief Executive Officer James Squires was joined by Georgia Gov. Brian Kemp and Atlanta Mayor Keisha Lance Bottoms at a groundbreaking ceremony held in Atlanta's Midtown area.

(Progressive Railroading)



RTA tie Production Significantly Increased in January
Railway Tie Association's January tie production increased 23.3 percent to 1,395,000 ties and purchases rose 24.4 percent to 1,468,000 units compared with December 2018 levels according to
RTA's latest market report.

(Progressive Railroading)
Holland debuts Sparkless Carbide saw Aimed at Improving Rail Cutting Ability
Holland releases new machinery with carbide tipped steel blades to improve work on bridges, tunnels and in areas at high-risk for fire. The new tool is aimed at improving efficiency and safety. (RT&S)
Caterpillar Leaders Named Notable Women in Manufacturing
President Denise Johnson and Vice President Tana Utley are awarded the 2019 Notable Women in Manufacturing Award by Crain's Chicago Business magazine.
(Caterpillar)
Progress Rail to Repower GB Railfreight Locomotives
Progress Rail is awarded a contract to repower 16 serviceable, stored or non-running Class 56 diesel locomotives. The prototype is expected to be completed in May 2020. GBRf Managing Director, John Smith, said, "This is a fantastic move, which will enable GBRf to expand its operations significantly, whilst also providing the extra freight capacity the industry really needs." (Railway Gazette)
Pandrol Releases a New App to Improve Weld Traceability
The app will be used for
aluminothermic welding of the rail track, capturing live data and enhancing overall tracking and traceability. "This is an important innovation in welding technology, which will mean greater traceability to support contractors and rail network operators..."

said Thibaut Descamps, director for aluminothermic welding at Pandrol. (RT&S)
Suppliers and contractors update
equipment
to create long-lasting solutions and improve delivery this year. (RT&S)
RailWorks signed a deal this year to construct 1340,000 track feet and a 76,000 acre site with construction scheduled to begin this summer and completed in 2021. (RT&S)
Focused Technology and Fugro Company Updates
Focused Technology Solutions
hired Joe Calabrese as a senior advisor. Prior to joining the firm, Calabrese was chief executive officer of the Greater Cleveland Regional Transit Authority since 2000. He previously was president and executive director of the Central New York Regional Transit Authority, according to a Focused Technology. Fugro

, a geo-data specialist, has been awarded a contract by Network Rail to survey tracks covering more than 850 miles in Wales and the border counties of England. (Progressive Railroading)
ENSCO was founded by Paul Broome as a group of companies providing engineering, science and advanced technology solutions.

(Progressive Railroading)