20
Mazda Powered Racers Tackle a Triple Header Race Weekend at the World Famous Mazda Raceway Laguna Seca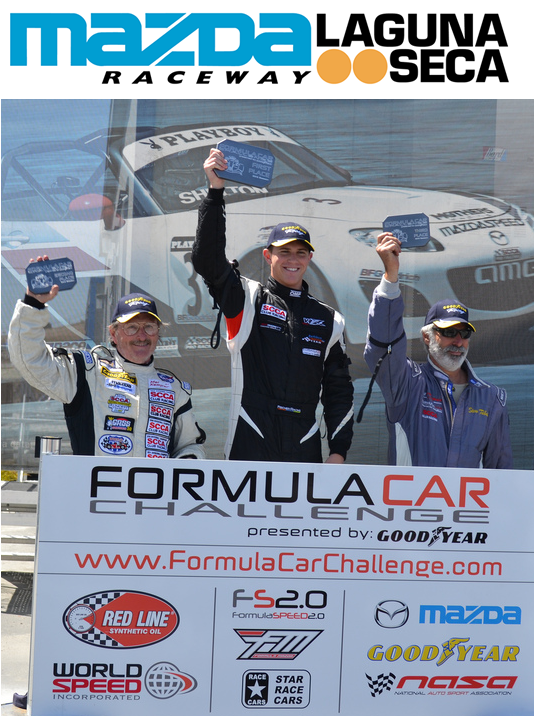 Monterey, CA
April 16th, 2013
This past weekend twenty FCC competitors entered themselves into the SFR SCCA triple header race event. Usually, the FCC racers have exclusive racing with only their three classes. This weekend however was a very unique event where FCC racers would be joined by a variety of open wheel cars, and a few sports-racers.
"We felt that giving our racers the chance to race at MRLS, and to compete inside an even larger group of cars would be a great opportunity for them," noted Series Official Ben Hettema. "Changing venues, and increasing challenges is a great way to accumulate experience in racing. This type of training is exactly why many of our alumni have gone on to great successes."
The scoring, and qualifying would also be fairly unorthodox. Racers only qualified for the first race. Their starting position for race two was determined by fastest lap in race one. Their starting position for race three was determined by fastest lap in race two. For FCC championship points each driver was scored on their best two out of three finishes.The weather all weekend was perfect, and qualifying got started at 1:30 on Friday.
Class Pole Positions for Race 1
Friday April 12th, 2013
In Saturday's race Michael Whelden took off to a commanding lead only to have an a-arm fail ending his race. Andre Eriksen was able to take the win in the Pro FM class followed by Jim Mali, and Frank McCormick. In the FS2.0 class new comer Jose Armida made Parker Nicklin really work hard for his win. Armida, who is the Mexican 2012 Formula VEE 1800cc champion, is scheduled to race the balance of the FCC season in the FS2.0 class. TJ Fischer won in the FM class, followed by Mel Kemper Jr and Stew Tabak.
Race Winners Race 1
Saturday April 13th, 2013
Sunday's race was a redeeming one for Whelden who took the victory in Pro FM. Nicklin and Armida battled it out in FS2.0, and traded positions multiple times. At the checkered flag Nicklin took the win. The Formula Mazda podium filled out exactly as it had in the first race.
Race Winners Race 2
Sunday April 14th, 2013
FM: TJ Fischer

FS2.0: Parker Nicklin

PFM: Michael Whelden
The third and final race of the weekend was plagued with yellow flags. A total of three full course cautions, followed by restarts made the race a dash for the checkered flag. There were a lot of position changes in the race including
Mel Kemper taking over the FM class lead. Later in the race TJ Fischer was able to get back by Kemper making his weekend a perfect three wins in three races.
Race Winners Race 3

Sunday April 14th, 2013
FM: TJ Fischer

FS2.0: Parker Nicklin

PFM: Andre Eriksen
As part of Goodyear Racing's partnership with the series, four of the weekend's drivers won free tires. "Although joining the SCCA open wheel groups is unusual for the FCC, it did go very well. FCC cars represented 20 of the 32 cars on track and there was some great racing in all three of our classes. We have to thank all of the SFR SCCA workers for all of their hard work" noted World Speed President Telo Stewart.
Next up for the series is a double header at Thunderhill Raceway Park with NASA Pro Racing on May 18-19. More information on the series can be found at: www.FormulaCarChallenge.com
Official Results