WEST COAST REGION:
Twenty Mazda Powered Racers Race On Famous Indy Grand Prix Circuit in Sonoma
Sonoma, CA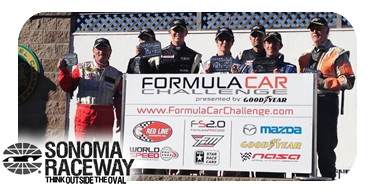 June 18th, 2013

Twenty competitors took to the the demanding Sonoma Raceway IndyCarGrand Prix configuration this past weekend for the June Formula Car Challenge presented by Goodyear double header. The weather was beautiful all weekend with temperatures in the mid-80s, and mostly sunny skies.
Pole Positions for June 15th, 2013
FM: TJ Fischer

FS2.0: Parker Nicklin

PFM: Andre Eriksen
Race one got off to a great start, and the top cars in each class battled back and forth all race long. At the checkered flag it was TJ Fischer on top in FM, Michael Whelden in Pro FM, and Parker Nicklin in FS2.0.
Race Winners for June 15th, 2013
FM: TJ Fischer

FS2.0: Parker Nicklin

PFM: Michael Whelden
Most drivers agreed that conditions on Sunday were not as good as the track seemed to loose grip. That didn't stop Mike Anderson from putting in the fastest FM qualifying time of the weekend. Bucky Lasek, who was a guest driver in this event, improved his times to the point where he was less than a half second off of FormulaSPEED2.0 points leader Parker Nicklin in Sunday's qualifying.
Pole Positions for June 16th, 2013
FM: Mike Anderson

FS2.0: Parker Nicklin

PFM: Andre Eriksen
Sunday's race had a spirited first lap, with some mild contact in the Pro FM class. The race to watch in PFM was the battle between Paul Lahaye, Jim Mali, Bobby Eberle, and Dave House. These drivers batted each other from flag to flag relentlessly. In the FM class TJ Fischer and Mike Anderson were nose to tail throughout much of the race, and in FS2.0 Nicklin and Lasek mixed it up after Nicklin had an early spin that allowed Lasek to overtake him. In the Pro FM class drivers were penalized post race for the early contact, and also for using "unmarked" tires. The Pro FM podium was modified from the on track results to be Andre Ericksen 1st, Patrick O'Neill 2nd, and Michael Whelden 3rd.
Race Winners for June 16th, 2013
FM: TJ Fisher

FS2.0: Parker Nicklin

PFM: Andre Ericksen
"What a great weekend! It was awesome for the drivers to get some track time on the Indy Grand Prix layout," noted Series Official Frank Bain. "They will be competing on this track again in August as a support race for the IZOD Indy Car Series in a field of 35 cars. Getting them acclimated to it now will help them be more competitive at our showcase event, and also make for a great show for the fans."

As part of Goodyear Racing's partnership with the series, four of the weekend's drivers won free tires. Next up, is a special double header at Portland International Raceway with