The Formula Car Challenge is a registered trademark of World Speed Incorporated.
29687 Arnold Drive Sonoma, CA 95476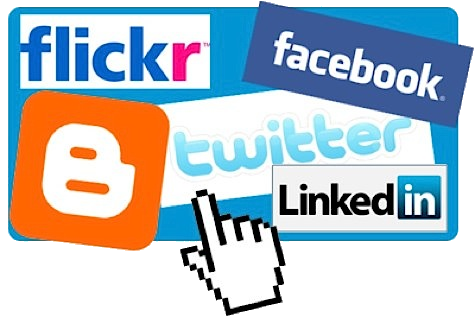 The FCC is the most popular junior open wheel series on Facebook!
With over 2600 fans on Facebook the series has become the most popular junior open wheel series on the internet.
Don't just let the drivers have all the fun!


If you have photos, videos, or stories about the Formula Car Challenge share them with the whole gang!

The Thunderous Roar of Mazda Powered Formula Cars Was Heard at
Thunderhill Raceway Park This Weekend
Whelden, Fischer, and Armida enjoy perfect weekends with poles and wins in both races
Willows, CA
May 19th, 2013
The Formula Car Challenge presented by Goodyear visited Thunderhill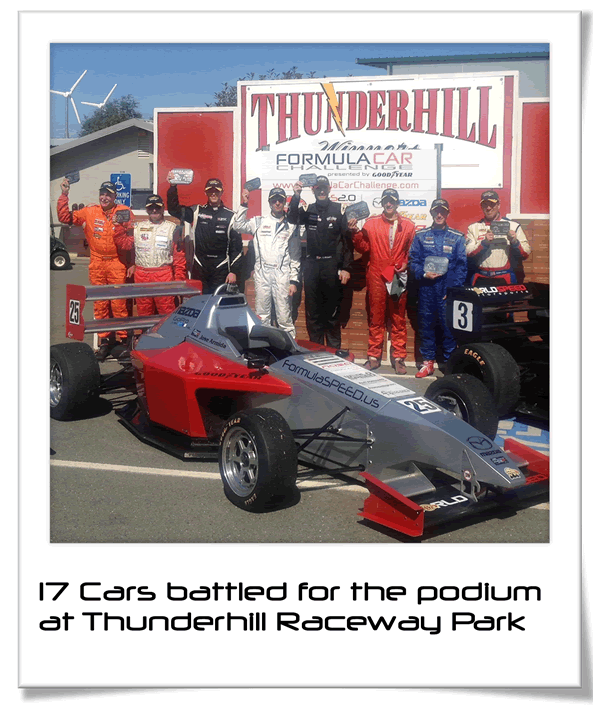 Raceway Park for a double header event this past weekend. The weather was beautiful all weekend with temperatures in the high-80s, and clear skies.


After a morning test session the drivers got down to business. 2012 FCC FS2.0 Champion Michael Whelden took overall pole in PFM with a 140.687, Jose Armida secured pole position in FS2.0 with a 1:47.114, and TJ Fischer was fastest in FM with a 1:47.699.


"The weather turned out great, everyone is getting better, the level of competition is really stepping up, and there was a ton of great racing and several position changes in race one," stated Series Official Ben Hettema. The pole sitters in each class ended up on the top step of the podium at the end of the race.

Saturday May 18th, 2013

Round 7 Race Winners


Saturday May 18th, 2013

Qualifying for Sunday's race had Fischer, Armida, and Whelden on pole again. In the FM race Fischer held off Mel Kemper Jr. who was an early threat. Kemper ended up battling with Woody Yerxa for the second spot on the podium. Yerxa almost got by him in the last turn of the last lap, but went wide. Andre Ericksen was an early threat to Whelden in the Pro FM class, but Whelden was able to hold the lead from wire-to-wire.

Round 8 Pole Positions


Sunday May 19th, 2013

Round 8 Race Winners


Sunday May 19th, 2013

As part of Goodyear Racing's partnership with the series, four of the weekend's drivers won free tires. Next up, is a special double header at Sonoma Raceway on June 15th-16th. This event will be done on the Indy Grand Prix configuration. "It is important for the drivers to get some track time on the Indy Grand Prix layout," noted Series Official Ben Hettema. "They will be competing on this track again in August as a support race for the IZOD Indy Car Series in a field of 35 cars. Getting them acclimated to it now will help them be more competitive at our showcase event, and also make for a great show for the fans."

The August event with IndyCar is also the FCC National Championship weekend sanctioned by NASA. Prize information, and registration for the IndyCar event is expected to be posted in the next few weeks.

More information on the series can be found at:

NASA Weekend Results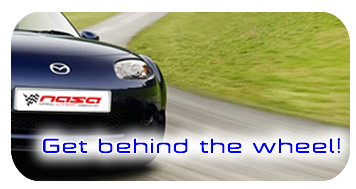 PARTNER SPOTLIGHT:

NASA PRO RACING
Wouldn't you like to come out one weekend and actually get onto the race track?
(You know you want to.....)
For those of you itching to be a part of the action, NASA has a great program called the HPDE. It will help you get started with a very minimal investment. Basically, all you need is a safe car and a helmet. The car does not have to be fancy or fast, and you need no prior experience.
You can learn more about NASA Pro Racing, and the HPDE program here: http://www.nasaproracing.com/hpde/index.html

About The Formula Car Challenge presented by Goodyear: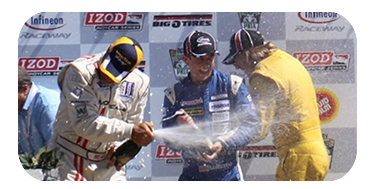 The Formula Car Challenge presented by Goodyear is a regionalized open wheel racing series with an annual national championship. There are multiple regions across the country, and each region has unique features and events.

Once a year the regions meet for the NASA National Championships. The championship features a multi-class format -Formula Mazda (FM), Pro Formula Mazda (PFM), andthe FormulaSPEED2.0 (FS2.0). All classes are powered by Mazda, and equipped with Goodyear Racing tires.

Each region is supported by a Region Promoter who is well versed in racing, and who can provide assistance to teams and independent drivers.
The series is partnered with Goodyear, Mazda USA, MAZDASPEED Motorsports Development, Red Line Oil, and NASA Pro Racing.