International Volunteer Managers Day Reminds Us to Build Our Many Skills
Energize, Inc. loves promoting
International Volunteer Managers Day
(#IVMDay16), upcoming on November 5th. What better way to keep working toward
our goal
of empowering and inspiring leaders of volunteers worldwide?! It's our purpose to educate leaders of volunteers, not only about good volunteer management, but also about the value and importance of their roles.
The 2016 theme for IVMDay is "Volunteer Management. One Job. Many Hats." Knowing that leaders of volunteers need many different skill sets to be successful, this month we're highlighting books that focus on specific roles in which volunteer resources managers often perform.
Leaders, we hope you will celebrate yourselves on IVMDay! Value the important role you play and don't be afraid to set aside professional development time for yourselves. You are worth it and you deserve it!
| | |
| --- | --- |
| | |
| Image credit: Volunteering Queensland & volunteermanagersday.org, 2016 | |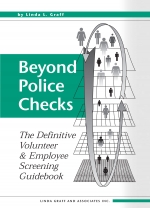 Beyond Police Checks

In today's clim
ate of risk and liability, many leaders need to hone their skills i
n
interviewing, screening,
and
gathering information
.
Highly respected author/expert, Linda Graff, provides the reader with the rationale for initial screening and ongoing credential checks, models for developing screening processes, and a variety of screening tools, everything to raise your comfort level in dealing with volunteer applicants.
Read an excerpt
.

A Conversation with a Purpose

Authors

Kathleen McCleskey and Cheryle N. Yallen provide a combination of knowledge, preparation, and practice to help you become a skilled interviewer who can uncover the information needed to choose the right volunteers for the right jobs.
Read an excerpt
.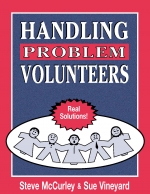 Handling Problem Volunteers

In a lighthearted way, authors Steve McCurley and Sue Vineyard help you assess some of the most common volunteer performance problems and deliver some serious solutions. Put on your police hat and determine the extent and root causes of problems. Then, decide how to handle them!
Read an excerpt
.
| | |
| --- | --- |
| | |
| Image credit: Volunteering Queensland & volunteermanagersday.org, 2016 | |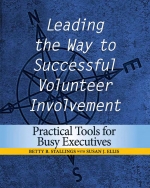 Leading the Way to Successful Volunteer Involvement

Whether you are are a high level manager, exec, or influencing your bosses, there are times you need your sailor hat to lead others in a new direction. Betty Stallings' book has just the tools to l

ay the foundation for achieving impact with volunteer engagement. Brave new waters and move from "it's nice to have volunteers" to "let's strategically involve the community to get the job done!"
Read an excerpt
.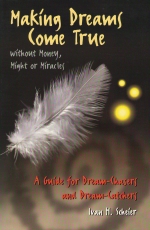 Making Dreams Come True without Money, Might or Miracles

Setting a new course requires courage and
inspiration.
This extr

aordinary book urges us all t

o nurture dreams, our own and those of others. Every important social, community, and personal change starts with a spark of inspir
ation flamed by creativity and will.
Read an excerpt
.
| | |
| --- | --- |
| | |
| Image credit: Volunteering Queensland & volunteermanagersday.org, 2016 | |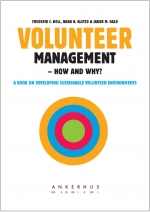 Volunteer Management - How and Why?

In this book, the authors categorize organizations into four types, each involving volunteers in distinctly different ways.
Analyze
the interrelationship of your type of organization and the type of volunteers most attracted to it. Discover
how
different methods of volunteer management can be more successful by understanding the
why
.
Read an excerpt
.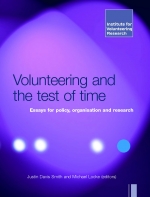 Volunteering and the Test of Time

Put on your thinking cap and dive into the world of volunteering research with nine provocative, accessible, and useful essays. Explore how concepts of formal and informal volunteering have developed in this new century, including concerns that have emerged. Do the concepts relate to your volunteerism experiences?
Read an excerpt
.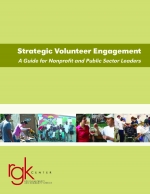 Strategic Volunteer Engagement

This booklet presents the
Volunteer Involvement Framework
, offering a plan for the full spectrum of different types of volunteers available today. The
Framework
was inspired by the findings of research done at the RGK Center for Philanthropy and Community Service at the LBJ School of Public Affairs, the University of Texas at Austin.
Read an excerpt
.