FCC Presented by Goodyear Visits Portland International Raceway For A Double Header

At season halfway mark Kaiser leads the Pro FM class, Carpenter leads FM, and Whelden leads in FS2.0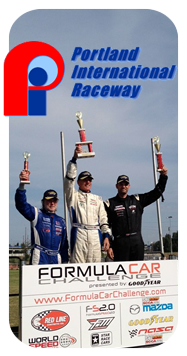 Sonoma, CA
July 18th, 2012

The Formula Car Challenge presented by Goodyear visited Portland International Raceway for a double header event July 13th and 14th. Portland is one of the fastest tracks on the schedule, and the weekend was run alongside the SCCA Super Tour. This allowed FCC competitors the ability to compete in four races over the weekend.

"This has historically been a great event for us as one of the series' goals is to provide as much track time and racing experience as possible," stated FCC Series Coach Scott Bradley.

After a morning warm up session the drivers headed out for qualifying. Pro FM points leader Kyle Kaiser clicked off the fastest time with a 1:10.85. Michael Whelden set the bar in FS2.0 with a lap time of 1:16.67, and Formula Mazda driver Mel Kemper scored a pole in his class with a fast lap at 1:17.44.

In race one Andy Brown and Andre Erikson tangled in the festival chicane. Brown continued but Erickson's car was in pretty rough shape. Series officials penalized Brown post race, and Erikson and his team worked hard through the evening to get their car ready for Sunday. Series points leader Kyle Kaiser won the race from the pole position. Portland local Mel Kemper won the Formula Mazda class, and Michael Whelden continued his winning streak in the FormulaSPEED2.0.



Pole Positions for Round 7 - July 13th, 2012
FM: Mel Kemper Jr.
FS2.0: Michael Whelden
PFM: Kyle Kaiser
Race Winners Round 7 - July 13th, 2012
FM: Mel Kemper Jr.
FS2.0: Michael Whelden
PFM: Kyle Kaiser
Qualifying for race two of the weekend looked pretty similar except that TJ Fischer was able to out pace Mel Kemper at his home track. Fischer would battle Kemper most of the race but ended up still out front at the checkered flag. Whelden won in the FS2.0 class. Kaiser who started from pole pulled over on track with an engine issue, and the rest of the Pro FM field capitalized on it. In the end Andy Brown took the top step, followed by Andre Erickson, and Frank McCormick.

Erickson had this to say, "I couldn't sleep Saturday, it (the turn-1 incident) just kept running through my head, but I was really glad to get back out Saturday after the guys worked so hard to get the car back together and to end up on the podium."

McCormick who finished in the 3rd slot on the Pro FM podium had not been to a race all season, and missed all the practice sessions leading into the weekend which was equally impressive.
Pole Positions for Round 8 - July 14th, 2012
FM: TJ Fischer
FS2.0: Michael Whelden
PFM: Kyle Kaiser
Race Winners Round 8 - July 14th, 2012
FM: TJ Fischer
FS2.0: Michael Whelden
PFM: Andy Brown
"It was another great year in Portland, the weather held out for us and there was a lot of good racing, there was a little more turn one excitment than we needed in the Friday race, but everyone was ok and we were glad to see Andre back out Saturday to end up on the podium," stated Series Official Ben Hettema

The next event on the FCC West Coast schedule is the Indy Grand Prix of Sonoma. This event will determine the National Champions, and is heavily supported by Mazdaspeed Motorsports. Details on the event, and prize packages can be found here.

More information:

PARTNER SPOTLIGHT: MAZDA USA

Road to Indy, NASA, SCCA, ALMS, Grand-Am and LeMans in 2013!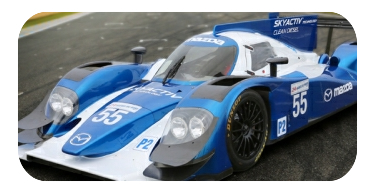 Mazda is the brand of choice for road-racers across North America. More than 9,000 grassroots racers compete in various classes with the Sports Car Club of America (SCCA) and the National Auto Sport Association (NASA). Racers who are years away from earning a driver's license can now begin a professional motorsports careers in the Mazda family. A driver can begin in karts and progress through a variety of diverse series ranging from the Skip Barber series, NASA and SCCA club racing, USF2000, Star Mazda, Continental Tire Challenge, up to Grand-Am GT and ALMS, all with Mazda.

No other car company has ever connected the dots this way. Mazda North American Operations is headquartered in Irvine, Calif. and oversees the sales, marketing, parts and customer service support of Mazda vehicles in the United States, Canada and Mexico through nearly 900 dealers. Operations in Canada are managed by Mazda Canada, Inc., located in Ontario; and in Mexico by Mazda Motor de Mexico in Mexico City.

(photo: Mazda announced that they will return to the 24 Hours of LeMans in 2013 with an all new endurance package. Link to full report below)

About The Formula Car Challenge presented by Goodyear:
The Formula Car Challenge presented by Goodyear is a regionalized open wheel racing series with an annual national championship. There are multiple regions across the country, and each region has unique features and events.

Once a year the regions meet for the NASA National Championships. The championship features a multi-class format -Formula Mazda (FM), Pro Formula Mazda (PFM), and the FormulaSPEED2.0 (FS2.0). All classes are powered by Mazda, and equipped with Goodyear Racing tires.

Each region is supported by a Region Promoter who is well versed in racing, and who can provide assistance to teams and independent drivers.

The series is partnered with Goodyear, Mazda USA, MAZDASPEED Motorsports Development, Red Line Oil, and NASA Pro Racing.

More information: