Box 41, Stoughton, MA 02072 ~781-297-7450
Stoughton Chamber Members,
Summer's over and its time to get back to work (or continue work for many of us). We have had some changes at your Chamber as of recent, most important being the resignation of our Chairman, Reginald Lamb. The good part of this story is that the company for which he works, Merrill Lynch, has upgraded Reg to a management position, the bad part for us (SCC) is that he is no longer in sales or in the Stoughton area.
For now, we are in search for a new Chairman but, no fear, this won't be the first, or the last time we have had to ride a few waves, we always come out to smooth sailing eventually. Our current SCC Executive Board, and SCC Board, are certainly able to steer this ship and keep us on course! Two more items of good news, we welcome Rita Ryan, of HarborOne Bank, and Brooke Phillips, of Arbors Assisted Living, to our current SCC Board!!
Our
First Meeting
of the fall will be at
Courtyard by Marriott
, as you can read about below. Courtyard has been a valued member of our Chamber for many years. Some of us might remember back to our
Caribbean BBQ of 2007
(Joanne still wears her T-Shirt), though it was hot and muggy, that didn't seem to bother anyone in the Conga Line (had some great, live, steel drum music playing).
We have a wonderful
Business Spotlight
on a New Member to our Chamber,
Pat Gibbs Landscape Design & Construction, Inc.
I have personally used their fabulous landscape design services at my home, having the entire property landscaped, including dealing with a major issue of a sink hole (which caused me to lose my pool some years ago). The difference in what was and what is now is absolutely miraculous and these days of Stay-cations makes it that much worthwhile to enjoy your own home and surroundings!
We also have a Testimonial for Appel Electric and Ken Appel, from Joanne Schneider. Take a quick read of the great service that Ken provides through his company and, of course, he is a longtime Chamber Member!
Another very important issue that we, our Chamber, have been supporting for several years, is the needs of our two Stoughton Food Pantries! This year we did not have our annual Doin It For Diane food pantry fundraiser event, but you can still support our food pantries in two important ways:
1) Become an Ad Sponsor: In the soon to be published 2-page spread. The idea for this ad was actually from Joanne Schneider, discussed with the FPFS Board and DIFD Committee Members. What a great way to support those in need while also having your business name recognized in such a unique way!
2) Bay State Lodge #141 Knights of Pythias Auction
: Happening on Saturday, November 23rd, at the
Stoughton VFW Post #1645
! Our Brothers at the Knights are teaming up with FPFS and the DIFD Committee to have a wonderful night of great food and a Live Auction!!
We have also re-signed a M.O.U. (Memorandum of Understanding) with Metro South Chamber, the regional Chamber of Greater Brockton, to continue our mutual affiliation. The purpose of this affiliation is best explained as written:




The purpose of this Memorandum of Understanding is to establish an affiliation agreement between the Metro South Chamber of Commerce (MSCC) and the Stoughton Chamber of Commerce (SCC). The affiliation will provide business leaders from the shared community the opportunity to access resources and tools offered by both organizations in order to strengthen the business community and create greater synergy among the networks of the MSCC and the SCC.




There are several mutual benefits to this affiliation including attending meetings at member cost, attend events and seminars at member cost, etc. More will be provided shortly on how you, our SCC Member, can take advantage of this offer.




Another important item is SCC Nominations for the 2020 SCC Officers and Board of Directors! Having just lost our Chairman we may be a bit late but the SCC Executive Board should be forming a Nominating Committee shortly.



Terry Schneider
Executive Director
Stoughton Chamber ofCommerce
September Chamber Meeting
Hosted by
Courtyard by Marriott
200 Technology Drive, Stoughton
Tuesday, September 10
5:30 pm - 7:00 pm
The
Courtyard by Marriott
just went through some significant remodeling over the past few months and
General Manager Casey Williams
, and her staff, can't wait for our Chamber members to tour their newly refurbished location! They will be serving some of their
Bistro Appetizers and some delicious desserts
to our member guests!
Only the best of modern comfort resides in a stay at Courtyard Boston Stoughton. Our modern hotel will have you situated near Stonehill College, South Shore Plaza® and the neighboring Town of Braintree. You can also enjoy access to Randolph and Boston, Massachusetts.
Following a day of making memories, come home to our spacious rooms and suites equipped with complimentary Wi-Fi, comfortable bedding and ergonomic workstations. In the mornings, you can wake up to the smell of fresh food and Starbucks® coffee at The Bistro. When it's time to wind down in the evening, return for classic American cuisine and hand-crafted cocktails. For something quick, stop by our 24-hour Market at anytime.
To round out your stay with us, we offer a 24-hour fitness center and a heated indoor pool. If you're traveling here on business, host a board meeting in one of our two event spaces. Each event is made better with our catering options and AV equipment. Get ready for a relaxing stay at Courtyard Boston Stoughton.
Nadine Israel,
of

The Fred & Nadine Team has helped us put this meeting together and will be our speaker. The informative topic will be, "Networking, A Personal Approach".
Fred and Nadine have been active in the Real Estate industry for the past 38 years (each) and have seen and participated in 4 real estate cycles. The Fred and Nadine Team has consistently remained in the top 1% of Real Estate producers in North America and continues to maintain that ranking with the help of their business coach who has been with them for the last 25 years.
In 2000, after determining that over 80% of their production was from past clients and personal referrals, Fred and Nadine opened their own firm known as The Fred and Nadine Team where they continued their high level of performance and service to their clientele.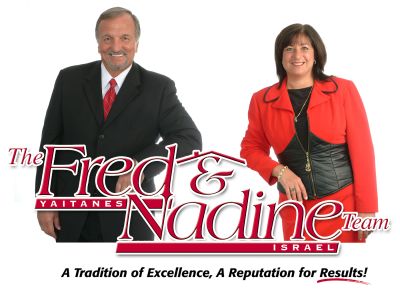 In 2004, The Fred and Nadine Team joined Keller Williams Realty. Maintaining theirreferral mindset & business coaching, they continue to remain in the top 1 or 2 positions inside their office of 170 agents. This office is the top office in Eastern Massachusetts in number of transactions and in Dollar volume.
This will be a very nice and informative event to kick off our fall season! At $15.00 per person, how can you go wrong? If you would like to reserve your space please click here to contact Joanne and she will take care of you. Online reservations will be in the upcoming September E-Newsletter, which will be available shortly!
to Support our two Food Pantries!
Knights of Pythias
Auction to Support our Food Pantries
Pat Gibbs Landscape Design & Construction, Inc. has been providing high quality and diverse landscape design and construction services for both residential & commercial properties all around the Norfolk County since 2003. Whether you own a house, an apartment building, a condominium complex, a retail space or a commercial property, we can provide excellent design needs for just about any budget and we perform all work ourselves!
Some of the services we provide include:
Landscaping Basics: Lawn Maintenance, Fertilizing, Plantings & Design, Small Tree Placement & Removal, Tick & Mosquito Spraying, Mulching and Clean-Ups, etc.
Other Services: Retaining Walls, Patios & Walkways, Masonry & Stone Work, Excavating, Snow Plowing and Removal, Dumpster Rentals, etc.
My name is Patrick Gibbs and I am the founder and owner of Pat Gibbs Landscape Design & Construction, Inc. I am a US Marine Veteran, and as a Marine I have learned how to work hard, be dedicated at whatever I'm doing, take pride in my work and follow a strong and strict code of ethics!
As is often said, "
Once a Marine, Always a Marine
", which means that even though I am no longer serving, everything I've learned, everything I know, is carried forward in my life, whether involving my family or my work, I maintain the strict standards and dedication to whatever I do!
I earned my degree in Landscape Design & Turf Management from Norfolk County Agricultural HS (Norfolk AGGIE), where I learned everything from Soil Science to Plant Maintenance to Turf Management to Forestry. It's not just about the aesthetics, it's also about the Environment, Natural Resources, Green Engineering, Sustainability and even the Wild Life!
I take pride in making sure my Clients are happy with the design we choose, together, and the end results!! I have developed a strong and dedicated team of experienced landscapers who get the job done the right way and the first time!!!
If you want to transform your outdoor living space, give us a call today! We look forward to doing business with you!
Back to Top
Shout out to
Ken Appel &
Appel Electric
for a job well done! Last week, we needed some electrical work to be done right away, due to some landscaping work being done in our backyard. I called Ken and he was out at our house the very next morning, bright and early, and took care of the emergency issue we were having!
While he was at the house, we had a few quickie items, which he also took care of for us. I was impressed with his timeliness and efficiency, even though he is quite busy doing all types of commercial work around the Commonwealth!

Joanne Schneider
SCC Membership Director
Stoughton Chamber New Members
Pat Gibbs Landscape Design & Construction Inc.
Stoughton Chamber Member Renewals
Appel Electric Co. Inc.
Blue Hills Health & Rehabilitation Ctr
Dentistry on Park
Envision Bank
Good Samaritan Medical Center
Island Street Automotive
Maltby & Co.
Mario's Roofing
MDS Computer Solutions
New England Sinai Hospital
Olive Garden
Planet Security
Right of Way Driving School
Rogers Insurance Agency Inc.
Rudin, Herzog, Ward & Donovan, P.C.
Sheehan Funeral Home
Signature Healthcare
Stoughton Youth Soccer League
Stoughton Chamber Silver & Gold Members
Gold Members
63 Tosca Drive
, Stoughton
Envision Bank
15 Pleasant St, Stoughton


Good Samaritan Medical Center
235 North Pearl St
, Brockton


New England Sinai/Steward Hospital
150 York St
, Stoughton
Silver Members
2121 Central St
, Stoughton
Aronson Foot Care
1017 Washington St
, Canton
Ashmont Self Storage
1204 Washington St
, Stoughton


MassHire Greater Brockton

Workforce Investment Board
32 School St
, Brockton


CareCentral Urgent Care
286 Washington St
, Stoughton


Central Florist & Nursery
Copley at Stoughton
380 Sumner St
, Stoughton
909 Sumner St
, Stoughton
Chinatown Restaurant
103 Sharon St
, Stoughton

Dana Barros Basketball Club
1776 Washington St
, Stoughton
Hop Top Films
508.821.8827, Rockland
Honey Baked Ham
950 Providence Hwy, Norwood
HR2Fit
560 Pleasant St
, Stoughton
1305 Washington St
, Stoughton

Kid Care Dental
1613 Central St
, Stoughton


Kiddie Academy of Stoughton
1202 Washington St
, Stoughton


Law Office of Stephen J. Delamere
839 Washington St
, Stoughton


Law Office of Starr & Starr
1056 Central St
, Stoughton
MAJ Business Services Inc.
6 Cabot Place
, Stoughton


Malcolm & Parsons Insurance
713 Washington St
, Stoughton


Maltby Tree
Box 364
, Stoughton


Mario's Roofing, Siding & Windows
152 Washington St
, Stoughton
Merrill Lynch
Metropolitan Truck Center
1074 Turnpike St
, Stoughton

North Easton Savings Bank
25 Roche Bros Way, North
Easton


Old Colony YMCA, Striar Campus
445 Central St
, Stoughton


Olive Garden Restaurant
401 Technology Center Dr
, Stoughton

Outback Steakhouse
45 Mazzeo Dr
, Randolph


Panera Cafe & Catering
Pat Gibbs Landscape Design
PM Associates
2 Cabot Place
. Stoughton


Portuguese National Club
21 Railroad Ave
, Stoughton


Right of Way Driving School
200 Cushing St
, Stoughton

Signature Healthcare
680 Centre St
, Brockton


1044 Central St. Suite 201, Stoughton

Stone L'Oven Pizza
8 Washington St
, Canton


Stop & Shop Supermarket
278 Washington St
, Stoughton


Stoughton Diner

756 Washington St Suite #3

, Stoughton

980 Washington St

, Stoughton

Texas Roadhouse Restaurant
124 Westgate Dr
, Brockton


Tito's Cakes
Tosca Drive Auto Body & Truck Inc.
53 Tosca Dr
, Stoughton
Town Spa Family Restaurant
1119 Washington St
, Stoughton


Vargas & Vargas Insurance Agency
4 Cabot Place
, Stoughton

Zienko Entertainment
Quick Links
Chamber Links

Other Links