'cuz you may get an idea for a startup, script, or song
Vans US Open of Surfing
concludes with finals in surf, skate, BMX, this weekend at Huntington Beach Pier. You can watch the sports on the beach or in the bowls for free, and also check out the various freebies and activations. And of course, you can buy Vans shoes, clothing, and even print your own custom T-shirt selecting from two dozens designs by surfers. Yes we are in full on California Summer!
Streamys
submissions are now open! Enter your content in over 50 awards categories for the #streamys awards by Early Deadline Friday, August 2, 2019.
Details.

Manhattan Beach 6-Man Volleyball
features fun costumed amateur volleyball teams at this beach community event this Sat and Sun. Check out their fun costumes, like the DC Superhero Women and the red kilt men's team (photos right).
MOVIES
- Fast and Furious: Hobbs & Shaw. The Rock and Jason Statham are back in this spinoff from the blockbuster Fast and Furious series. There's fun banter, lots of action, and a low-tech vs high-tech finale.
- Hollywood Forever: Point Break on Sat
SHOWS
- Apollo 11 - Immersive Live Show @ Pasadena Bowl
- Miss Saigon @ Pantages
- Summer Camp Music Festival @ Long Beach
- Third Eye Blind and Jimmy Eat World, Sat @ Irvine
- B52s with OMD and Berlin, Sun @ Microsoft Theater
Lionel Richie @ Hollywood Bowl
- LCS Summer Split
OUR UPCOMING EVENTS
August 7, 6p, DTLA
We're going to the Alamo! Join us at our next Digital LA - Digital Drinks at the new Alamo Drafthouse in downtown LA, Wed Aug 7, 6-8p. Alamo has a terrific beer selection, wines, food menu, arcade games, board games, videos, and gift shop. If you've been to the original Alamos in Austin during SXSW, etc, you know the fun retro vibe.
___________
August 14, 7p
Century City
At our panel on Virtual Humans, Academy and Emmy winning industry innovators will discuss creating virtual humans for entertainment, influencers, and other uses. We will discuss resolution of characters, distribution (online, programs, social), and more.
SCHEDULED SPEAKERS

- Paul Debevec, Google VR, USC ICT researcher professor. Paul won a Academy SciTech Award in 2019 for his work on Polarized Spherical Gradient Illumination facial appearance capture method, and in 2010 for his Light Stage work.
- John Canning, Digital Domain, Executive Producer, New Media and Experiential.
-
John MacInnes, MacInnes Scott,
Co-Founder. Won the 2018 Lumiere Award for Best AR for their work on the global marketing campaign for the Netflix show Altered
Carbon
. Writer of Call of Duty, Advanced Warfare.
- Gregory Panos, Persona Foundation, Founder. Virtual human evangelist and author.
- Jacki Morie Consulted with USC ICT and the Boston Museum of Science on Ada and Grace, life-sized conversational twin girl guides who greeted visitors and gave directions, etc.
- Raymond Mosco, Hyprsense, Director of Business Development.
- Ken Lande, Neon Evolution, Co-Founder. Launched two virtual personalities, Binxie (@itsbinxie) and Aliza Rexx (@alizarexx).
- Armando Kirwin, Artie, Co-Founder.
- Moderator: Kevin Winston, Digital LA, CEO, Founder.
________
SIGGRAPH NEWS
SIGGRAPH

LA
The annual SIGGRAPH computer graphics conference returned to Los Angeles this year, with panels, mixers and parties.
See more news in our
- VR Theater showcased an hour of top winning VR pieces. The two interactive pieces were the most fun. Top Pick: Baobab's Bonfire, where you befriend a good alien who in turn helps you defeat a bad alien. In Doctor Who: The Runaway, you help the doc on a scifi space adventure. The three non-interactive shorts were entertaining. Top pick: Kaiju Confidential humorous VR short features two kaiju bickering over rampage territory. Disney's A Kite's Tale features two flying kite friends who help each other. It's cute, but doesn't particularly use VR. 2nd Step is journey thru space.
- Hollywood VFX Panels. Movie VFX teams spoke on panels on the making of blockbuster films Avengers: Endgame, Spider-Man: Into The SpiderVerse, Alita Battle Angel, Game of Thrones and more.
Avengers: Endgame, now the #1 biggest film in the world, had more than 92% VFX shots, from Thanos' subtle facial expressions, to the final epic battle "blips," said VFX supervisors on the "Making of Avengers: Endgame" panel at the SIGGRAPH convention in Downtown LA. VFX supervisors from Marvel Studios, Weta Digital, Digital Domain and The Third Floor described their contributions to the film with exclusive slides and videos of animation test, eye-looking tests, lighting and more. See our Making of Avengers: Endgame article.
- Intel appeared at SIGGRAPH for its first time, announcing its exascale computing goal of 1000x advancement in processing performance, resulting in lower rendering times for VFX teams.
- Maxon announced its goal of '3D for all', saying that they want 3D to be as common place as video editing has become. They announced their new Cinema 4D Release 21 will include many features, and be just $60/month instead of several thousand for the box. See more news in our
________
Comic-Con Highlights
As LA recovers from 5 days of Comic-Con panels, activations, and parties last week, here's our wrap up of Comic-Con highlights, including the show floor, best cosplay, and our Comic Cocktails rooftop party.
Writers and producers who've written on Disney, Marvel, Star Wars, D.C. Transformers, My Little Pony, and more top franchise properties discussed how to create diverse leading women characters at the official San Diego Comic-Con panel "Diversity in Writing: Women Writers and Producers Take Charge in TV, Animation, Comics, Games and Online" on Saturday July 20 at the San Diego Convention Center. See
article
with tips on how to write diverse leading women.
| | |
| --- | --- |
| | |
Activations: The Amazon Prime Video activation took over a block to promote three shows: The Expanse, Carnival Row, and The Boys. It also hosted the IGN Expanse party on Thursday night. Brooklyn Nine-Nine featured an interactive group solve-the-mystery escape room, where you must solve a case in the precinct. The winning team gets a photo and a badge pin. The AMC Walking Dead activation featured a plane, treehouse, and warehouse to explore, with zombie scares, as well as some zombie VR. Giant Spoon did both the Brooklyn Nine-Nine and Walking Dead activations, as well as Superstore.
Parties:
The exclusive Entertainment Weekly party on Saturday featured dozens of celebs on the carpet. We got this pic of the Wynonna Earp cast lounging on the carpet. See video interviews from our friends via the
Bionic Buzz YouTube Channel.
The Fandom Party on Thursday night included a sneak peek performance of Cirque du Soleil's new R.U.N. action stunt show that debuts at the Luxor Las Vegas this fall. The performance featured more than two dozen dancers, fire dancers, motorcycle stunts, and a 5-story stunt fall from a balcony at the Hard Rock. Also: IMDBoat hosted several day and night parties. And Exlevelent hosted a trio of 80s themed dance parties at Fluxx nightclub with the Flux Capacitors 80s cover band performing every night. Wed was Ready Party One (Ready Player One theme), Thursday was Upside Down (Stranger Things) themed and Friday was Awesome Mixer Vol 2 (Guardians themed).
Our Digital LA - Comic-Cocktails:
She-Hulk, superheroes and amazing friends assembled at our 11th annual Digital LA - Comic Cocktails, held at Altitude Sky Lounge at the Marriot
t Gaslamp, where the CW held its Batwoman party the night before. We enjoyed amazing sunset and downtown Gaslamp views. See
pics.
Top 10 SDCC Cosplay Awards.
Cosplayers showed so much creativity and fan passion at the San Diego Comic-Con 50th anniversary, we do what you do in LA: Give out Awards! See our awards for best
Attitude
, VFX, Kid Cosplay,
Accessories
, Professional, and more in our
article.
_______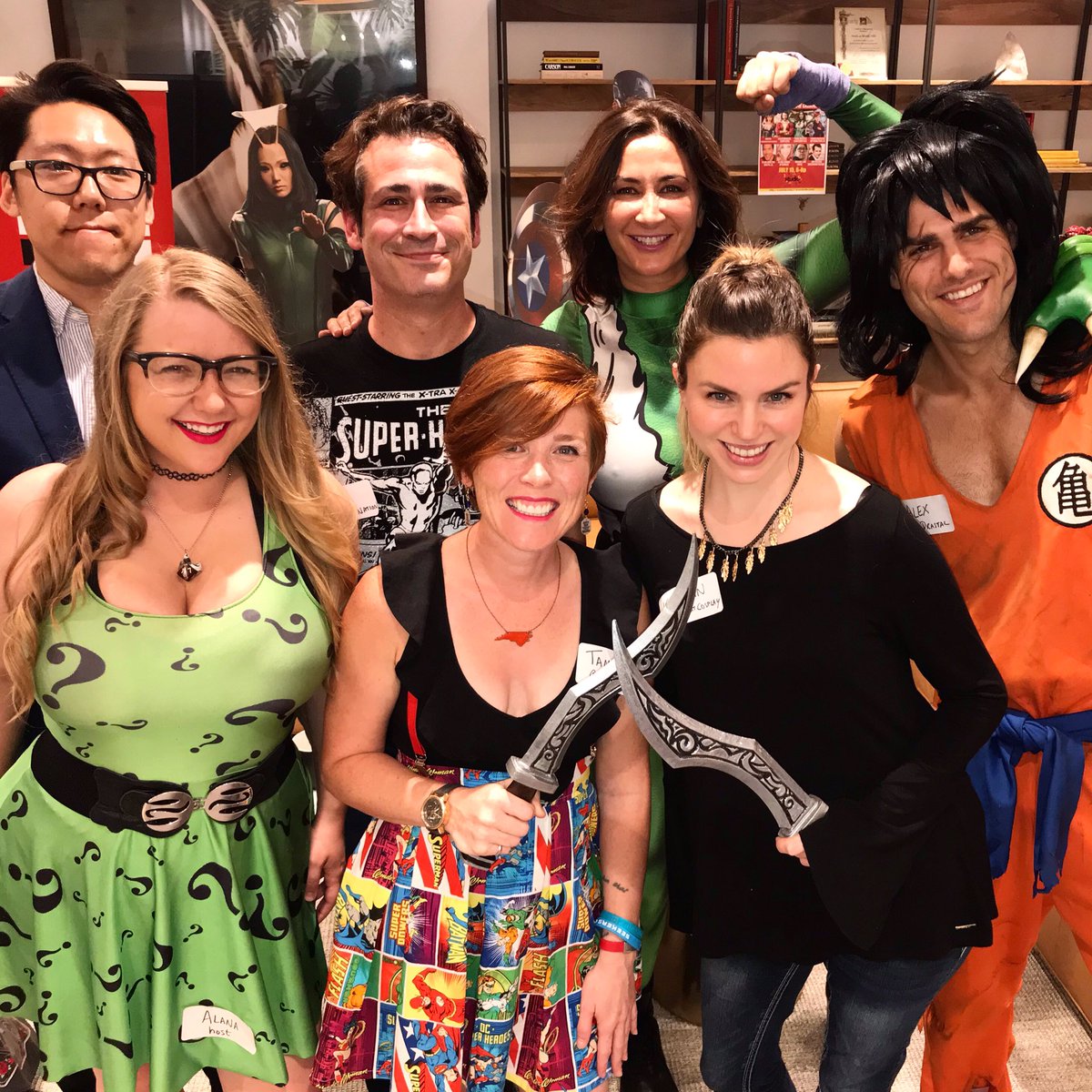 Indie creators, startup CEOs, cosplayers, filmmakers and comic creators described how they use digital tools to startup companies, 3D print accessories, and engage fans at our annual Digital LA - Superheroes Go Digital panel. This panel has been held Monday in LA before San Diego Comic-Con to shine the spotlight on digital innovations related to superhero content. See our
article.
________
VidCon celebrated its 10th anniversary last weekend with estimated more than 75,000 attendees in Anaheim. What's new: TikTok made a big splash with packed panels, and exclusive creator party that was the hot ticket of VidCon. See party pics in our
article
, which also includes highlights of panels, activations, and parites.
______________
LA News
Convrg Acquired
. LA based chatbot company Convrg was acquired by Mumbai based Haptik this week. Convrg co-Founder Audrey Wu has spoken at several of our panels. See TechCrunch
article.
Techstars Starburst accelerator launches X startups. Techstars launched its first accelerator focusing solely on space tech in Los Angeles on Monday. The launch of the Techstars Starburst accelerator 10 startups on July 15, 2019 is almost exactly 50 years after the launch of the Apollo 11 mission to the moon on July 16, 1969.
The program consortium includes: NASA JPL, U.S. Air Force, Lockheed Martin, Maxar Technologies, SAIC, and Israel Aerospace Industries North America.
Over the next three months, the 10 companies will working closely with Techstars and Starburst network of expert mentors. The Demo Day is set for October 16, 2019. See our article.
of 10 diverse startups, in fintech, social networks, package delivery, and chili crisp snack food. The class is very diverse: 60% of CEOs are women, 80% are from underrepresented backgrounds, and more than half of the founding teams have international backgrounds from Asia, Europe, and South America. Eight of the 10 startups are already based in LA.
"The momentum of our local SoCal ecosystem is really outstanding,"
said Techstars LA Managing Director Anna Barber.
Meet the startups: Algo Pay, Dash Systems, Fabrica, findSisterhood, Finli, Fly By Jing, Liquid, Manatee, and Riders Share in our
article.
Alamo Drafthouse opens in DTLA.
The much-anticipated Alamo Drafthouse (finally!) if finally open in downtown LA with 12 dine-in screens, bar, gift shop, video store, and arcade. Most Angelenos' first encounter with Alamo Drafthouse theaters is when they visit Austin for SXSW, where it has several locations. Starting this weekend, you can just go downtown. The quirky theater chain hopes to differentiate itself from other theaters in LA with its dine-in service, down-to-earth vibe, bar, gift shop, and community events, from karaoke to board game nights. "We got into it because we love movies," said Alamo Drafthouse founder Tim League, who started it 22 years ago. He said the goal is to be the best damn theater and share "movies we love with as many people as possible." See our
article.
________
OUR RECENT EVENTS
Digital LA - Cannes Cafe
. We had a blast at our own Digital LA - Cannes Cafe mixer. We met up at Caffe Roma across from the Palais, and then headed over to Facebook Beach for complimentary snacks and drinks, VR demos, and panels. Attendees included European advertising agencies and creative, and the co-founders of Giant Spoon, which won last year's Cannes Lions Immersive top award for their SXSW activation. See our
Cannes Cafe article.
Facebook Beach, Google Beach, Pinterest Beach and Spotify Beach all featured complimentary food and drinks, music, DJs, and more.
See more in our
Cannes Lions summary article!
Our pre-E3 Music for Games Panel
Award-winning composers on big ga

me franchises including Star Wars, Call of Duty, Assassin's Creed, Transformers, and more shared their insights into their craft at our pre-E3 Digital LA - Games Summit, held at Cross Campus Downtown LA on the day before the big E3 games convention.
Composers said it's important to create your distinct voice and style, yet be true to the sounds and style of music in the game franchise. Speakers included Grammy-nominated Austin Wintory (Journey, Assassins Creed Syndicate), Wilbert Roget (Call of Duty WWII, Mortal Kombat 11),
Gordy Haab (Star Wars: Jedi Fallen Order and other franchise),
Penka Kouneva (Mummy VR, Transformers), and Gareth Coker (Ori and the Blind Forest and its just announced sequel Ori and the Will of the Wisps.) See our
article.
Digital LA - Digital Drinks at Two Bit Circus. Attendees enjoyed VR raft and video games, networked, and traded notes on best parties and panels at E3, the annual game convention in LA this week.
Attendees included co-founders of the Warp Zone game content channel, Loot Crate subscription game box, press and YouTubers, voice actors, designers, and developers.
We got upgraded to the VIP Roustabout lounge, with terrific views of the Two Bit Circus games. Attendees played the VR Raft game, VR minotaur maze, Killer Queen Bee, Beat Saber, and many more games. We also ate yummy garlic and truffle fries from the Boxcar Cafe. See
pics
.
Digital LA - LGBTQ Influencers Panel.
Influencers
described how they got started, work with brands, and engage and inspire fans on our Digital LA - LGBTQ Influencers Panel on Tues at WeWork PDC. It was our annual pre LA-Pride event.
Speakers included: C
h
annel Q radio hosts Ryan Mitchell and singer Mikalah Gordon; actor/model Jason Caceres, actress Jane Widdop, personality Kandie, model-underwear entrepreneur
On Mekahel
, and Revry 'Netflix for LGBTQ content' founder Damian Pelliccione. Speakers gave influencer tips including: Don't be afraid to reach out to brands you like, and see if they want to work with you. Chances are they will! Know your worth to get paid working with brands. And be your authentic self online. Several speakers said just living their lives openly online as helped inspire others to come out to their friends and family. See our
article.
Digital LA - Influencer Merch panel at Studio71
Influencers are using Kickstarter to crowdfund games, engage their communities and generate additional merch revenue, said Javon Frazier, Garima Sharma, and more at our Digital LA - Influencer Merch and Game Night at Studio71 HQ in Beverly Hills. See
article
.
A
fter the panel, we played Studio71 card games. Several attendees got prizes including Binding of Issac: Four Souls card game,
plushies, Guava Juice subscription boxes, and more Studio71 merch.
Our
Digital LA - High Tech: Cannabis CBD Tech
panel event before 4/20 featured experts from MedMen, Merry Jane Media, Baker CRM startup, and more. Cannabis CBD digital marketing focuses less on mass marketing due to age and geography restrictions and laws, and much more on CRM: reaching customers who've opted in to e
mail or SMS text messages.
Customer d
ata privacy and security is especially important: no sharing emails or anonymous aggregate data. Instagram, influencers and events are additional ways to market, tho must be aware of ever-changing rules related to age-gating, geography or sales of products. There's much room for brands to reach new demos like post-operation pain relief, seniors, and more. See our panel recap of
9 Things You Need to Know
about cannabis CBD marketing.