Government
A "Heads Up" for U.S. Employers of STEM Optional Practical Training Workers: ICE Starts Conducting On-Site Inspections for STEM OPT Employment (JD Supra)
The STEM OPT program allows foreign students who have graduated from a U.S. STEM-degree program to gain paid, on-the-job "Optional Practical Training ("OPT") that supplements and directly relates to the knowledge and skills gained in their academic studies. In order to engage in post-graduation practical training, foreign students must select an appropriate STEM employer who agrees to provide them with formal training and learning objectives.
Minority-serving institutions poised to lose $255M in federal funding (Education Dive)
Although historically black colleges and universities (HBCUs) and other minority-serving institutions (MSIs) are chronically underfunded, gridlock in Congress may further drain their coffers. For more than a decade, Congress has allocated $255 million each year to MSIs under the Higher Education Act. The funding can be used for a variety of purposes, though most of it supports underrepresented students in STEM
Rep. Maloney and Senator Hirono Reintroduce Women and Minorities in STEM Booster Act (Rep. Carolyn B. Maloney)
Reintroduced last week in the House of Representatives by Congresswoman Carolyn B. Maloney (NY-12) and in the Senate by Senator Mazie K. Hirono, the Women and Minorities in STEM Booster Act would establish grants to support programs designed to increase participation for women and minorities in STEM. Under the bill, grants would support online workshops, mentoring opportunities to connect professionals with students, internships for undergraduate and graduate students, outreach programs for K-12 students, and retention programs for STEM faculty.
K-12 Education
Hundreds of Scouts visit Aberdeen Proving Ground for annual STEM in Scouting event (Baltimore Sun)
A jet of Diet Coke mixed with Mentos candy arced skyward, and assorted youths scattered out of the way, the result of a chemistry demonstration by Scout leader Ken Collins as he worked with members of Scouting troops from around the region for the annual STEM in Scouting event Saturday at Aberdeen Proving Ground for 18 Scouts working on their Chemistry merit badge. About 350 Scouts from seven councils in Maryland, Washington, D.C. and Pennsylvania participated in the STEM event Saturday.
Compton District Combines Esports and STEAM (T.H.E. Journal)
A California school district is launching a joint STEAM career program with an esports tournament. The Compton Unified School District esports program is intended to help students develop STEAM skills, especially in computer programming, and develop their abilities in collaboration, digital literacy, critical thinking and problem-solving. The program is being co-sponsored by the Carrot Group, a company that sets up STEAM programs for education, and professional football team the Los Angeles Chargers.
Higher Education
JPMorgan Chase is giving $1M to Columbus State to bolster the region's tech pipeline (Columbus Business First)
JPMorgan Chase & Co. will give Columbus State Community College $1 million to boost Central Ohio's pipeline of technology workers, the entities announced Wednesday. The money will help Columbus State invest in staffing and infrastructure to scale up several employer-driven initiatives at the institution, including expanding employer-sponsored IT certificates. It also will help Columbus State "create courses and resources to align with the skills, credentials and work experiences that employers in Central Ohio region demand," according to the entities.
Lone Star College, UT unveil petroleum engineering partnership (Houston Business Journal)
Lone Star College and the University of Texas Engineering Executive Education, Petroleum Extension are teaming up. Petex, as UT's program is called, executed a long-term leased at Lone Star - University Park in Cypress, and the two schools will be working together to train and educate everyone from community college students to workers already in the energy industry.
Vanderbilt joins research alliance to bring STEM training to prisoners (Vanderbilt)
Vanderbilt University's Rich Milner is among an alliance of researchers who have been awarded a five-year, $5,229,896 grant by NSF to forge robust pathways to STEM careers for people who are, or were, incarcerated. The alliance, STEM Opportunities in Prison Settings (STEM-OPS), is funded as part of the NSF;s INCLUDES network. The project's mission is to make educational programming for STEM careers and college study commonplace, accessible and rigorous in U.S. prisons and reentry programs.
Viewpoints
Wendy L. Hill (Rappolt Professor Emeritus of Neuroscience, Lafayette College): The Myth of the STEM Pipeline (Inside HigherEd)
The STEM pipeline is a commonly employed, even overused, metaphor describing the path to careers in STEM. But the concept of a rigid career pipeline sends the wrong message. The term has codified a narrow educational path that begins as early as preschool and continues through college and career. The pathway is predicated on having savvy parents and teachers coaching a child with an unwavering love of STEM. The student must take the right courses, leading to a succession of STEM-related positions. Take a misstep and you leak out of the sluiceway, banished forever from the world of STEM.
STEM Jobs
Nevada launches new license plate to support STEM education (statescoop)
Nevadans with a special interest in advancing STEM education have a new way to support the cause. The state's Department of Motor Vehicles released a new specialized license plate on Tuesday the proceeds of which will go toward supporting nonprofit organizations that attempt to interest and train more students in STEM. The new plate features a green-and-white background, the letters "STEM" across the bottom and the logo for the Governor's Office on Science, Innovation and Technology, which — together with a STEM advisory council — will provide grants to organizations that promote scientific and technical education.
Stay Connected
Download the free #WalmartHealthyHelpers STEM Mission for National Day of Design on November 8th!
We are only about a month out until National Day of Design on November 8th! Walmart is sponsoring this year's Design Mission to bring you Healthy Helpers: Personalizing the Shopping Experience for a Healthier You. With this free STEM activity, students will design an automated technology solution to provide individuals and families with suggestions of healthy food, medicine, and/or other products tailored to their nutritional health needs and preferences. This standards-aligned Mission can be downloaded for free at nationaldayofdesign.com
Today at 2PM ET! Join @STEMconnector on @AfterSchool4All's #QualitySTEM Twitter Chat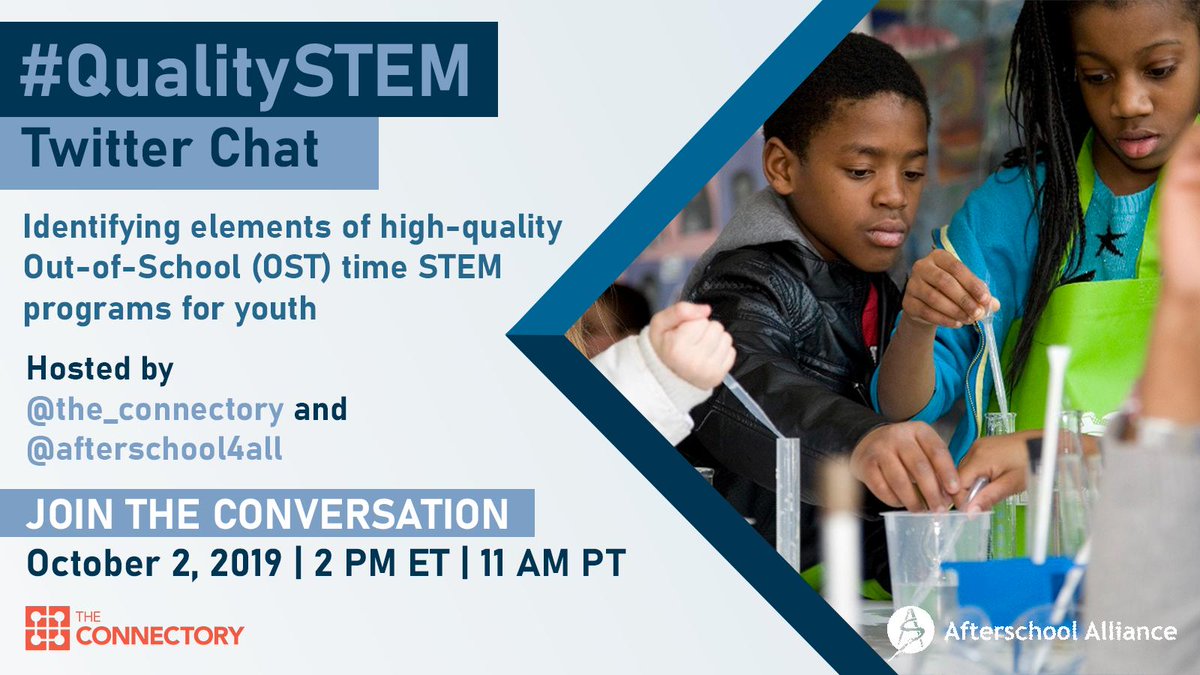 Afterschool Alliance (@Afterschool4All) and The Connectory (@The_Connectory) will be hosting a Twitter Chat called #QualitySTEM: Identifying elements of high-quality STEM programs for youth," on Oct. 2, from 2 - 3 PM ET, and will focus on highlighting what makes an exceptional out-of-school time STEM program for K-12 youth - covering a range of elements, such as family engagement, community partnerships, accessibility, and more! As a trusted partner in this space, we would love to have you participate.
Join us for a Webinar about the Abbott High School Internship Program Information Session on Oct. 9th. at 2PM ET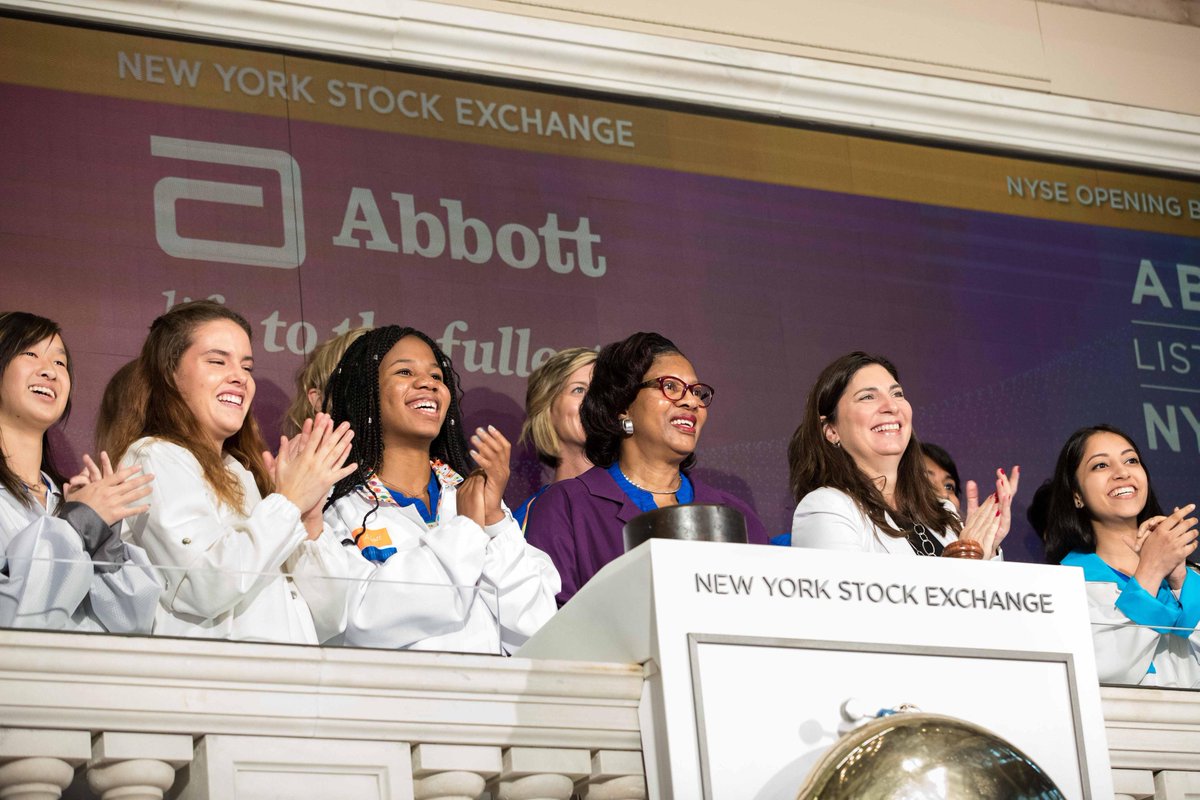 Abbott's "Shaping the Future of STEM" blueprint is an open tool for companies to use to help them get started creating high school STEM internship programs. While the internships are open to all, in Abbott's experience, they have also helped increase the number of women in its STEM pipeline. Listen to Abbott's internship founder and top engineer, Corlis Murray, and internship manager Lynn Schroetter as they describe their journey, offer practical tips and field any questions you may have about starting a high school STEM internship of your own.
U.S. Cellular Donates to JASON Learning, Benefitting Nearly Half a Million Students (U.S. Cellular)