Feel free to share this email with co-workers, friends or business associates you think would benefit from its information by clicking the "Forward this email" link at the end.
Be sure to get the full message in our emails by enabling images.
Visit us at:
Please Join us for Open House and Business Networking!
RSVP for the TD Bank Open House and Business Networking Reception to David 908-282-2062, david.olmedo@td.com by 9/19/18, Or Click Here
Messages & events from your Fellow Members
Meet New Member: Gray Charter School
Gray Charter School provides students with a rigorous academic program that helps support students intellectually, physically, and emotionally from kindergarten through 8th grade. Our unique and diverse learning model provides students with the flexibility they need to succeed. Gray Charter School is designed for the student who wishes to grow, and excel academically and personally, while maintaining a presence of morals and values.
Our personalized approach to educating the total child, means that students have the opportunity to grow academically and socially. Students actively participate in thought provoking lessons involving the entire class, giving the student the opportunity to interact with their peers as well as their instructor. The Gray Charter School prides itself on delivering a quality curriculum that focuses on creativity, critical/analytical thinking, communication, and community collaboration
preparing students for high school and a global society.
Gray Charter School:
Department of Education National Blue Ribbon School of Excellence (2010)

One of the top 10 schools in Newark New Jersey

Test scores are higher than Newark Public Schools,and above average for the New Jersey state standard

Community-oriented with 96% parent participation

Dedicated teachers that are highly qualified to enrich the academic and social lives of the students of Newark

Students embrace the arts the Gray Charter School has a partnership with New Jersey Performing Arts

Alumni attend some of the most prestigious high schools and universities in the country

Kindergarten - Eighth Grade

Suzuki violin program

Intensive phonics based program

Student/teacher collaboration
For more information or to schedule a tour please call:
Miss Verna Gray
Executive, Director Founder
Gray Charter School
55 Liberty Street
Newark, New Jersey, 07102
Phone:(973) 824-6661
website:www.graycharterschool.com
Email: graychartersch@gmail.com
New Member Updated Identity: Roselle Bank
New Company Description:
Roselle Bank is a full-service community bank that offers a complete line of business and consumer products and services, residential mortgages, and business loans. With approximately $400 million in assets, we offer a variety of products, ranging from eChecking and Premier Interest Checking Accounts, to Small and Regular Business Checking Accounts, to Money Market Accounts and competitive CD rates.
As one of New Jersey's oldest financial institutions, Roselle Bank is well-positioned to work with and support our local communities. Whether it's working with local businesses, lending at very competitive rates or meeting the needs of consumers, Roselle Bank is dedicated to building lasting relationships with fellow community members. Through the years, Roselle Bank has grown to serve residents in Union, Hunterdon, Somerset, Essex, Middlesex, Morris, and Warren Counties.
With our highly-skilled staff, unparalleled client service and branches located in Roselle, Bernardsville, High Bridge, and Cranford, we can meet the needs of individuals and businesses at any stage of their financial life cycle.
Today, Roselle Bank is stronger than ever. We are proud that we have helped people to own homes, provide for retirement, send their children to college, and simply live better lives for almost 130 years. We look forward to continuing our rich tradition of providing personalized and convenient banking services to the communities we serve.
For more information on our full suite of banking products and services available to you, visit us at www.roselle.bank or stop by any of our branches.
Roselle Bank is an Equal Opportunity Lender and member of the FDIC.
Roselle Bank
Phone: 908-245-1885
Fax: 908-245-2256
Enjoy back to school savings of up to 55% off

!
20%-55% off classroom essentials for all grades, teacher supplies, snacks and more

10% off top performing laptops, desktop computers, flash drives, monitors, mice and keyboards
Plus, up to 10% off everything else in the store and online, every time you shop.*
Attention Young Adults:
Career Fair September 12th
UCEDC
75 Chestnut Street, Cranford, NJ 07016
Info: 908-527-1166 - Rogers Ramsey
Understanding your small business's financial performance is fundamental to knowing if the business is meeting your financial goals or if changes are needed in the way you do business. We'll use realistic sample financial statements to illustrate the concepts we are discussing. Participants are also encouraged to bring their existing financial information to discuss or evaluate in class.
Join Community Access Unlimited for a day of food, prizes, games & activities, and music as we gather to celebrate our accomplishments, enjoy fellowship, and raise money to assist adults & youth with special needs!
The Ira Geller Walk-a-thon is dedicated to former member, Ira Geller, who was always enthusiastic about the annual Walk-a-Thon and advocating for adults with developmental disabilities.
Please join us for the Assisted Living Week
Senior's Community Bingo
Saturday, September 15, 2018
10:00AM-1:00PM

Amber Court of Elizabeth
At Town Square Adult Medical Day Care

Entrance
1155 East Jersey Street
Elizabeth NJ, 07201
RSVP: 908-352-9200
dsanches@AmberCourtAL.com
Danila Sanches, Director of Community Relations


Come to "MINGO" with other seniors
Monday, September 17, 2018
10:30 am Registration & Brunch Buffet
12:00 pm Noon Shotgun Start
For more information, to purchase player packages or to be a sponsor, please
CLICK HERE!
Health and Wellness Expo September 22-23:
Union County Means Business EXPO


September 26, 2018
5 - 7:30 PM
Warinanco Sports Center


Vendor Tables Available $100
Thursday, September 27, 2018
8:30 AM - 1:00 PM
Liberty Hall Corporate Center


1085 Morris Avenue

,

Union
Info: 908-527-1166 - Rogers Ramsey
This FREE workshop will give you the practical information you need to get on a schedule and start winning contracts. You'll learn:
How to begin the process of getting a Federal Supply Schedule.
Which schedule is right for you?
How to decipher the terms and conditions for a Federal Supply Schedule.
The power of Generosity is doing big things for NJ Nonprofits!
SATURDAY JUNE 8, 2019
6th ANNUAL MULTI-CHARITY 5K WALK/RUN
The Generosity Series will be back in Oak Ridge Park on June 8, 2019 for another very powerful fundraising opportunity for your organization.
Generosity NJ's 5th annual multi-charity 5K walk/run just last month saw 8 nonprofit organizations raise over $120,000, achieving an unheard of $715.52 average raise per participant! This number is more than 20 times the national 5K average!
Participating charities: The Gateway Family YMCA, Second Street Youth Foundation, Essex County Family Justice Center, Restore Ministries, Jewish Family Service of Central New Jersey, Esophageal Cancer Action Network, The Theater Project, and Homefirst.
Generosity handles the traditional planning for this event, leaving the charities end to focus solely on recruiting fundraising participants (for which we provide directional support).
Generosity has raised over 7.4 million for our charity partners, and we do not take a penny of your fundraising or registration dollars.
"Generosity's event saw a greater ROI than any other event we have ever put on. We raised more than our own GALA, and it was easy to do." - Robert McGuire, Executive Director, Cerebral Palsy Nassau County, NY
You too can get into Generosity NJ 2019!

Don't miss the early bird discount which expires September 28, 2018

.
Please reference
GE2019
for the early bird discount. For details contact Amanda Gerrity at
amanda@generosityseries.com
.
2019 will be another great fundraising event. Join us!
Very best,
Garth Knorr
Chief Development Officer
The Generosity Series
At Warinanco Sports Center:
REDUCED PRICING RESERVE NOW:



Greater Elizabeth Chamber Of Commerce
2018 Bermuda Cruise

September 29-October 4
Greater Elizabeth Chamber of Commerce
2018 Bermuda Cruise
5 night sailing
ROYAL CARIBBEAN CRUISE LINE
Anthem of the Seas sailing round trip from Cape Liberty (Bayonne) NJ
September 29, 2018-October 4, 2018
Visiting the beautiful port of
Bermuda
$50.00 onboard credit per cabin, Priority Check In, & Champagne in Cabin
Inside Cabin

NOW $790.46

WAS $821.20 per person

Ocean View

NOW $812.96

WAS $884.20 per person

Balcony Cabin

NOW $898.46

WAS $1042.20 per person

Single and third and fourth passenger rates upon request
Prepaid gratuities of $72.50 pp can be added to the cabin price on request
The above rates are based on double occupancy and include all current port charges and government fees
and could be subject to change prior to final payment. A fuel surcharge does not apply at this present time but may be assessed should the cost of fuel increase. Once reservations are confirmed any name or category changes may result in additional fees. Purchase of cancellation insurance is strongly suggested and pricing will be provided at time of booking. All credit card payments will be accepted over the phone. Call Rich at 908-557-5222 Ext. 4096 or email
rmigliorato@aaanortheast.com
to book your cruise.
No cabin or pricing can be guaranteed until full deposit and names are received.
Union, NJ 07083


PAYMENT SCHEDULE: (per person)

FULL PAYMENT DUE Once Reservations are confirmed
Click for a printable flyer
Play Golf Support the Boys & Girls Club!
Monday, October 1, 2018
10:30 am - 8:00 pm
Boys & Girls Clubs of Union County
For more information, to purchase player packages or to be a sponsor, please
CLICK HERE!
EDC 6th Annual Leadership Award Reception:

Hilton Newark Airport
1170 Spring Street
Elizabeth
Honoring
:
Lieutenant Governor Sheila Oliver
Gary Pfarr, President of the Union County Building Trades
Tomas Porturas, Wells Fargo Bank
Staci Berger, Housing & Community Development Network of NJ
John Wohlrab, Waste Management
Gordon Haas, Greater Elizabeth Chamber of Commerce
Join us to see why you should book your next event here!
Thursday, October 4, 2018
5 - 7:30 PM

Crowne Plaza
901 Spring Street
Elizabeth, NJ 07201
Join us to see why you should book your next event here!
Free admission with registration


Appetizers and Happy Hour Cash Bar
Join Us for an Evening
Celebrating Women's Leadership
40th Anniversary Honorees:

Lt. Governor Sheila Oliver
Congresswoman Bonnie Watson Coleman
Assemblywomen Linda Carter, Nancy Munoz,
and Annette Quijano
Mayors Shelley Brindle (Westfield), Suzette Cavadas (Union), Christine Dansereau (Roselle), Colleen Mahr (Fanwood), Nora Radest (Summit), and Dahlia Vertreese (Hillside)
Union County Clerk Joanne Rajoppi
Freeholders Angela Garretson, Bette Jane Kowalski, Rebecca Williams, and
Vernell Wright (retired)
Featured Speaker:
YWCA USA CEO, Alejandra Y. Castillo, Esq.
Interested in becoming a sponsor?
See our 2018 40th Gala Sponsor Form
YWCA Union County
1131 East Jersey St. · Elizabeth, NJ 07201
Phone: (908) 355-1995 ext. 119
Fax: (908) 355-2010
7th Annual Elizabeth Coalition to House the Homeless TLD Recognition Breakfast:
Sponsorships and Advertising Opportunities beginning at $100!
Tickets: $75 each
Rotary's Taste of Elizabeth
Monday, Oct 15th
Renaissance Newark Airport Hotel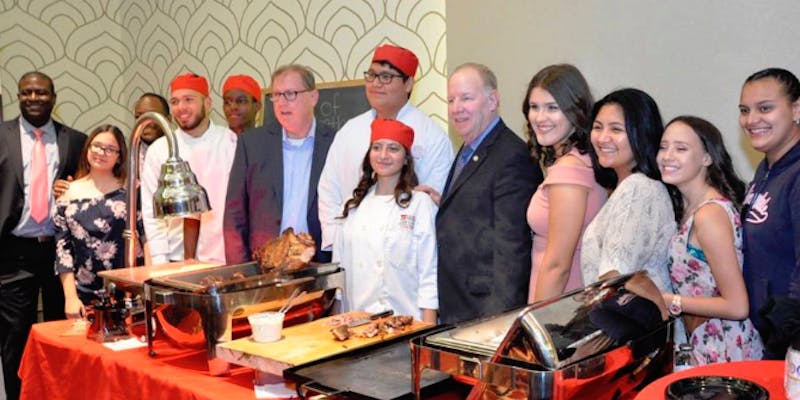 We are currently looking for donations for the Tricky Tray!
If you or your company would like to donate a complete basket or items to be put in a basket, please contact Phyllis Reich at 908-820-4037.
Community Access Unlimited
Annual Gala Dinner Dance:
Thursday, Oct. 18, 2018
6:00 - 10:00 PM

Marriott Newark Liberty International Airport Hotel
1 Hotel Road
Newark
Silent Auction highlighting exciting vacations, a jewelry bar, and choice memorabilia you can't find anywhere else!

Senate President Stephen M. Sweeney
NJ State Legislative District 3
Humanitarian of the Year


Senator Nicholas P. Scutari
NJ State Legislative District 22
Public Leadership Award

Christopher Zucosky
Phoenix Specialties, LLC
Ira Geller Award

With Special Guest
Assemblyman Jamel Holley
NJ State Legislative District 20
Join our team!
Careers as diverse as
our products and services.
We're Hiring Part Time Positions
Branch Customer Service Rep. - Union, NJ
We will train! Coaches, teachers and second career seekers are a perfect fit.
It's time to upgrade your career to AAA.
For more information and to apply online, please visit our website:
AAA.com/Careers
Comprehensive Benefits include:
Medical, Dental & Vision Programs
AAA Northeast Retirement Plan
(401k with Company Match & Annual
Contribution)
Vacation & Paid Time Off
Learning & Development Programs
Career Development Initiatives
Elizabeth Public Library
September Newsletter
Available
Are you late returning your book?
Have you forgotten to call to renew your materials?
No worries!
With the help of our Library consortium, LMxAC, we are testing a pilot pro-gram of automatic renewals. If you have an item checked out and you fail to return it or renew it on time, the item will automatically renew, when there are no holds on the item. So if the material is very popular and everyone is anxious to read it, there will not be an automatic renewal. But if no one else has requested the title, you're safe from overdue fines and the due date will be extended.
Automatic renewals apply to most books and audiobooks, but not to DVDs. Check our website for more details. This pilot project will be reviewed in December and made permanent or canceled.
How will you know if your items have been renewed? If we have your email address (yes, it's a good idea to give us your email), you'll get a message like this "The following item(s) currently on loan to you were renewed today." So relax, we've got you covered!
The Benefits of Solar For Commercial Real Estate Owners
We might be past the point where solar can be labeled an "alternate energy source." Even

Chicago's flagship McDonald's has gone solar

. These days, switching to solar in the Commercial Real Estate (CRE) industry is less fringe and more mainstream, with even smaller developers hopping on the green bandwagon.

Big names in CRE have been getting a lot of press for their renewable energy initiatives, including companies like Prologis, General Growth Properties and Hartz Mountain.

But there are still some misunderstandings about the pros and cons of converting to solar. Most developers understand that with the addition of solar panels to a building, less carbon is released into the environment. But if that's not a enough of a reason to switch, the economics make a strong argument for solar panel installation in commercial real estate.

The retail industry is facing challenging times.
Business Insider
reported that electronics, grocery stores, department stores and drug stores are among the sectors threatened by online retailers, such as Amazon. Businesses that were considered "too big to fail" such as Toys "R" Us, Payless and Radio Shack are among the
300 plus companies that filed for bankruptcy
within the last year. This makes it more important than ever to find a differentiator along with new revenue streams. One of the ways that many businesses are setting themselves apart is with renewable energy initiatives, and even more specifically, solar.
Click to read more about how SolarKal can help YOU.
Feel free to share this email with co-workers, friends or business associates you think would benefit from its information by clicking the "Forward this email" link below.
If you are not the original recipient of this email and would like to be added to our list contact our office at 908-355-7600 or email
lpaolella.gecc@gmail.com
Greater Elizabeth Chamber of Commerce Media Sponsor:
Thank you to our Sustaining Members:
Mark Your Calendar:
If you are not the original recipient of this email and would like to be added to our list contact our office at 908-355-7600 or email
lpaolella.gecc@gmail.com
Visit Our Partners
Click the Image