Mahalo for Voting
for 'Imiloa!
Thanks to those who participated in the 2017 Hawaii Tribune Herald "Best of East Hawaii" competition. 'Imiloa Astronomy Center earned 1st place in three categories:
Best Family Entertainment
Best Museum

Best Art Gallery
We were also a finalist in two categories:

Best Visitor Attraction

Best Place to Get Married
Mahalo for the support of our community!
Saturday Keiki Hour
Keiki are invited to participate in interactive programming and activities exploring "Earth, Sea, and Sky" in the exhibit hall during Keiki Hour every Saturday in September at 10 am.

Available in the
Bank of Hawaii
'Imiloa Store

This unique book covers the history of surfing from antiquity to 1959. The Illustrated Atlas of Surfing History contains art work and text derived from historic documents. Inquiries? Call our store at (808) 932-8903. Don't forget to ask for your 10% member discount. You will also receive Member Loyalty Credit for additional savings!

Welcome to our New Corporate Member!
Ka Haweo Member
.......
Mahalo to our Renewing Corporate Members!


.......


Mahalo to our

Corporate Members!
Corporate 'Ohana
Mahalo
Mahalo for your support of our programs. Please send your comments and feedback to our Membership Office at membership@imiloahawaii.org or call (808) 932-8926.
This Month's Articles at a

Glance
Live Daily Presentations in CyberCANOE


We are continuing to offer live presentations exploring the relationship between earth and sky in our CyberCANOE data visualization theatre. If you haven't yet ventured into 'Imiloa's CyberCANOE (Collaborative, Analytics, Navigation and Observation Environment), take advantage of these daily offerings and experience one of our newer exhibit spaces. Live astronomy talks are currently offered in CyberCANOE at 11 am, 1 pm & 3 pm daily (Tues-Sun).


Join us for another First Friday at 'Imiloa on Friday, September 1, when we will offer extended hours until 8 pm, with a live astronomy presentation in our
interactive CyberCANOE exhibit at 7:00 pm. Regular admission prices apply. As always, admission to the center is free for 'Imiloa members.

Join us for a screening of Voyagers: The First Hawaiians on Friday, September 8 at 7 pm. "From director Paul Csige, comes the incredible true story of the discovery of Hawai'i. Told through the art of Herb Kawainui Kane, this epic film will show you a place and a people you never knew existed."
Member ticket pricing is $8 for UHH/HawCC Student, Kupuna, Individual, Dual, and Family Members; $6 for Patron Members; Free for Silver, Gold, and Corporate Members. General admission tickets are $10. Pre-purchase tickets at the 'Imiloa front desk or by phone at 932-8901.
Welcome Home, Kalepa!

"Home is the sailor, home from the sea..."
'Imiloa is very excited to welcome back Chad Kalepa Baybayan, newly returned to Hawai'i after three years as Captain and senior crew member on the Polynesian Voyaging Society's Malama Honua Worldwide Voyage (2014-2017). Kalepa is resuming his position as 'Imiloa's Navigator-in-Residence, a role in which he will lead the continuing development of 'Imiloa's diverse portfolio of wayfinding-themed educational curricula, activities, and materials.

'Imiloa will host a special evening with Kalepa, when he will present his experiences and reflections on the Worldwide Voyage in a talk on "Bringing Home the Lessons of the Worldwide Voyage." The event is scheduled for Friday, September 22, 2017, at 7:00 pm in Moanahoku Hall. Don't miss an opportunity to hear a firsthand report on the epic journey of the iconic double-hulled sailing canoe, Hokule'a, which traveled 42,000 nautical miles over 3 years, visiting 150 ports in over 20 countries, while training a new generation of navigators, educators, scientists, and community stewards. Kalepa will discuss the lessons learned through the Worldwide Voyage and its mission to grow a global movement to "malama honua," or care for our place on island earth and its people. And he will share ideas for how those experiences can be applied here at home to educate a new generation to explore and honor our connections with earth, sea, and sky.

Kalepa Baybayan has been an active participant in the Polynesian voyaging renaissance since 1975. In 2007 he was one of five Hawaiian men initiated into the order of Pwo, a two thousand year old society of deep-sea navigators, by their teacher, Master Navigator Mau Piailug on the island of Satawal. Kalepa has served as 'Imiloa's first Navigator-in Residence since his appointment in 2009, and we are thrilled to welcome him home!

Space is limited so be sure to purchase your tickets early! Member ticket pricing is $8 for UHH/HawCC Student, Kupuna, Individual, Dual, and Family Members; $6 for Patron Members; Free for Silver, Gold, and Corporate Members. General admission tickets are $10. Pre-purchase tickets at the 'Imiloa front desk or by phone at 932-8901.
September
's Topic:
Stories from the Submillimeter Sky
Speaker:

Miriam Fuchs, Submillimeter Array (SMA)


Host:

Emily Peavy, 'Imiloa
Astronomers look to the skies above to probe the mysteries of the cosmos, but what can we learn when studying the universe in submillimeter wavelengths? This relatively unexplored region of the electromagnetic spectrum promises exciting answers to some of the most pressing questions in astrophysics, such as how are planets and stars formed? Discover answers to these deep-space questions at 'Imiloa's
Maunakea Skies
talk with Miriam Fuchs, Telescope Operator and Outreach Specialist at the Smithsonian Astrophysical Observatory's Submillimeter Array (SMA) on Friday, September 15 at 7:00 pm.
'Imiloa's monthly
Maunakea Skies
presentations are held on the third Friday of each month. A special guest representing one of Maunakea's world-class observatories presents on a topic of his/her choosing. After the presentation, audience members are able to ask their own astronomy questions during a Q&A with the special guest presenter.
Member ticket pricing is $8 for UHH/HawCC Student, Kupuna, Individual, Dual, and Family Members; $6 for Patron Members; Free for Silver, Gold, and Corporate Members. General admission tickets are $10. Pre-purchase tickets at the 'Imiloa front desk or by phone at 932-8901.
Navigating the Night Sky is a new interactive program that features observations from the Visitor Information Station (VIS) on Maunakea, coupled with a presentation by 'Imiloa staff on the oceanic navigational starlines and Hawaiian Star Compass. Join us Friday, September 29 at 7:00 pm.

Member ticket pricing is $8 for UHH/HawCC Student, Kupuna, Individual, Dual, and Family Members; $6 for Patron Members; Free for Silver, Gold, and Corporate Members. General admission tickets are $10. Pre-purchase tickets at the 'Imiloa front desk or by phone at 932-8901.

Maunakea Speaker Series

A presentation by Dr. Steven Businger, University of Hawai'i at Manoa, Department of Atmospheric Sciences

The next scheduled program in the Maunakea Speaker Series will be held Tuesday, September 26 from 7 pm to 8 pm at UH Hilo, Science & Technology Building (STB) Room # 108.
Dr. Steven Businger, Professor and Chair of the Dept. of Atmospheric Sciences at the University of Hawai'i at Manoa, will discuss the climate of Maunakea -- past, present, and future -- including historic climate observations and simulations of future weather. Using output from a Global Climate Model, he will share high-resolution "Weather Research Forecasting" simulations for the central Pacific in order to predict future weather and climate variability of the alpine and subalpine zones on Hawai'i Island. This research has enabled better understanding of the influence that Hawai'i's high mountains are likely to have on future weather, while providing direction for biologists, entomologists, and astronomers in evaluating the impacts of climate change on the high-altitude ecology of Maunakea and other high mountains in Hawai'i. Dr. Businger will also share thoughts on how we might mitigate and plan for a warming climate to come.
Read about the speaker >
The Maunakea Speaker Series is a monthly scholar-focused presentation offered as a partnership among the Office of Maunakea Management, 'Imiloa Astronomy Center, and the University of Hawai'i at Hilo Department of Physics & Astronomy. This collaborative venture gives the community unprecedented access to fascinating research taking place on Maunakea and other topics unique to the Island of Hawai'i. A venue for scholars to share their stories and learn from discussion, the series promotes understanding and collaboration across all sectors of the community, while addressing the goals of the University of Hawai'i at Hilo.


Introducing Patrice Smith


Meet Patrice Smith! Some of you may already have had the pleasure of hearing a live presentation by
Patrice in the 'Imiloa Exhibit Hall. She joined us last year as a UH Hilo student intern, and began focusing on new ways to share our visual technology. Patrice has quickly become an integral part of our team, using 'Imiloa's hi-tech tools to give dynamic and interactive presentations in both the planetarium and CyberCANOE, the new data visualization theatre in our Exhibit Hall.

Patrice comes to us from southern California, where she earned an associate's degree in math and science in Riverside. She is majoring in astronomy as an undergraduate student at UH Hilo, where she enjoys studying the patterns of the natural world through the lens of other worlds, stars, and galaxies. She is also relishing the adventure of living on Hawai'i Island and the opportunity to connect with diverse people and the Cosmos as well. During her free time, she especially enjoys long walks and experiencing the different microclimates on the Big Island.

Make a point to attend one of Patrice's upcoming presentations in CyberCANOE, where she explores the relationship between earth and sky and immerses visitors in dazzling data from across the observable universe! CyberCANOE presentations are scheduled at 11 am, 1 pm, and 3 pm daily.

Image of the Month
Dragonfly 44, a Galaxy of 99.99% Dark Matter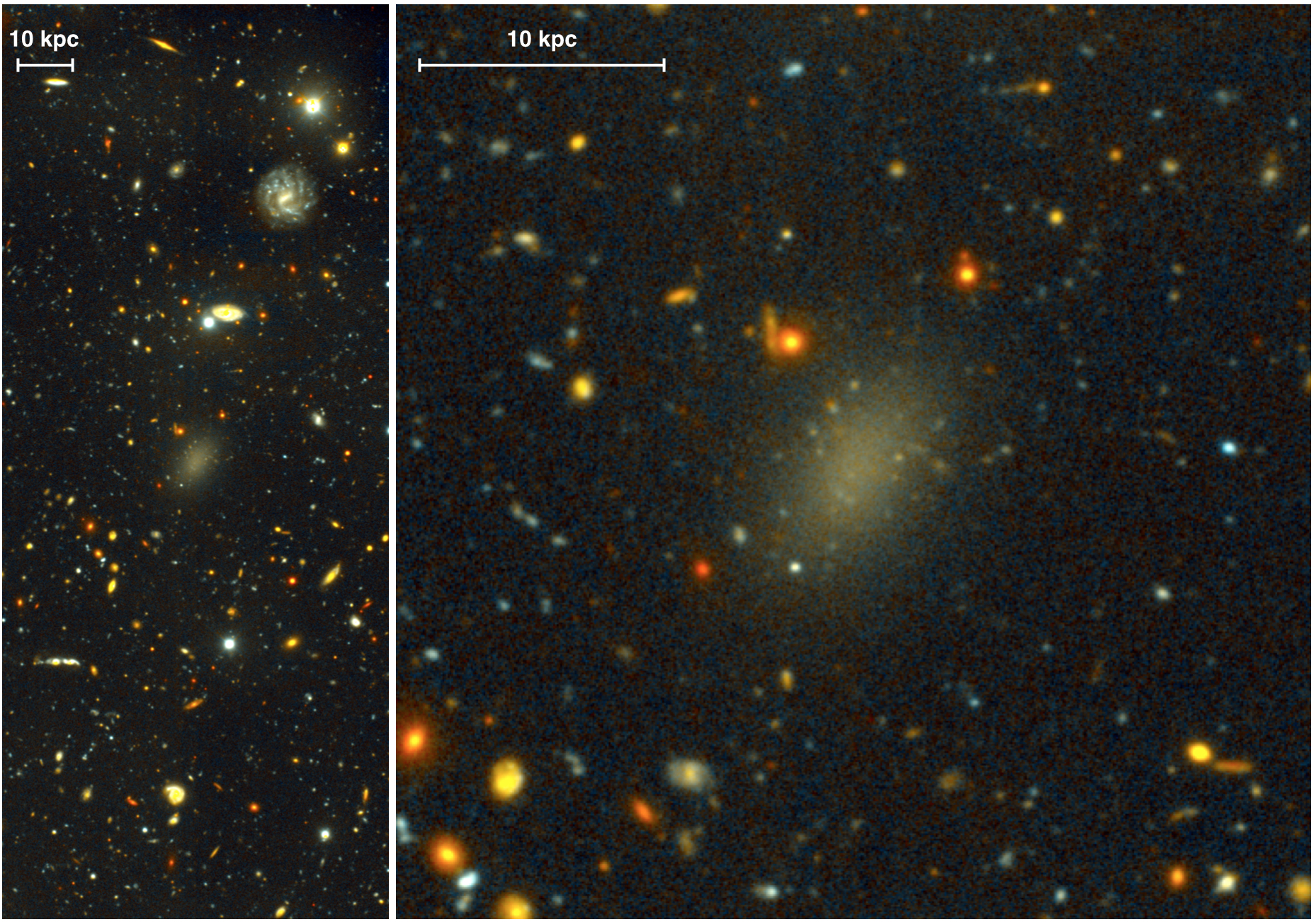 Image Credit: Pieter van Dokkum, Roberto Abraham, Gemini Observatory/AURA


Astronomers have used the Gemini Observatory and Keck Observatory to observe and study a mysterious galaxy made up almost entirely of Dark Matter. The team utilized the telescopes to measure the motion and speed of stars and clusters around the core of the galaxy.
"Motions of the stars tell you how much matter there is," says Pieter van Dokkum, lead author for the project. "They don't care what form the matter is, they just tell you that it's there. In the Dragonfly galaxy stars move very fast. So there was a huge discrepancy: using Keck Observatory, we found many times more mass indicated by the motions of the stars, than there is mass in the stars themselves."
These observations indicate that Dragonfly 44 is as massive as our own galaxy. However, only one hundredth of one percent of that is in the form of stars and "normal" matter; the other 99.99 percent is in the form of Dark Matter. Observations of this galaxy lead to big implications in the continuing study of dark matter.
In the image above we see the dark galaxy Dragonfly 44. The image on the left is a wide view of the galaxy taken with the Gemini North telescope using the Gemini Multi-Object Spectrograph (GMOS) as part of a Fast Turnaround program. The close-up on the right is from the same very deep image, revealing the large, elongated galaxy, and halo of spherical clusters of stars around the galaxy's core.