A Word on "Priesthood" from Our Executive Presbyter
by Aisha Brooks-Lytle, Executive Presbyter

As we continue to explore our theme of "flourish" through the year, we took the time to remember that we are truly a "priesthood of all believers" at our August Presbytery meeting. It was a delight to listen to scripture read in different languages and to hear sermons delivered from those serving in our churches as clerks, youth leaders, and Stephen Ministers. I pray that when you hear the word "priesthood" that you will embrace the vision that each person in the body of Christ is a gift and has spiritual gifts to make a difference in the church and in the world. In this month's newsletter, there are wonderful workshops, events, and programs that will help to equip the priesthood in this presbytery to be nourished and strengthened in the days ahead. Share the good news to all in your care that they are called, set a part, and sent to be vital in God's mission in the world.
#flourish
Boundaries Training
by Donna E. Wells, Stated Clerk

The next Boundaries Training, geared towards those in the pastorate, will be held on Tuesday, September 17 from 12:30-3:30 pm. More information and registration can be found here. This is mandatory training for our pastors!
Presbytery Officer Training |

Saturday, October 26, 2019
by Aisha Brooks-Lytle, Executive Presbyter

9:30-12:30PM @ North Decatur Presbyterian Church
Please join us for a morning of training for elders, deacons, and clerks of session. We will gather for plenary and break sessions for the different groups. There is no cost to the event. Please RSVP by clicking here so that we can be sure to accommodate all who are attending the event. Light refreshments will be served.
News from the Grants Committee
by Chip Blankinship, Director of Operations

Compassion Grants:
The Grants Committee is now receiving applications for the annual Compassion Fund Grants. All applications must be received by midnight on Tuesday, October 15, 2019. For a description of the grant and to access the grant application, please visit the Grant Opportunities page on our website, which may be accessed
here
. We look forward to reading about the great work being done in our congregations in the area of compassion ministries. Notice of awards granted will be sent in early November.
PATH Grants: PATH (Presbyterian Answer to Hunger) Grants are typically offered each fall. However, due to very low participation in the Atlanta Hunger Walk/Run last Spring and, therefore, very little money available for PATH grants, the PATH Grant will not be offered this fall. The Grants Committee is hoping that participation levels will be back up for the 2020 Hunger Walk/Run and that the grant can be offered again next fall. (Mark your calendar: The 2020 hunger walk will be held on Sunday, March 15, 2020. Please plan to participate!)
Highlights of the August 17th Stated Meeting
by Donna E. Wells, Stated Clerk
Memorial Drive Ministries, in partnership with Memorial Drive Presbyterian Church, hosted the August 17, 2019 Stated Meeting of the Presbytery. The day was beautiful outside, but it was hard to match the Spirit on the inside as we sang, heard testimony and witness of the Priesthood of all believers, welcomed new members and candidates into the preparation process, and heard scripture (Romans 12:3-8) in four languages! Here are the highlights:
Worshiped through the leadership of the Shalom International Ministries Musicians.
Welcomed our Synod Executive, Joyce Lieberman.
Were inspired by our Executive Presbyter as she shared her vision of our theme: The Priesthood of All Believers.
Heard the call to ministry serving as a Clerk of Session, Stephen Minister and engagement with youth.
Said a heartfelt "Thank you!" to Joe Sandifer for his service on the Pastor-to-Pastor Team, and welcomed Jane Hubbard as she begins a new chapter in that ministry.
Welcomed six new members to presbytery: Barrett Abernethy, Leigh Bonner, Nayoung Kim, Whitney Booth Lockard, Erin Morgan and Dana Waters.
Welcomed two candidates for ministry: Hae-Jin (Jinny) Choe and Peter Thornton.
Heard about all the exciting ministries on the Memorial Drive campus and the vision of Memorial Drive Ministries.
Heard about the denomination's initiative, Decade of the Intercultural Church.
And shared the extraordinary hospitality of snacks (Just Bakery) and lunch (the Zo Church, Memorial Drive Church, Chin Church, Shalom International Ministry) from the hands of the many who find engagement on this campus
The next meeting of Presbytery will be Tuesday, November 12 at Eastminster Presbyterian Church located in Stone Mountain, GA.
by

Miranda Emery, Office Manager & Media Specialist, Presbytery of Greater Atlanta



On October 7-10, Montreat Conference Center will host CoInspire, a conference addressing systemic racism in the church.
For this event, Montreat is offering an incentive for groups. This is how it works:
Each group must have an initial registrant who registers and pays the full commuter rate. Additional registrants may then join the group by typing the initial registrant's name into a "Comments" box, which is located on the last page of the registration process.
We started a Presbytery of Greater Atlanta Group, and Todd Speed agreed to be our initial registrant. So, when you register for CoInspire, type "Todd Speed Group" into the Comments box located on the last page of registration. You will receive a $25 discount for being part of the Presbytery of Greater Atlanta Group. Note: You will receive two receipts via email. Your discount will not show on your first receipt, but will show on your second receipt.
I'm keeping a list of those on our presbytery's group. Once you register, let me know so that I can add you to the list. My email is
memery@atlpcusa.org.
#montreat #coinspire #atlpcusa
1001 New Worshiping Community Assessments
November 11-14, 2019
by

Lindsay P. Armstrong, Executive Director, NCDC
| | |
| --- | --- |
| | |
| Yes, this really is Mary Cox (NCDC Moderator) and Michael Gehrling (1001 Associate) from last year's Assessments. Join us! | |
The Presbytery of Greater Atlanta is full of exciting new worshiping communities. In fact, we have 26 communities currently under care, and if you are feeling called to start a community, let's talk.
We want to help visionary leaders discern whether or how they might prepare for this ministry, and we want to identify strong leaders for this demanding yet energizing call. As you read this, we are preparing and recruiting potential church starters to take part in a 3 ½-day assessment in Atlanta, November 11-14, 2019.
This is a time when leaders discern how their own leadership style, strengths and capabilities lend themselves to start up. NCDC has two scholarships for PGA members who are interested.
If you are interested, if you'd like to be considered for a scholarship, or if you'd like to nominate a candidate, please get in touch with Lindsay Armstrong at
larmstrong@atlpcusa.org
.
TheoEd Talks
| September 22 | 5pm | The Carter Center
by Ryan Bonfiglio, Assistant Professor in the Practice of Old Testament and Director of Public Theological Education at Candler School of Theology
TheoEd Talks is an ecumenical speaker series that brings together leading thinkers in the church and the academy to give a TED-style "talk of their lives" in 20 minutes or less. The next talk will be held on Sunday, September 22 beginning at 5 pm in the Carter Center (
453 John Lewis Freedom Pkwy NE, Atlanta, GA 30307)
This season's speakers include:
TheoEd is presented by First Presbyterian Church of Atlanta and Candler School of Theology at Emory University. For tickets and more information, visit
TheoEd.com
.
Prison Ministry Missionary
by Chol Kim

Greetings In Christ,
I thank the Lord for allowing all the brothers and sisters in Christ to come together to serve our brothers in Christ at Smith State Prison, who are in need of the Good News.
Rev. Aisha Brooks-Lytle (Executive Presbyter of Greater Atlanta) preached to the brothers that no matter what is happening outside, to flourish inside. Rev. Kevin Park gave an encouraging message to not lose hope and thank the Lord always.
Through Grace of the Lord,
we have been able to serve as a volunteer at Smith State Prison for the past 16 years. We are called "Mama Kim" and "Papa Kim" by our spiritual sons. Even though we are not their biological parents, we treat them like they are our own.
Throughout that time, we faced a fair amount of challenges. However, Almighty God gave us wisdom and strength to overcome any obstacle.
This year's highlights include:
The Annual Evangelical Fellowship in August that feeds 1,600 brothers and prison staff.

Christmas Service gifts to 1,600 brothers (soap, shampoo, toothpaste, lotion, ramen, chips, and candy).

Two GED graduations (March and September).

Two Baptism Services

(May and October) hosted by Korean Central Presbyterian Church.

Every Tuesday we feed bands, detail, and visit randomly chosen dorms.
Your prayers and embrace are much needed for those returning citizens (former inmates).
Special thanks to:
Korean Community Presbyterian Church
Korean Central Presbyterian Church
ECKAM of Presbytery of Greater Atlanta
Grace Presbyterian Church
Jacksonville Korean Presbyterian Church
Presbyterian Women in the Presbytery
by Gwynne Mesimer, Moderator, Presbyterian Women for the Presbytery of Greater Atlanta
We are announcing our Fall Workshop! Our theme will be Matthew 25 with a focus on the Mission Opportunities here in the Presbytery. The workshop will be held on Saturday, September 28 at Clairmont Presbyterian Church, 9:00 am - 2:00 pm.
Our keynote speaker will be Rev. Dr. Fahed Abul Akel who will update us on the situation in Palestine. Some of the missions that will be highlighted in our breakout sessions are:
Commercial Sexual Exploitation of Children,
Street Grace; Need for a Middle School at La Gonâve Haiti mission; Casa Materna;
Peacemaking Partnership
;
Welcoming the Stranger with AMIS
.
Please plan to join us for an informative time and worship on September 28. If you have questions, please contact Gwynne Mesimer, Moderator PW for the Presbytery of Greater Atlanta.
Gwynne Mesimer at gmesimer@comcast.net or 678.787.8239.
Invitation to a Mental Health Workshop @ Emory PC
Emory Presbyterian Church is hosting a workshop series called
Struck Down, Not Destroyed: An Honest Discussion About Mental Health on Sundays September 8, 15 and 22 from 6-8 pm in the Fellowship Hall. Emory is located at 1886 N Decatur Rd, Atlanta, GA 30307.
All are invited to attend this vital event as we seek to create better awareness about mental health, remove stigmas and provide support. Be sure to bring your friends, family members and neighbors.
The series will contain expert insight, personal stories, meaningful conversations, and valuable resources. The keynote speaker will be Laura Ware, LPC, who lives and works in Gwinnett County. RSVP at 404-325-4551 or
office@emorypresbyterian.org
.
"Your walk may be hard, but you're not alone. We're in this together."
---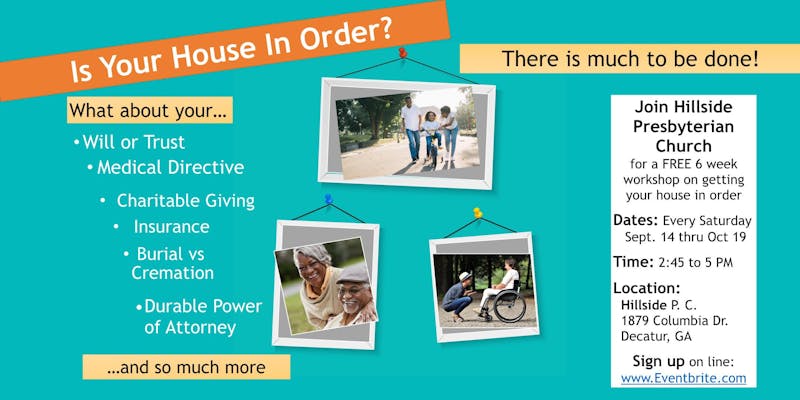 Is Your House in Order?
Hillside Presbyterian Church invites everyone to hear from experienced professionals who will talk about...things we don't want to think about including wills, estate planning, medical directives, care homes, insurance, Power of Attorney, funeral planning, and more. The free workshops will be held each Saturday 2:45- 5 PM , from September 14 thru Oct 19.
---
Book Launch with Catherine Meeks and Nibs Stroupe for the new book:
Passionate for Justice: Ida B. Wells as Prophet for Our Time
In
Passionate for Justice: Ida B. Wells As Prophet for Our Time
, authors Catherine Meeks, PhD, and Nibs Stroupe create a guide for the current state of affairs in American culture that is enlivened by the historical perspective of Wells' search for justice.
Meeks is the retired Clara Carter Acree Distinguished Professor of Socio-Cultural Studies at Wesleyan College and the Director of the Absalom Jones Center for Racial Healing. Gibson ("Nibs") Stroupe served as pastor of Oakhurst Presbyterian Church in Decatur, Georgia, for 34 years. Oakhurst is nationally known for its multi-racial and multicultural ministry. Both authors have dedicated themselves to working, writing, and developing ministries oriented toward justice, equity, and mercy. This book can be used in all settings, but most especially in churches (pastors and other church leaders, study groups), seminaries, and universities
(summary from Georgia Center for the Book).
You can pre-order this book by clicking here.
Events free and open to the public:
September 24, 6:30 PM. The Georgia Center for the Book event is at the First Baptist Church of Decatur. Books will be available for purchase and to have signed.
October 8, 7-9 PM at The Cathedral of St. Philip - Book launch, hear from the authors, and book signing. Register here.
---
Trinity ATL. Explores with Terence Lester and Love Beyond Walls
The Dignity Museum is a portable museum housed in a shipping crate. The museum lifts up stories of our brothers and sisters without housing throughout Atlanta.
Terence Lester, the founder of the museum, was once a teen without a home, and before creating the museum, he spent a month on the streets of Atlanta building relationships with our neighbors who live on the streets.
The museum's location is intentional - a shipping crate highlights impermanence, portability, and life on the move, all of which relate to homelessness.
A group of Trinity Young Adults visited the museum last spring and met with Terence. We were each handed a piece of cardboard and a marker and tasked with making a sign we would hold if we were without housing and food for ourselves and a child. This exercise sparked great conversation between us. Terence is dedicated to lifting up the dignity of all God's children, a commitment Trinity also holds.
Join us at Trinity Presbyterian Church (Atlanta) on October 20th, 7-9 PM to learn more about Terence's story and work. You're in for a treat. This event is free and open to the public. Questions? Contact Sarah Wikle, Trinity's Director of Engagement,
swikle@trinityatlanta.org
.
The presbytery has a page dedicated to advertising employment opportunities within our congregations and partnerships. If you would like to browse opportunities or submit a new opening click here.
Click here for the Calvin Center's programs.
The next newslett
er
will go out September 30. Articles will be accepted through September 16. The following newsletter will go out October 31. To request space for an article, email your Congregational Consultant or Mark Sauls at
msauls@atlpcusa.org
. Click here to view submission guidelines.
Ivanov, Sergey, 1864-1910. Blind Men, from Art in the Christian Tradition, a project of the Vanderbilt Divinity Library, Nashville, TN. http://diglib.library.vanderbilt.edu/act-imagelink.pl?RC=55627 [retrieved August 28, 2019]. Original source: http://commons.wikimedia.org/wiki/File:1883_Ivanov_Blinde_anagoria.JPG.