September 2020 | vol. iii, #9
_________________________________________________________________
_________________________________________________________________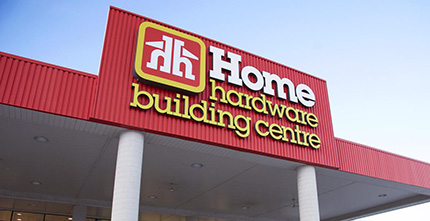 MAINTAINING A CORPORATE CULTURE IS PRIORITY ONE FOR THIS RETAILER
Adam MacLeod is the co-owner of three Home Hardware stores in southwestern Ontario. He's always been passionate about retail, but what has moved him the most is the idea of coaching others.
MacLeod and his business partner Craig Geerlinks recently opened their third store in Komoka. When they were both identified to co-run the business, they didn't know each other very well. But, fortunately, they found they were aligned on all the important things—and for the two of them, the most important element was the company's culture.
"There's one thing that Craig and I have created at all three of our stores and that's a really nice culture," says MacLeod. "It's about really good people and that helps us a lot."
He says their business doesn't have turnover—their employees stay on because they simply like to work there. MacLeod adds that customers can sense that staff feel empowered and involved and that adds to their experience in the store.
But that kind of culture takes investment and effort on behalf of the leadership team.
"If you've got good people, you need to recognize them," says MacLeod. "You need to pay them appropriately. You need to respect them, and you need to teach them. People want to be taught. People want to be held accountable."
Both MacLeod and Geerlinks make the effort about once an hour every day to head down from their offices to the store floor and offer their staff positive reinforcement.
"It can be something as simple as 'Great job carrying that can of paint', it just has to be genuine; it has to be real," says MacLeod. "Our staff are our bread and butter, they're our biggest asset. It only takes two minutes to recognize them."
_________________________________________________________________
_________________________________________________________________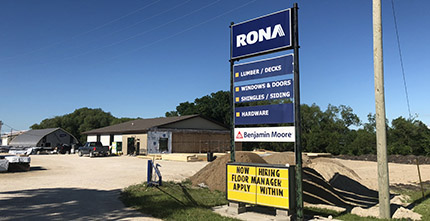 DEALER FINDS NEW MARKET WITH U.S. CUSTOMERS IN PANDEMIC
When the pandemic forced RONA Valley Enterprises owner Tyler Dueck to reassess his plans for the store, e-commerce became an even more attractive option.
Dueck's store in Rosenort, Man., has been growing its online presence over the last few years. But COVID-19 accelerated his plans for growth on that side of the business.
"The area we're now pushing a little bit more is doing more projects in the U.S.," says Dueck. Most of Dueck's sales are farming related. And since Rosenort is just 40 minutes north of the U.S. border, there's a wealth of potential customers less than an hour away.
So Dueck began shipping product across the border—and word of mouth in these small American towns has begun to spread. And while the Canadian dollar stays low, Dueck says these sales have been a win-win for all parties.
"It suddenly feels like there's this brand-new market available," says Dueck. "We're all excited to see where this could go because we kind of see the sky as the limit for this."
_________________________________________________________________
_________________________________________________________________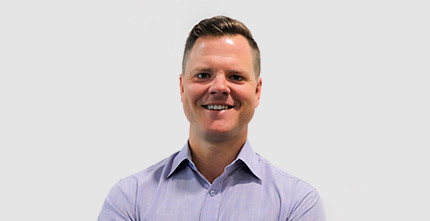 NEW HEAD OF TORBSA SHARES PLANS FOR GROWTH
Paul Williams has replaced General Manager Bob Holmes as president at TORBSA. The Ontario-based buying group works to combine purchases for two dozen member dealers, which represent about 45 stores mostly in its home province.
Williams says the group is able to keep its costs low because it operates without the kind of supports provided by other groups. These can include marketing, branding and even distribution.
"There's an inherent value in that approach," he says, "especially for dealers with a DIY focus or those that cater to walk-in business. But we're not strictly targeting those types of dealers."
In fact, the majority of TORBSA's members are focused on commercial sales, with sales teams on the road selling to all facets of the construction industry. For those kinds of dealers, Williams sees a fit with the group.
Adding members will be one of his priorities, especially as the group has lost some members in recent years. "Moving forward, there will be a major emphasis on solidifying our core of shareholders and building our purchases with our vendor partners. I've been given carte blanche to spread the TORBSA message and talk to prospective members."
________________________________________________________________